Page 2 - A Closer Look, Installation, Test System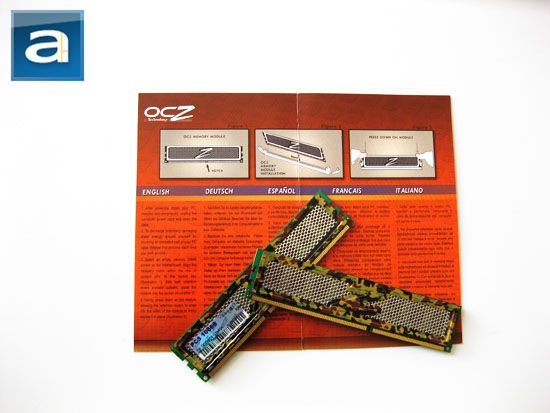 Upon opening the clamshell package, the two sticks of OCZ Special Ops Edition memory will become physically accessible, along with the background insert sheet inside the package. The insert sheet can be unfolded to display installation instructions in various languages with a common step-by-step diagram. I would assume those who goes out and buy memory kits would know what they are doing, and how to install them -- hopefully, anyway -- but it's nice to see OCZ taking an extra step in providing installation instructions for those who are, temporarily stuck, I guess, haha.
Owners of previous Special Ops memory kits from OCZ would be glad to know that OCZ retained the design tradition of its double sided heatspreaders. It's unique on its own style, due to the army style 'camouflage' design scheme of which OCZ refers to as the "Urban Camo Motif XTC", as we've seen in the OCZ Special Ops Edition DDR2 RAM we reviewed back in 2006. The major difference is that the Special Ops Urban Elite DDR2-800 were based of OCZ Platinum XTC DDR2 units operating at 4-4-3-12 1.9V, which is more or less in the premium memory market, with decent overclocking capabilities. Our OCZ Special Ops PC3-10666 holds the value oriented gaming DDR3 market, which is clearly indicated by the name -- OCZ names the premium SOEs with an 'Urban Elite' moniker, while regular units goes without.
A big "Z" crosses the center of the heatspreader, as part of OCZ's tradition. When we reviewed the OCZ Platinum PC3-12800 Enhanced Bandwidth 2x1GB kit last year, we've mentioned that a small "3" is placed at the top right corner of the "Z" to show that it's DDR3. OCZ decided to be more subtle with their OCZ Special Ops PC3-10666 2x2GB; this one doesn't have the "3" feature anywhere on the heatspreader. Interesting.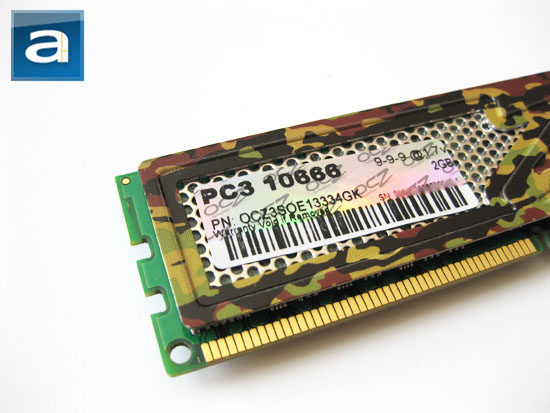 When we were discussing and planning the review of this OCZ Special Ops Urban Elite PC3-10666 2x2GB dual channel memory kit a few months back with the good people at OCZ Technology, they were quick to remind me of the market served by this product. Indeed it is -- with the listed approximate retail price of $130 for 4GB of DDR3, I found the price very attractive -- especially considering our compared units in this review costs at least as much as this set, yet with half the total capacity. To be fair, I would never expect this OCZ SOE Urban Elite DDR3 set to perform equal or better with something that costs (at least capacity wise) twice as much. It's like comparing a Toyota Corolla against an Audi R8.
RAM information is printed on a label applied to every OCZ memory product; and the OCZ PSpecial Ops PC3-10666 2x2GB is at no exception. Information includes product number, rated speed, model, capacity, serial number, voltage, as well as timings. Our Special Ops Edition RAM is rated at PC3-10666 (DDR3-1333), with latencies at 9-9-9-20. Each module for our review is provided at 2GB, for a total of 4GB. This set runs at a relatively low voltage at 1.7V; which is generally acceptable for Intel's latest Core i7 platform.
The "Warranty Void If Removed" notice is standard on every label. It does not block anything in particular, so it's definitely possible to remove the heatsink without damage to the label. The aluminum headspreaders are pretty easy to bend though, so personally I'd be a little careful. There's nothing particular interesting underneath in our particular case anyways, haha.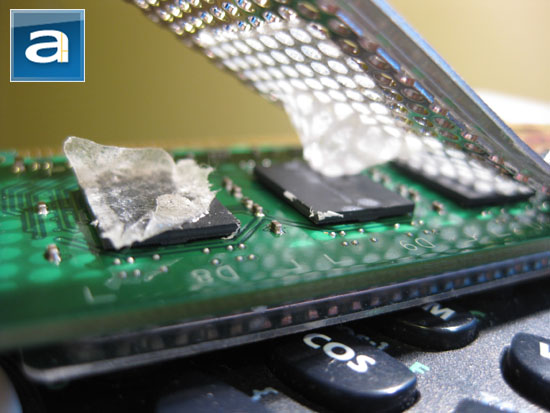 Removing the highly bendable OCZ XTC aluminum headspreader reveals what's under the hood. Separate OCZ Urban Camp Motif XTC headspreaders are attached to both sides of the modules; as the 4GB (2x2GB) memory sets are double sided. 1GB modules included in the 2x1GB dual channel kits are single sided -- but retains the same design for a balanced aesthetics purpose. The heatspreaders are tightly glued on with thermal conducting adhesives, and remain well fastened to the memory modules at all times. The honeycomb design of the XTC headspreader is designed to allow better airflow for greater efficiency in heat dissipation. Memory modules originally used solid headspreaders as first introduced many years back, and OCZ's aim for the honeycomb design is to prevent heat from being trapped inside. It's great to see that they've been doing this for quite a while now, and this set is a not excluded.
Surprisingly, the memory integrated circuits inside aren't labeled, as shown in the photo above. While the popular Micron D9GTR and D9GTS are clearly printed on every chip, these ones are completely blank. That's not until I went and removed the entire headspreader -- the ink comes off extremely, and when we finished removing the heasink, each chip shows only a part of the piece of information. Combining them, there's a Micron logo on the right, with the part labeled as "D9JNM". I can tell you one thing: It's definitely not the D9GTR or D9GTS as you would dream of. Do remember that these are marketed with price in mind, so either way, we won't be after the overclocking potential anyways.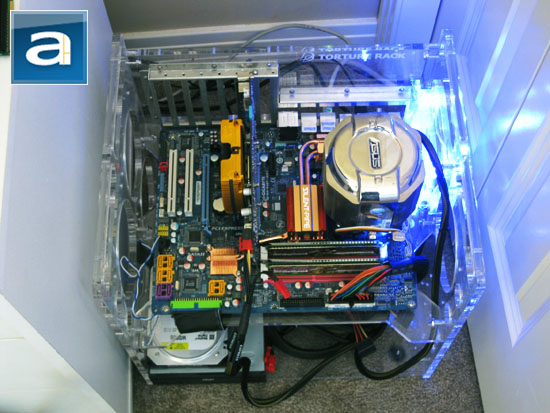 CPU: Intel Core 2 Duo E6300 @ 2.80GHz (400MHz*7 - 1600MHz FSB QDR)
CPU Cooling: Asus Arctic Square
Motherboard: Gigabyte X48T-DQ6
Chassis: Danger Den Torture Rack (1x Thermaltake 120mm LED Fan)
Power: OCZ EliteXStream 800W
Video: Gigabyte GeForce 8800GT TurboForce 512MB
Optical Drive: Liteon 16X DVD-ROM
Hard Drive: Western Digital Caviar 7200RPM 80GB 8MB Cache
Operating System: Microsoft Windows XP Professional SP3
Compared hardware
- Super Talent Project X DDR3-1800 2x1GB @ 7-6-6-18 DDR3-1600 (Downclocked/Manufacturer defined settings)
- OCZ ReaperX HPC PC3-10666 Enhanced Bandwidth 2x1GB @ 6-5-5-18 DDR3-1280
- Patriot Extreme Performance PC3-14400 2x1GB @ 7-7-7-18 DDR3-1600 (Downclocked/Manufacturer defined settings)
- OCZ Special Ops Urban Elite PC3-10666 2x2GB @ 9-9-9-20 DDR3-1280
Some units were not tested at default specifications due to hardware limitations. In this review, all units were freshly retested based on our November 8, 2008 specifications, where some benchmark software used may have been updated -- therefore cannot be compared to our previous results.
---
Page Index
1.
Introduction, Packaging, Specifications
2. A Closer Look, Installation, Test System
3.
Benchmark: 3DMark06
4.
Benchmark: PCMark05
5.
Benchmark: EVEREST CPU
6.
Benchmark: EVEREST FPU
7.
Benchmark: EVEREST Memory
8.
Benchmark: SuperPI, Cinebench R10
9.
Overclocking Results and Conclusion