By: Jonathan Kwan
December 16, 2011
Voltage gated Ca++ channel. Synaptic vesicle. Neurotransmitter. Reuptake pump. Postsynaptic density. Receptor. Connexon connexin monomer. Plasma membranes. Intercellular space. Hydrophilic channel. If you are in Electrical Engineering like me, and never really gotten around to studying anything in biology past high school, the first that comes to your mind is probably the title of one of my favorite textbooks not exactly written by Dr. Seuss. It goes along the line of, "What the fudge is this crap?" (I'll let you make your own word substitutions when searching for it in Google Images, haha). So to make things fair, in the unlikely event that we have a medical doctor among us reading this introduction right now with absolutely no background in computers, let me introduce you to a few terms from our end of the world. OCZ Technology. SandForce SF-2281. Micron 29F64G08CBAAA 25nm NAND flash. 50% over provisioning. Dataplex caching software. That's right. How do you feel now? In all seriousness, with the definition of 'synapse' well defined in two different contexts, the OCZ Synapse is one crucially interesting product that we simply cannot miss out. Designed for anyone running Windows 7, no requirement for Intel Smart Response on the Z68 chipset thanks to its included Dataplex caching software, is this a solution that can truly turbocharge your PC's storage performance that combines the storage capacity of an HDD with the speed of an SSD? Let's get down on some benchmarks!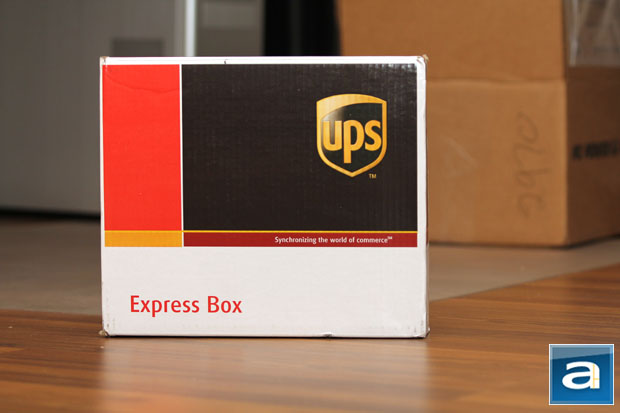 As always, our review unit of the OCZ Synapse 64GB came in a medium sized, UPS branded corrugated cardboard box from the company's American offices in Sunnyvale, California, USA. A large abundance of bubble wrap was included to ensure everything arrived in perfect condition for our evaluation today. As I have never actually used an SSD designed specifically for caching before (To my understanding, OCZ is the only company marketing such a product right now), I excitedly opened the box to see what everyone is raving about lately.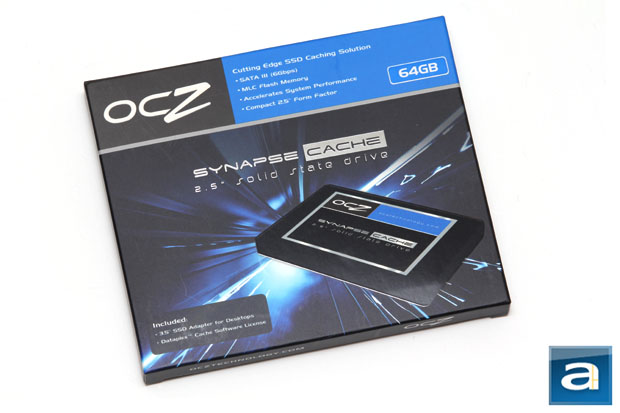 Hollowing up the packing material from inside the shipping package is the retail box of OCZ's Synapse 64GB caching SSD. It comes in a compact and lightweight box, with a design that clearly has family resemblance with the OCZ Vertex 3 Max IOPS 240GB and OCZ Agility 3 240GB, albeit with a different base color. The company incorporates a sleek and attractive design composed mainly of a black, gray, white, and blue color scheme with elements of shiny silver where it says "Synapse Cache" across the front. Asymmetrically tiled into three sections, OCZ's logo is very prominently featured on the left hand side, while a photo of the SSD itself at 3/4 angle can be noticed on the bottom tile. A short list of feature highlights is printed at the bottom, along with its capacity on the right hand side.
If you turn the box around, you will find a product description paragraph as well as a specifications table. Speaking of which, before we move on, let's take a look at the specifications of the OCZ Synapse 64GB, as obtained from the manufacturer's website:
Available in 64GB (32GB) and 128GB (64GB) capacities*
Interface: SATA 6Gbps / Backwards Compatible 3Gbps
MLC NAND Flash
Native TRIM support
Integrated Dataplex™ caching software
ECC Recovery, Data Encryption
Slim 2.5" Design: 98 x 69.9 x 9.1 mm
Lightweight: 79g
Operating Temp: 0°C ~ 70°C
Ambient Temp: 0°C ~ 55°C
Storage Temp: -45°C ~ 85°C
Low Power Consumption: 2.7W Active, 1.5W Idle
Shock Resistant up to 1500G
Included 3.5" Desktop adapter bracket
Compatible with Windows 7 32-bit and 64-bit
MTBF: 2 million hours
3-Year Warranty
Max Read: up to 550 MB/s
Max Write: up to 490 MB/s
Random Write 4k: 75,000 IOPS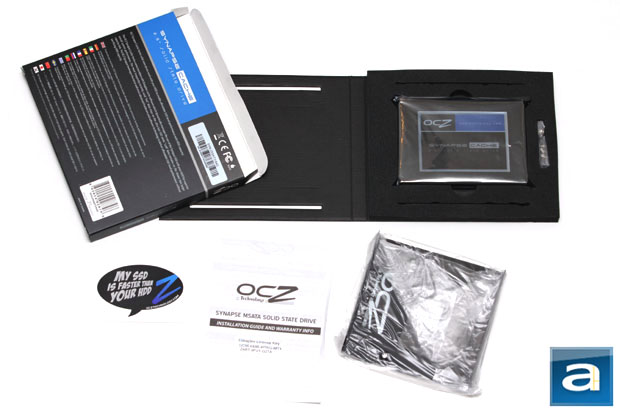 Inside the retail box is familiar black package, consisting of a foam bracket sandwiched between a cardboard flap to house its internal contents. Despite the natural ability of SSDs to withstand high impact forces, OCZ made sure everything will end up safe and sound for the end user. After all, no one likes to receive products that are dead on arrival. Out of the box, you will receive an OCZ Syanpse 64GB caching SSD inside an anti-static bag, 3.5" adapter bracket, eight screws (Four for attaching your SSD to the adapter bracket, with the remaining four for installing it into your chassis), installation/warranty guide, and a not-so-modest "My SSD is faster than your HDD" sticker. Well, except for the fact that the Synapse will have to partner with an HDD, but that is besides the point, haha.
---
Page Index
1. Introduction and Specifications
2.
A Closer Look, Installation, Test System
3.
Benchmark: AIDA64 Disk Benchmark
4.
Benchmark: ATTO Disk Benchmark
5.
Benchmark: Crystal Disk Mark 3.0
6.
Benchmark: HD Tach 3.0.1.0
7.
Benchmark: HD Tune Pro 4.60
8.
Benchmark: PassMark PerformanceTest 7.0
9.
Benchmark: PCMark Vantage
10.
Conclusion