By: Jonathan Kwan
September 2, 2006
When the name 'OCZ' is mentioned among computer enthusiasts, chances are that the first thing that pops up in their head is high performance memory. While it's a known fact that OCZ manufactures many products other than computer RAM, which include power supplies (I bought one last year too), USB thumb drives, and flash-based memory cards, CPU cooling definitely isn't what OCZ has been known for lately. After briefly pulling out of the heatsink market a short while back, they've managed to quickly jump back into the scene with their latest cooling product, the OCZ Tempest. How does the OCZ Tempest step up against the APH favorite, Arctic Cooling Freezer 64 Pro? Let's run through some results in our tests today and see what results we can obtain.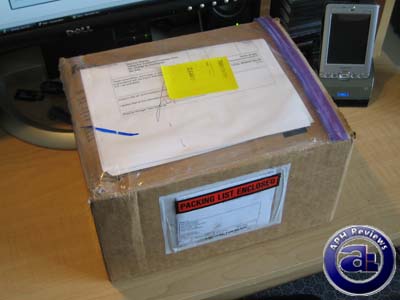 Our review unit came to our doorstep in a box using FedEx International Priority. Along with the OCZ Tempest was OCZ's Rally 2 which we've already reviewed a few weeks back. And just so you know, I actually had this for over a month. I'll tell you the main reasons why I held it for so long before releasing an article about the OCZ Tempest. (Actually, I'll confess right now: it's because I am very, very lazy.)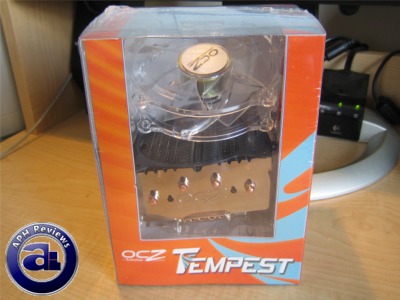 Opening the shipping box reveals our OCZ Tempest in retail clear plastic box packaging. Removing its thin film layer will allow the box to be quickly opened, since there are no blister packing methods involved. Information in regards to the heatsink is printed on the cardboard sheet and can be seen through the plastic box.
Prior to this review's release, we published the photos in various affiliated sites and some of our readers asked if the heatsink got dismantled during shipment. The answer is that it didn't; it comes packed very well in separate components -- which you have to assemble yourself later.
Inside the box are several million individual parts. Well, not really, but in order to accommodate different socket types, different accessories are included to allow the OCZ Tempest to work with the latest Intel and AMD CPUs.
Speaking of compatibility, here is some information and specifications of the OCZ Tempest, taken from OCZ's product page:
---
For Sockets AMD 939/940/AM2, Intel 775/478
- Pure Copper base plate (Titanium coated) and 4 heat pipes for superior heat dissipation
- Pure Aluminum fins for ultimate durability
- Weight (w/out fan) 580g
Includes:
- 92mm Fan
- Mounting Hardware for all above CPUs
- Thermal Compound
Fan Specs
- Low-Noise
- 2500RPM +/-10%
- 44.0 CFM
- 2-Ball Bearing
- 3 pin connector
- Blue LEDs
Dimensions:
- (L)95.25 x (W)87.62 x (H)51.24mm
---
Many similarities in design with the Arctic Cooling Freezer 64 Pro. The major difference is no reverse fan on OCZ Tempest as well as 90 degree angle design, which is a very popular design trend being seen in majority of high end heatsinks manufactured lately. At 580 grams without fan, it is quite a bit heavier than the Freezer 64 Pro at 528 grams with fan.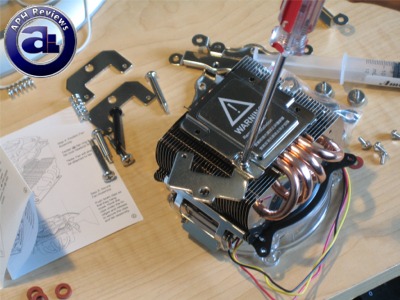 This is the primary reason why I held of this review: The requirement of assembly. I took everything out of the box, looked at the instruction sheet for assembly, read it for around 10 seconds and didn't touch it for nearly a month. I understand that this is to accommodate more sockets, but nowadays, it is possible to design a heatsink that uses stock retention brackets to hold the heatsink in place with absolutely no assembly required (The Arctic Cooling Freezer 64 Pro is a perfect example).
On the other hand, assembling the heatsink itself is not the hardest part. Installation is another story, more on this later. If you read the instructions correctly, it's actually pretty easy and fast. Getting the heatsink ready for installation on my motherboard requires two pieces of metal to be attached using a screw.
The OCZ Tempest itself has a pretty good design for both visual appearance and technical design (Minus the installation parts, of course). It utilizes a full copper base and four heatpipes for heat conduction, with aluminum fins for heat dissipation. Although aluminum is not as good as a conductor as copper is, aluminum is a lot lighter than copper. By using a mixture between these two elements, you will create a heatsink with a great balance between performance and weight.
One thing very unique to the OCZ Tempest is its titanium coated copper base. In terms of heat transfer efficiency, titanium can usually be said to have "zero corrosion allowance". What this means is the high resistance of titanium when exposed to corrosion will prevent the build up of corrosion material, and while corrosion material build up will limit heat transfer capability of other metals, titanium will not be affected since corrosion products have little chance to build up on such surface.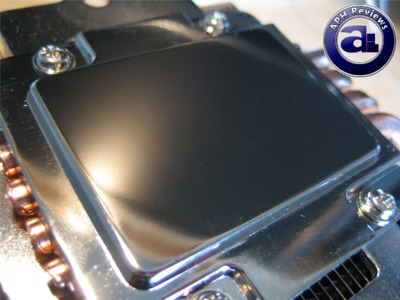 The heatsink's titanium coated copper base. Usually, the shinier the better since a heatsink base with a good lapping job with minimal machine marks will provide the best contact with your processor -- and in turn, better heat conduction resulting in lower temperatures. Very little and minor machine marks can be seen with our OCZ Tempest unit, a good sign. Build quality is also excellent and welded joints where the heatpipes are were done very cleanly.
The installation fun. The funny thing is, the OCZ Tempest is only compatible with AMD socket 939 and AM2. My "1337 pwnz0r computer" (Read: Outdated) is Socket 754 based, but from what I recall, it should be exactly the same as Socket 939 for heatsinks. I went ahead and installed the heatsink. Absolutely no problems. OCZ probably just 'forgot' to list Socket 754 as a compatible socket.
One thing I dislike the most when installing heatsinks is the requirement of exchanging motherboard backplates. I've done this last year when I installed the Zalman CNPS7000B-Cu, and by removing your motherboard backplate is almost as much work as rebuilding your computer -- if not more. First, take off all add-on cards and possibly disconnect some cables. Next, remove all screws and then flip your motherboard around. Some manufacturers have their motherboard backplates glued using industrial strength adhesive solutions, and to remove backplates attached using this method is even more work. Start off with using a hair dryer. Turn it on heat up the backplate for a few minutes (Depending on how strong your hair dryer is) until it is feels like hot/burning metal. Keep the hair dryer turned on and directly facing the backplate while you try to remove the backplate by pushing on the other side. When the glue starts to give, use a screwdriver (Make sure the tip isn't touching the motherboard, otherwise you'll break it) and ply it out.
Even with exact instructions, or if you've done it before, trying it the second time is still almost as much work. This is why I hate removing the motherboard backplate so much -- if you are lucky, your backplate isn't glued, if you are like me, then have fun removing it. Either way, you still have to pretty much rebuild your computer if you want to install the OCZ Tempest.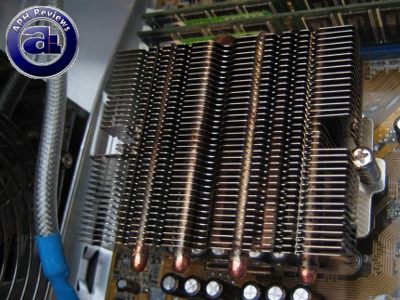 After the new backplate that's provided by OCZ and included in the package is installed on your motherboard, secure your motherboard back into your case or removable motherboard tray. Apply thermal paste on OCZ Tempest's heatsink base and put it over your processor. The OCZ Tempest actually sits pretty close to my RAM on one side and some capacitors on the motherboard on its left side. I can't install it backwards in my case, but if nothing obstructs you, make sure you didn't install your OCZ Tempest backwards.
Securing it over your processor can be very tricky as well. The springs that sit underneath the screws are very stiff, and during installation, just make sure one side is just barely screwed in (Maybe around half a turn, just so it does not pop back up) and quickly switch to the second side and get the second screw connected. You still need to press down pretty hard on your heatsink to get the second side to get the screw down and attached to where it's supposed to be.
Installation up to this point is a lot of work and very tricky. I can conclude that users who are newer to working with computer hardware or uncomfortable with doing all these (You can easily break something), I would not recommend that you get an OCZ Tempest.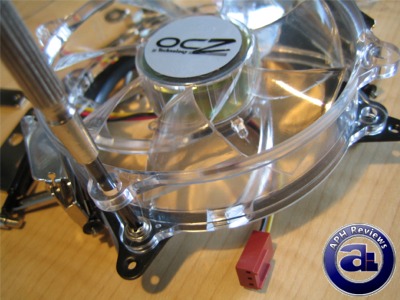 Assembling the fan. You'll need a narrower screwdriver to do this job, since the more common ones would not work if it is too fat to fit though the hole at the top. Simply clip the fan and use a screw to attach the fan to the 'thing', which is required for attaching the fan to the heatsink. After you are done with attaching the 92 mm fan, it clips onto the heatsink and installs tool-free.
As you can notice in the photo above, the fan's cable that is used to attach to your motherboard is not sleeved. It would be more visually appealing if it is sleeved, especially for users with case windows.
---
The Tests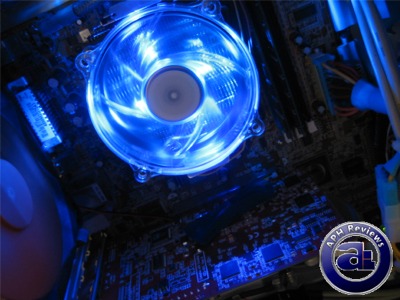 All tests were completed on my 1337 pwnz0r computer. The OCZ Tempest comes with a fan with blue LEDs to add to the bling.
AMD Athlon 64 3000+ S754 Newcastle @ Stock 2.00GHz (Cool & Quiet ENABLED)
Arctic Cooling Freezer64 Pro
OCZ Tempest
Asus K8V-X Motherboard
Corsair 2x512MB, Single Channel, DDR400 @ 2.5-3-3-8
Western Digital 80GB 7200RPM 8MB Cache (NTFS)
ATI All-In-Wonder Radeon 9800 Pro
Arctic Cooling VGA Silencer Rev. 3 @ 2400 RPM
Creative Sound Blaster Audigy 2
Mitsumi 7-in-1 Flash & Floppy Reader
Pioneer DVR-108 Multiformat DVD Burner
Liteon 16x DVD Drive
Thermaltake Matrix VX
OCZ Modstream 450W PSU
Microsoft Windows XP Professional SP2
All tests were run with the computer in an upright position, case door closed, in order to achieve the most accurate and real-life results. The computer remains in the same location in the same room throughout all tests. The room temperature is around 24c. Arctic Silver's Ambrosia HT thermal paste was used with the OCZ Tempest; which has a half an hour break time. Due to manufacturer request, the Arctic Cooling Freezer 64 Pro is tested using stock paste. The fan on the heatsink will be directly connected to the motherboard's 3-pin connector. Computer is turned on and idling for at least half an hour for the idling tests. High CPU load results were obtained using Prime95's large FFTs Torture Test, ran for a minimum of 15 minutes.
Please note that the temperatures were obtained on different days, because we have to allow the paste to fully settle before testing each heatsink. For this reason, there could be a change in our room temperature due to conditions outside. Each test has been run several times at different times of the day to maximize accuracy. If you see the temperature readings of different heatsinks on the graphs within 1-2 degrees of each other, the performance of compared heatsinks should be theoretically identical in real life performance.
Results
Since we don't have many things to compare, I'll once again be lazy and just leave it in text:
CPU - Load Temperatures (Lower the better)
AC Freezer 64 Pro: 36c
OCZ Tempest: 36c
CPU - Idle Temperatures (Lower the better)
AC Freezer 64 Pro: 28c
OCZ Tempest: 28c
Motherboard - Load Temperatures (Lower the better)
AC Freezer 64 Pro: 28c
OCZ Tempest: 31c
Motherboard - Idle Temperatures (Lower the better)
AC Freezer 64 Pro: 28c
OCZ Tempest: 30c
As you can see in our results above, OCZ Tempest's CPU cooling performance is almost identical to the Arctic Cooling Freezer 64 Pro. Note that the OCZ Tempest's fan goes approximately 200 RPM faster than the Freezer 64 Pro at 2600 RPM, and the OCZ Tempest is very loud in my opinion. The difference shows in the motherboard temperature results though. This is probably due to Arctic Cooling Freezer 64 Pro's 90 degree fan design, which is clearly more efficient in pulling heat out of the case as it pushes air in accordance with the case's airflow, instead of interrupting it.
---
Overall, the OCZ Tempest is a heatsink with build quality in mind. All welding points were done very cleanly; the titanium coated copper base is finished with a very nice shine. With good looks and a nice blue LED fan, OCZ's Tempest heatsink is excellent in terms of aesthetics. However, despite its compatibility with most modern CPUs, assembly and installation procedures are definitely not recommended for people who have less experience with computer hardware. CPU cooling performance is very good, but due to the nature of its design, case temperatures aren't as good as results put out by our Arctic Cooling Freezer 64 Pro -- which is by far more easier to install, and much, much quieter.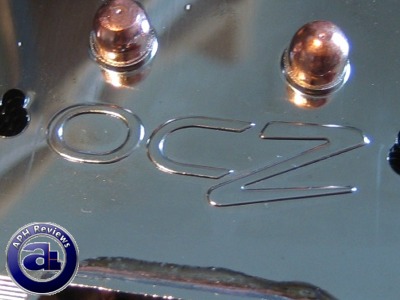 Special thanks to Andy over at OCZ for making this review possible.
Note: The number ratings below has been adjusted accordingly to comply with our new Number Rating System.
Rating: 5.0/10
What do these ratings mean?
A quality heatsink with nice looks and excellent compatibility. Installation procedures aren't designed for people with lesser experience in computer hardware though. Worst of all, this thing is loud.