By: Jonathan Kwan
August 13, 2021
Why do you read APH Networks reviews? I would assume most of you is to see whether a product is good or not, especially if you got here via a Google search. We here at APH Networks have published approximately 1200 reviews since 2005, which makes us one of the longest running consumer technology review websites in the history of the internet. I am also aware of a sizable population who reads our reviews mainly for the stories we tell in these introductions. Now, before you start wondering why I am writing an introduction about our introductions -- I have actually done so before in my Audioengine HD6 review in 2016 -- hear me out on this. A few weeks ago, I was talking to my friend about the introductions she finds interesting versus the ones she does not. As the conversation progressed, I found out there is a consistent pattern of introductions she finds interesting: The ones where she was a part of the story. The fact is, not everything has to be about her to be interesting, just like how not everything has to be a hard drive to have storage capacity. In the last few years, we have seen dramatic increases in flash-based storage device capacity. The Crucial X6 2TB and X8 2TB brought performance, capacity, and portability all into relatively affordable packages. But today, we are going to further challenge that mindset by asking the question, can storage be interesting if it is a USB flash drive? I never thought we would see the day where there are 1TB flash drives, but here we are with the Patriot Supersonic Rage Prime 1TB that promises up to 600MB/s read speed. Read on to find out if it is as interesting as its specifications suggest!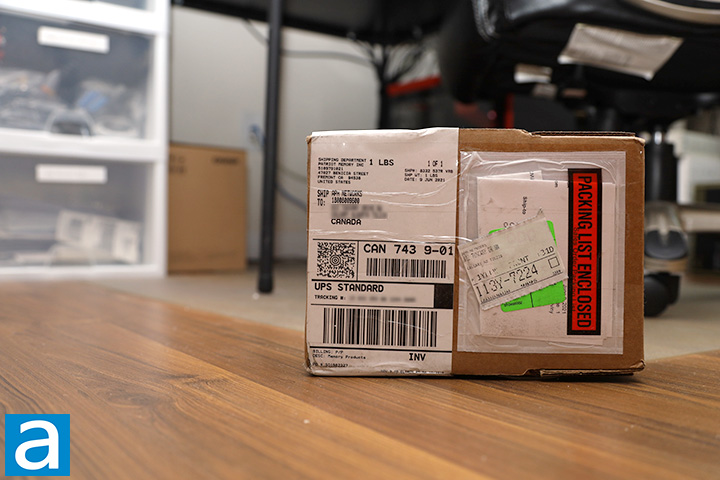 Our review unit of the Patriot Supersonic Rage Prime 1TB came in a medium-sized brown corrugated cardboard box from the company's American headquarters in Fremont, California, USA. Using UPS Standard, everything arrived in safely and in great condition to us here in Calgary, Alberta, Canada for our review today.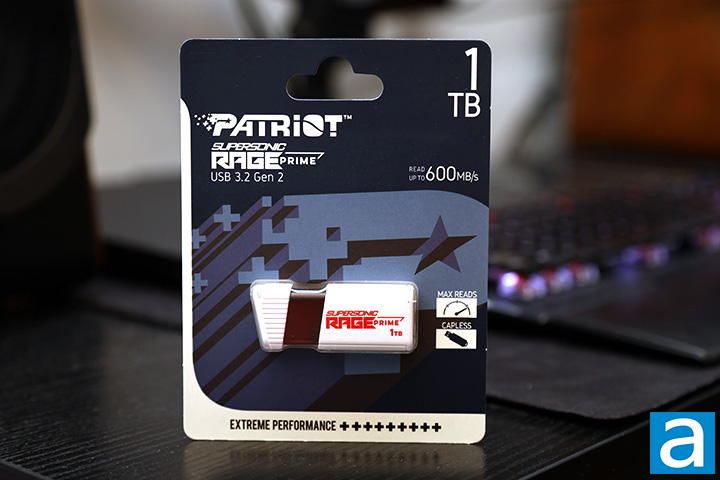 The Patriot Supersonic Rage Prime 1TB's retail packaging should be familiar to those who have bought the company's flash products in the past. This is the same kind where you can hang it on a store shelf rail, but chances are that it will be locked up in the glass cabinet behind a counter. As far as its design is concerned, it combines a clean blue background and a clear plastic shell that encases the drive itself. Patriot's logo is blended into the background. This template is pretty much standard fare for Patriot products for probably a decade now, with minor changes to it as time progressed. The overall concept is extremely simple, but it gets the job done. Patriot's logo and model name is prominently displayed on the left, along with its capacity and rated performance on the right, as demonstrated in our photo above. A white strip along the left and bottom highlights its "Extreme Performance". The text says the Patriot Supersonic Rage Prime 1TB is a USB 3.2 Gen 2 product.
Before we move on, let us go over the specifications of this drive, as obtained from the manufacturer's website:
- USB 3.2 Gen. 2 Compliant (backwards compatible with USB 2.0)
- Up to 600MB/s Read Speeds
- Plug and Play, driver free
- Durable housing protects
- from drops, spills, and daily abuse
- Retractable design protects USB connector when drive not in use
- Compatible with Windows® 10 Windows® 8, Windows® 7, Linux 2.4 and later, Mac® OSX 10.6 and later
---
Page Index
1. Introduction, Packaging, Specifications
2.
A Closer Look, Test System
3.
Benchmark: AIDA64 Disk Benchmark
4.
Benchmark: ATTO Disk Benchmark
5.
Benchmark: Crystal Disk Mark 8.0
6.
Benchmark: HD Tach 3.0.1.0
7.
Benchmark: HD Tune Pro 5.70
8.
Conclusion