Page 2 - A Closer Look, Test System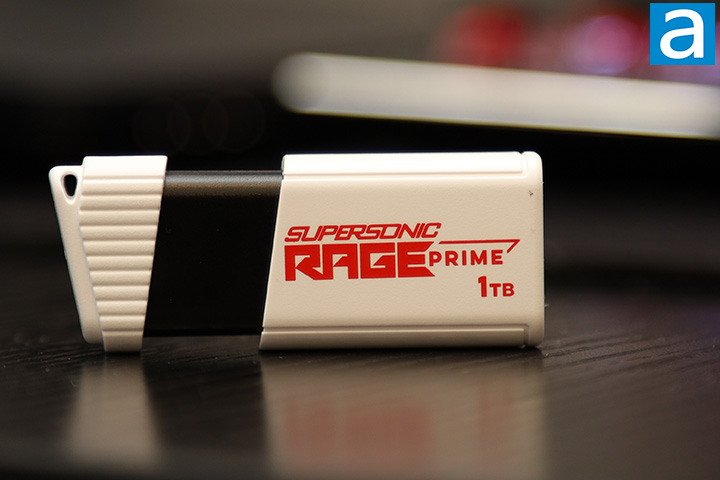 The Patriot Supersonic Rage Prime 1TB is an updated version of the Supersonic Rage 2, which came after the Supersonic Rage XT. There is also the Supersonic Rage Pro, but the Rage Pro lacks the retractable mechanism of the other two. Compared to the Rage 2, which shares a similar form factor, the 2015 drive promises up to 400MB/s read and 300MB/s write. Six years later, the Supersonic Rage Prime doubles the maximum available capacity and claims to have significantly increased the read speed. But at what cost? The latest Patriot flash drive comes in at 5.3 cm long, 2.1 cm wide, and 1.0 cm thick. It is not tiny like the SanDisk Ultra Fit, but these figures have not changed compared to the Rage 2 and is quite reasonably sized. It tips the scale at 8.2g. There is no form factor tradeoff, which is great considering the massive capacity and promised speed increase. The Patriot Supersonic Rage Prime 1TB will fit nicely in your wallet, keychain, or pocket without complaints. It is also unlikely to interfere with adjacent ports on your computer thanks to its slim size.
In terms of looks, the Patriot Supersonic Rage Prime 1TB is made completely out of plastic with a predominantly glossy white surface and red text on top. The edges are rounded with an angled end for extra visual flare. In the middle is a flat black surface, where one part of the enclosure slides along to reveal the USB 3.2 Gen 2 header. I am a big fan of capless flash drives, since you will not need to worry about losing its cover during usage. It clicks into place when the header is covered. The Rage Prime has a drive activity LED, which flashes red behind opposite end of the header and remains off when it is idling. A lanyard attachment hole is present as well, shown in the photo above.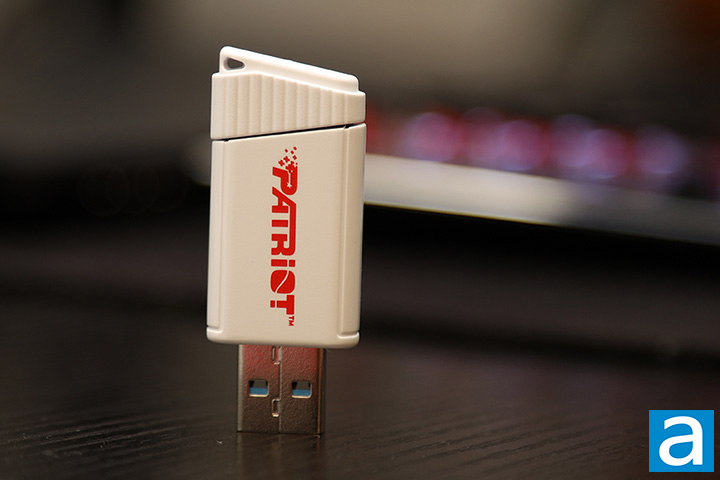 Flipping the Patriot Supersonic Rage Prime 1TB around, we are now greeted with a different design printed onto the glossy white plastic surface of the drive. While the unit itself is physically symmetrical between sides, what is printed on it is not. The opposite side shows Patriot's "Supersonic Rage Prime 1TB" inscription in red; shown in the first photo of this page -- whereas the side in our picture above has Patriot's logo only. As always, both branding elements are upside-down relative to each other, so you can keep rotating the drive and the logo will always be the right side up to you. The interface connector is blue to signify its USB 3.2 Gen 2 compatibility.
Overall, the Patriot Supersonic Rage Prime 1TB is a compact and lightweight USB flash drive. However. during extended write sessions, this drive also runs very hot, which may cause thermal throttling. I would have preferred something that is made out of metal instead of plastic not just for extra rigidity and feel, but also heat dissipation. With all these in mind, how will this product perform against other USB flash drives? We will spend the next five pages to find out.
Our test configuration is as follows:
CPU: AMD Ryzen 5 5600X
CPU Cooling: Noctua NH-D15 chromax.black
Motherboard: ASUS TUF Gaming B550-Plus
RAM: Crucial Ballistix DDR4-3600 4x32GB
Graphics: ASUS Dual GeForce GTX 1060 3GB
Chassis: NZXT H710i
Storage: Western Digital WD_BLACK AN1500 2TB
Power: Seasonic PRIME Ultra Titanium 850W
Operating System: Microsoft Windows 10 Pro
Compared Hardware:
- Patriot Supersonic Rage Prime 1TB
- ADATA DashDrive Elite UE700 64GB
- Kingston DataTraveler HyperX 3.0 64GB
- Kingston DataTraveler Ultimate 3.0 G2 32GB
- Kingston DataTraveler Vault Privacy 3.0 32GB
- Kingston HyperX Fury 64GB
- Patriot Supersonic Magnum 64GB
- Patriot Supersonic Magnum 2 256GB
- Patriot Supersonic Rage 2 256GB
- Patriot Supersonic Rage Pro 512GB
- SanDisk Ultra Fit 128GB
- SanDisk Ultra Fit 256GB
- Silicon Power Blaze B05 64GB
---
Page Index
1.
Introduction, Packaging, Specifications
2. A Closer Look, Test System
3.
Benchmark: AIDA64 Disk Benchmark
4.
Benchmark: ATTO Disk Benchmark
5.
Benchmark: Crystal Disk Mark 8.0
6.
Benchmark: HD Tach 3.0.1.0
7.
Benchmark: HD Tune Pro 5.70
8.
Conclusion