By: Aaron Lai
May 14, 2021
I was recently watching a series of YouTube videos about abandoned locations and companies. He had looked many failed American shopping centers and now abandoned buildings. It would go through the history of the origin, the rise, and the downfall of the mall, followed by its current conditions. There is something nostalgic and eerie about watching these videos because the indoor shopping center reminds me of my own childhood, especially with many weekend afternoons spent walking around various malls. When I was little, I would walk around the mall and look at many different things. I was usually with my mom, which translated into what felt like hours of waiting for her to look at or try on clothing. My patience was sometimes rewarded with a soft and warm baked pretzel; something that she, too, enjoyed. This was not a common occurrence, especially since my mom bakes and cooks a lot of her own food, but I did enjoy just getting a scent of the baked goods. Nowadays, malls seem like a pretty outdated concept, especially with so many shopping experiences being online. However, I still liked going to malls as an indoor place to walk. Another thing that brings back nostalgia, albeit in a much more recent timeframe, is reviewing USB flash drives. It has been a while since I have taken a look at one. In fact, the most recent one I reviewed was the Patriot Supersonic Rage 2 256GB in 2015. However, today we have yet another USB thumb drive from the same company in the form of the Patriot Supersonic Rage Pro 512GB. What has changed in the past six years, and how does it perform in 2021? Let us read on to find out!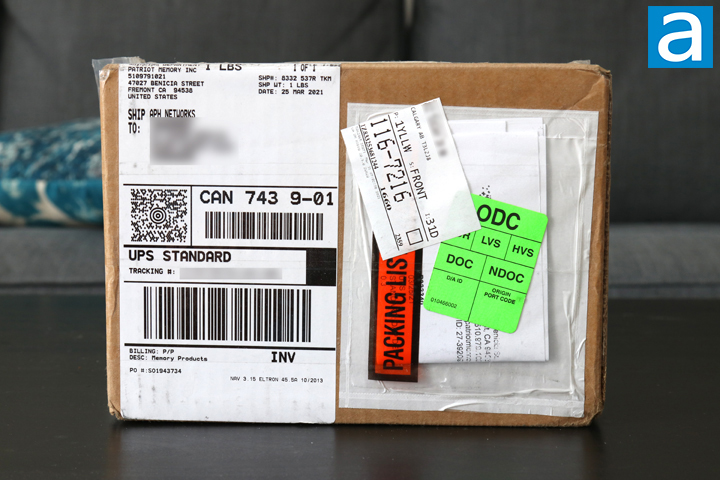 Today's review unit of the Patriot Supersonic Rage Pro 512GB arrived to our Calgary, Alberta offices via UPS and their Standard ground service. This small brown corrugated cardboard box arrived in good condition with no real issues to speak of. It was shipped from Patriot's offices in Fremont, California. Otherwise, this is a pretty small box because the USB flash drive is the only product found inside.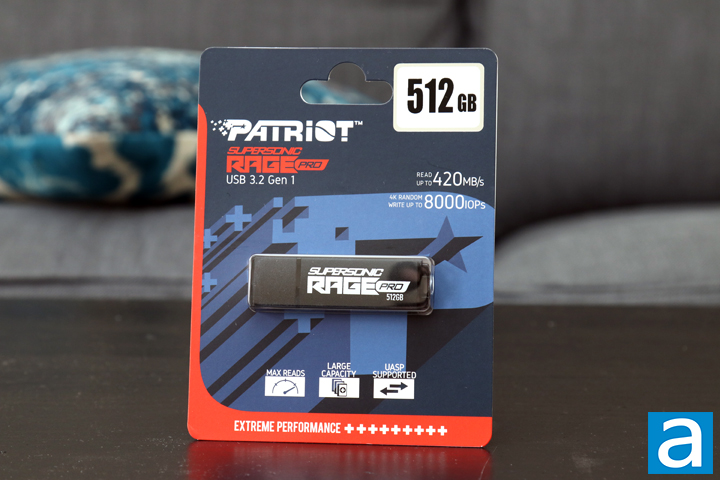 The last Patriot USB flash drive we took a look at was back in 2016, which was their Supersonic Magnum 2 256GB. However, the retail box looks pretty similar. With a brand like Patriot, it is no surprise we have a red, white, and blue color scheme. Patriot's logo can be found at the top left, with the product name located right underneath. Patriot writes this is a USB 3.2 Gen 1 drive, which is also the same as USB 3.0 and USB 3.1 Gen 1. Despite the confusing naming conventions by the USB-IF, what is important to know is that this maxes out at 5Gbps. The capacity of the flash drive can be found on the top right corner, which is a massive half of a terabyte. Some numbers like 420MB/s read and 4K random writes of 8000 IOPS are also found in the top corner. Otherwise, the product is displayed behind a plastic shield on the front, with some more features located underneath. Around the back, we have some more specifications and warranty information for the Supersonic Rage Pro 512GB. For your information, Patriot offers a nice five-year warranty with their Rage Pro 512GB.
If you were looking for the specifications, I have gathered it from the manufacturer's website for your viewing pleasure:
Specifications
Product Name: Supersonic Rage Pro USB
Product Warranty: 5 Year Warranty
Unit Weight: 11g / 0.02lb
Unit Dimensions: 2.32" (L) x 0.83" (W) x 0.31"(H), 5.9cm (L) x 2.1cm (W) x 0.8cm (H)
Features
USB 3.2 Gen. 1 Compliant (backwards compatible with USB 2.0)
Up to 420MB/s Read
Up to 8,000 4K Random IOPs
Aluminum coated housing gives better thermal and solid body
Supported UASP mode provide fastest response read and write
LED Light Indicator
Plug and Play, driver free
Compatible with Windows 7/8/10, Linux 2.4 and Later, Mac OSX and later
---
Page Index
1. Introduction, Packaging, Specifications
2.
A Closer Look, Test System
3.
Benchmark: AIDA64 Disk Benchmark
4.
Benchmark: ATTO Disk Benchmark
5.
Benchmark: Crystal Disk Mark 8.0
6.
Benchmark: HD Tach 3.0.1.0
7.
Benchmark: HD Tune Pro 5.70
8.
Conclusion