Page 2 - A Closer Look, Test System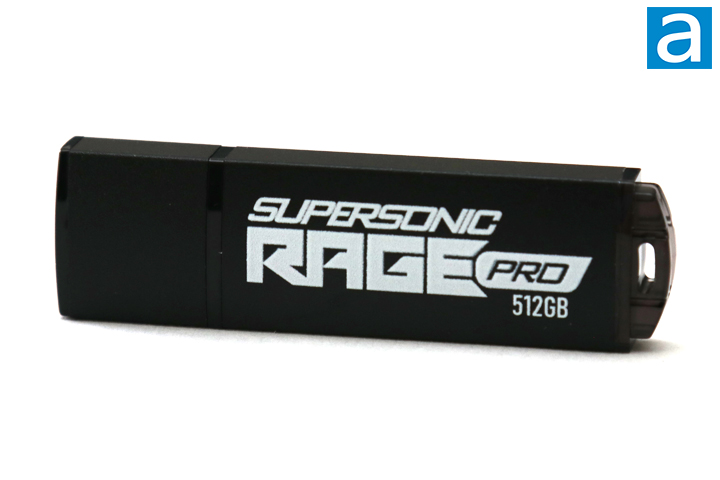 As mentioned previously, I did take a look at the Patriot Supersonic Rage 2 256GB a few years back, so it is not too surprising this Rage Pro follows in the same lineup. On the other hand, if you compare between today's review unit and the Rage 2, you will notice the body is quite a bit different. For one, you can see that our Supersonic Rage Pro 512GB uses a standard capped design. This does mean you could accidentally lose your cap, so be aware when you are removing it from your computer. Secondly, this is actually built quite a bit more solidly. While the Supersonic Rage 2 used a rubberized plastic for its body, we have a coated aluminum body for a sleek and a cool-to-the-touch metal enclosure. There are still some plastic portions here, but I do feel a bit more secure with this durable body. Otherwise, you can see this whole item does not have any other colors on it, dropping the baby blue accents that were found on the Rage 2. One side of the drive shows the product name and capacity, while the other displays the company's name. The back side has a small lanyard loop hole for you to attach this drive to something like a keychain. While we received the 512GB variant for review, the Patriot Supersonic Rage Pro comes in 128GB and 256GB capacities as well.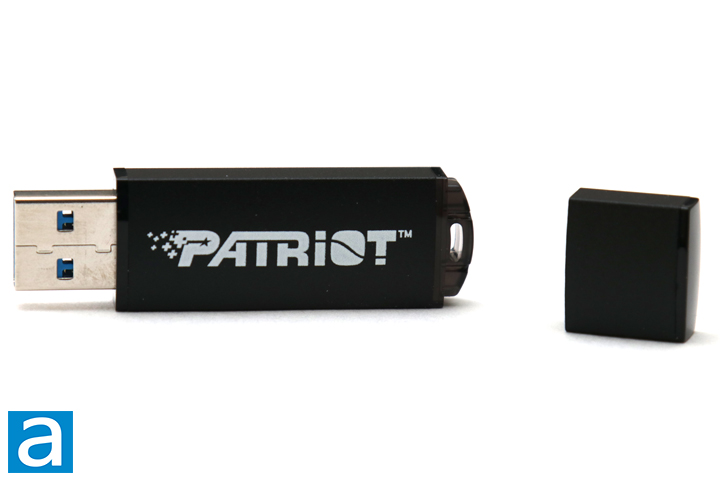 As for dimensions, it seems we have a slimmer but longer USB flash drive in the Patriot Supersonic Rage Pro 512GB. The result is a body with a 59mm length, 21mm width, and 8mm thickness. While I have definitely seen smaller USB drives, such as the SanDisk Ultra Fit 256GB, this is still a pretty slim unit. In addition, you still have to remember this contains 512GB internally, which makes this svelte size even more impressive. Otherwise, one thing I did not point out is the fact the back plastic loophole is a bit translucent. This lets the internal red LED indicator light at the back flash to show read and write activity. I am pretty happy to see an indicator LED, at least to give some sort of visual cue when the Patriot Supersonic Rage Pro 512GB is active.
One thing that Patriot highlighted in its specifications is the support of UASP or USB Attached SCSI Protocol. Traditionally, USB flash drives implement the USB mass storage bulk-only transport, or BOT. The main advantage of UASP is to support faster transfers compared to USB mass storage BOT drivers. UAS was introduced as part of the USB 3.0 standards and has been supported in hardware and operating systems for quite some time now. As such, UASP has been around for a while, but has not always been implemented on a flash drive. We will see how this translates into performance in our testing.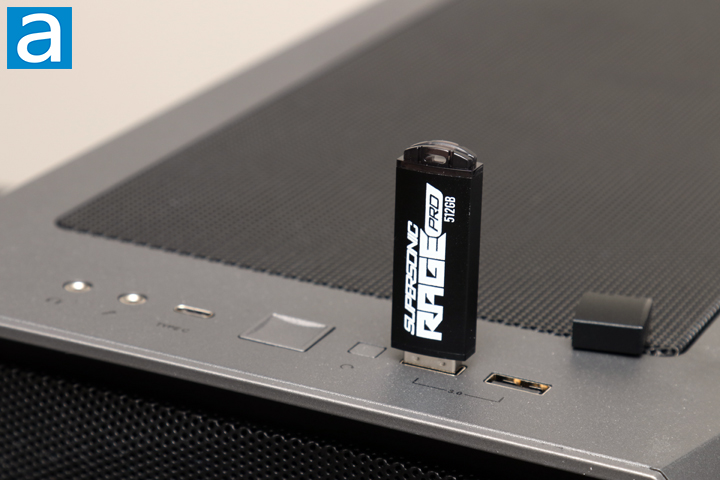 Our test configuration as follows:
CPU: AMD Ryzen 7 3700X @ 3.6GHz
CPU Cooling: Cooler Master MasterAir MA624 Stealth
Motherboard: ASUS Prime X470-Pro
RAM: Patriot Viper RGB DDR4-3600 2x16GB
Graphics: MSI GeForce GTX 1070Ti Titanium
Chassis: Fractal Design Meshify 2 Compact
Storage: Western Digital Blue SN500 NVMe SSD 500GB, OCZ ARC 100 240GB, Patriot P200 512GB
Power: FSP Hydro PTM Pro 1200W
Operating System: Microsoft Windows 10 Pro
Compared Hardware:
- Patriot Supersonic Rage Pro 512GB
- ADATA DashDrive Elite UE700 64GB
- Kingston DataTraveler HyperX 3.0 64GB
- Kingston DataTraveler Ultimate 3.0 G2 32GB
- Kingston DataTraveler Vault Privacy 3.0 32GB
- Kingston HyperX Fury 64GB
- Patriot Supersonic Magnum 64GB
- Patriot Supersonic Magnum 2 256GB
- Patriot Supersonic Rage 2 256GB
- SanDisk Ultra Fit 128GB
- SanDisk Ultra Fit 256GB
- Silicon Power Blaze B05 64GB
---
Page Index
1.
Introduction, Packaging, Specifications
2. A Closer Look, Test System
3.
Benchmark: AIDA64 Disk Benchmark
4.
Benchmark: ATTO Disk Benchmark
5.
Benchmark: Crystal Disk Mark 8.0
6.
Benchmark: HD Tach 3.0.1.0
7.
Benchmark: HD Tune Pro 5.70
8.
Conclusion