By: Preston Yuen
February 12, 2016
When companies come up with an idea for a product, questions are always raised regarding its design, functionality, cost, and many other possible factors. In the consumer world, what makes the greatest first impression probably comes down to design and functionality. After making a quick evaluation of the product, they tack on an estimated price tag, compare it with the actual price tag, and consider whether it is worth splurging their money. In most cases, this is quite true, regardless of what product is in question. When it comes down to custom computer builds, there is a fine line between a budget build and an eye-catching, high-end build. The problem comes down to when consumers are looking to build something that has great design and functionality, but do not necessarily have the funds to pay for all of it up front. What we have here today at APH Networks is the Phanteks Enthoo Pro M with a large acrylic window to show off all your internal hardware. Priced at $90 USD at press time, this case looks slick, and features a functional layout for an easy installation process. But is this worth the $90, considering the extra components you still need to buy? We have seen great products from Phanteks, such as the Enthoo Primo White and Enthoo EVOLV ATX featuring great design and interior layout, both of which received APH Recommended badges. Has Phanteks come up with another product worthy of another award from this website? Stick around to see what this case has to offer!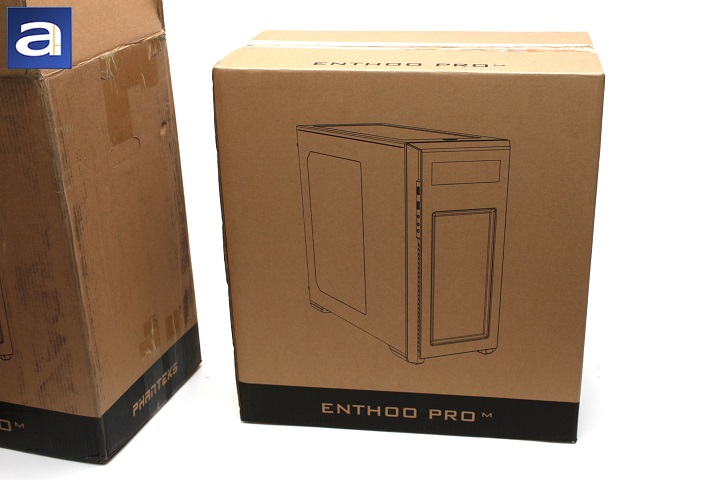 Our Phanteks Enthoo Pro M unit was shipped internationally from Walnut, California, USA via UPS Standard to our Calgary, Alberta, Canada office. Like the Enthoo Primo White reviewed by Yours Truly, Phanteks has decided to "box-ception" the Enthoo Pro M by protecting their regular packaging box with another corrugated cardboard box, so if their package takes any hits, the outer layer will take the bumps and scratches first. Pulling the real retail box out, we can see Phanteks decided to be conservative, saving money on extra ink on the box by simply only printing the model name at the bottom and an outline of the product in the center. Features and specifications are printed around the sides, so customers can easily find out what features it has without having to rip everything apart. With that aside, I pulled out my knife, opened the box, and pulled out the Enthoo Pro M.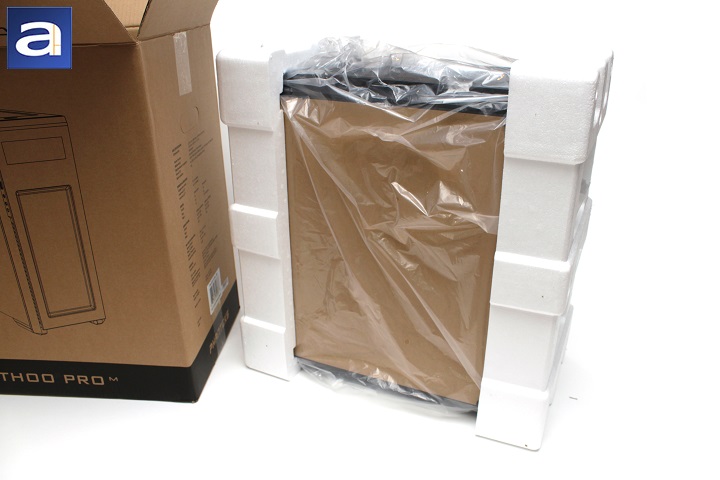 To further ensure the safety of Enthoo Pro M, Phanteks packed it between two foam brackets around the case with a plastic bag to protect it from miscellaneous scratches. You will be happy to find the accessory box tucked away in one of the hard drive trays. As you may have noticed, it seems like Phanteks has packed an extra piece of corrugated cardboard in front of the acrylic window. As I took this apart, I realized it was only an adhesive brown sheet that was made to look like cardboard. This is great to see, as Phanteks has put the effort to ensure the product gets into the customer's hands in tip-top shape.
Before we move on, let us take a look at the specifications, as obtained from the manufacturer's page:
Features
- 1 x 140mm fan in the rear; ability to upgrade
- All fans included are Phanteks new redesigned and better performing SP series fans
Appearance
- Brushed aluminum look
- Clean interior: Hidden PSU and HDDs
Specifications
- Model No.: PH-ES515P_BK (Satin Black); PH-ES515P_TG (Titanium Green); PH-ES515PA_BK (Acrylic Window)
- Dimensions (W x H x D): 235 mm x 480 mm x 500 mm; 9.25 in x 18.9 in x 19.7 in
- Form Factor: Midtower
- Materials: Plastic Exterior, Steel Chassis
- Motherboard Support: E-ATX *(up to 264mm wide), ATX, Micro ATX, Mini ITX
- Front I/O: 2x USB 3.0, Mic, Headphone, Reset
- Side Window: Yes
---
Page Index
1. Introduction, Packaging, Specifications
2.
Physical Look - Outside
3.
Physical Look - Inside
4.
Installation and Conclusion