By: Jonathan Kwan
September 2, 2022
Unlike my friend that I often like to misquote discussed in the introduction of the WD_BLACK SN770 1TB review, I actually know someone who genuinely believes every guy likes her despite the opposite is true. Her conspiracy-level claims are simply absurd. For example, she imagines every social event she is a part of are people setting her up, except the events in question are open to almost anybody. She also went around telling others certain guys are interested in her because they text her all the time, but upon reviewing the evidence, not only do such guys only text her for business purposes only, she was the one who actually took the initiative to text them every time. I am not sure where she got all her ideas from, and if you think this is some high school drama, the said person has been out of high school for over a decade. Her claims are just so impossible and far from reality for anyone who knows her in real life. Speaking of impossible claims, every wireless mouse I have known is heavier than its wired counterpart due to the addition of a battery and required wireless components, and as recent as my Burst Pro Air review, I criticized how ROCCAT added more weight than it should compared to the Burst Pro. So when I got my hands on the Kone XP Air, I was genuinely confused in that not only was it not heavier than the Kone XP, it was actually lighter than its wired counterpart by 5g. Wait, what? As impossible as it sounds, this is indeed true for the Kone XP Air, all while keeping everything that made its wired counterpart great. How is this possible? Read on to find out!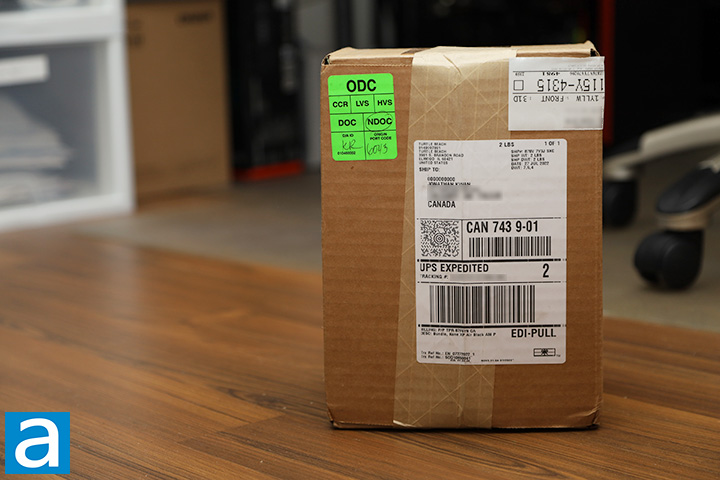 Our review unit of the ROCCAT Kone XP Air arrived to us here in Calgary, Alberta, Canada from a shipping fulfillment center in Elwood, Illinois, USA. The small brown corrugated cardboard box arrived in excellent condition to us here in Calgary, Alberta, Canada using UPS Expedited.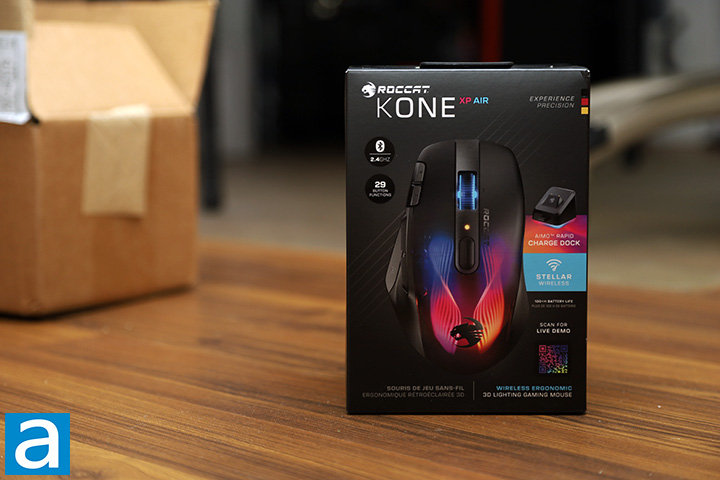 The ROCCAT Kone XP Air's retail packaging uses a consistent template compared to what we have seen from the company in the past. The predominantly black color scheme is contrasted by the mostly white text. An overhead photo of the mouse occupies majority of the real estate in front. Beside the mouse are two bands bringing light to its AIMO rapid charge dock and Stellar Wireless technology. At the top, you will find ROCCAT's logo and model name. Two pseudo-stickers immediately below show its 2.4GHz and Bluetooth wireless connectivity as well as 29 function buttons. A subtle tab on the right points out its German engineering and the line "Experience Precision". At the bottom is the description, "Wireless Ergonomic 3D Lighting Gaming Mouse". Further feature highlights and miscellaneous product information such as specifications and system requirements can be found on the remaining sides of the box.
Before we move on, let us take a look at the specifications of the ROCCAT Kone XP Air, as obtained from the manufacturer's website:
Sensor
- ROCCAT Owl-Eye 19K optical sensor
- Adjustable lift-off distance
- 50g acceleration
- Minimum/Maximum DPI: 50/19,000
Connectivity
- 2.4GHz STELLAR WIRELESS via USB-A Adapter
- Bluetooth
- USB-A
General
- ROCCAT Titan Switch Optical
- 100 million click life cycle
- On-board memory
- USB Report Rate: 1,000 Hz
- 1.8m flexible cable, USB-C to USB-A
Dimensions
- Length: 126mm
- Height: 40mm
- Width: 72mm
- Weight: 99g
Package Contains
- ROCCAT Kone XP Air (Ash Black) / (Arctic White)
- Charging Dock
- PhantomFlex Charging Cable
- Quick-start guide
Compatibility
- Windows 7 and above (software support)
- USB 2.0 (or higher)
- Internet connection (for driver software)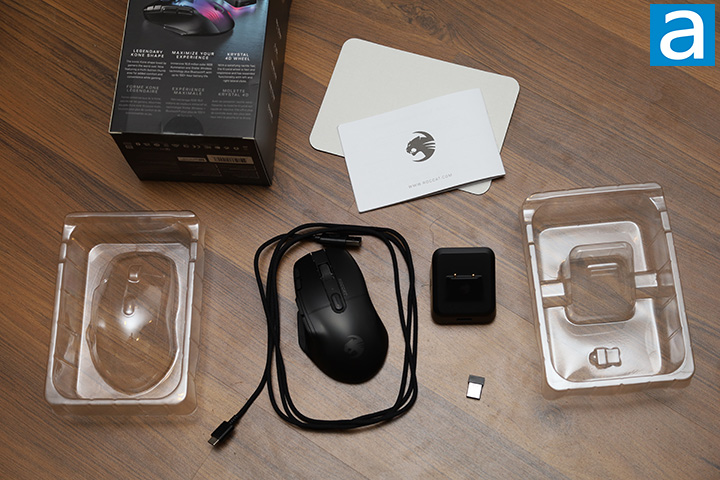 Out of the box, you will receive the ROCCAT Kone XP Air mouse placed in a clear plastic shell, rapid charge dock in a second clear plastic shell, PhantomFlex USB Type-C to USB Type-A cable, USB wireless adapter, and a quick start guide. The software can be downloaded from ROCCAT's website. The file size of ROCCAT Swarm is 131MB at press time. It should not take more than a minute to download given it is 2022 after all, and if you already have other peripherals from the company, you will not need to install a separate software suite.
---
Page Index
1. Introduction, Packaging, Specifications
2.
A Closer Look - Hardware and Software
3.
Subjective Performance Tests
4.
Conclusion