By: Aaron Lai
August 18, 2017
Recently, I joined the wearable crowd and purchased a fitness tracker that doubles as a smartwatch. Previously, I have not really been big into wearing these kind of things. I saw those who buy it as people who just want notifications all the time, but are too lazy to pull out their phone to actually do anything about it. However, once I started using one, I began to appreciate a few things about it. I can say I quite like the physical benefits of the tracker, as it motivates me to get off my chair and move more than I used to. It does not feel like a huge shift or change in lifestyle either, but rather a collection of small changes. I also enjoy getting notifications off my watch, as it means I only have to pull out my phone out for important notifications. With my watch, I cannot see too much other than a small preview, but it is enough to let me skip the unnecessary things. Obviously, both of these features can be solved with alternatives, such as a step tracker and a smartphone, but after using a watch like this, I am glad I have this. Today, we have the SilverStone Raven RVZ03, the next small form factor computer case in the Raven lineup. While it may look similar internally as the previous mini-ITX Raven, it adds a current feature with an RGB light strip at the front. I know a lot of users have no care for the RGB colors, but once you get used to it, you might actually miss it when it goes away. Even still, is this another small form factor case that is worth having, or is it just yet another RGB case? Read on to find out!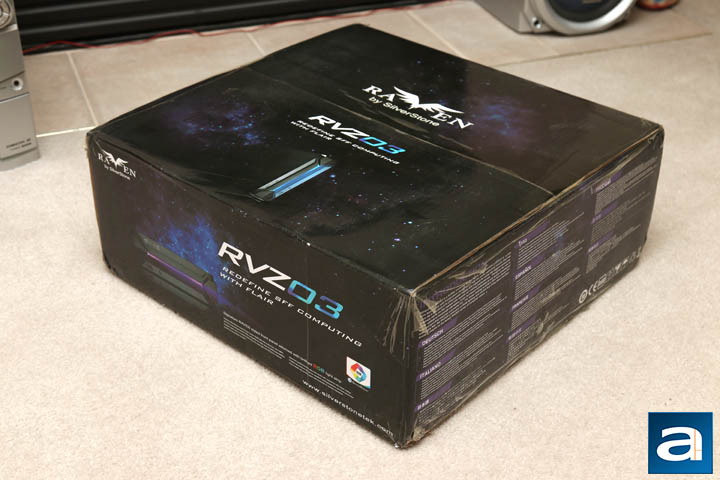 Today's review unit of the SilverStone Raven RVZ03 arrived via UPS Standard. As this is a computer case, the retail container is the container it shipped in. Travelling all the way from SilverStone's offices in Chino, California, the box arrived in pretty good condition. There are very few dents or scratches to speak of. As for the retail container, you can see a few expected elements, and some interesting ones too. For one, you can see the SilverStone logo and also the Raven moniker on the box. The Raven name, while it is not unknown to us here at APH Networks, has been off the grid for a while until now. In fact, the last SilverStone Raven case we looked at, the RV05, was from a little less than three years ago. Like we have seen on the higher-end SilverStone cases, we have full color printing on the exterior of the box. The RVZ03 comes with a space-age theme, with a galaxy like background. The product in question can be seen from several perspectives around the box, with specifications listed in many languages too. One big addition we do see here is SilverStone's RGB logo, and this plays a big role in the aesthetics of the Raven RVZ03, but we will see how later.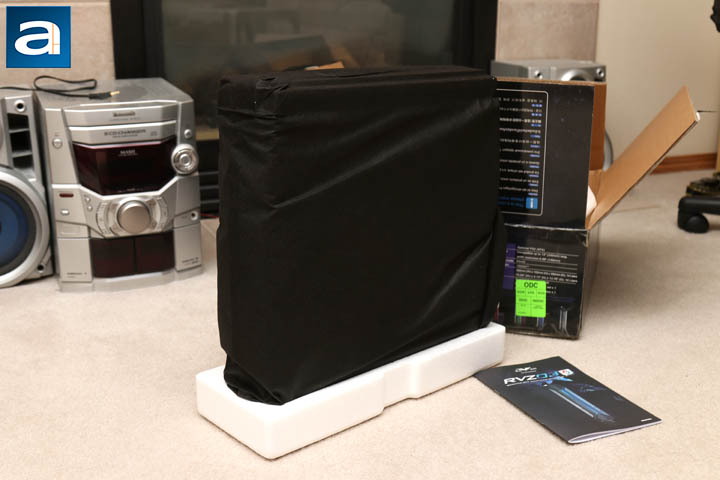 Out of the box, we have the SilverStone Raven RVZ03 wrapped in a mesh bag, which again follows in line with the similar Raven treatment we have seen in the past. The mesh bag works well in protecting the case from any surface scratches. The case is held in two foam brackets for any impact protection while the case is in transit. Otherwise, a pretty sizable manual is included with the Raven RVZ03 in a plastic bag. The manual itself is actually quite helpful and thorough. As this is a smaller chassis and a bit more challenging to build in, I would recommend giving this book a flip through.
Before continuing on, I have grabbed the specifications of the SilverStone Raven RVZ03 from the manufacturer's website for your perusal:
Model No.: SST-RVZ03B
Material: Reinforced plastic outer shell, steel body
Motherboard: Mini-DTX, Mini-ITX
Drive bay: Internal 2.5" x 4
Cooling system: Top - 1 x 120mm fan (1500rpm, 18dBA), Bottom - 1 x 120mm fan (1500rpm, 18dBA), 1 x 120mm fan slot
Expansion slot: 2
Front I/O port: USB 3.0 x 2, audio x 1, MIC x 1
Power supply: Optional PS2(ATX)
Expansion card: Compatible up to 13" (330mm) long, width restriction-5.88" (149mm)
Limitation of CPU cooler: 83mm
Limitation of PSU: 150mm
Net weight: 4.05 kg
Dimension: 382mm (W) x 105mm (H) x 350mm (D), 14 Liters / 15.04" (W) x 4.13" (H) x 13.78" (D), 14 Liters
Extra: Support Kensington lock, PCI Express riser card set x 1, RGB light strip control box x 1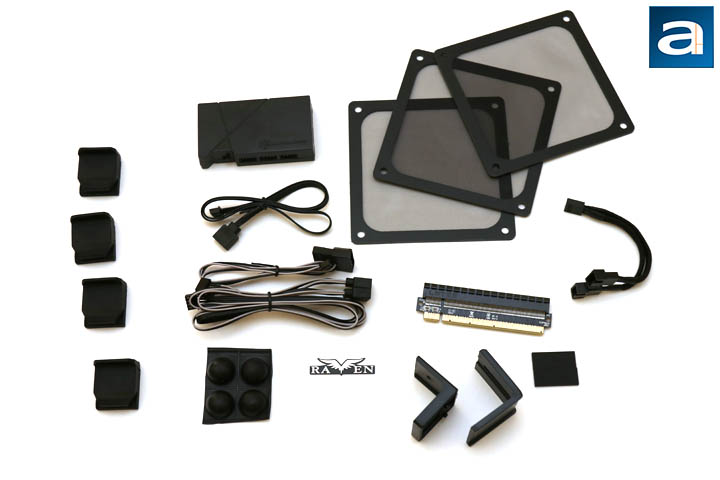 Before we get to the physical overview, let us take a look at the accessories included with the SilverStone Raven RVZ03. In fact, there are actually a whole lot of accessories included. Starting from the left to right, we first have four rubber spacers to help hold the RVZ03 in a vertical position. Next to this, we have a small light control box, which some of you may know as the SilverStone LSB01, and all of its included cables. This is meant to help control the RGB strip included with the RVZ03. Then we have four rubber bubbles, meant to hold the case in a horizontal position. Three 120mm magnetic fan filters are also included to filter the intake holes on the case. Rounding out the rest of these items are a 4-pin PWM fan splitter, PCI-Express riser card, plastic holders and foam spacers for video cards, and a Raven badge. This myriad of accessories is great to see in such a small build, but it is not too surprising considering the Raven moniker and brand lineup.
---
Page Index
1. Introduction, Packaging, Specifications
2.
Physical Look - Outside
3.
Physical Look - Inside
4.
Installation and Conclusion