By: Jonathan Kwan
December 3, 2021
"My dad said you are really smart," my friend said as we were all hanging out as a group. "He appreciates your knowledge and the way you present information." I was about to respond with a thanks, but not before another friend jumped in, referring to me. "He does not need any more validation. He already thinks he is smart and he does not need anyone to tell him that. It just fuels his ego at this point." Now, while I would like to believe I am reasonably intelligent and I am happy with where I am today, I try my best -- my friends, in at least a tongue-in-cheek manner, may disagree -- to not come off as having a real ego. That said, I would like to make the argument that no matter what one person's professional, academic, and social acceptance is, most will appreciate at least some validation from others. For many years, ASUS routers are well-regarded by general consumers and enthusiasts alike. I bought an ASUS RT-AC68U seven years ago, and even to now I still use it as an essential component of my home network. It delivers solid performance for the standard it was built for, had absolutely zero reliability issues over the years, and has all the features I have ever needed thanks to its DD-WRT support. In my opinion, ASUS' solid reputation for Wi-Fi routers is well-deserved, and today we will take a look at one of their latest models, the ROG Strix GS-AX5400. The ROG Strix GS-AX5400, as its name suggests, is a midrange gaming-focused AX5400 Wi-Fi router. Is this another excellent product from the company, and do they need more validation given its already excellent reputation? Read on to find out!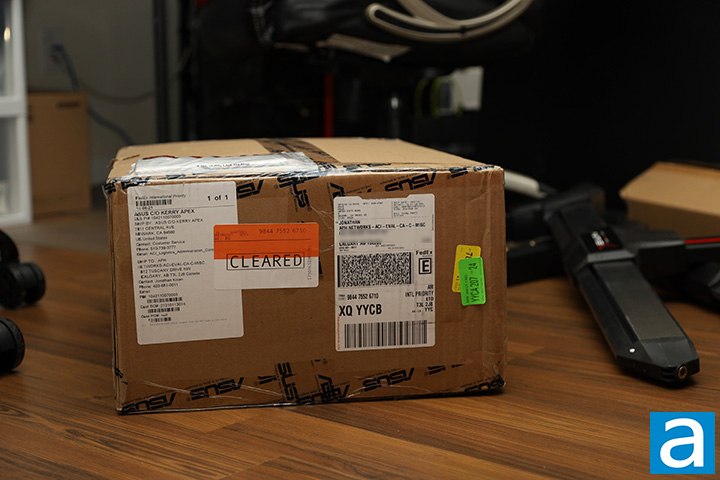 Our review unit of the ASUS ROG Strix GS-AX5400 Wi-Fi router came in a large brown corrugated cardboard box from the company's American offices in Newark, California, USA. Everything arrived in excellent condition to us here in Calgary, Alberta for our review today using the FedEx International Priority. The box also contained many other products, including the ROG Strix Scope NX TKL Moonlight White, ROG Strix Scope Impact II Moonlight White, ROG Strix Go Core Moonlight White, ROG Cetra II Core Moonlight White, and ZenWiFi XD6, which my colleagues and I will cover.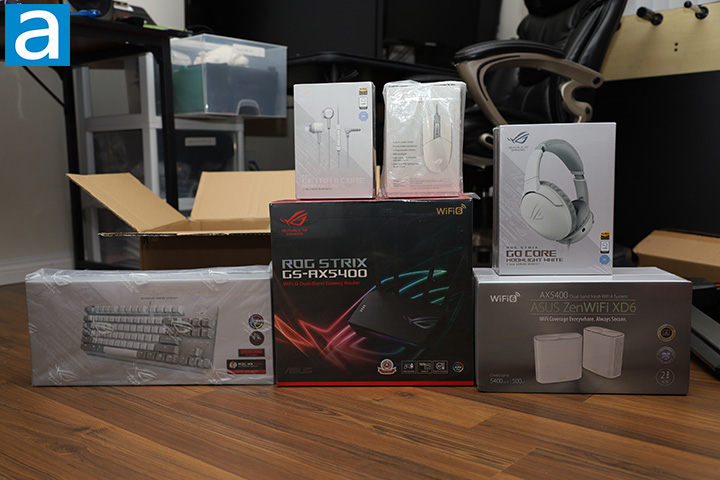 ASUS sent us their ROG Strix GS-AX5400 router in retail packaging. The design is recognizably ASUS ROG with a predominantly black and red color scheme to accentuate its gaming theme, which you can see in our photo above. In the middle, you will find a top three-quarters view of the ASUS ROG Strix GS-AX5400 router occupying some prime real estate. The ROG logo drawn in lighting effects fills the background behind the photo of the router. The product name and description, the latter being "WiFi 6 Dual-Band Gaming Router", is printed adjacent to the product image. Along the bottom is an array of four icons providing some highlights of this product, which is its Mobile Game Mode, Gaming Port, Easy Port Forwarding, and ASUS AURA RGB. ASUS's logo is placed at the bottom left corner, while the Republic of Gamers logo is at the top left. The remaining sides of the box has more feature highlights and specifications.
Before we move on, let us take a look at the specifications of the ASUS ROG Strix GS-AX5400, as obtained from the manufacturer's website:
Model Name
- GS-AX5400
Network Standard
- IEEE 802.11a
- IEEE 802.11b
- IEEE 802.11g
- IEEE 802.11n
- IEEE 802.11ac
- IEEE 802.11ax
- IPv4
- IPv6
Product Segment
- AX5400 ultimate AX performance: 4804 Mbps + 574 Mbps
AX technology
- Yes
Data Rate
- 2.4GHz N: 2x2 (Tx/Rx) 1024 QAM 20/40MHz, up to 500Mbps
- 5GHz AC: 4x4 (Tx/Rx) 1024 QAM 20/40/80MHz, up to 2167Mbps
- 2.4GHz AX: 2x2 (Tx/Rx) 1024 QAM 20/40MHz, up to 574Mbps
- 5GHz AX: 4x4 (Tx/Rx) 1024 QAM 20/40/80/160MHz, up to 4804Mbps
Antenna
- External antenna x 4
Transmit/Receive
- 2.4 GHz 2 x 2
- 5 GHz 4 x 4
Processor
- 1.5 GHz tri-core processor
Memory
- 256 MB Flash
- 512 MB RAM
Boosts speed
- OFDMA (Orthogonal Frequency Division Multiple Access)
- Beamforming: standard-based and universal
- 1024-QAM high data rate
- 20/40/80/160 MHz bandwidth
Operating Frequency
- 2.4 GHz / 5 GHz
Ports
- RJ45 for Gigabits BaseT for WAN x 1
- RJ45 for Gigabits BaseT for LAN x 4
- USB 3.2 Gen 1 x 1
Button
- WPS Button
- Reset Button
- Power Switch
LED Indicator
- Power x 1
- 2.4G x 1
- 5G x 1
- WAN x 1
Power Supply
- AC Input: 110V~240V(50~60Hz)
- DC Output: 19 V with max. 1.75 A current
Package content
- GS-AX5400 Router
- RJ-45 cable
- Power adapter
- Warranty card
- Quick start guide
Product Weight (g)
- 701.3 g
AiMesh
- AiMesh: Yes
- Primary AiMesh router: Yes
- AiMesh node: Yes
Router APP
- ASUS Router APP: Yes
Game
- Game Boost/acceleration : Yes
- ROG_First: Yes
- OpenNAT (Game Profile): Yes
- Gaming port: Yes
Alexa
- Support Alexa skill: Yes
AiProtection
- AiProtection: AiProtection Pro
- Router Security Assessment: Yes
- Malicious site blocking: Yes
- Two-Way IPS: Yes
- Infected Device Prevention and Blocking: Yes
Parental Control
- Parental Control: Yes
- Parental Control Customized Internet schedule: Yes
Traffic Control
- Adaptive QoS: Yes
- Bandwidth Monitor: Yes
- Bandwidth limiter: Yes
- Maximum Bandwidth limiter rule: 32
- Traditional QoS: Yes
- Maximum Traditional QoS rule: 32
- Traffic Monitor: Yes
- Real-time traffic monitor: Yes
- Wired Traffic Monitor: Yes
- Wireless Traffic Monitor: Yes
- Traffic Analyzer: Yes
- Traffic analysis period: Daily, Weekly, Monthly
- Website history: Yes
Wireless
- IPv6: Yes
- MU-MIMO: Yes
- Wi-Fi Encryption : WPA3-Personal, WPA2-Personal, WPA-Personal, WPA-Enterprise , WPA2-Enterprise , WPS support
- UTF-8 SSID: Yes
- Guest Network: Yes
- Maximum Guest Network rule: 2.4GHz x3, 5GHz x3
- WPS: Yes
- Wi-Fi MAC address filter: Yes
- Maximum MAC filters: 64
- Wireless scheduler: Yes
- Wi-Fi Radar: Yes
- Airtime fairness: Yes
- RADIUS Server: No
- Universal beamforming: Yes
WAN
- Explicit beamforming: Yes
- Internet connection Type: PPPoE, PPTP, L2TP, Automatic IP, Static IP
- Dual WAN: Yes
- WAN Aggregation: Yes
- 3G/4G LTE dongle: Yes
- Android tethering: Yes
- Port forwarding: Yes
- Maximum port forwarding rule: 64
- Port triggering: Yes
- Maximum port triggering rule: 32
- DMZ: Yes
- DDNS: Yes
- NAT Passthrough: PPTP Pass-Through, L2TP Pass-Through, IPSec Pass-Through, RTSP Pass-Through, H.323 Pass-Through, PPPoE relay
LAN
- DHCP Server: Yes
- IGMP snooping: Yes
- IPTV: Yes
- LAN Link Aggregation: Yes
- Manually assign IP address: Yes
- Maximum manually assign IP address rule: 64
VPN
- VPN Client L2PT: Yes
- VPN Client OVPN: Yes
- VPN Client PPTP: Yes
- VPN Server IPSec: Yes
- VPN Server OVPN: Yes
- VPN Server PPTP: Yes
- VPN Fusion: Yes
USB application
- File System: HFS+, NTFS, vFAT, ext2, ext3, ext4
- HDD hibernation: Yes
- Safely Remove disk: Yes
- AiCloud: Yes
- Download master: Yes
- AiDisk: Yes
- Media Server: Yes
- Time Machine: Yes
- Samba Server: Yes
- FTP Server: Yes
- Shared Folder privileges: Yes
Administration
- Operating mode: Wireless router mode, Access point mode, Media bridge mode, Repeater mode, AiMesh node mode
- Operating system: ASUSWRT
- Free OS upgrade: Yes
- Firewall: Yes
- Maximum Firewall keyword filter: 64
- Maximum Firewall network service filter: 32
- Maximum Firewall URL filter: 64
- Wake on LAN (WOL): Yes
- SSH: Yes
- Configuration backup and restore: Yes
- Diagnosis tools: Yes
- Feedback system: Yes
- System log: Yes
Opening the flap-top box reveals a cardboard tray that contains everything neatly organized in their own sections. Out of the box, you will receive the GS-AX5400 router itself, CAT5e network cable, power adapter, warranty information, and various quick start guides.
---
Page Index
1. Introduction, Packaging, Specifications
2.
Physical Look - Hardware
3.
Configuration and User Interface
4.
Performance Tests
5.
Conclusion