Page 2 - Physical Look - Hardware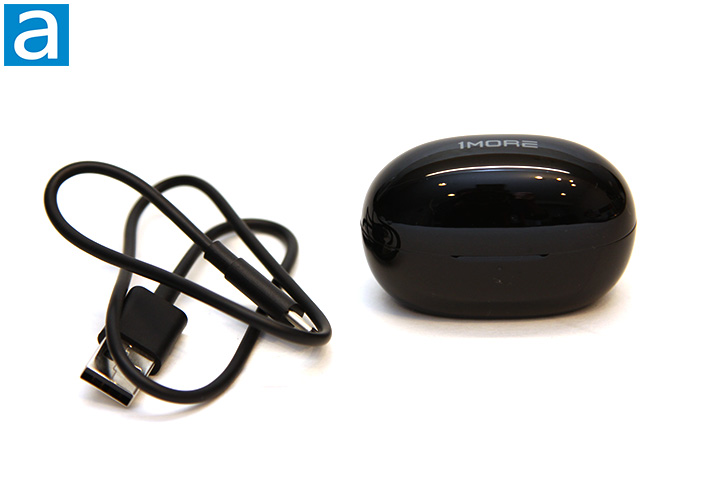 Like all true wireless earphones, 1MORE provides a carrying case that doubles as a charger for the earbuds. The charging case is consistent with the overall color scheme of our black 1MORE ColorBuds True Wireless, which has a glossy black finish with 1MORE's logo on top. Both its shape and design are quite conservative looking like an egg, but I am not complaining. That said, I prefer a matte finish more, mainly because the glossy finish will attract fingerprints and scratches will be more obvious. It measures in at 3.8 cm in height, 6.0 cm in width, 3.0 cm in depth, and weighs 40.3g with the earphones in, which is a fraction of the size of the Stylish True Wireless. This makes the ColorBuds compact and can be conveniently carried in a bag or jacket pocket. In front, there is one multicolor LED to indicate the current charge status, which is green for full battery, orange for medium battery, and red for low battery. It glows red when it the charging case is plugged in and charging, and turns off when charging is complete. It will also flash red if the charging case's battery is too low.
Each piece of the ColorBuds True Wireless has a 55mAh built-in battery for up to 6 hours of battery life at 50% volume. They weigh 4.1g each and measures in at 27mm by 21mm by 20mm at its largest dimensions, making them significantly lighter and smaller than the Stylish True Wireless. They take approximately 70 minutes to charge using the charging case and a 15-minute charge adds an extra 2 hours of play time. The charging case supports up to three recharge cycles, or an additional 16 hours of music, for the earbuds with its 410mAh internal battery. The charging case itself also takes about 85 minutes to charge via its USB Type-C port. I am very happy to see a USB Type-C port, given it is 2020. That aside, from my experience, these estimates seem to be underrated since I got 7.4 hours at 50% volume from my tests. This may sound strange, but this is exactly the same as what I got with the Stylish True Wireless even though the ColorBuds True Wireless are rated half an hour less. The ColorBuds True Wireless is also significantly better than other true wireless earphones like the Sennheiser Momentum True Wireless and Philips Upbeat True Wireless SHB2505.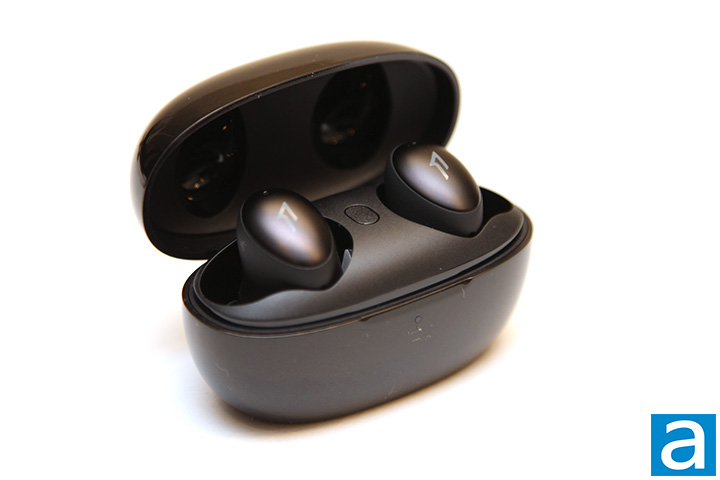 The 1MORE ColorBuds True Wireless earbuds are revealed once you flip open the top of the charging case. One unique feature is the pairing occurs as soon as the case lid is opened rather than when the earbuds are removed from the case, making the process faster. The earbuds have a simple and clean appearance in a good way, where the exposed portion comes in a matte black finish with 1MORE's logo on the outside. I am a fan of its understated look, and it works very well in not calling too much attention to itself in day-to-day use. Adjacent to the 1MORE logo is also where a small indicator LED is located to indicate its charge or pairing status. This is also where the outside microphone for identifying environmental noise is located. The LED lights up red when it is charging and turns off when it is done. It will flash red and blue or glow blue depending on the pairing status as well.
The 1MORE ColorBuds True Wireless earphones connect to your audio source device via Bluetooth 5.0 using a Qualcomm chip. Protocols supported over Bluetooth 5.0 include aptX, AAC, and SBC. SBC, or Subband Coding, is the default Bluetooth audio codec with reasonably good audio quality and low processing power requirements. aptX is a time domain ADPCM compression algorithm that promises CD like quality according to the people promoting it. In case you are asking, Apple devices does not support aptX, but many Android devices do. Fortunately, for Apple users, the ColorBuds True Wireless supports AAC as well, which communicates at about 250kbps from the source.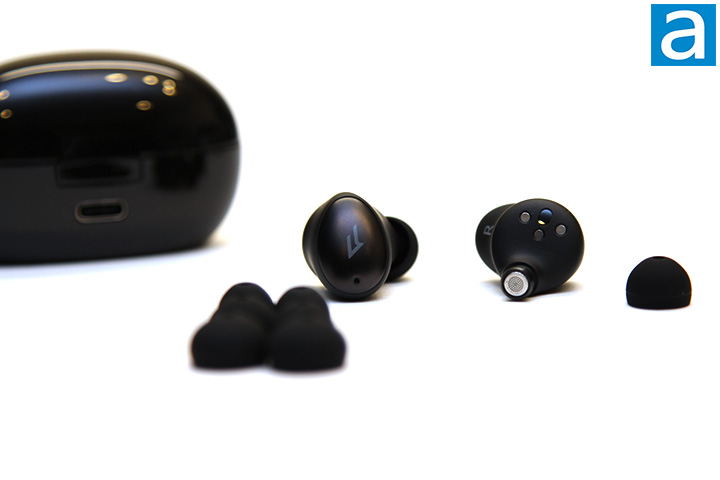 Each side of the 1MORE ColorBuds True Wireless will automatically turn on once you open the case. As you can see in our photo above, since there are no wires, 1MORE uses a triplet of pogo pins on each side to keep those electrons flowing when it is inside the charging case. You can use these earbuds in mono or stereo mode, and it will indicate using different sounds in your ears the battery and connection status for each earbud.
The design of these earbuds is symmetrical and the capacitive tap controls on both sides have similar functions in order to facilitate its mono mode support. Each side can be used to control the voice assistant, calls, and music. I found the tap controls to work quite well; since it requires at least a double tap to do something, I never had a problem with accidental activation. In stereo mode, the different sides can be used skip or repeat tracks or adjust the output volume. Both earbuds also feature two microphones each -- one on the outside for detecting environmental noise and one on the inside for capturing your voice -- for a total of four, with cVc 8.0 environmental noise cancellation to improve voice call quality, which we will see how they perform on the next page. Since the ColorBuds have an ergonomic shape and are so small and light, they feel very comfortable. I could almost forget they are in my ears. I found its fit to be very good as well. When I am running, they do not lose its seal easily. Compared to the Stylish True Wireless, they protrude a lot less out the side of my ears for a much better look while in use. Through my extensive testing, they have never fallen out of my ears. I tried shaking them out and they simply will not go anywhere.
Taking off the sleeves reveal its full-range balanced armature driver. Its frequency response and output power were not given. Its 22 ohm impedance is a bit higher than the Stylish True Wireless' 16 ohm impedance though. 1MORE claims these drivers provide low distortion across the entire frequency range for crisp treble output and punchy bass, which I will discuss in my auditioning results in just a moment. The drivers aim directly into your ear for a more direct and transparent sound reproduction characteristic like many modern in-ear monitors. At the same time, it makes the earphones much easier to clean in the long run too. The circular-shaped acoustic tube via the sleeves assist the aim into the user's ear canals, and since these earphones are designed for a closed configuration, the 1MORE ColorBuds True Wireless are made for passive noise canceling.
Adjacent to the drivers, next to the pogo pin contacts, are infrared sensors on both sides. They detect whether the earphones are in your ears or not, and will pause your music automatically when you take them out. This feature works very well from my experience. The 1MORE ColorBuds True Wireless are also IPX5 certified for water and sweat resistance.
With all this in mind, how will they perform? As always, we have the entire Page 3 dedicated to presenting our auditioning results.
---
Page Index
1.
Introduction, Packaging, Specifications
2. Physical Look - Hardware
3.
Subjective Audio Analysis
4.
Conclusion