Page 2 - A Closer Look, Installation, Test System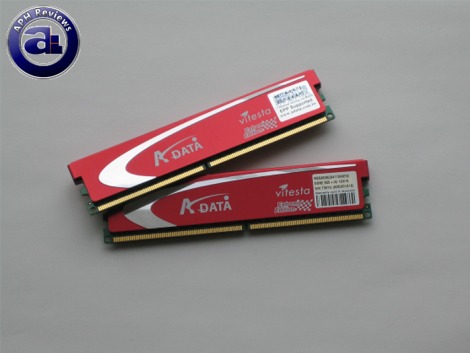 The A-DATA Extreme Edition DDR2 800+ 2x1GB comes enclosed in sharp red heatspreaders. A-DATA has taken more of a classic approach; in which solid aluminum headspreaders are used to dissipate heat away from the memory module itself. While this may not be the most efficient method of doing so, during our tests our RAM runs acceptably warm to touch.
Both sides of the headspreader looks the same -- with the A-DATA logo located on the red headspreaders; and a curve line as part of the design that's actually an extra layer of aluminum on top of the headspreaders with texturized lines. Stickers are located on both sides of the modules; of which one side is to display its latencies, while the second side shows information such as part numbers and serial numbers. The stickers are holographic stickers, I've heard that it is to distinguish itself from fake A-DATA modules.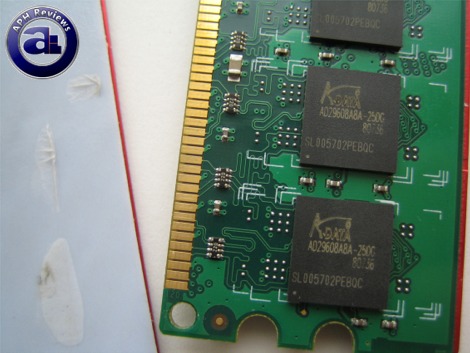 The aluminum heatspreaders are actually quite easy to remove -- they are solid and not very prone to permanent bending such as OCZ's honeycomb style heatspreaders. There are two parts of the heatspreader; half for each side. By pulling them apart at its edges, the clips between the heatspreader halves will disengaged and its adhesive thermal interface material is not too stubbornly clung to the memory ICs.
Behind the headspreaders are what most enthusiasts want to take look at -- the ICs beneath the surface, as they usually matter much to overclocking. The double sided PCB doesn't hold any Micron D9GMHs -- not that we'd expect from RAM at this price point anyway. I wasn't able to pull out much from the internet on the information posted on the chips, the most I can find vaguely is that the A-DATA Extreme Edition DDR2 800+ 2x1GB set uses ProMOS ICs.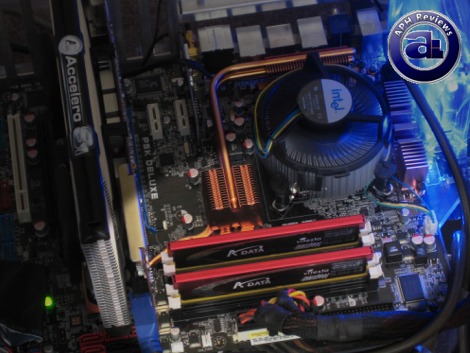 Our test system specifications as follows:
CPU: Intel Core 2 Duo E6300 @ 2.33GHz (333MHz*7 - 1333MHz FSB QDR)
Motherboard: Asus P5K-Deluxe/WiFi-AP
Chassis: Danger Den Torture Rack (1x Thermaltake 120mm LED Fan)
Power: Tagan TurboJet 1100W
Graphics: Asus Radeon X1950 Pro 256MB
Graphics Cooler: Arctic Cooling Accelero S1, with Turbo Module
Sound: Integrated ADI SoundMAX 1988B
Optical Drive: Liteon 16X DVD-ROM
Hard Drive: Western Digital Caviar 7200RPM 80GB 8MB Cache
Operating System: Microsoft Windows XP Professional SP2
Compared Hardware
- OCZ Reaper HPC PC2-8500 2x1GB @ DDR2-800 4-4-3-15
- OCZ Reaper HPC PC2-8500 2x1GB @ DDR2-1066 5-5-5-15
- A-DATA Extreme Edition DDR2 800+ 2x1GB @ DDR2-800 4-4-4-12
We've chosen 4-4-3-15 for the OCZ Reaper HPC PC2-8500's downclock timings because a lot of OCZ's PC2-6400 offerings operate at those settings, such as OCZ's Special Ops Edition Urban Elite 2x1GB. While this may not reflect the actual pair due to differences in ICs, it would pose as a more reasonable setting for our benchmarks.
We also tested the OCZ Reaper HPC PC2-8500 at its default settings and latencies (PC2-8500/DDR2-1066, 5-5-5-15) as a reference to our benchmarks of faster memory. The A-DATA Extreme Edition DDR2-800+ 2x1GB will be benchmarked at its default frequency and stock timings to obtain its performance from manufacturer's specifications.
---
Page Index
1.
Introduction, Packaging, Specifications
2. A Closer Look, Installation, Test System
3.
Benchmark: 3DMark06
4.
Benchmark: PCMark05
5.
Benchmark: EVEREST CPU
6.
Benchmark: EVEREST FPU
7.
Benchmark: EVEREST Memory
8.
Benchmark: SuperPI, Cinebench 9.5, EVEREST Memory Latency
9.
Overclocking Results and Conclusion