By: Kenneth Kwok
March 29, 2013
This past weekend has been an interesting one for me. Not everything worked out exactly the way I had planned, but at the very least, I can say I have found at least one good thing to pull out of it. That 'something' would be the completion of an anime I have been watching weekly for the past two seasons; spanning twenty five episodes in total. The name of the anime is ShinSekai Yori, with an English name of "From the New World" produced by A-1 Pictures -- which has been known for some popular animes in the past few seasons, including Sword Art Online and Magi: The Labyrinth of Magic. Personally speaking, ShinSekai Yori was probably one of the best animes I have watched started in 2012. One thing made it stand out was the story and the overall mood; it was captivating in and of itself, and had good pacing throughout. Each preview had me on the edge of my seat waiting for the next episode, which by all means is a good thing. If I had to take something out of this interesting series, it would be the ability to look at things from a different light, and to try to understand things before blindly buying into it. This seemed to be fairly similar to writing reviews, since a deep analysis is required, and being unbiased is a big part of it as well. With this in mind, let's take a look at this week's product, again from Cooler Master and from the same CM Storm series of products. Let us see how the Cooler Master Storm Recon gaming mouse really is, and how well it stacks up compared to other similar products. After all, it is important to understand things before buying into it, right?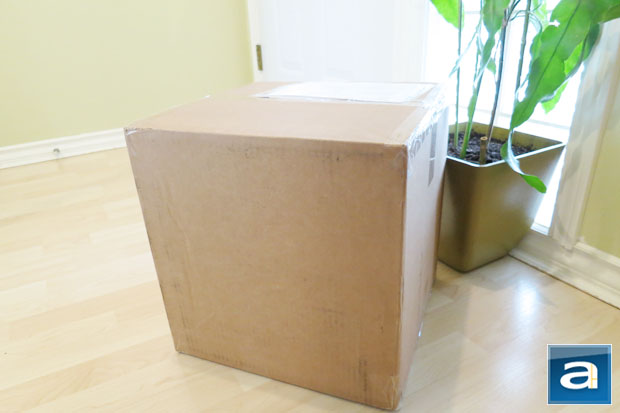 As I have stated in my Cooler Master Storm Power-RX review last week, the Cooler Master Storm Recon came in a big brown corrugated cardboard box from Cooler Master's American office in California, USA, with UPS Standard being the shipping method used. Inside the box, a Cooler Master Storm Power-RX and Cooler Master Storm QuickFire TK Blue can also be found. After looking at the box again, I must say, it was still way larger than it actually needed to be, considering the products they were sending us. The upside to it was the fact that the products came in safely, due to the huge amount of brown wrapping paper used to stuff the remaining space found in the box.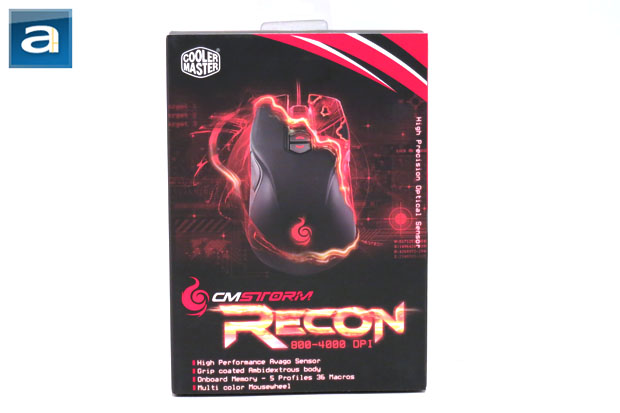 The retail packaging of the Cooler Master Storm Recon is as one would expect from a gaming product from CM Storm's line of products. It is lined with red splashes of color, while being accentuated by its black background. The top right of the box has some stripes of red and white flowing down, with the Cooler Master logo found on the left side. Below that is a picture of the Recon mouse with some cool computer effects over parts of it; this look is expected as to what one would expect to find on a gaming product. A backdrop can also be found here with some designs that seem to have come out of one of those computer displays you see in video games. Below that, we are greeted with a giant logo of the Cooler Master Storm Recon with the dpi listed right below it. Finally, a few feature highlights are found on the base of the front, and are used to advertise the product. The front flap can be opened to reveal the mouse itself hidden behind a plastic shell, as well as some more features printed on the backside of the flap. Additional feature listings can also be found on the backside of the box, and as usual, includes the standard certifications and details. Overall, as a product box, this works quite well. It will look good in most retail displays, and slick enough to get someone excited about the mouse at first glance.
Just as with most budget oriented gaming peripherals these days, there wasn't much to be found after unwrapping the packaging. All we found inside was the plastic shell that housed the Cooler Master Storm Recon, and a small information booklet. I can't say I was expecting much more out of the box though, as the important thing is the mouse itself is in there. At this point anything else is a bonus. Software for the Recon mouse can be found online from Cooler Master's website, and can be downloaded easily by any user. The full specifications and a fact sheet can also be found on the site ,which can be useful for additional information before choosing whether or not to pick up the Cooler Master Storm Recon from your favorite physical or online retailer.
Speaking of specifications, let's take a look at them before moving on, as obtained from Cooler Master's website:
Specifications
- Model: SGM-4001-KLLW1
- Color: Black
- Form Factor: Ambidextrous Body
- Sensor: Avago ADNS-3090 Optical Sensor
- Programmable Buttons: 9
- Onboard Memory: 32KB
- Polling Rate: 1000 Hz /1 ms
- Velocity: Up to 150 ips
- Acceleration: 20 g
- Dimension:
* 64.4 x 116.4 x 42 mm
* 2.53 x 4.58 x 1.65 inches
- Weight: 139 g / 0.31 lbs
- Warranty: 2 years
- UPC Code: 884102015373
Features
- Avago 3090 optical sensor with 800-4000 dpi
- Sensor Lift-Off-Distance adjustment
- On-The-Fly DPI, LOD and USB polling rate adjustments
- Up to 1.5m/s or 60"/s tracking speed and 20G of acceleration
- Highest grade Japanese Omron micro switches
- Extra wide 16 bit USB data path
- 1000 Hz polling rate / 1ms response time
- Super Grip coated ambidextrous mousebody
- Ultra swift mouse feet
- Flexible 1.8 meter or 78.6 inch long cable
- Multicolor Mousewheel light to identify Profiles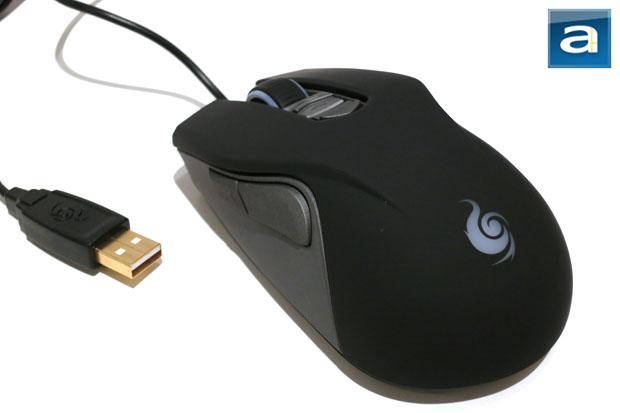 Looking at the overall design of the Cooler Master Storm Recon, the first thing one will notice about it is the claw like U-shape. As with most gaming products we talk about here at APH Networks, the Recon is mostly black, and is highlighted on the side with gray panels instead of black. Interestingly, the front of the mouse is a bit different compared to a lot of other designs. This would be due to the fact that the two mouse buttons are protruded out compared to where the scroll wheel is located. Cooler Master did this intentionally, as it allows the scroll wheel free reign in movement, and also provides a retracted area for the cable to be attached. A standard black plastic cable was used to wire the mouse -- I would have preferred to see a braided cable, but for the target market, it should be fine. Lengthwise, the cable is 1.8 meters long, which should be more than adequate for most users.
Moving back into the topic of the design, as we have mentioned before, the mouse is mostly black in color, and has a claw like U-shape. A CM Storm logo can be found front and center near the base of the mouse, and houses an LED inside. Its lighting can be set to different colors using software. Probably the biggest upside to this mouse is that it is truly ambidextrous; the shape is completely symmetrical, and this also includes the two side buttons found on both sides, which are mirrored accordingly. Both palm type and claw type users will probably appreciate using this mouse, as it does a decent job of keeping both types happy. Specifically for palm type users, the CM Storm Recon fits pretty perfectly in my hand, with space on the right and left side for the rest of your fingers -- although it may still be a bit small for some people. Claw-grip users will appreciate the fact that this mouse is ambidextrous, and the symmetrical shape design adds to the enjoyment factor as well. When it comes to size, the Cooler Master Storm Recon measures in at 64.4 x 116.4 x 42 mm. The usage of a rubber material is comfortable, and very reminiscent of the coating found on the Mionix Naos 5000 and Mionix Naos 3200 which is nothing to scoff at.
Found on the mouse in the area between the two mouse buttons is the scroll wheel. As discussed earlier, it is slightly retracted, and has no material in front to block it -- the whole front of the wheel is visible. The scroll wheel itself is a textured rubber with small protrusions to give a better grip and tactile feel when rolling the wheel. Located just below are two buttons with arrow indicators that are used by default to adjust the dpi levels, which can be set in the software that we will take a look at later on. Four dpi steppings can be used with the Cooler Master Storm Recon, which by default are 800, 1600, 3200, and 4000 dpi. For some reason, outside of the default profile, there is no way to tell what dpi stepping you are on, since the LEDs stay in a constant color outside of the default profile. We will dig deeper into this issue when we focus more on the software. On default mode, changing the dpi also changes the color of the LEDs, which can be found on the sides of the scroll wheel, the dpi setting buttons, and the CM Storm logo near the location where one rests their palm. All three of these LEDs can also be set to different colors separately in software if one chooses to do so. As stated before, the mouse also has four side buttons, two located on each side that can be assigned to different functions in software.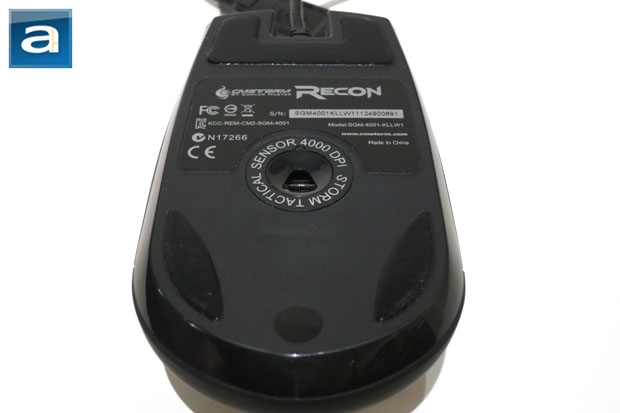 Flipping over our mouse, we are treated with the backside of the Cooler Master Storm Recon. As one would expect, we really don't see too much here; the standard sticker can be found near the middle with the name of the mouse, serial number, model number, and the whole slew of certifications and logos. One of the more interesting parts on this side has to be the three polytetrafluoroethylene (Multi-C2F4, Teflon) feet. Two of which can be found on the bottom left and right corners with small oval shapes; the last piece can be found near the top, and clearly shows the U-shape of the mouse. The top piece is much larger than the other two. It is found in a U-shape as well, which makes sense as fitting the top piece with the same shape makes it overall much smoother and balanced when being used. Although there is no rated lifetime for the feet, I can safely say from previous experiences, they should last longer than the lifetime of the product.
Located at the very center of the mouse is the main selling point of the Cooler Master Storm Recon. It is advertised for housing the Avago ADNS-3090 optical sensor, which is, supposedly, "the best optical sensor on the market". We will see how true this statement is in our tests section, but for now let's just take a look at the finer details of the sensor itself. This optical sensor is capable of up to 4000 dpi sensitivity at up to 6400 frames per second; although in most cases the dpi has really become a marketing term more than a real life depiction of what the actual performance of a given sensor is, at least in terms of precision. Of course, the higher the sensitivity of a sensor, the more flexible it is in real world application, and can be used to adapt to different purposes and styles of usage. This can easily range from normal productivity usage to hardcore FPS gaming. As with most gaming mice, the USB connector is gold-plated. In reality, it does very little, since the gold plating is external, and doesn't make any contact with the USB pins physically. Even so, it does look 'bling' so to speak.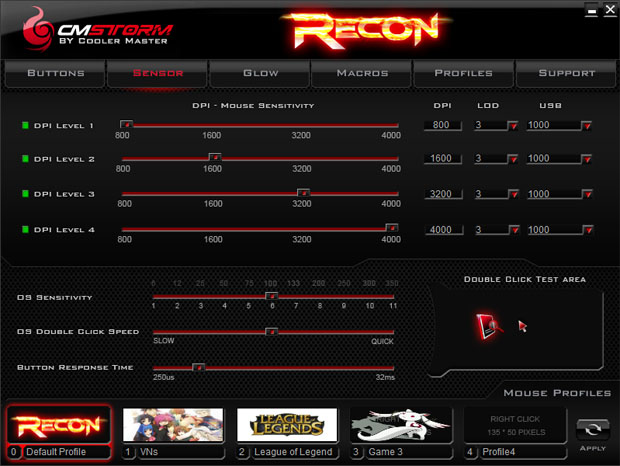 When it comes to software, this is where we find a mixed bag of goodies and things that may not be so good. The software design is very similar to past CM Storm software, such as the one found on the Cooler Master Storm Spawn. Of course, the software does look a bit updated, but still carries the design elements of the brand with the black background and red and white text. There are six main tabs in the program that can be found near the top, these tabs are as follows from left to right: Buttons, Sensor, Glow, Macros, Profiles, and Support. Located at the very bottom are five small boxes with customizable images; these are the profiles that can be created. We have created a few just to showcase this feature. Mainly, up to five profiles can bet set up and saved to the mouse memory. By default, there is no way to swap profiles without going through software, but the mouse buttons can be assigned to swapping profiles if necessary.
First, the Buttons tab is used to reassign the nine buttons found on the mouse. These can be things as simple as a keyboard key down to an advanced macro, which we will talk about later on. The second tab is the Sensors tab; this is where things start to become garbled. Obviously, this screen is used for setting the dpi levels, lift off distance, USB polling rate, OS sensitivity, OS double click speed, and button response time. As aforementioned, four dpi steppings can be set up here. However, the problem with these stepping is that they stay in the set dpi intervals. Not sure why anyone would want to customize these settings if you can only have either 800, 1600, 3200, or 4000 dpi. Yes I am serious, there are four steppings and only four possible choices for steppings. Next up is the Glow tab, which is used to set the different LED colors on the mouse. These can be set separately, and will appear after the settings are applied. The three locations are the sides of the mouse wheel, dpi stepping buttons, and the CM Storm logo.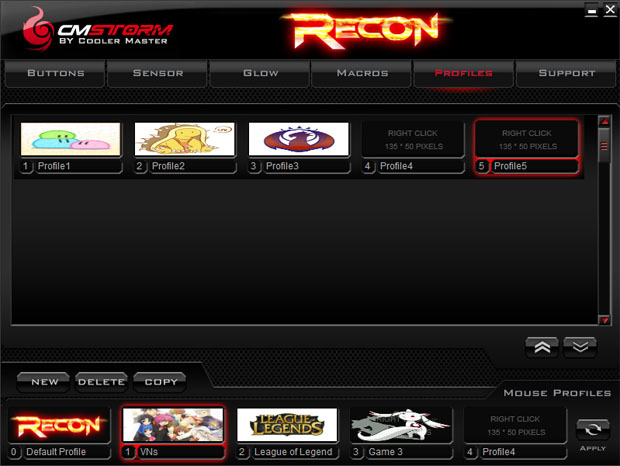 Right next to the Glow tab is the Macros tab. This is where the meat of the software is for a lot of gamers. Macros are usually used to create a chain of events, and activate them all at once while only pressing one button to achieve something that would take much longer over a set sequence. Up to thirty six macros can be recorded and saved to the mouse memory. Nine macros can be placed on each of the four customizable profiles, with a shared total of one hundred actions for the nine macros. This means the one hundred actions can be split across, say, four macros with up to twenty five actions each. These macros can easily be recorded using the software, and also allows a built in delay between actions if the user wants to do so. The delay ranges from no delay at all to 250ms. It is also possible to use the real time delay between actions as well.
Next on the list is the Profiles tab. Here we can create even more profiles for our mouse to use. Although the mouse can only hold five profiles at a time, the hard drive can be used to store additional profiles that you can load on to your mouse at anytime using the program. This feature is quite handy, as it allows for additional profiles to be stored and tested, meaning you don't have to overwrite one of your currently used profiles to test a new one. Lastly, we have the Support tab, which is only used to link to the online support site and information page.
-----------------------------------------
The Tests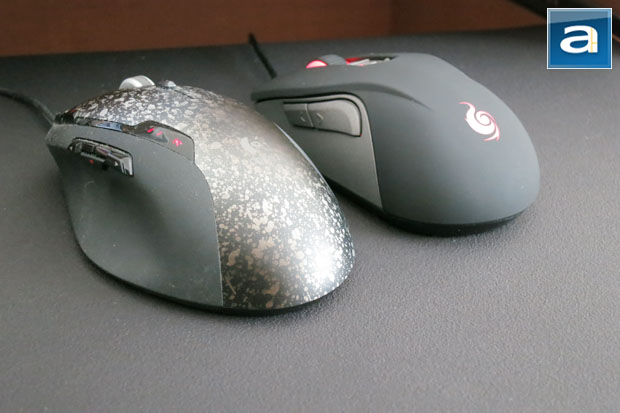 After installing and configuring the Cooler Master Storm Recon software to our liking, we have put the Gigabyte Force M7 Thor through our series of revised standard tracking performance tests. This includes normal office usage in the Windows environment, as well as gaming. Graphics work is done in addition to regular office usage with Adobe Photoshop. Games we have used in this test include League of Legends, Garry's Mod, Counter-Strike: Source, Counter-Strike: Global Offensive, Warhammer 40K: Dawn of War II, Company of Heroes, and a Japanese visual novel named Ef - A Fairy Tale of the Two. The mousing surfaces used includes the SteelSeries SX, SteelSeries QcK mass, Cooler Master Storm Power-RX, and Razer Mantis Speed. Please note that these are subjective tests, but we will attempt to make it as objective as possible with our cross reference testing methods.
As I have probably stated more than once in the past, I prefer to use my mice with my entire palm over the surface of the mouse. As such, I find it hard to use smaller mice at times, because of me being a palm-grip mouse user. However, for the sake of this review, I have swapped myself over to a claw-grip to better accommodate this mouse, as it is smaller, and meant for claw based users in its ambidextrous design. Although it was possible to use it in a palm-grip style, it is definitely more suited for and more comfortable maintaining a claw-grip. The first thing I can say about the mouse is although it may be a bit small, it is very comfortable to use due to the rubber coating applied to it. This rubber coating is faintly reminiscent to the aforementioned Mionix Naos 5000 and Mionix Naos 3200. One quick gripe I had with the mouse was I wished it was slightly taller. At times, it felt as if it was too close to the surface, and made it slightly awkward to use. Another problem I found was the side buttons were a bit too large for a mouse of this size. There were times when they were unintentionally pressed, leaving me going back and forth between pages in my web browser. This problem is compounded by the fact that the side buttons are located on both sides, leaving very little room to place your thumb or remaining fingers without accidentally pressing the side buttons.
When it comes to gaming, the Cooler Master Storm Recon really shines throughout our tests. The accuracy and precision is definitely there. If I had to consider whether or not to believe the claim that the Avago ADNS-3090 optical sensor is the best on the market, I could at least say it is one of the best on the market. It is by far the best optical sensor I have found on any mice I have reviewed or come across so far. The tracking on it is very good, and it really shows in my gaming tests. From our low dpi tests playing some of RTS games, or during our need of high dpi with our FPS games, I found a good balance. The Cooler Master Storm Recon can stand up to the best of our tests. One problem I went over earlier still applies though, and that would be the lack of indication of the dpi stepping outside of the default profile. I am still not sure why we can't set custom colors for our dpi settings outside of the default profile.
Getting into our standard productivity tasks, the Cooler Master Storm Recon performed decently. The only thing working against the mouse is the size, which became a problem when using it for prolonged periods of time, as there isn't much place to rest the hand on the mouse. Using it claw-grip style for an extended period of time can become tiring with nothing to lean on. Although there was nothing special about the mouse in one direction or the other when it came to our standard usage tests, I would say it performed pretty well, considering the budget range and the amount of quality you get.
-----------------------------------------
At the end of the day, the Cooler Master Storm Recon does a well rounded job in being a decent ambidextrous mouse -- from the perfect symmetrical shape down to the fine details, there is a lot to like in this mouse. The biggest draw has to be the features found on the Recon considering the price range. Macro programming, multiple profile switching, and LED color customization were all great features and a great addition to a gaming product. The Cooler Master Storm Recon also did not lack in terms of comfort when it came down to construction and material. The rubber coating was very comfortable and made things easy to clean as well. Sadly, there are still some glaring problems with this product; the biggest one being the lack of customization options that are expected given the feature list. These would include the lack of full customization of the dpi steppings, as well as the lack of dpi stepping indicators outside of the default profile. Another gripe I had with the mouse was that it was a little too small; this is further compounded by the fairly large side buttons that can get in the way and has a tendency of getting clicked accidentally. All in all, for $40 at time of publication, the Cooler Master Storm Recon is well worth a look for budget gamers who want a great sensor in a small package.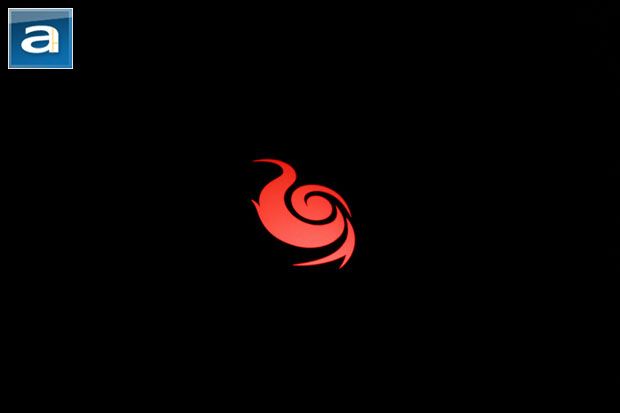 Cooler Master provided this product to APH Networks for the purpose of evaluation.
APH Review Focus Summary:
7/10 means Great product with many advantages and certain insignificant drawbacks; but should be considered before purchasing.
6/10 means A product with its advantages, but drawbacks should not be ignored before purchasing.
-- Final APH Numeric Rating is 6.9/10
Please note that the APH Numeric Rating system is based off our proprietary guidelines in the Review Focus, and should not be compared to other sites.
The Cooler Master Storm Recon is a mixed bag. It has some great features and a good design, but leaves some things to be desired, such as smaller side buttons, dpi stepping indication, and more customization features.
Do you have any comments or questions about the Cooler Master Storm Recon? Drop by our Forums. Registration is free, and it only takes a minute!