By: Aaron Lai
March 3, 2023
As an introvert, I find it easy to see people multiple times, but not necessarily get to know who they are or even finding out their name. For example, as part of helping out my girlfriend with her shop I talked about in the DeepCool GT920 review introduction, I have been meeting a lot of new people, and most of them are the vendors that take part in these events. However, I only know a handful of them by their name. Whenever I do recognize them, I would wave sheepishly or say "Oh, you're with [shop name]." This would also be the same with other people, who would say I was with Appopi, which is the name of my girlfriend's business. In some ways, I think my personality plays a part, but I also think it is just the fact the interactions with these vendors are limited to event days only. Unfortunately, it has made for some awkward feelings of wanting to know their name but being too scared to ask. Names are quite important, as I think most people would rather be known by their given name and not by something they are attributed to, such as their shop. In a similar fashion, product names are important, as it helps differentiate one from another. In the case of today, we have the Crucial CT2K16G56C46U5 DDR5-5600 2x16GB. We have seen other Crucial DDR5 RAM, including the CT2K16G52C42U5 and CT2K16G48C40U5. While all of these names look very similar on first glance, you can see in the details the numbers are quite different. Our review today covers the fastest OEM-grade RAM from Crucial with their DDR5-5600 offering. The name may be hard to remember, but what about its performance? Does this increase in transfer rates make this more desirable? Let us read on to find out!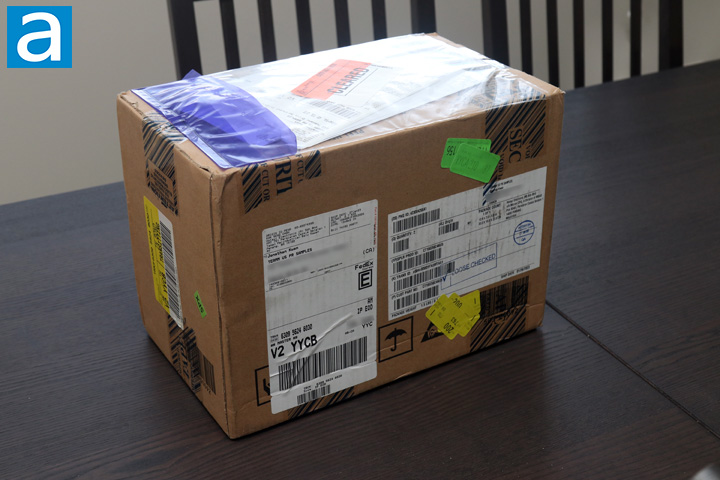 Today's review unit of the Crucial CT2K16G56C46U5 DDR5-5600 2x16GB came from a company called Hotayi Electronic, located in Penang, Malaysia. I am not too sure how they are related to Crucial, but they do seem to operate on behalf of Micron's Consumer Product Group in some areas. In unrelated news, the location of Hotayi Electronic is quite close to an IKEA in the area. Otherwise, the box arrived in excellent condition, as FedEx's International Priority service was quite good in keeping this corrugated cardboard box safe. It is sealed with several "Security Tape" stickers to make it more known if tampering occurs. Inside, there were actually two more boxes with one marked empty, presumably as a space filler, and the other one with the memory kit inside. In that second box, there were more packing bubbles to keep the product safe.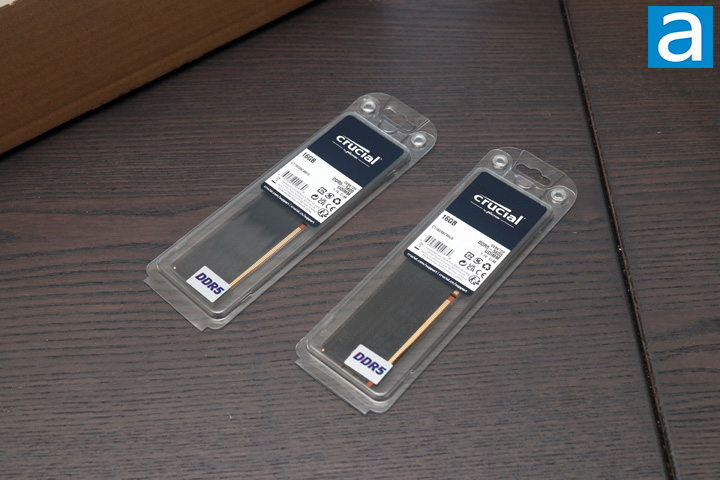 Out of the box, the Crucial CT2K16G56C46U5 DDR5-5600 2x16GB looks packaged like any sort of OEM-grade memory. The two DIMM modules can be found sandwiched in a clear plastic shell. No other documentation is included with the memory, which is not too surprising. The front label shows the capacity, operating transfer rates, voltages, and CAS latency numbers. As you can see, we have received two sets of their CT16G56C46U5, but we will be testing them together in this review. If you purchase the two module kit, these will be contained together in one plastic clamshell case.
Before continuing on, I have grabbed the specifications from the manufacturer for your perusal:
Technology - DDR5
Speed - DDR5-5600
PC speed - PC5-44800
Module type - UDIMM
DIMM type - Unbuffered
CAS latency - 46
Extended timings - 46-45-45
Voltage - 1.1V
Kit Qty - 2
Warranty - Limited Lifetime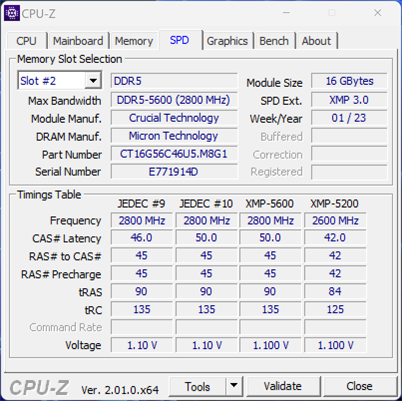 A screenshot of the memory tab in CPU-Z with the Crucial CT2K16G56C46U5 DDR5-5600 set installed. The SPD timings table in CPU-Z reads standard JEDEC specifications programmed into the memory as well as XMP data for running the memory at various speeds. Our ASUS ProArt Z690-Creator WiFi motherboard used for testing had no issues detecting and working with the Crucial RAM right out of the box using the latest BIOS revision. Individual Crucial CT16G56C46U5 DDR5-5600 16GB sticks have a retail price of $75, while the CT2K16G56C46U5 DDR5-5600 2x16GB kit retails for approximately $143 at press time.
---
Page Index
1. Introduction, Packaging, Specifications
2.
A Closer Look, Test System
3.
Benchmark: AIDA64 CPU
4.
Benchmark: AIDA64 FPU
5.
Benchmark: AIDA64 Memory
6.
Benchmark: PCMark 10
7.
Benchmark: 3DMark
8.
Benchmark: PassMark PerformanceTest 10
9.
Benchmark: SuperPI 1M, Cinebench R23
10.
Overclocking and Conclusion