By: Jonathan Kwan
October 16, 2015
On Friday last week, I was hanging out with my colleague Brian Cheung at the student center at the University of Calgary. As we were talking, one of my friends walked by, and pointed at the "hipster" sticker at the back of Brian's laptop. Since the topic came up, I asked my friend, "Do you think Brian is hipster?" Without much thinking, she said, "Yes." Being the owner of the de facto hipster MacBook Pro sleeve here at APH Networks, the Inateck MP1320, I could not resist but to ask a follow up question. "Do you think I look hipster?" To which she said, "Not really, you look... academic." Basically, my friend called me a nerd, but I am not going to lie -- I am actually proud of it, because I am, indeed, a nerd. After all, it does not hurt to look like one to be like one. In the Kingston HyperX Fury HX426C15FBK4/32 4x8GB review I wrote a couple a weeks ago, I talked about how we have covered "components that looks fast and performs poorly, looks subtle but goes like heck, and everything in between". We have come to the conclusion the Kingston RAM is the kind of product that looks subtle while delivering solid performance, which is something I appreciate. Today, we will take a look at the G.Skill Trident Z F4-3200C16D-16GTZ 2x8GB. Clocked at a stratospheric 3200MHz for a 2x8GB kit and equipped with a set of sharp, medium profile aluminum heatspreaders with red accents, will the company's latest product in their flagship DDR4 lineup be the kind of product that not only looks fast, but is actually fast in our benchmarks? We took in a set to find out if it looks like a performance part to be a performance part, just like how I am proud of the fact I look like an academic to be a academic.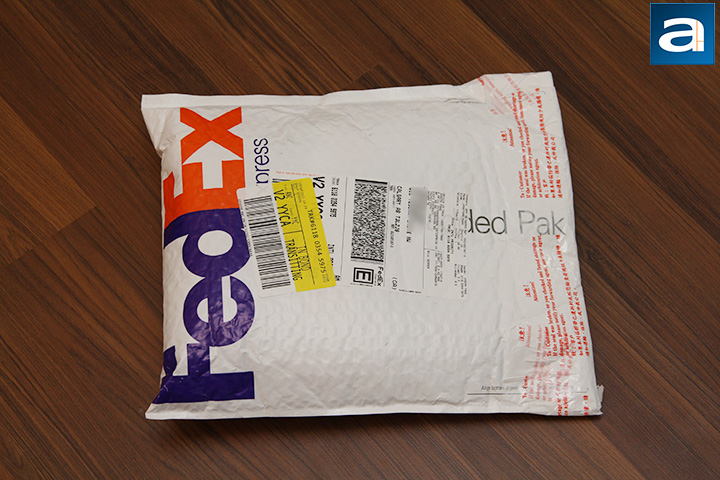 Our review unit of the G.Skill Trident Z F4-3200C16D-16GTZ 2x8GB came in a medium sized bubble envelope from the company's headquarters in Taiwan. Everything arrived quickly and in excellent condition via FedEx International Priority after traveling across the Pacific Ocean from Taipei to us here in Calgary, Alberta, Canada. Also in the package was the G.Skill Ripjaws V F4-3000C15D-16GVR 2x8GB DDR4 dual channel kit, which we will review in a few weeks from now. But if you are curious how it will compare in terms of performance, rest be assured the results from that set will also be present in our review today.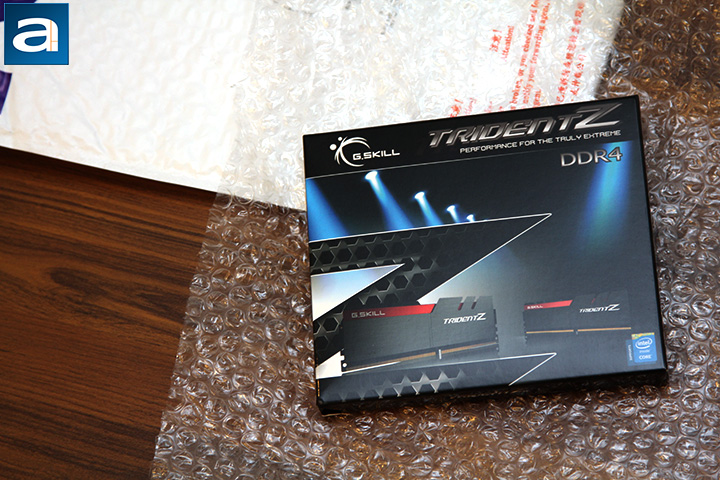 G.Skill's Trident series has always been the company's flagship lineup, and the slogan, "Performance for the truly extreme", printed under the Trident Z branding at the top right corner makes sure this message is crystal clear from the start. Because this memory kit is aimed at the high end market, G.Skill made the effort to give it a little more class, such as the retail package being enclosed by a thin cardboard box rather than a traditional clear plastic case only. The box artwork carries a dark color scheme, but is contrasted by a series of spotlights emitting blue light towards the center, where a photo of two Trident Z memory modules take center stage. A prominent "Z" in metal mesh accompanies the modules .At the back, you will find a couple of paragraphs to get you excited about what is inside, along with some specification stickers to let you know the exact model inside the box. The memory modules are placed inside a clear plastic shell, which will be revealed after you open either the top or bottom flap.
Before we move on, let us take a look at the specifications of G.Skill's Trident Z F4-3200C16D-16GTZ 2x8GB, as obtained from the manufacturer's website:
Series: Trident Z
Memory Type: DDR4
Capacity: 16GB (8GBx2)
Multi-Channel Kit: Dual Channel Kit
Tested Speed: 3200MHz
Tested Latency: 16-16-16-36-2N
Tested Voltage: 1.35v
Registered/Unbuffered: Unbuffered
Error Checking: Non-ECC
SPD Speed: 2133MHz
SPD Voltage: 1.20v
Fan lncluded: No
Height: 44 mm / 1.73 inch
Warranty: Limited Lifetime
Features: Intel XMP 2.0 (Extreme Memory Profile) Ready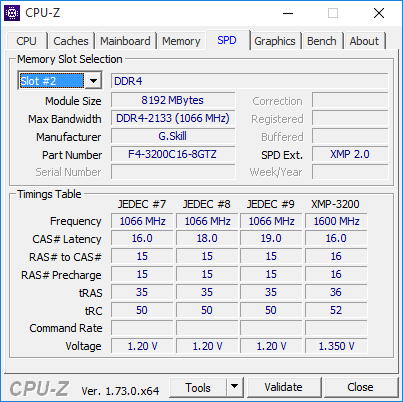 A screenshot of the memory tab in CPU-Z with G.Skill's Trident Z F4-3200C16D-16GTZ 2x8GB installed. The SPD timings table in CPU-Z reads standard JEDEC specifications programmed into the memory, as well as Intel XMP data for running the memory at various speeds. Using the latest BIOS revision, our Gigabyte GA-Z170X-UD5 motherboard used for testing had no issues detecting and working with the G.Skill RAM right out of the box. The G.Skill Trident Z F4-3200C16D-16GTZ 2x8GB retails for approximately $130 at press time.
---
Page Index
1. Introduction, Packaging, Specifications
2.
A Closer Look, Test System
3.
Benchmark: AIDA64 CPU
4.
Benchmark: AIDA64 FPU
5.
Benchmark: AIDA64 Memory
6.
Benchmark: PCMark 8
7.
Benchmark: 3DMark
8.
Benchmark: PassMark PerformanceTest 8.0
9.
Benchmark: SuperPI 1M, Cinebench R15
10.
Overclocking and Conclusion