Page 2 - Bundle, Chipset, BIOS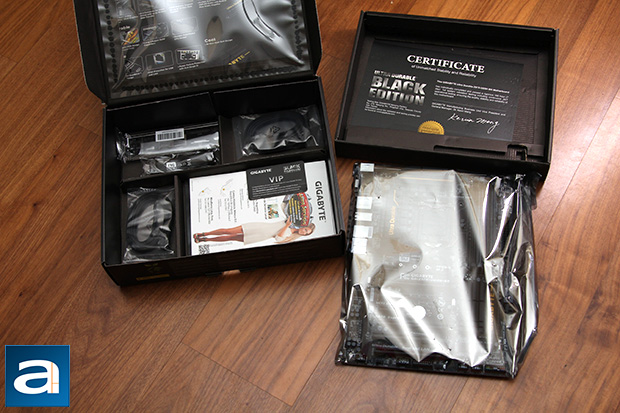 Upon opening the box, a simple bundle accompanies the Gigabyte GA-Z97X-UD3H-BK from the factory. Basically, everything you see in the photo above is everything you will get. Besides the motherboard itself, you will receive four braided SATA cables (Two angled and two straight), one SLI bridge, a rear I/O shield, manual, installation guide, driver/software DVD, Black Edition VIP promotion card, and a Black Edition test certificate. Well, plus a Gigabyte sticker for what it is worth, haha. You do not get a whole lot out of the box, but for everything that is included, it has substance to it. At the end of the day, I am not complaining.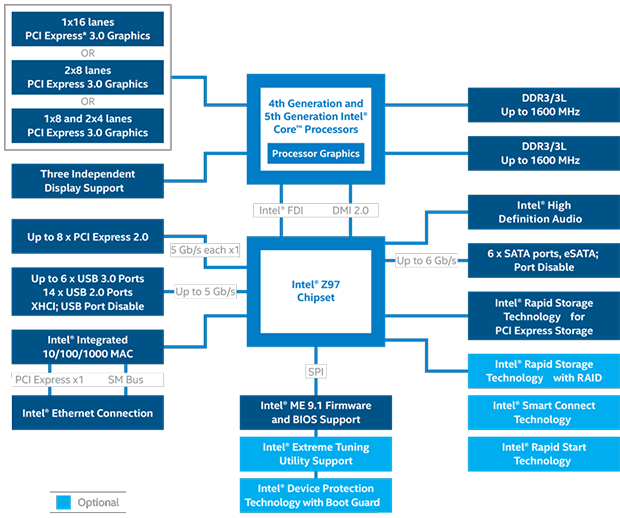 Two new chipsets designed for Haswell Refresh processors are available at press time, including the Z97 and H97. Previous generation chipsets such as Z87 and H87 can support Devil's Canyon, given a proper BIOS update is available from your motherboard manufacturer. All 9-series chipsets are backwards compatible with Haswell CPUs. Codenamed Wildcat Point, the Gigabyte GA-Z97X-UD3H-BK features the enthusiast Z97 chipset, as the motherboard name suggests. Branching off the processor are sixteen available PCI Express 3.0 lanes, and can be set to either 1x16, 2x8, or 1x8/2x4, as shown in the block diagram above. The Platform Controller Hub provides eight PCI Express 2.0 lanes. Haswell and Haswell Refresh CPUs also has native support for a pair of dual channel DDR3-1600 RAM slots, and can scale up to DDR3-3100 speeds. We are also happy to see native support for up to six SATA 6Gb/s ports for your ballin' SSDs, and six USB 3.0 ports to hook up all your external devices. Fourteen additional USB 2.0 ports are provided for everything else. The rated TDP for all Panther Point chipsets is 4.1W. Of course, the actual number of ports available on your motherboard is dependent on the manufacturer and model.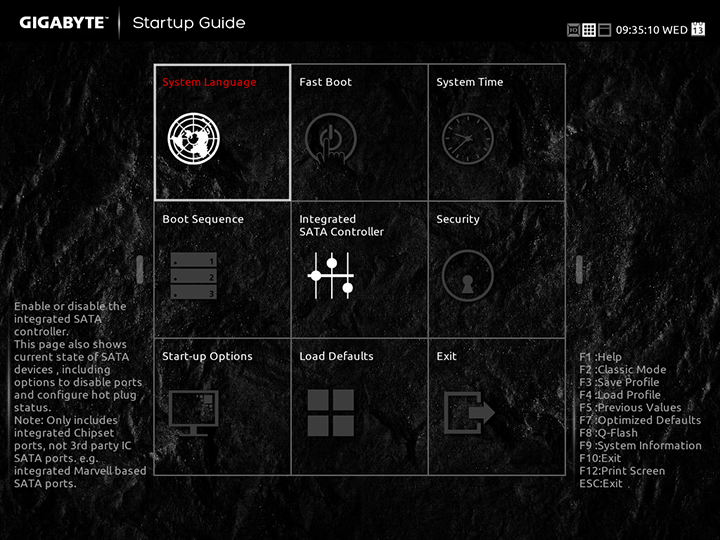 Once I fired up my PC, the initial startup screen did not appear long enough for any normal human being to read, so I just kept hitting "Delete" on my keyboard until I entered the BIOS, which worked wonderfully, much to my delight. The default screen shows a three my three matrix of standard configurations, as shown in our screenshot above. The tiled display only provides access to the most basic of basic features. If you are reading this review right now, chances are you are not too interested if I spent time talking about how to change the system language. Thankfully, the Gigabyte GA-Z97X-UD3H-BK can be toggled into Classic Mode (Formerly known as Advanced Mode), which is basically a fancy GUI version of the American Megatrends BIOS. You can read about it in our past reviews, like the Gigabyte GA-Z77X-UD3H and Gigabyte G1.Sniper Z87. Without repeating myself, the third mode is new with more eye candy, so hitting F2 on the keyboard once again, we were in business.
Before we begin, I went ahead and fired up Gigabyte's Q-Flash. Q-Flash is an integrated feature for the user to flash their BIOS safely and easily. You can update using an image from any FAT16 or FAT32 formatted device, such as your USB flash drive. My motherboard came with the F4 BIOS, and I have updated it to F6 BIOS without any issues at all.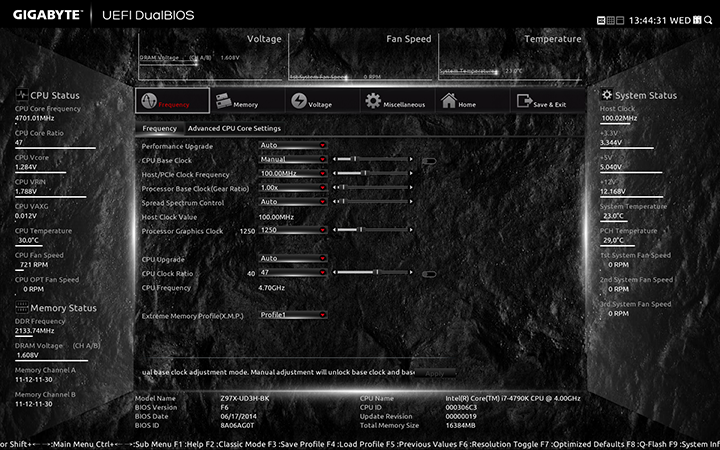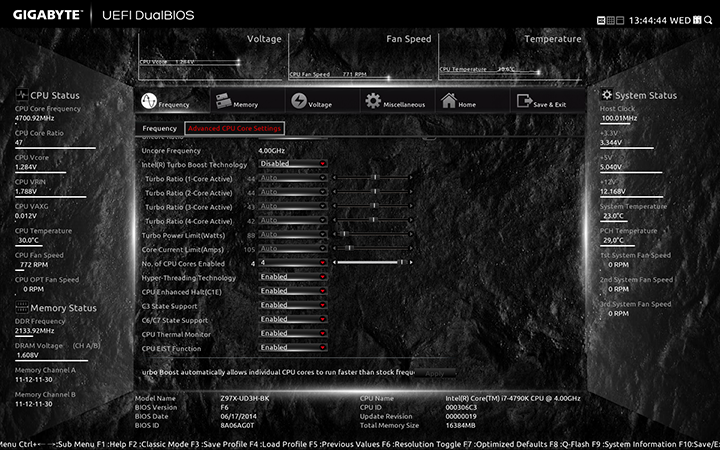 The fancy UEFI GUI BIOS in Smart Tweak Mode is geared especially for enthusiasts. It takes full advantage of high resolution monitors, and is very well laid out to ensure everything you need to see is at hand. On the left, you will find critical information like CPU frequency, voltage, and temperature, as well as RAM frequency, voltage, and timing. Voltage, fan speed, and temperature corresponding to different components are graphed at the top, so you can see how it performs over time. On the right, the column displays stuff like chassis fan speed and power supply voltage. The large main area in the center allows you to play with all the settings you need; and is separated into six main tabs.
Our first screenshot above shows the Frequency sub tab under the Frequency main tab. Here, you can play around with some automatic overclocking features, as well as manually adjusting your CPU speed. Everything can be adjusted by selecting a value from the drop down menu, or moving the slider adjacent to each category. In the Advanced CPU Core Settings tab, you can change Turbo Boost settings, as well as toggle processor power management settings such as SpeedStep along with other power saving features.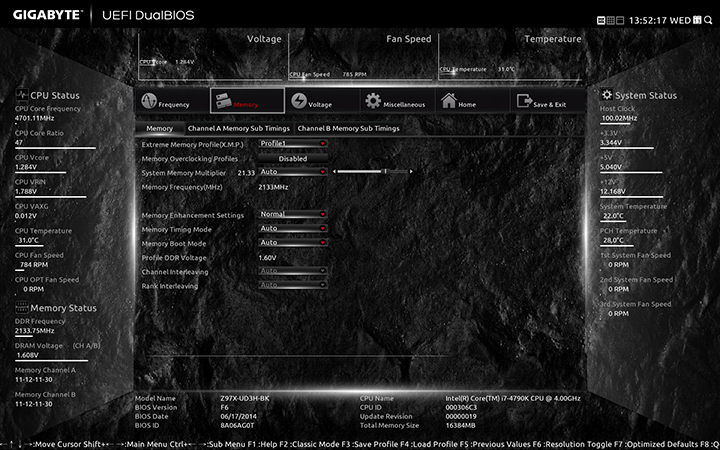 Next up is the Memory tab. As its name suggests, has memory setting options that the user can adjust. You can select XMP profiles in addition to the menu under Frequency as discussed earlier, but here you can do with a little more precision. Timing settings for each channel can be adjusted under their respective timing settings screens, with default latencies in a static column and new settings selectable by a drop down menu or adjustable slider.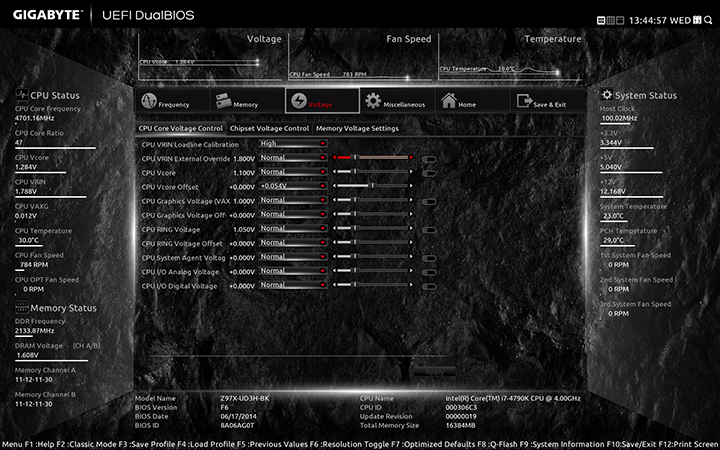 The Voltage category is split into three subsections; splitting up CPU core voltage, chipset voltage, and memory voltage each into its respective tabs. Consistent with the rest of the user interface, everything can be adjusted by selecting a value from the drop down menu, or moving the slider adjacent to it.
The following voltage ranges and increments are allowed in the CPU category:
VRIN External Override 1.000V to 2.400V @ 0.010V increments
Vcore 0.500V to 1.797V @ 0.001V increments
Graphics Voltage 0.500V to 1.700V @ 0.001V increments
RING Voltage 0.800V to 1.797V @ 0.001V increments
System Agent Voltage -0.300V to 0.397V @ 0.001V increments
I/O Analog Voltage -0.300V to 0.397V @ 0.001V increments
I/O Digital Voltage -0.300V to 0.397V @ 0.001V increments
The following voltage ranges and increments are allowed in the remaining categories:
PCH Core 0.650V to 1.285V @ 0.005V increments
PCH I/O 1.650V to 1.900V @ 0.005V increments
DRAM 1.160V to 2.100V @ 0.020V increments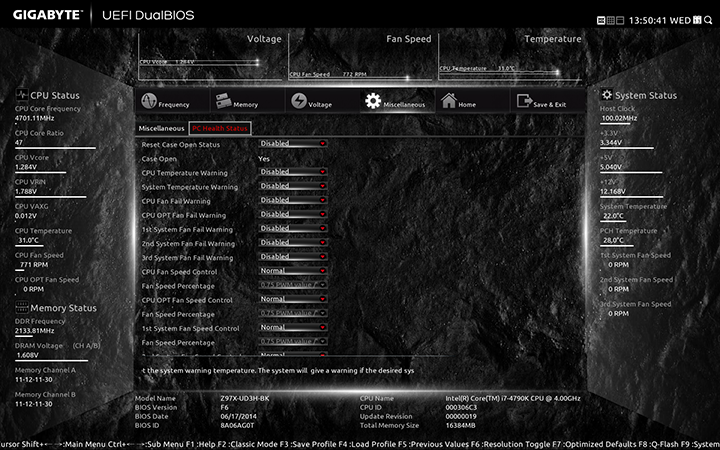 The last major unique section I want to go over today is the PC Health Status tab under Miscellaneous. As always, Gigabyte provides a generous array of standard fan control options. As you can see in our screenshot above, you can toggle individual warnings on different fan channels, as well as system and CPU temperature alerts. The CPU fan speed and chassis fan speed can be determined independently based on user settings, as with most motherboards I have used in the past. Generally speaking, I have always had great experiences with the company's fan control algorithms, and the Gigabyte GA-Z97X-UD3H-BK is no exception for quiet PC enthusiasts like yours truly. I personally do not mind having the fan speed ramp up if my personal computer is under load, but when I am surfing the internet, scalability has and always will be the key in my books.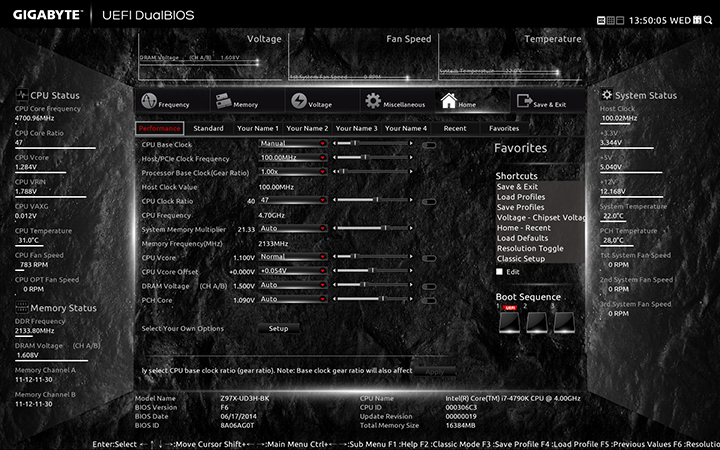 Last, but not least, is the Home tab. For those who are into tuning their computer to every last megahertz, and are tired of digging through three different screens just to find the options they tinker with all the time, Gigabyte allows you to design your own. I found this extremely convenient. While Gigabyte has done an excellent job at organizing tweak functions under its respective categories, there is nothing like being able to tailor a screen to your own needs without being subject to the limitations of the designers. Overall, the usage experience of Gigabyte's UEFI BIOS is excellent. The control interface is very smooth, and screen transitions are quite flawless. I really do not have any complaints.
---
Page Index
1.
Introduction, Packaging, Specifications
2. Bundle, Chipset, BIOS
3.
A Closer Look, Board Layout, Test System
4.
Benchmark: AIDA64 CPU
5.
Benchmark: AIDA64 FPU
6.
Benchmark: AIDA64 Memory
7.
Benchmark: PCMark 8
8.
Benchmark: 3DMark
9.
Benchmark: PassMark PerformanceTest 8.0
10.
Benchmark: SuperPI 1M, Cinebench R15
11.
Onboard Sound Frequency Analysis
12.
Overclocking and Conclusion