Page 10 - Benchmark: Metro: Last Light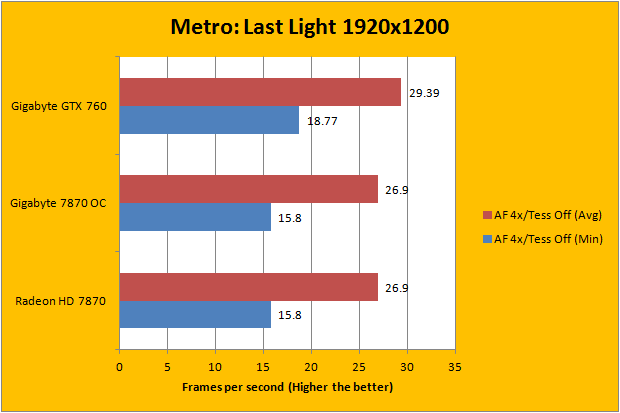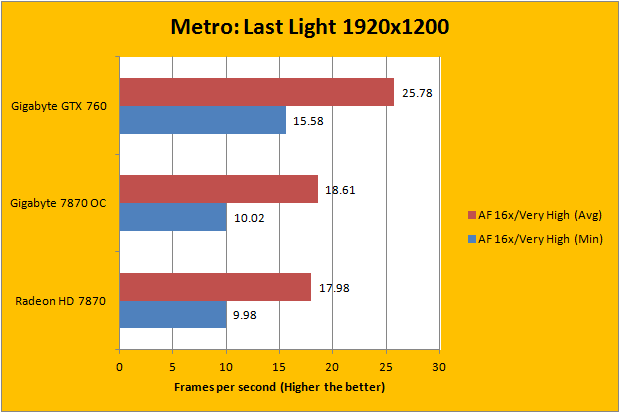 Ever since Metro 2033 has been released into the market a few years ago, it was an instant hit among reviewers for benchmarking. The reason why everyone is so interested in using Metro 2033 to benchmark is because it is like the Crysis of benchmarking... except, of course, we use Crysis in our battery of standard tests here at APH Networks, but that is another story. Released on May 14, 2013, Metro: Last Light is the latest iteration published by 4A Games, and runs off the company's 4A Engine. Unlike a number of other games we have used to test video cards in this review, Metro: Last Light comes with a pretty good benchmarking tool out of the box, so we gave it a shot. Again, the game is quite taxing on our hardware; with all the settings maxed out and adjusting only AF and tessellation, we can't even break the thirty average frames per second barrier. As expected, the Gigabyte GeForce GTX 760 delivered quite a bit higher framerate than the reference AMD card. Again, we are not directly comparing the two, since they occupy different market positions. The figures can be seen in our graphs above.
---
Page Index
1.
Introduction, Specifications, Bundle
2.
NVIDIA GeForce GTX 760 Architecture
3.
A Closer Look, Test System
4.
Benchmark: 3DMark
5.
Benchmark: Battlefield 3
6.
Benchmark: BioShock Infinite
7.
Benchmark: Crysis 3
8.
Benchmark: DiRT 3
9.
Benchmark: Medal of Honor: Warfighter
10. Benchmark: Metro: Last Light
11.
Benchmark: Unigine: Heaven 4.0
12.
Power Usage, Temperature, Noise
13.
Overclocking and Conclusion