Page 2 - NVIDIA GeForce GTX 760 Architecture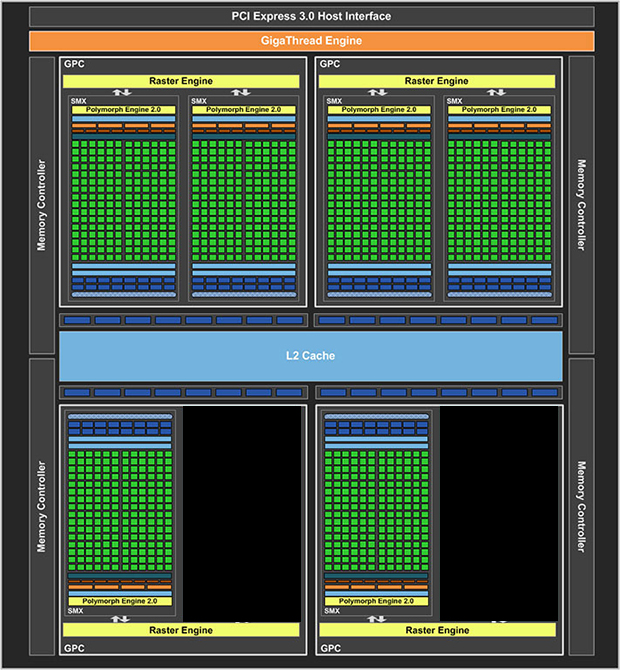 The NVIDIA GeForce GTX 760 is based off the company's revised "Kepler" architecture first introduced in the company's 600 series products. Four graphics processing clusters share a common 768KB cache, memory interface, and display I/O. Inside the graphics processing clusters is a raster engine and two streaming multiprocessor; each with 192 CUDA cores.
The updated GK104 core implemented in this graphics card aims for the competitive $250 segment; slotting into the area between the GTX 660 Ti and GTX 670. As far as the GTX 700 line is concerned, the GTX 760, as its name suggests, is one below the GTX 770, which is priced at a higher end $400 price range. Compared to AMD's line, the NVIDIA GeForce GTX 760 is priced between the Radeon HD 7870 and Radeon HD 7950, but aims to excel the latter in performance.
Specification speaking, only six out of eight streaming multiprocessors are enabled; two of which are disabled from the factory. Compared to the GTX 660 Ti and GTX 670, this is one less than its predecessor. This is a GK104 configuration we have not seen in NVIDIA 600 series GPUs. As such, the NVIDIA GeForce GTX 760 features 1152 stream processors and 96 texture units. On the positive side, the company left the memory and raster operations untouched, so it retains 32 ROPs and a full 256-bit memory interface. The GTX 760 built on the TSMC 28nm fabrication process, with a transistor count of 3.50 billion.
Since the GeForce GTX 760 has one less streaming microprocessor than the GTX 660 Ti and GTX 670, NVIDIA had a few tricks up its sleeve. If you have been paying attention, the GTX 760's ROPs and memory bandwidth is untouched as aforementioned, giving it significantly more powerful shading and texturing performance in conjunction with a full 256-bit memory bandwidth than its predecessors -- even though the RAM specification stays at 6GHz by default. Furthermore, in order to compensate for the performance loss, NVIDIA dialed up the base clock speed to 980MHz, which is 65MHz higher than both the GTX 660 Ti and GTX 670. But the story does not end here. With GPU Boost 2.0, where heat permissible, the GK104 can dynamically overclock to 1033MHz. This should bring us remarkably closer performance to the GTX 670 than the GTX 660 Ti.
NVIDIA pits the GeForce GTX 760's TDP at 170W, which is quite a bit less than the GTX 770 at 230W, but 20W higher than the GTX 660 Ti. It is identical to the GTX 670, except with a lower idle clock speed. This means the GTX 760 should save a bit of power while idling. We will take a look into the Gigabyte GeForce GTX 760's power consumption and idle/load temperatures later on in this review to see how it fares against the competition.
Brushing the technical data aside, let's take a closer look at the more consumer friendly specifications. The stock clock speed configuration of a standard GTX 760 is 980MHz core, 1033MHz boost, and 6008MHz memory. We are not normally interested in reviewing generic boards all that often, and the Gigabyte GeForce GTX 760 2GB is no exception. The company's interpretation of the video card is built on a custom PCB with a WindForce 3X cooler configured at 1085MHz core, 1150MHz boost, and 6008MHz memory. The GPU is clocked 11% above stock -- but we are actually quite surprised to see its completely stock memory configuration. So exactly how much overclocking potential do we have under the hood? We will have that answered in Page 13 of this review.
With that in mind, we will take a close look at the Gigabyte GV-N760OC-2GD GeForce GTX 760 2GB in detail on the next page, followed by our usual battery of benchmarks, before moving onto the power usage, temperature, noise, and overclocking tidbits. Stay tuned for all the juicy details in the rest of this review!
---
Page Index
1.
Introduction, Specifications, Bundle
2. NVIDIA GeForce GTX 760 Architecture
3.
A Closer Look, Test System
4.
Benchmark: 3DMark
5.
Benchmark: Battlefield 3
6.
Benchmark: BioShock Infinite
7.
Benchmark: Crysis 3
8.
Benchmark: DiRT 3
9.
Benchmark: Medal of Honor: Warfighter
10.
Benchmark: Metro: Last Light
11.
Benchmark: Unigine: Heaven 4.0
12.
Power Usage, Temperature, Noise
13.
Overclocking and Conclusion