Page 13 - Overclocking and Conclusion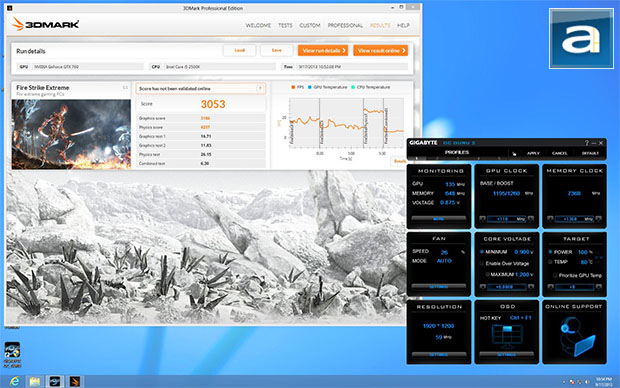 One of my favorite thing about Gigabyte's graphics cards is the company supplies an excellent utility for tuning called OC Guru II. As its name suggests, it is a utility used for tuning the performance of your video card. It allows the voltage of your GPU and memory to be adjusted for overclocking, fan speed control, as well as power saving features. On a side note, Gigabyte's OC Guru II has one of the best fan speed control features I have ever seen; it allows a six step fan speed adjustment based on temperature. You really can't ask for more.
With the latest software revision, I got it installed on my test platform, and immediately got to work. The simple condition for my overclocking procedure is to see how far I could go without adjusting the voltage. As you can see in our screenshot above, the GTX 760 core did surprisingly well in this area -- Gigabyte already has a 105MHz core overclock from the factory, and I managed to squeeze an extra 110MHz out of that. The net figure is 1195MHz GPU with 1260MHz boost, which translates to an awesome 22% over NVIDIA specifications, or 10% over Gigabyte specifications. To verify stability, I run a burn in test using Furmark. I also scan for artifacts in in addition to testing for stability using this program. Since Gigabyte neglected to overclock the memory from the factory, here is where our work comes in handy. Starting from 6008MHz effective, our Hynix H5GQ2H24AFR memory ICs reached 7368MHz without any problems, a whopping 22% over NVIDIA specifications. Remember -- this is all done at stock voltage.
Our Gigabyte GeForce GTX 760 2GB was able to clock 22% over NVIDIA base clocks for both core and memory. To see how it performs, I ran Fire Strike Extreme in 3DMark, and got a score of 3053. The Gigabyte GeForce GTX 760 2GB (Which is overclocked slightly from the factory) delivers a score of 2877 in base form, which is not bad at all.
-----------------------------------------
Is it a mere coincidence that my introduction for the Gigabyte GeForce GTX 760 2GB review has the exact same theme as my conclusion for the Gigabyte Radeon HD 7870 2GB OC review? Can this theory be further reinforced by the fact that the manufacturer logo photo below has almost the same composition as the last one as well? Actually, believe it or not, it is, indeed, a mere coincidence. Since I wrote the Gigabyte 7870 review over a year ago, I don't recall a thing about it (Actually, I am not going to lie -- I don't even remember what I wrote about a month ago, let alone a year, haha). So when I pulled up my 7870 article to see how it was closed off, even I was surprised at the similarities both pieces of writing share. Well, now you can know that even after a year, nothing much has changed in my thought process. And fortunately, neither has Gigabyte. The company's product based on NVIDIA's latest GeForce chip continues their excellent tradition of following a familiar formula: High quality hardware with an awesome cooling system. Now let's be fair. What do you want changed? Low quality hardware with a terrible cooling system instead? I think not. I am glad Gigabyte stuck with what they knew best, and refined it to make it better. The fan speed is properly programmed from the factory; spinning at a leisurely 20% until the load kicks in -- and even at that, it does not get loud. The WindForce 3X cooler does a fine job at keeping the GPU nice without the need to spin at 100% and emit Dustbuster levels of noise. As it comes with Gigabyte's excellent OC Guru II software, fan control and overclocking is a breeze. Yes, the Gigabyte GTX 760 overclocks very well. For about $260 at press time, this is a graphics card that will appeal to mainstream performance enthusiasts and, of course, silent PC enthusiasts, too.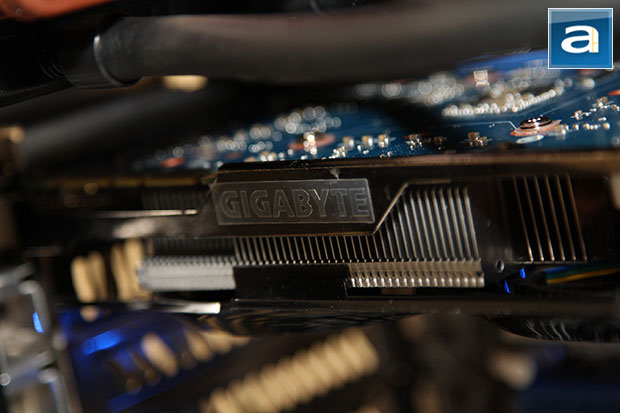 Gigabyte provided this product to APH Networks for the purpose of evaluation.
Since April 30, 2007, Number Ratings have been dropped for all CPUs, motherboards, RAM, SSD/HDDs, and graphics cards. This is to ensure the most appropriate ratings reflected without the inherent limits of using numbers. Everything else will continue using the Number Rating System.
More information in our Review Focus.
The Gigabyte GeForce GTX 760 2GB stays true to the company's video card formula by offering incredible quality and value to everyone, whether you are a gamer with a mainstream budget, or a silent PC enthusiast who refuses to compromise on performance.
Do you have any comments or questions about the Gigabyte GeForce GTX 760 2GB? Drop by our Forums. Registration is free, and it only takes a minute!
---
Page Index
1.
Introduction, Specifications, Bundle
2.
NVIDIA GeForce GTX 760 Architecture
3.
A Closer Look, Test System
4.
Benchmark: 3DMark
5.
Benchmark: Battlefield 3
6.
Benchmark: BioShock Infinite
7.
Benchmark: Crysis 3
8.
Benchmark: DiRT 3
9.
Benchmark: Medal of Honor: Warfighter
10.
Benchmark: Metro: Last Light
11.
Benchmark: Unigine: Heaven 4.0
12.
Power Usage, Temperature, Noise
13. Overclocking and Conclusion