Page 7 - Benchmark: PCMark Vantage
About PCMark Vantage
PCMark Vantage is a PC benchmark suite designed for Windows Vista offering one-click simplicity for casual users and detailed, professional grade testing for industry, press and enthusiasts.
A PCMark score is a measure of your computer's performance across a variety of common tasks such as viewing and editing photos, video, music and other media, gaming, communications, productivity and security. From desktops and laptops to workstations and gaming rigs, by comparing your PCMark Vantage score with other similar systems you can find the hardware and software bottlenecks that stop you getting more from your PC.
PCMark Consumer Scenarios
- Digital Memories 1 & 2
- TV and Movies 1 & 2
- Gaming 1 & 2
- Music 1 & 2
- Communication 1 & 2
- Productivity 1 & 2
From: Developer's Page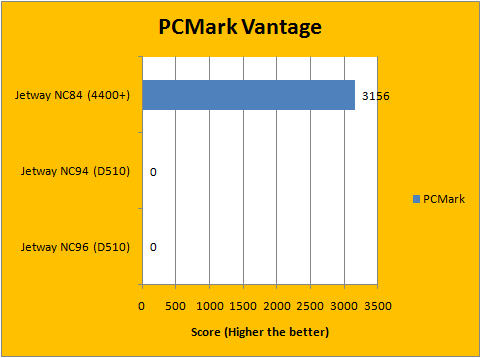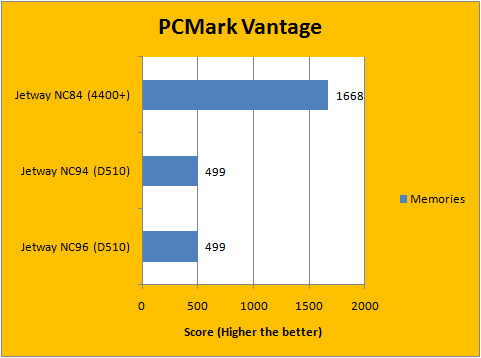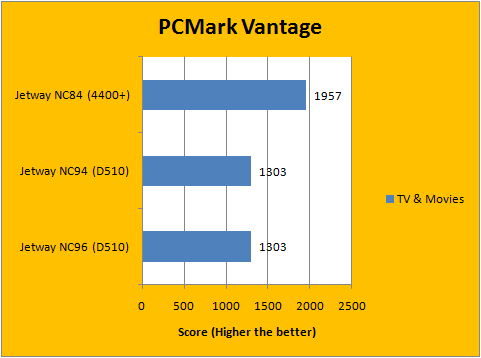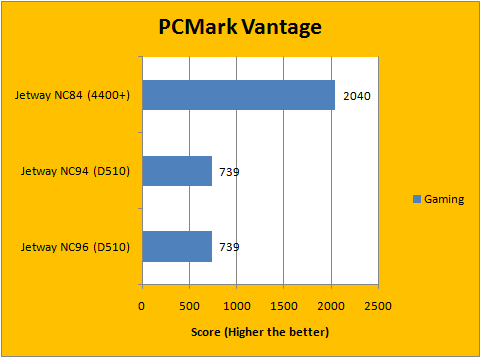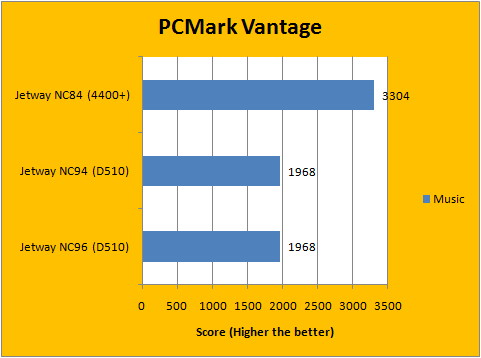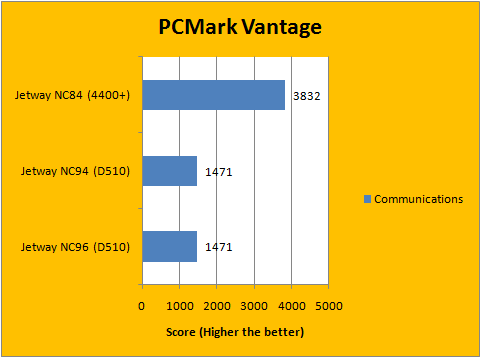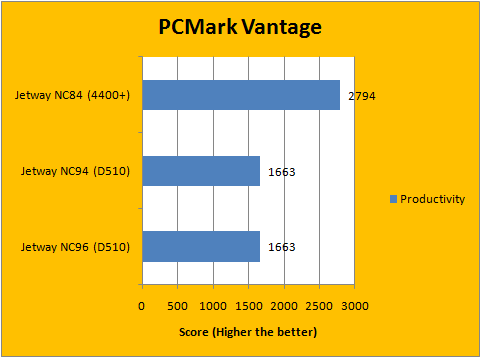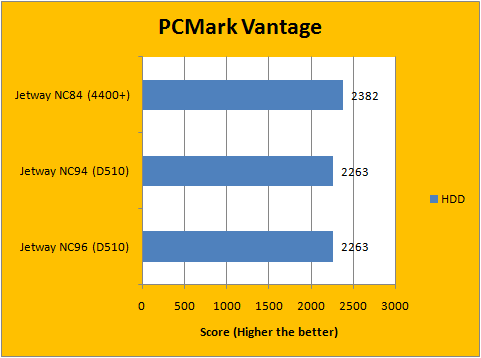 The big fat battery of benchmark results of PCMark Vantage goes through both systems quite thoroughly, giving quite a bit of insight into the relative performance of each configuration. If you have been following our NC94 and NC96 review (If not, they are in the Reviews section of this website), you might remember that the Intel Atom D510 based systems were not able to get an overall PCMark score without crashing a few minutes into the test. Fortunately, there were no such issues with our Jetway NC84E-LF based system. As far as that is concerned, the ATI Radeon HD 4200 IGP equipped system posted tremendous leads over its not-exactly-direct rival in areas where hardware graphics acceleration is crucial, as demonstrated in our results posted above.
---
Page Index
1.
Introduction, Features, and Specifications
2.
Bundle, Chipset, BIOS
3.
A Closer Look, Board Layout, Test System
4.
Benchmark: EVEREST CPU
5.
Benchmark: EVEREST FPU
6.
Benchmark: EVEREST Memory
7. Benchmark: PCMark Vantage
8.
Benchmark: 3DMark06 Professional
9.
Benchmark: PassMark PerformanceTest 7.0
10.
Benchmark: SuperPI 1M, Cinebench R11.5
11.
Onboard Sound Frequency Analysis
12.
Overclocking and Conclusion