Page 12 - Overclocking and Conclusion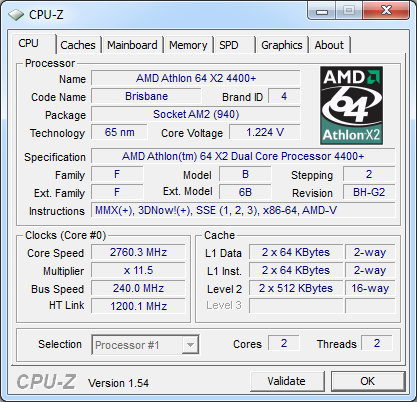 Because I can only take my Brisbane core AMD Athlon 64 X2 4400+ to 1.300V as limited in the BIOS, I didn't actually expect much in overclocking. But a review is a review -- no matter how stupid it sounds, we must test it anyway, haha. Using standard overclocking procedures to aim for the maximum stable processor frequency, I dropped the dividers on the RAM to ensure that my laptop memory does not bottleneck my results.
This is actually the first time I measured overclocking capabilities of a mini-ITX motherboard, and I was not disappointed at all by the results despite the obvious maximum voltage limitation! Raising the bus speed to 240MHz and retaining the multiplier at stock 11.5x, the end result is a very commendable 2.76GHz Orthos stable -- not bad at all. Closing off the day with a 20% overclock on a legacy Athlon 64 X2 with a mITX system, the results simply speak for themselves. Just for your reference, using the exact same chip back in 2008, I was only able to clock it up to 3.00GHz at 1.45V using the high end Asus M3N-HT Deluxe motherboard. Neither the processor nor the motherboard is built for maximum overclocking potential, but even with a less than optimal combination the system has achieved this goal in good manners. Good stuff!
-----------------------------------------
If you are looking to build a low cost, low footprint mini-ITX system that packs just a bit more horsepower under the hood, then you've came to the right place. The Jetway NC84E-LF is no doubt a very capable performer -- even if we subtract the CPU out of the equation to prevent unnecessary references to the Intel Atom D510 -- this motherboard is certainly up to par in posting the numbers on the scoreboard to the big boys at stock configuration. Heck, you can even overclock with it! The company's choice of using AMD's 785G chipset really packs a ton of potential for the end user; especially considering the excellent ATI Radeon HD 4200 integrated graphics for people who are looking for better media handling and even some light gaming. Not only that -- despite being confined by such a small surface area (Seriously, 17x17cm!), Jetway has managed to design the motherboard and implement all the necessary components in a proficient manner to ensure that the board layout is optimized for good cabling. Sure, there are a few small things that could be refined to make it better, such as turning the ATX 20-pin connector around, use a different colored PCB for cosmetic purposes, and the such -- but what I really think that kept Jetway's NC84E-LF from hitting a complete home run is the obvious lack of a PCI Express 2.0 x16 slot. The manufacturer clearly failed to unleash the true potential of what is offered by the 785G; there is no point in packing in a fully featured chipset and not make it pay off in the end. All in all, the Jetway NC84E-LF is quite an awesome mini-ITX motherboard, if you are not looking to slap on any PCI Express graphics or audio card down the road. In the end, if you are looking to build a value oriented system for office productivity applications that takes up as little room as possible, simply plug in your processor of choice (And available budget), and the Jetway NC84E-LF is for you.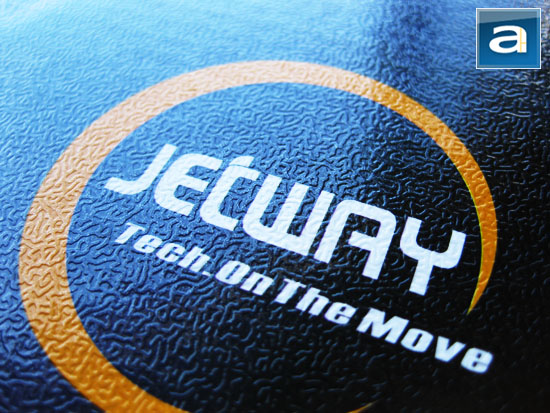 Special thanks to Aurora over at Jetway for making this review possible.
Since April 30, 2007, Number Ratings have been dropped for all CPU, motherboards, RAM, and graphics cards. This is to ensure the most appropriate ratings reflected without the limits of using numbers. Everything else will continue using the Number Rating System.
More information in our Review Focus.
The Jetway NC84E-LF is a very capable mini-ITX motherboard loaded with features (Other than the regrettably missing PCIe x16 slot) that even overclocks surprisingly well.
Do you have any comments or questions about the Jetway NC84E-LF? Drop by our Forums. Registration is free, and it only takes a minute!
---
Page Index
1.
Introduction, Features, and Specifications
2.
Bundle, Chipset, BIOS
3.
A Closer Look, Board Layout, Test System
4.
Benchmark: EVEREST CPU
5.
Benchmark: EVEREST FPU
6.
Benchmark: EVEREST Memory
7.
Benchmark: PCMark Vantage
8.
Benchmark: 3DMark06 Professional
9.
Benchmark: PassMark PerformanceTest 7.0
10.
Benchmark: SuperPI 1M, Cinebench R11.5
11.
Onboard Sound Frequency Analysis
12. Overclocking and Conclusion