Page 3 - A Closer Look, Board Layout, Test System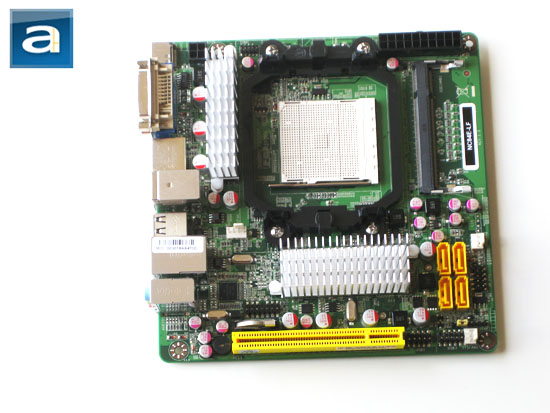 Jetway has taken a no-frills approach when designing and executing the NC84E-LF mini-ITX motherboard. Using a traditional green colored printed circuit board measuring in at 17cm by 17cm in standard mITX form, the Jetway NC84E-LF certainly does not have anything fancy in particular. Not that we expect it anyway, haha. We definitely appreciate their use of 100% solid state capacitors for excellent durability in the long run. Unlike the Intel Atom D510-based Jetway NC94 and NC96 motherboards we have tested recently, the NC84 is significantly more tightly packed; that is mainly due to a larger CPU socket with cooler bracket as opposed to an integrated processor. With AM2/AM2+/AM3 processor socket placed near the center, all the motherboard components are designed around it to make the best use out of its limited space. This led to a few interesting design implementations as shown in our photo above, which we will cover in detail in just a moment.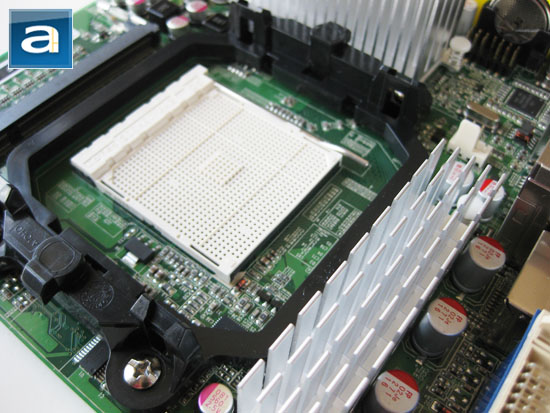 Due to the inherently small size of mini-ITX motherboards, silver colored aluminum heatsinks are placed within close proximity of the processor socket -- almost within touching proximity of the perimeter of AMD's standard retention bracket. Fortunately, due to the nature of Jetway's NC84E-LF motherboard, this is not much of a problem, because chances are that you are not going to fit in a large aftermarket tower heatsink for overclocking anyway. Additionally, these heatsinks are relatively low profile, so even if that somehow becomes necessary, it won't cause the end user any trouble. Created in conjunction with AMD's 785G chipset as discussed earlier in this review, the AM2/AM2+/AM3 socket is able to take on a wide range of AMD desktop processors -- ranging from value oriented Athlons, to higher end Phenoms. This leaves the NC84E-LF with a truckload of potential; whether you are someone looking for a low cost setup or more performance oriented system, you have a lot of flexibility both right now and down the road.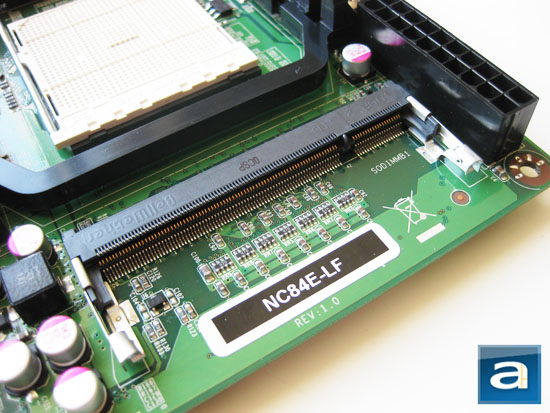 Due to significant room limitations on the NC84E-LF motherboard, Jetway has resorted to using SODIMM memory to save space. The slots orient the modules parallel to the motherboard surface, which is identical in implementation to every laptop I have worked with in the past. The NC84 is designed to accommodate two DDR2 SODIMM modules clocked from 400MHz to 800MHz, and everything in between. The most obvious advantage besides low physical footprint is that these modules have very low clearance, making airflow in highly congested mITX cases a bit more bearable for hot running electronics. The disadvantage, of course, is the fact that this type of RAM costs more than its desktop counterparts. A standard 20-pin ATX power connector can be seen at the top right corner, just above the memory socket. Personally, I would prefer this connector to be turned around 180 degrees to better accommodate 24-pin blocks (Even though most blocks are 20+4 pins) and reduce potential physical blockage.
When I posted up a review preview of Jetway's NC84E-LF on the forums a while back, one of our eagle-eyed reader pointed out that he only sees one memory socket from our photos. He is exactly right -- because Jetway took it one step further and plugged components that can be installed in parallel with the motherboard for low clearance at the back of the motherboard. The second (Well, technically, the first) SODIMM RAM slot is located at the back of the NC84; along with a Mini PCIe connector. It is actually quite smart in packing in as much as possible in so little space, haha. Furthermore, the Radeon HD 4200 integrated graphics, Realtek ALC662 audio CODEC, and PCIe-based Realtek RTL8111DL Gigabit LAN chip are all placed at the back as well, since every inch in front is occupied by something already.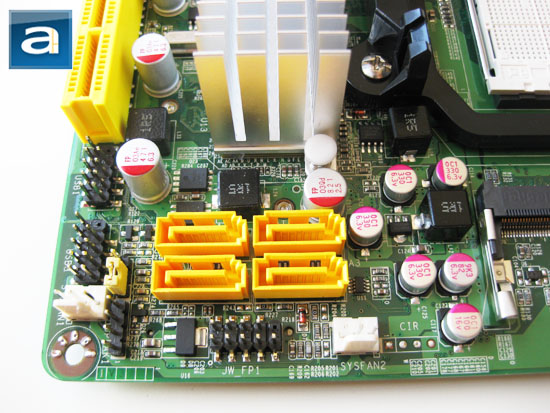 Four Serial ATA 3.0Gb/s connectors native to the AMD SB750 Southbridge can be found near the bottom right corner of the motherboard. The chipset has native support for six SATA ports; where the remaining two are routed to the back for two eSATA connectors, which we will go over in just a moment. The internal SATA2 ports has support for RAID 0, 1, 5, 10 configurations. Two 3-pin system fan connectors controlled by the motherboard are placed within close proximity of each other here as well. The front panel headers should be fairly straightforward to experienced computer builders. A separate block contains the speaker connector pins, although the Jetway NC84E-LF already has a built in speaker located left of the PCI slot. Two USB 2.0 headers for a total of four USB ports are situated between the PCI slot and the lower 3-pin fan header. Overall, placement of these connectors are done well by Jetway in my opinion; nothing was placed in obscure locations that may inhibit good wiring.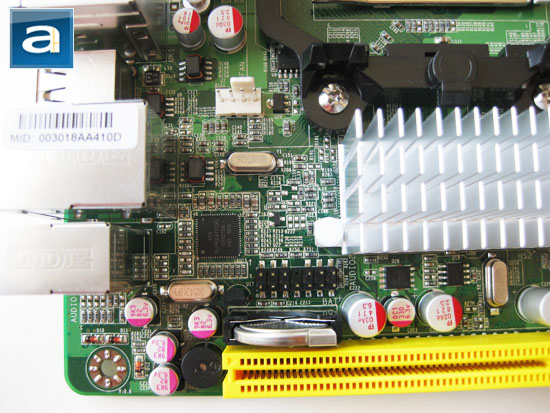 If you think we made a mistake earlier in typing out 'PCI slot' in place of 'PCIe slot' repeatedly, well, we didn't. As promised in the previous page, I will continue complaining on this subject, haha. For a relatively fully featured chipset, the AMD SB750 physically provides one PCIe 2.0 x16 slot and six additional PCIe 2.0 lanes for miscellaneous components. On the Jetway NC84E-LF, both the Mini PCIe slot and Gigabit LAN takes its own share of the cake, but for some reason Jetway thinks it is more important in 2010 to implement the SB750 supplied PCI slot than a full bandwidth PCIe 2.0 x16 slot instead. Would you rather have the opportunity to install anything from a reasonable graphics card down the road, the awesome Auzentech X-Fi HomeTheater HD sound card, or some legacy PCI expansion card that you can barely find on the market today? The answer should be clear enough to most!
That aside, like the NC96, the NC84's CMOS battery is installed vertically above the PCI slot to conserve space. The CPU fan header is found in a 4-pin configuration near the lower left corner of the AMD retention bracket.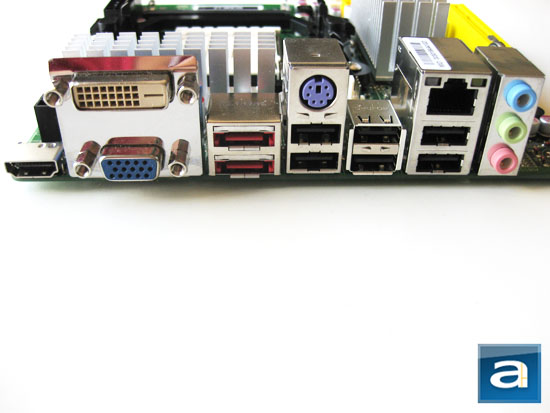 The Jetway NC84E-LF has a brilliantly modern rear panel I/O configuration for a mini-ITX motherboard. Thanks to the ATI Radeon HD 4200 IGP, we have pretty much all the standard video output connectors -- HDMI, DVI, and VGA ports can be all found here. This is followed by two eSATA connectors as discussed earlier, as well as a total of six USB 2.0 ports; also native to the 785G chipset. A single Gigabit LAN port powered by the Realtek RTL8111DL and analog audio powered by Realtek's ALC662 6-channel audio CODEC is about as much as you can possibly ask for on a mini-ITX motherboard (Although digital S/PDIF coaxial and optical connectors would be highly desirable for me personally). The only legacy port available is a PS/2 connector, which for the most part retains backwards compatibility without sacrificing availability of more useful, modern ports.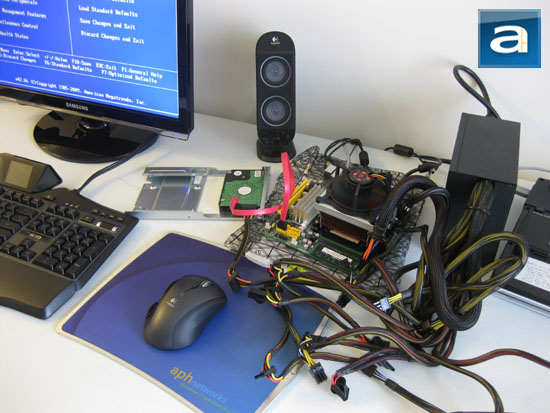 We benchmarked the Jetway NC84E-LF motherboard with the following system configuration. For the processor, I have dug up one of my old AMD processors that hasn't seen daylight since my Asus M3N-HT Deluxe review written over two years ago. How's that for a budget system?
CPU: AMD Athlon 64 X2 4400+ (11.5*200, 2.30GHz, 2x512K L2, 65nm Brisbane)
CPU Cooling Thermaltake RX-K8
Graphics: ATI Radeon 4200 (Integrated)
Memory: Super Talent T667SB1G/S PC5300 2x1GB @ DDR2-667 5-5-5-13 2T
Chassis: It's kind of just placed on our desk
Power: Seasonic S12D 850W
Sound: Realtek ALC662 (Integrated)
Optical Drive: None
Hard Drive: Hitachi 160GB 5400RPM SATA
Operating System: Microsoft Windows 7 Professional x64
Important note: We are using the Intel Atom D510 based Jetway NC94FL-510-LF and NC96FL-510-LF as a reference in our benchmarks. We are not directly comparing the two, because the results were obtained cross-platform with different motherboards and different processors.
---
Page Index
1.
Introduction, Features, and Specifications
2.
Bundle, Chipset, BIOS
3. A Closer Look, Board Layout, Test System
4.
Benchmark: EVEREST CPU
5.
Benchmark: EVEREST FPU
6.
Benchmark: EVEREST Memory
7.
Benchmark: PCMark Vantage
8.
Benchmark: 3DMark06 Professional
9.
Benchmark: PassMark PerformanceTest 7.0
10.
Benchmark: SuperPI 1M, Cinebench R11.5
11.
Onboard Sound Frequency Analysis
12.
Overclocking and Conclusion