Page 9 - Benchmark: PassMark PerformanceTest 7.0
Fast, easy to use, PC speed testing and benchmarking. PassMark PerformanceTest allows you to objectively benchmark a PC using a variety of different speed tests and compare the results to other computers.
Twenty-eight standard benchmark tests are available in six test suites plus there are seven advanced testing windows for custom benchmarking.
- CPU tests Mathematical operations, compression, encryption, SSE, 3DNow! instructions and more
- 2D graphics tests Drawing lines, bitmaps, fonts, text, and GUI elements
- 3D graphics tests Simple to complex DirectX 3D graphics and animations
- Disk tests Reading, writing and seeking within disk files
- Memory tests Allocating and accessing memory speed and efficiency
- CD / DVD test Test the speed of your CD or DVD drive
From: Developer's Page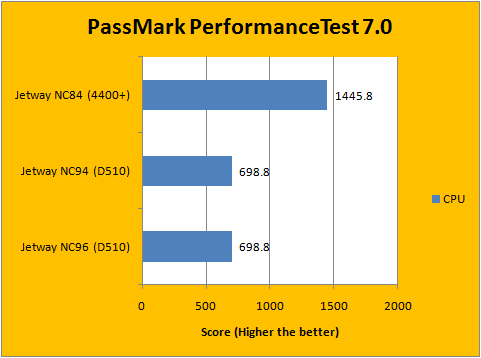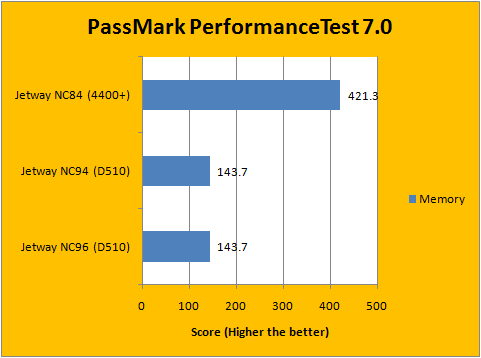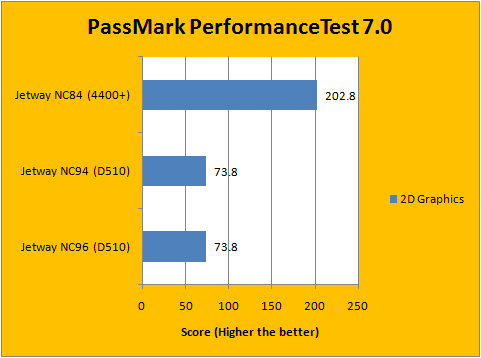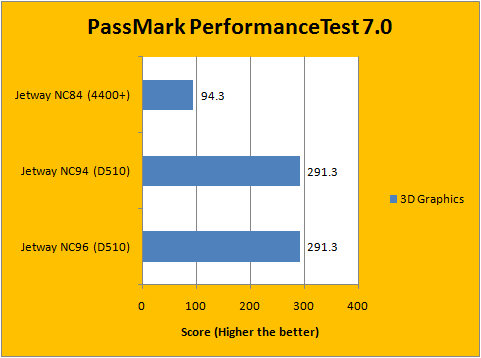 Up until this point, it probably isn't surprising that the AMD Athlon 64 X2 based Jetway NC84E-LF kicked the Intel Atom D510 based NC94FL-510-LF and NC96FL-510-LF like what Portugal did to North Korea on June 21st at Cape Town. But wait a second -- what's the dealio with the 3D graphics score? We have made no mistake; it is actually PassMark PerformanceTest 7.0's algorithm of determining the overall score. Apparently, because the NC94 and NC96 didn't even complete the entire battery of benchmark, it gave them a high overall score -- the ATI Radeon HD 4200 didn't pull much FPS for the HDR rendering test (Not surprisingly). so it pulled down its overall 3D average.
---
Page Index
1.
Introduction, Features, and Specifications
2.
Bundle, Chipset, BIOS
3.
A Closer Look, Board Layout, Test System
4.
Benchmark: EVEREST CPU
5.
Benchmark: EVEREST FPU
6.
Benchmark: EVEREST Memory
7.
Benchmark: PCMark Vantage
8.
Benchmark: 3DMark06 Professional
9. Benchmark: PassMark PerformanceTest 7.0
10.
Benchmark: SuperPI 1M, Cinebench R11.5
11.
Onboard Sound Frequency Analysis
12.
Overclocking and Conclusion