By: Preston Yuen
July 24, 2015
In today's culture, there is a general stereotype about how items are marketed. When items are marked with a higher price, psychologically, we deem it to be more valuable. Following this logic, we tend to believe the opposite is true, too. Not too long ago, Ferrari released their "cheapest" car, the California T. For someone who is considered well off in today's standards, approximately $200,000 USD spent on a car is probably pocket change. However, most regular people would probably make other investments, such as a purchasing decent sized house, a car for less than a quarter of the price, or other comparably "less valuable" items. But let us strictly compare apples to apples in this scenario. Ferrari's California T with a twin turbo 3.9L V8 engine and 552 horsepower will get you from zero to sixty in about 3.6 seconds. Taking it to the extreme, we have Ferrari's 599 SA Aperta Novitec Rosso. With the twin-supercharger conversion, it increases the V12 output to 888 horsepower, and goes from zero to sixty in 3.1 seconds for about $850,000 USD. If you are a car enthusiast and have some spare change, there is no question which model you would go for. My point here is in the world of technology, we tend to have a similar mindset. In terms of SD storage space for our preferred camera, many of us would most likely purchase a Class 10 SD card for best read and write speeds when taking our favorite photo or video. What we have here today is Kingston's microSDHC Mobility Kit with 32GB of storage. Sitting at only $25 MSRP, it certainly is not a Ferrari 599 SA Aperta Novitec Rosso in terms of pricing -- or even a California T, for that matter. But is Kingston's microSDHC just as valuable? We cracked open a unit here at APH Networks to find out.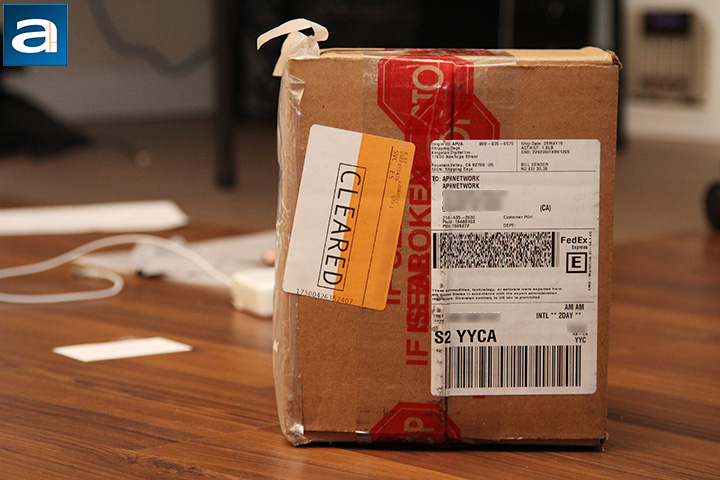 Our review unit of the Kingston microSDHC Mobility Kit 32GB came alongside the Kingston FCR-HS4 and Kingston HyperX Savage 240GB recently reviewed by my colleague Jonathan. It has been stuffed with bubble wrap, so everything arrived from the American headquarters in California, USA to our Calgary, Alberta, Canada headquarters safely via FedEx International Economy. The brown corrugated cardboard box seemed to be undamaged, which means FedEx has done due diligence in keeping our electronics safe. However, under closer inspection, the tamper-proof seal was broken, and the package was taped back together. Nevertheless, everything inside arrived safe and sound.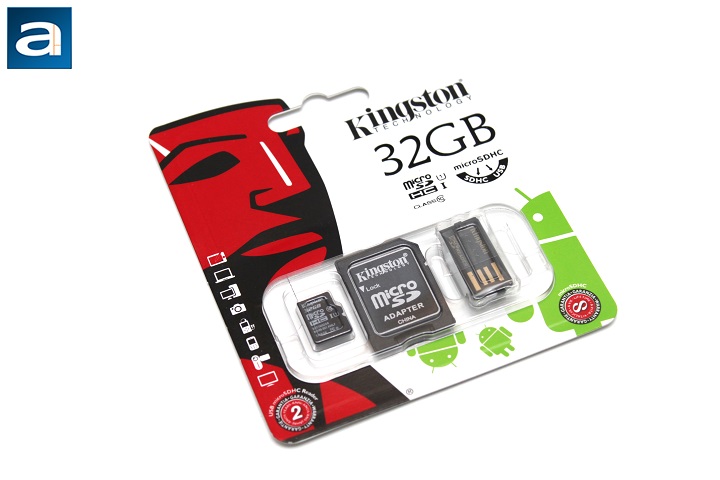 Our unit of the Kingston microSDHC Mobility Kit 32GB came packaged in the standard Kingston layout and color scheme. Although you get a decently sized 32GB microSDHC card with two adapters, you will notice the size of Kingston's logo seems to overpower the size of the microSD card itself from this view. All compatible electronics are printed as icons along the left side, with its name and minimal amount features printed on the boldly on the right, keeping the whole theme clean and simple. Before we move on, let's take a look at the specifications of the Kingston SDHC Mobility Kit 32GB, as obtained from the manufacturer's website:
Features
- microSDHC/SDXC card plus SD adapter and USB adapter
- Ideal for mobile phones, smartphones, cameras and other portable devices
- All-in-one kit gives you the versatility to work between mobile devices and your computer
- Class 4: 4MB/s minimum data transfer rate, capacities of up to 32GB
- Class 10: 10MB/s minimum data transfer rate, capacities of up to 64GB
- Lifetime warranty, free technical support
Specifications
- Capacities: 4GB, 8GB, 16GB, 32GB, 64GB
- Class 4: 4MB/s minimum data transfer rate
- Class 10 UHS-I: 10MB/s minimum data transfer rate
- microSDHC card dimensions: 11mm x 15mm x 1mm
- SD adapter dimensions: 24mm x 32mm x 2.1mm
- USB reader dimensions: 24.99mm x 12.14mm x 2.64mm
- Card operating temperature: -25°C to 85°C
- Card storage temperature: -40ºC to 85ºC
- USB reader operating temperature: 0°C to 60°C
- USB reader storage temperature: -40°C to 85°C
- Compatible: with systems with USB support, Windows® 8.1, Windows 8, Windows 7 (SP1) (ReadyBoost™ not supported), Windows Vista (ReadyBoost not supported), Mac OS X V.10.6.X+ , Linux v.2.6.x+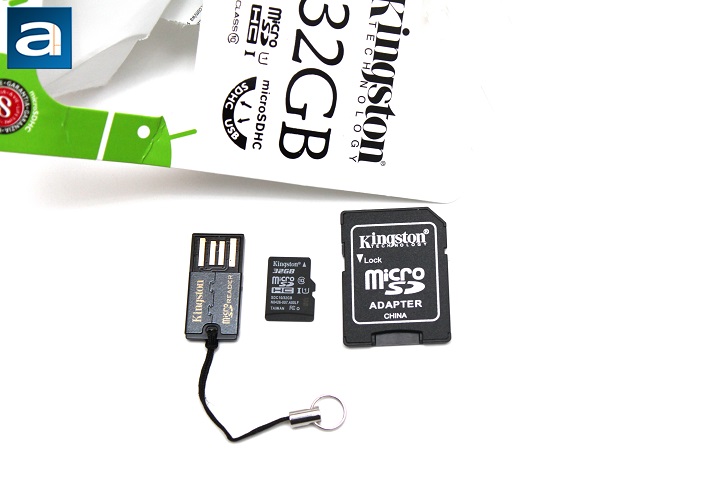 The process of gaining access to your goods is easy. Take a pair of scissors to the packaging or simply tear it open. From the photo above, I went about using the Hulk Smash method -- without wrecking the card itself, of course. Out of the box, you will get a clear plastic shell that holds the microSD card and all its accessories. You will get a SD card adapter and a USB adapter. Those that do not have a SD card slot on their computer will definitely find the USB adapter useful. Besides that, there is really nothing to special about the card or the packaging, so without further ado, let us get down to testing.
-----------------------------------------
The Tests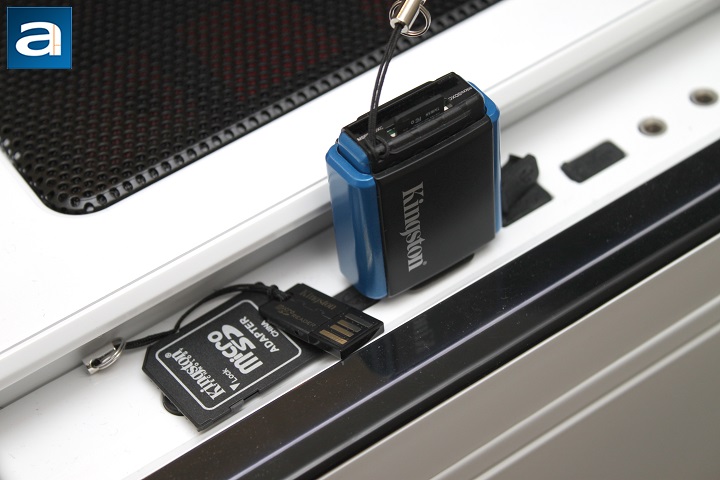 For real life testing, the Kingston microSDHC UHS-I 32GB was used in my Canon Digital Rebel T1i dSLR and GoPro 3 Black Edition cameras. To ensure card performance was not limited by the interface, I borrowed the Kingston MobileLite G3 SD card adapter from my colleague Aaron, and tested Kingston's microSD card against a series of other cards that were conveniently in my stash. Our test system specifications was as follows:
CPU: Intel Core i7-4770K (Stock settings)
CPU Cooling: SilverStone Tundra TD02-E
Motherboard: Asus Maximus VII Formula
RAM: Patriot Viper 3 Series Black Mamba Edition PC3-17000 4x8GB
Graphics: Gigabyte GeForce GTX 770 4GB
Chassis: Phanteks Enthoo Primo White
Storage: SanDisk Extreme PRO 480GB
Power: Cooler Master Silent Pro Gold 1000W
Sound: Integrated ROG SupremeFX Formula
Optical Drive: N/A
Operating System: Microsoft Windows 7 Professional 64-bit
Compared Hardware:
- Kingston microSDHC Mobility Kit 32GB
- Kingston SDXC UHS-I U3 64GB
- Patriot EP Series SDXC 64GB
- Patriot LX Series microSDXC 64GB
- Patriot LX Series SDHC 32GB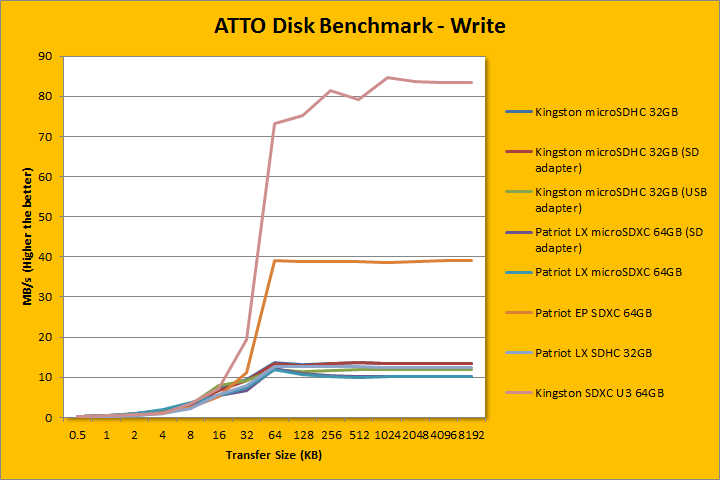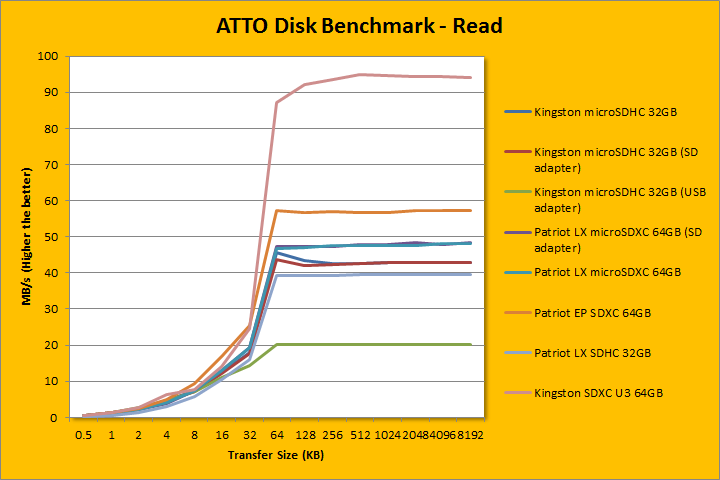 Sorting through my stash of memory cards, I found a few that were more current and comparable in its category to our review unit. As you can see from the chart, I have pulled in a microSDXC card from Patriot. Although slightly older, it made a good comparison in terms of Class 10 cards. Focusing back on Kingston's microSDHC card, it sat at 13.79 MB/s max write speed when plugged into the MobileLite G3. With the SD card adapter, it came close at 13.35 MB/s write, while the USB adapter's performance was slightly lower at a peak of 11.89 MB/s. Compared to Patriot's LX microSDXC, it outperformed it, where it sat at 12.16 MB/s using the SD card adapter, and 11.96 MB/s without. To my surprise, the Kingston microSDHC card outperformed the Patriot LX SDHC 32GB, where peak write was at 12.64 MB/s. Under the curve, it was quite similar to the Patriot LX microSDXC, with a slightly slower ramp up, but higher transfer rate above 16K. Of course, the Kingston SDXC UHS-I U3 64GB dominated out of all the cards, but let us not get too carried away with a flagship performance product, as our main focus is Kingston's microSDHC Mobility Kit. As for a Class 10 card, I would have expected such performance for its price of approximately $25 at press time.
Switching our focus slightly to the read speeds, the Kingston microSDHC continued to perform quite well, even against the standard SD cards. It sat at 45.62 MB/s with no adapter, and 43.69 MB/s with the SD adapter. However, with the USB adapter, it fell behind, with a peak rate of only 20.29 MB/s. For your reference, the Patriot LX microSDXC had a max read rate of 48.45 MB/s, and the Patriot EP SDXC came in at 48.19 MB/s. Under the curve, it was the opposite of its write performance compared to the Patriot LX microSDXC. The Kingston had a slightly faster ramp up than the Patriot, but slower transfer rates above 16K. Considering the Kingston is more of an entry level Class 10 microSDHC card, these were pretty good results. Besides, what more could you expect for $25, considering the generous bundle?
-----------------------------------------
When it comes down to cars, we have economy cars, super cars, and everything in between. Which class of car you would be buying from depends on your preference, and how much you have in your bank account. When picking the right SD or microSD card, we are faced with the same dilemma. Do we go with Class 4 cards to get by everyday usage, or would we upgrade to Class 10 cards for the best read and write speeds for high-end videos and photos? Realistically speaking, as technology moves forward, there are less and less Class 4 cards being made, and technology generally becomes cheaper over time. Kingston has really hit the sweet spot of satisfying consumers that want the extra speed, but do not have the big bucks to spend on super high performance cards like the Kingston SDXC UHS-I U3 64GB. This is not to mention Kingston's microSDHC Mobility Kit 32GB comes with a SD and USB adapter to boot. This is awesome, especially for those people that do not have an extra SD card slot to transfer all their files. As an entry level Class 10 card, it comes with 13.79 MB/s write speed and 45.62 MB/s read speed as tested, with a very reasonable performance curve. For about $25 at press time, what more can you ask? I do not know about you, but as for myself, the Kingston microSDHC Mobility Kit 32GB may not be any Ferrari in mind, but it is definitely a Honda Odyssey when it comes to value and practicality.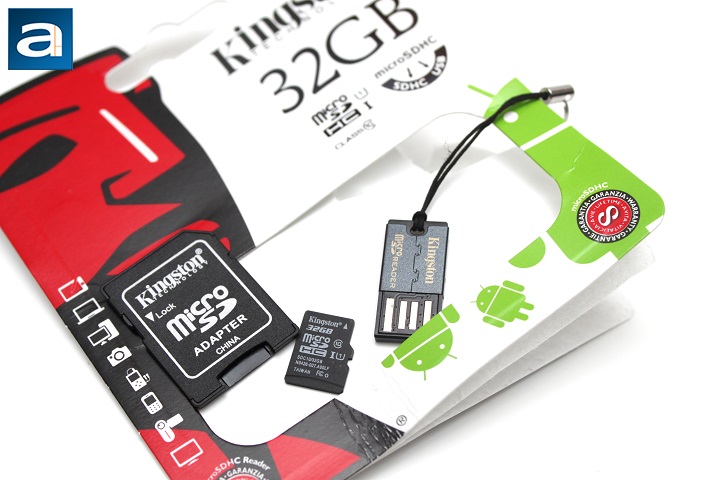 Kingston provided this product to APH Networks for the purpose of evaluation.
APH Review Focus Summary:
8/10 means Definitely a very good product with drawbacks that are not likely going to matter to the end user.
7/10 means Great product with many advantages and certain insignificant drawbacks; but should be considered before purchasing.
-- Final APH Numeric Rating is 7.7/10
Please note that the APH Numeric Rating system is based off our proprietary guidelines in the Review Focus, and should not be compared to other sites.
The Kingston microSDHC Mobility Kit 32GB is packed with a SD and USB adapter to boot, and delivers entry level Class 10 performance without breaking the bank.
Do you have any comments or questions about the Kingston microSDHC Mobility Kit 32GB? Drop by our Forums. Registration is free, and it only takes a minute!