By: Jonathan Kwan
July 10, 2015
One time, my friends and I were sitting through a presentation. When the first person went up, he introduced himself as someone who "worked in the IT industry". Joking, I said I am qualified to work in the IT industry as well, because I know how to use a printer, and upload pictures to Facebook. When the second person went up, he introduced himself as someone who "worked in the oil and gas industry". To follow up on my last assertion, I said I could easily work in the oil and gas industry too, because I know how to pump gas into my car. Now, I am sure those people actually did legitimate work rather than just hooking up a keyboard to a PC or putting fuel into a vehicle, but often times, you can make seemingly unimportant jobs sound more impressive than it really is. One time, I read of a person who claimed they "handled financial transactions" when they worked at an "international multi-billion dollar corporation" on their resume. In reality, they worked as a cashier at McDonald's. On the same note, what do you call a cross-platform, high speed data controller hub that allows universal read/write access to all standard solid state integrated circuit flash storage media? One could simply call it a memory card reader. But regardless of how simple or seemingly unimportant a memory card reader is, anyone who shoots frequently with a digital camera that is not their smartphone will know how inconvenient it is to go without one. Today, we will take a look at the Kingston FCR-HS4, an updated version of the FCR-HS3. For about $20 at press time, what kind of improvements will we see over its predecessor? Aesthetics? Speed? Read on to find out!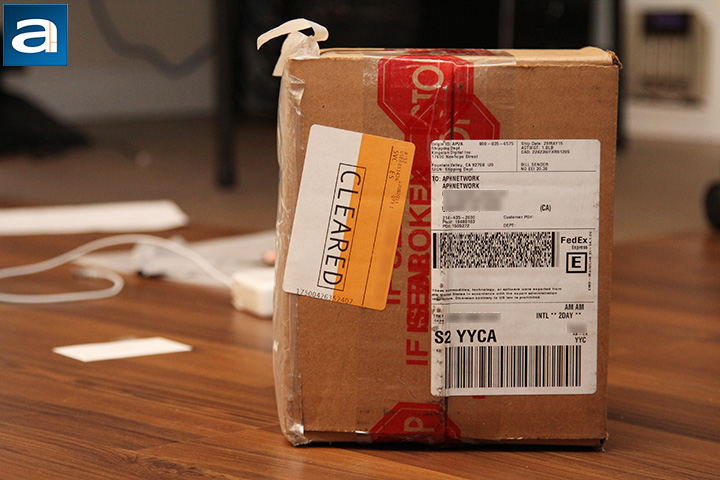 Our review unit of the Kingston FCR-HS4 came in a puffy brown corrugated cardboard box from the company's American headquarters in California, USA. Tagging along the trip was the Kingston HyperX Savage 240GB solid state drive I have reviewed last week, as well as the Kingston microSDHC Mobility Kit 32GB to be reviewed by my colleague Preston Yuen in the near future. Using FedEx International Economy, everything arrived safely and quickly to us here in Calgary, Alberta, Canada. Upon closer inspection, it looks like the tamper-proof seal has been broken, and the package was taped back together. Nonetheless, everything inside appears to be untouched.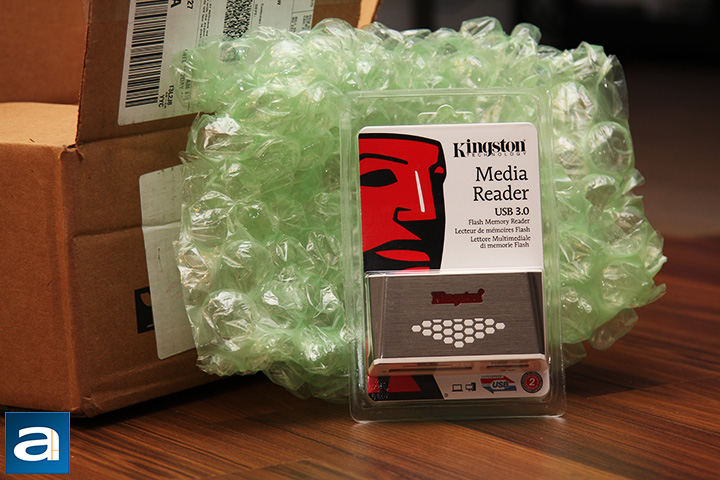 Those who are familiar with Kingston's products will be instantly familiar with the FCR-HS4's retail packaging. For one thing, it is exactly the same as the FCR-HS3. Since it does not actually say the model name in front, this is literally a copy-pasta job. Also, it carries the exact same style as the rest of the company's lineup. The FCR-HS4 retail packaging's plain white background is interrupted by the prominent red Kingston logo along the western edge; creating a clean yet distinctive design for the end user. On the right, we have Kingston's logo, followed by the words "Media Reader" in relatively large font. Its product description can be found below, highlighting its USB 3.0 interface. The clear plastic shell bevels out to accommodate the Kingston FCR-HS4 card reader itself, giving people a very good view of the physical product. While I am certainly not a big fan of blister packs, it is hard to argue against the company's choice of packaging, because it is quite fitting, especially if you are going to pick this up at your favorite local retail store. At the bottom is an array of icons, including a laptop, desktop, SuperSpeed USB 3.0 certification, and its two-year warranty.
Before we move on, let's take a look at the specifications of this product, as obtained from the manufacturer's website:
Dimensions: 93.3mm x 52.68mm x 16mm
Operating temperature: 0º to 60ºC
Storage temperature: -20º to 85ºC
Supported card formats:
- CompactFlash: CF Type I & II (UDMA 0-7)
- Secure Digital: SD/SDHC UHS I-II/SDXC UHS I-II
- microSD: microSD/microSDHC UHS-I/microSDXC UHS-I
- Memory Stick: Memory Stick PRO/Duo/PRO Duo/ PRO-HG Duo
Requirements: system with USB 3.0
Built-in LED indicator
USB 3.0 cable included
Speed Rating: up to 5Gb/s data transfer speed
Compatible with: Windows® 8.1, Windows 8, Windows 7 (SP1), Windows Vista® (SP2), Mac OS X v. 10.7.x +, Linux v.2.6.x +, Chrome OSTM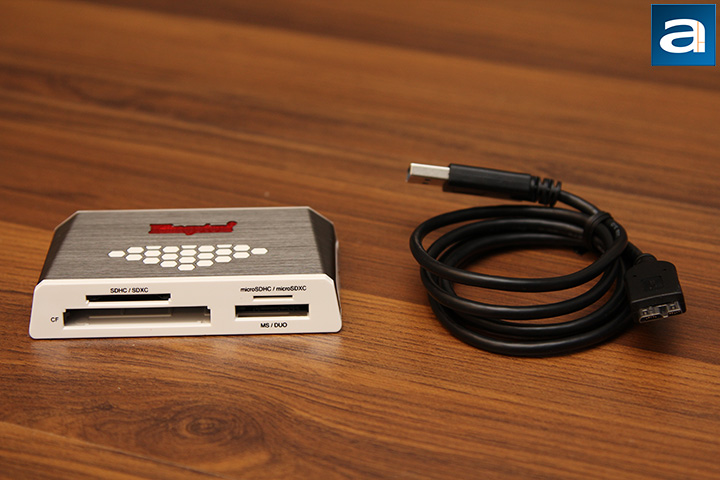 What is the best way to design a flash memory card reader? I do not know about you, but personally, I probably would not have been able to do a better job myself after seeing the Kingston FCR-HS4. Its physical form factor is identical to its predecessor, the FCR-HS3, except with a color change. After all, do not change what is not broken, haha. Measuring in at 93.3mm wide, 52.68mm deep, and 16.00mm tall, the little silver and creamy white box is probably not going to be your best travel companion, but it fits right in on my desk. To be fair, most laptops come with a SD card reader anyway. If you are planning to shoot with a CF card on a high end dSLR on your next trip, inserting the FCR-HS4 to your list of equipment is going to be a negligible addition. The FCR-HS4's mainly plastic construction feels solid in the hand, and comes with an excellent blend of a brushed aluminum finish on top, with a sleek glossy finish in front. Its lines are nicely angled to create a bit of visual excitement. A matrix pattern at the top seems to form a triangle pointing in the direction of the card slots, and the red Kingston logo actually lights up to indicate when a card is active. The red backlight will blink in the event of drive activity.
Four distinct slots can be seen from the front, as you can see in our photo above. The Kingston FCR-HS4 can accommodate pretty much any flash memory card in existence right now. This includes CF Type I & II (UDMA 0-7), SD/SDHC UHS I-II, SDXC UHS I-II, microSD/microSDHC UHS-I, microSDXC UHS-I, Memory Stick PRO, Memory Stick Duo, Memory Stick PRO Duo, and Memory Stick PRO-HG Duo according to the manufacturer's website. This compatibility list represents a slight update from the FCR-HS3; namely adding support for the UHS-II standard, and subtracting rarely used formats like the Memory Stick M2. To make your life as easy as possible, each slot is labeled with white text adjacent to it in order to indicate what cards it can take. While you will not be able to read every card that has ever existed, if you are dinosaur enough to still have something like SmartMedia, my advice to you is: Get with the times. For the rest of our readers, if you are old enough to recall when that was still around, be sure to pat yourself on the back.
I am actually quite happy it can read microSD cards natively, even though most cards sold in that form comes with an adapter. Last year, I complained the slot on the FCR-HS3 was really tight, and I had quite a bit of trouble pulling my particular card out (Using a Kingston branded one, no less) after being inserted. Using the exact same microSD card, there seems to be a noticeable improvement with the FCR-HS4. Of course, I have no actual measurable evidence to this statement.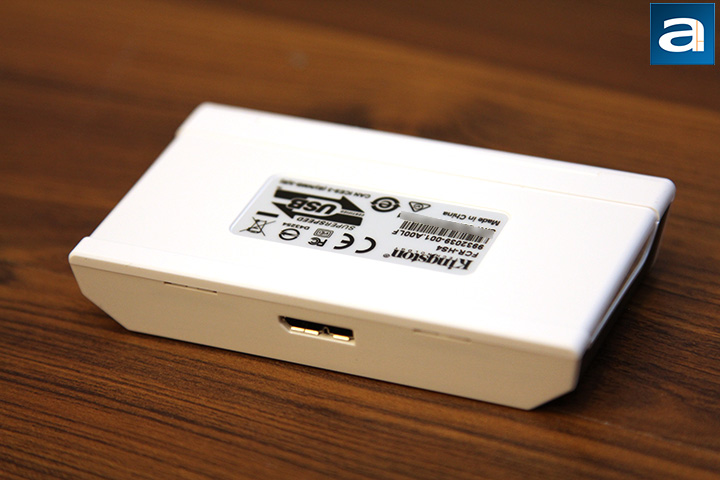 Flipping the Kingston FCR-HS4 around, and looking at the back, you will find only one thing, and that is its USB 3.0 interface port. Out of the box, the company includes a three foot USB 3.0 cable. Personally, I found that to be extremely short for a desktop card reader; I would have much appreciated it if a six foot cable was included instead. Other than that, the usual certifications can be found on the sticker at the bottom. If it is of any interest to you, the Kingston FCR-HS4 is made in China, but what is not nowadays?
Since the desktop card reader is extremely lightweight, thanks to the simplicity of components and its plastic construction, do not expect a whole lot of trip with your desk. It is lined with some not-very-rubbery rubber at the bottom to make the best out of the situation, but thanks to the laws of physics, I do not believe Kingston could have done any better in this regard. Even if they added a rock inside the FSR-HS4, it is not going to change the situation. With all said and done, let us move straight into the benchmarks.
-----------------------------------------
The Tests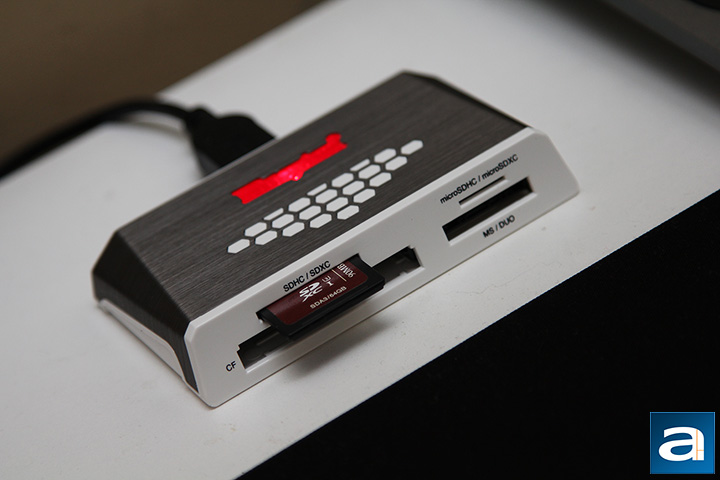 If you look closely, the SD card actually goes in further on the FCR-HS4 than the FCR-HS3.
For the tests, I have benchmarked the card readers using the fastest SDXC UHS-I U3 card I have on hand, the Kingston SDXC UHS-I U3 64GB reviewed here at APH Networks last year. The rest of our system specifications as follows:
CPU: Intel Core i7-4790K @ 4.60GHz
CPU Cooling: Noctua NH-D15 (Single fan)
Motherboard: Gigabyte GA-Z97X-UD3H-BK
RAM: Patriot Viper 3 Low Profile PC3-17000 4x8GB
Graphics: Gigabyte G1 Gaming GeForce GTX 970 4GB
Chassis: Fractal Design Define R5
Storage: OCZ RevoDrive 350 480GB; SanDisk Extreme PRO 480GB; OCZ Vector 180 240GB
Power: Seasonic Platinum 1000W
Sound: Auzentech X-Fi HomeTheater HD
Operating System: Microsoft Windows 8.1 Professional x64
Compared Hardware:
- Kingston FCR-HS4
- Dell UltraSharp U2413
- Kingston FCR-HS3
- Kingston MobileLite G3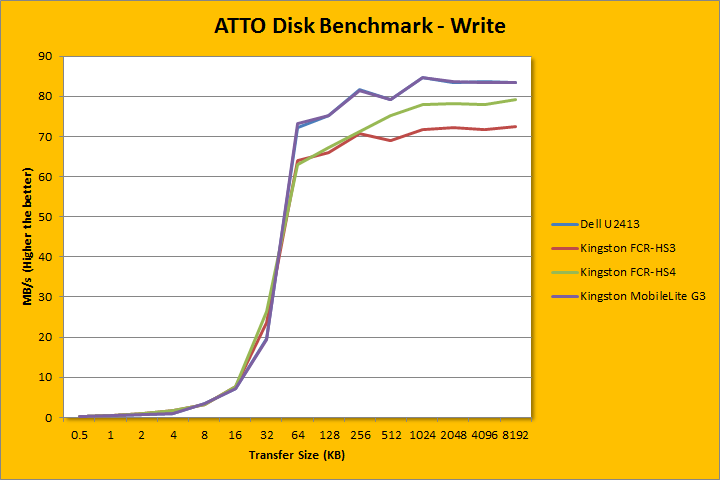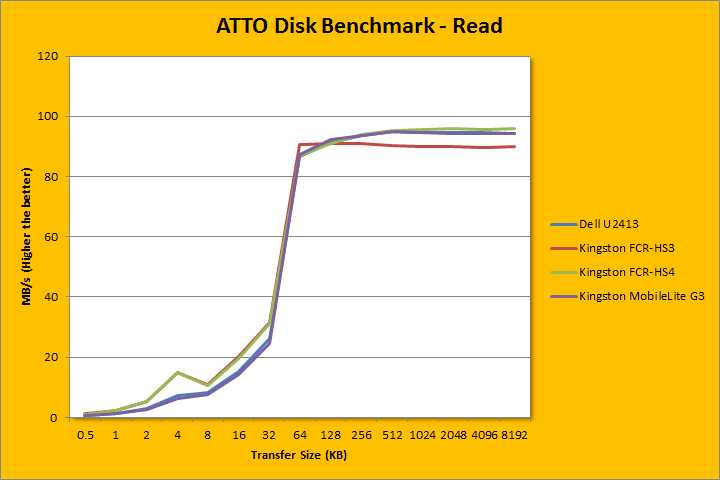 In our tests today, we will not get into detailed performance analysis using several different benchmarks, as we usually do in our storage reviews. The reason behind this is while its interface and controller has influence on the overall I/O performance, it is also very much related to the tested card itself. We are not reviewing the card itself today; we just want to know the maximum transfer rate the Kingston FCR-HS4 can provide. ATTO disk benchmark provides valuable insight into evaluating storage performance; it is especially held in high regard since it is not local disk limited like Windows file copy, but rather the interface itself. This has been one of our favorite benchmarking programs since 2010, and as such, has been an integral part of our storage benchmarks. We have used in everything ranging from network attached storage systems to solid state disks.
I have always been a big fan of its predecessor, the Kingston FCR-HS3, because even though it was not the fastest card reader in the market, it was one of the most versatile ones. The Kingston FCR-HS4 continues this tradition, and seeing some changes in the specifications sheet, it was safe to guess there will be performance improvements included in the latest iteration. In the past, there were two products that actually performed better than Kingston's desktop card reader when testing cards in the Secure Digital physical form. That was my Dell UltraSharp U2413 monitor and Kingston's MobileLite G3, where both provided quite literally identical results. I think they have the same drive controller inside, because their performance curve was practically identical. That said, the FCR-HS3 was by no means slow. It kicked off 72.55MB/s in maximum write speed with our Kingston SDXC UHS-I U3 64GB, and an impressive 91.003MB/s maximum read speed on the same card. For the Dell UltraSharp U2413 and Kingston MobileLite G3, the same ATTO configuration provided a maximum write speed of just under 85MB/s using the same card, and nearing a whopping 95MB/s in the read benchmark.
The Kingston FCR-HS4 was no disappointment. As you can see in our write graph above, the FCR-HS4 posted a nearly identical performance curve as the FCR-HS3. However, once it reached 512K, the FCR-HS4 began to pull away. It peaked at 79.301MB/s, which was still about 4MB/s behind the top players, but it was a considerable improvement over its predecessor. In the read category, we have noticed a similar pattern; at 256K and above, a gap between the FCR-HS3 and FCR-HS4 began to form. In the end, the FCR-HS4 peaked at 95.869MB/s, which was the fastest score we have ever seen -- by a margin of about 1.5MB/s -- using this SD card.
-----------------------------------------
Regardless of how simple or seemingly unimportant a memory card reader is, anyone who shoots frequently with a digital camera that is not their smartphone will know how inconvenient it is to go without one. I would know. After I replaced my FCR-HS3 with the FCR-HS4, I have already lost count of how many times I have inserted the SD card from my dSLR camera into the product we are reviewing today from Kingston. Retailing for about $20 at press time, the FCR-HS4 directly replaces its predecessor for exactly the same price. What kind of improvements did we see? Well, for one thing, while the new model was not the fastest card reader we have tested, it got pretty close. The Kingston FCR-HS4 posted the highest read speed I have ever seen with an SD card, and its write speed was considerably improved from the FCR-HS3. It also adds compatibility with the UHS-II standard, and drops compatibility with some obscure cards. I also found the tight microSD card problem with the FCR-HS3 rectified with the FCR-HS4. What I did not like, and this is purely my subjective opinion, is the color scheme change. I thought the totally black enclosure design with the FCR-HS3 was really good, while the silver and creamy white found on the FCR-HS4 strikes me to be a bit odd. They should just have kept the old color scheme, haha. Also, Kingston still packs the super short three foot USB cable; a longer one will definitely be appreciated. All in all, these are relatively small complaints. The Kingston FCR-HS4 continues to be one of the sleekest and most versatile universal card readers in the market today, and with a performance bump over its predecessor, it is yet another winner in my books.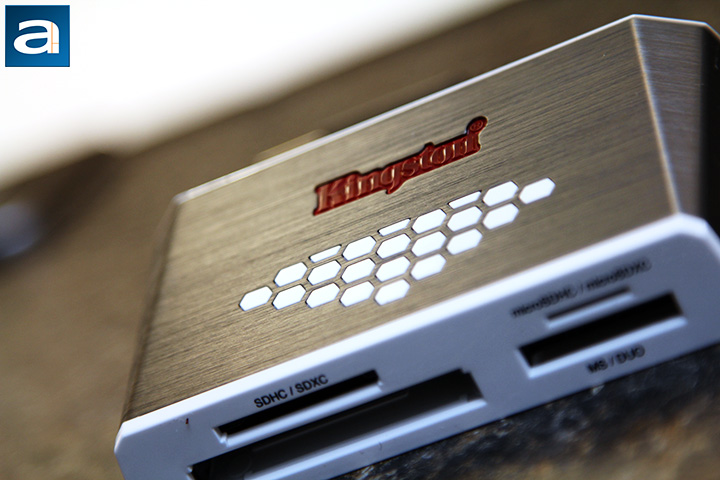 Kingston provided this product to APH Networks for the purpose of evaluation.

APH:Renewal Award | APH Review Focus Summary:
8/10 means Definitely a very good product with drawbacks that are not likely going to matter to the end user.
7/10 means Great product with many advantages and certain insignificant drawbacks; but should be considered before purchasing.
-- Final APH Numeric Rating is 7.6/10
Please note that the APH Numeric Rating system is based off our proprietary guidelines in the Review Focus, and should not be compared to other sites.
The Kingston FCR-HS4 continues to be one of the sleekest and most versatile universal flash card readers in the market today, with a performance bump over its predecessor.
Do you have any comments or questions about the Kingston FCR-HS4? Drop by our Forums. Registration is free, and it only takes a minute!