By: Jonathan Kwan
July 13, 2018
"I think your spiritual gift is generosity," I whispered to my friend during church service one Sunday morning when the pastor was talking about spiritual gifts. "Can I have $20?" My friend looked over and said, "Do you have the gift of prophecy? Tell me about my future!" Not willing to let the moment go, I gave him my prophecy of the day. "You will give me $20." Even though my friend is quite generous and I certainly do not have any prophetic abilities, life is all about seizing the moment to maximize your impact -- whether it is cracking a joke, landing a good job, or bringing the right product to market. But how can one find out what is the right thing to do at the right time? More often than not, it is foresight, which I have briefly touched on in my Antec High Current Gamer Bronze 750W report. But if you have the luxury of doing everything under the sun, at least one of them is going to hit it out of the park, right? A few weeks ago, I looked at the Kingston UV500 240GB SSD in the traditional 2.5" SATA form factor. However, not everyone wants an SSD in the traditional 2.5" SATA drive size, and Kingston understands this. To ensure they have the entry level solid state drive market completely cornered, the UV500 is also available in M.2 and mSATA form, which we will look at the latter in detail in the coming weeks. But for now, we will look at the M.2 version of the Kingston UV500 240GB. What is special about its hardware and how will it perform? Read on to find out!
Our review units of the Kingston UV500 240GB came in a small brown corrugated cardboard box from the company's American headquarters in Fountain Valley, California, USA. Using the FedEx Ground service, everything arrived in excellent condition to us here in Calgary, Alberta, Canada for our review today. Inside the box are three different form factors of the same drive as aforementioned, in which you will see in the next photo.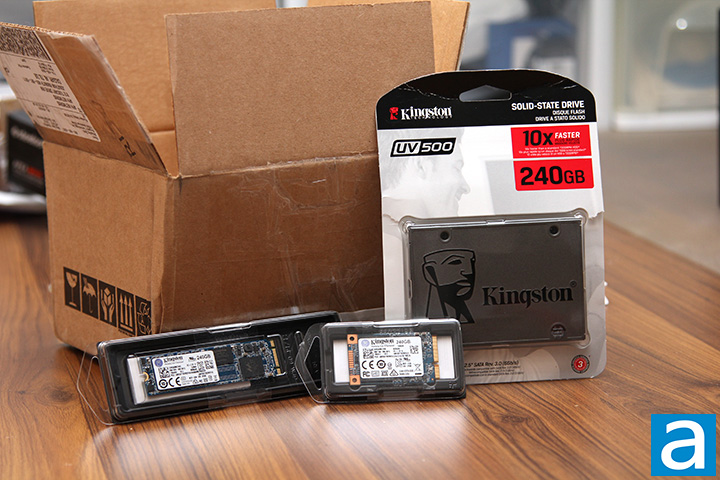 Like Kingston's memory kits, the company used OEM packaging for their UV500 SSD in M.2 form. I am quite a fan of it, because it cuts down on waste. As per what we have seen in the past, unlike standard clamshell or blister packaging with inserts implemented by many other memory manufacturers, Kingston resorted to using the tried-and-true method of having a PET shell and clear plastic cover. You will not find any fancy window inserts either; everything you need to know about this product is printed on the sticker on the SSD itself. As you can see in our photo above, the UV500 itself is behind the clear plastic cover, so we can get a glimpse of what is inside without opening the package.
Before we move on, let us take a look at the specifications of the Kingston UV500 240GB, as obtained from the manufacturer's website:
Interface: SATA Rev. 3.0 (6Gb/s) – with backwards compatibility to SATA Rev. 2.0 (3Gb/s)
Controller: Marvell 88SS1074 Controller
NAND: 3D TLC
Encryption: Encryption Support (AES 256-bit)
Sequential Read/Write: up to 520/500MB/s
Maximum 4K Read/Write: up to 79,000/25,000 IOPS
Power Consumption: 0.195W Idle / 0.5W Avg / 1.17W (MAX) Read / 2.32 W (MAX) Write
Dimensions: 80mm x 22mm x 3.5mm
Operating temperature: 0°C~70°C
Storage temperature: -40°C~85°C
Weight: 6.7g
Vibration operating: 2.17G Peak (7–800Hz)
Vibration non-operating: 20G Peak (10–2000Hz)
Life expectancy: 1 million hours MTBF
Warranty/support: Limited 5-year warranty with free technical support
Total Bytes Written (TBW): 100TB
Other than the SSD itself, you will find nothing else included from the factory. This is expected, considering this is a budget drive in OEM packaging. Clipped on a clear plastic tray is the Kingston UV500 with a manual underneath it. This is it -- there is quite literally nothing else from the manufacturer. SSDs are a mainstream commodity in 2018, and this is evidence to the state of things.
---
Page Index
1. Introduction, Packaging, Specifications
2.
A Closer Look, Test System
3.
Benchmark: AIDA64 Disk Benchmark
4.
Benchmark: ATTO Disk Benchmark
5.
Benchmark: Crystal Disk Mark 3.0
6.
Benchmark: HD Tach 3.0.1.0
7.
Benchmark: HD Tune Pro 4.60
8.
Benchmark: PassMark PerformanceTest 8.0
9.
Benchmark: PCMark Vantage
10.
Benchmark: PCMark 8
11.
Conclusion