By: Aaron Lai
May 27, 2022
My girlfriend and I were recently at a Canadian Tire to kill some time. While there, we were taken aback by how poorly organized the store was. First of all, in the middle of the store, they put all the sale items together with no rhyme or reason to what they were placed beside. Personally, I excused this since I just thought this was like a clearance area. Next, we walked up and down the aisles. Even within the same aisle, they put all sorts of merchandise together for no apparent reason. This meant finding stationary next to home electronics with some televisions above it all. Then, as we went from aisle to aisle, it became clear that these were placed at random, as we found the single baby aisle smack in the middle of the automotive section. As such, we played a game to guess what would be in the next aisle based on the current aisle we were in. In that store, there was approximately 60 aisles and after going through the entire store, we were only successful in five of our guesses. While the game was a fun way to burn time, the layout of the store was a nightmare. In a similar but less dramatic fashion, manufacturers sometimes keep us guessing about what their next product is. Some companies, such as Noctua, release a roadmap to display what they are working on. However, other times new products come without warning. Today, we have the Noctua NH-D12L, a new 120mm based air cooler with an emphasis on a lower height clearance despite a dual-tower design. We have seen quite a few 120mm air coolers, including the NH-U12A and NH-U12S, so it was a bit of a surprise to see yet another one from this Austrian brand. As well, this was not on their roadmap to my knowledge, but this should not take anything away from the NH-D12L. How does this cooler stand up against the others, and will it be able to perform as well as other Noctua coolers? Let us read on to find out!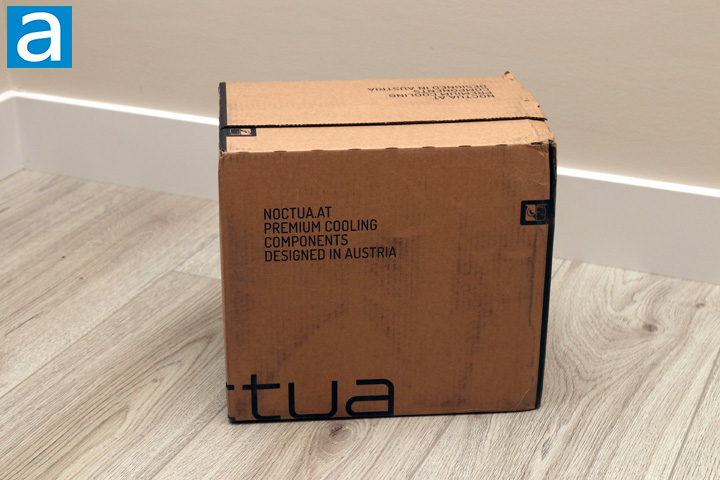 Today's review unit of the Noctua NH-D12L arrived from Noctua's offices in Vienna, Austria. Traveling via UPS Express Saver, this box arrived at our offices here in Calgary, Alberta, Canada, in excellent condition and with no damage to be concerned about. I still appreciate the fact Noctua is one of the few manufacturers that send their products in their own boxes. Otherwise, Noctua also packed some packing material inside to ensure everything arrived in good condition.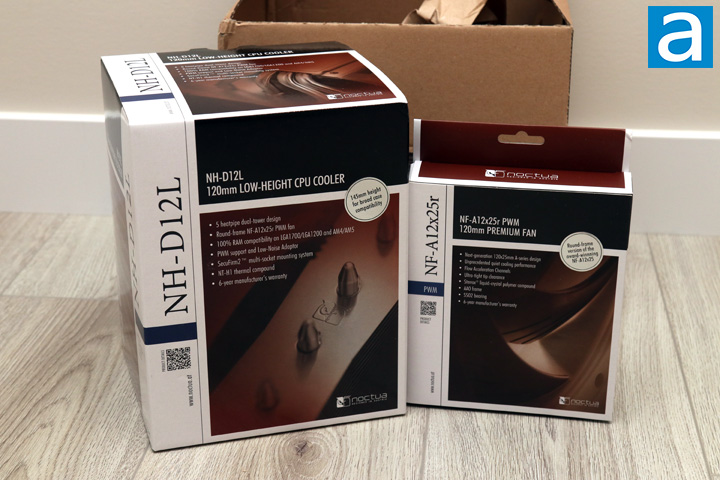 Unsurprisingly, we have the standard Noctua retail box treatment, with a burgundy and white box. The product name can be found in several areas around the box, while several product features can be found highlighted on this front panel. Noctua has not changed up their retail design for their vanilla products and the NH-D12L seems to slot right in. I think this really reinforces the brand identity that Noctua is clearly very proud of and ensures users easily recognize the company behind the coolers and fans. In addition to the heatsink, Noctua also graciously sent us a separate Noctua NF-A12x25r fan used to mount onto the NH-D12L. We will be taking a closer look at this fan later, as well as testing the heatsink with this second fan attached later in our review.
Before we continue, I have grabbed the specifications from the manufacturer for your viewing pleasure:
Cooler Specification
Socket compatibility: Intel LGA1700, LGA1200, LGA1156, LGA1155, LGA1151, LGA1150, LGA2011, LGA2066 and AMD AM5, AM4
Height (without fan): 145 mm
Width (without fan): 125 mm
Depth (without fan): 113 mm
Weight (without fan): 700 g
Height (with fan): 145 mm
Width (with fan): 125 mm
Depth (with fan): 113 mm
Weight (with fan): 890 g
Material: Copper (base and heat-pipes), aluminum (cooling fins), soldered joints & nickel plating
NSPR: 148
Max. TDP: see NSPR
Fan compatibility: NF-A12x25r (square-frame 120mm fans not supported)
Scope of delivery
- NF-A12x25r PWM premium fan
- NA-RC14 Low-Noise Adaptor (L.N.A)
- NT-H1 high-grade thermal compound
- Fan-clips for second NF-A12x25r
- SecuFirm2™ mounting kit
- Noctua metal case-badge
Warranty: 6 Years
Fan Specification
Model: Noctua NF-A12x25r PWM
Bearing: SSO2
Max. rotational speed (+/- 10%): 2000 RPM
Max. rotational speed with L.N.A. (+/- 10%): 1700 RPM
Min. rotational speed @ 20% PWM (+/-20%): 450 RPM
Max. airflow: 102,1 m³/h
Max. airflow with L.N.A.: 84,5 m³/h
Max. acoustical noise: 22,6 dB(A)
Max. acoustical noise with L.N.A.: 18,8 dB(A)
Voltage range: 12 V
MTTF: > 150.000 h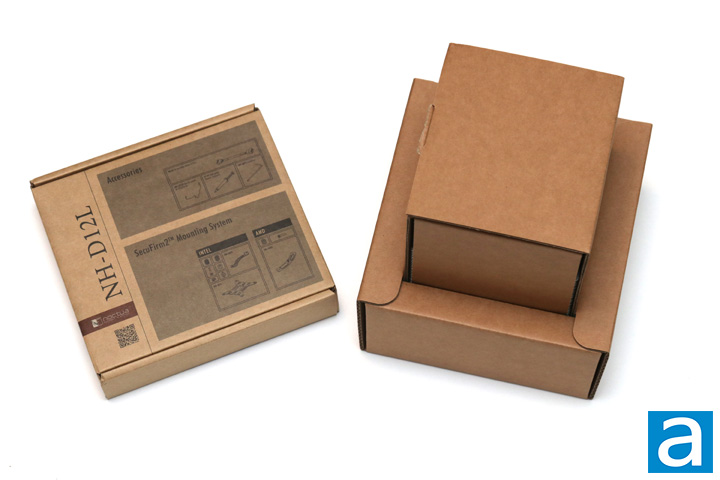 Out of the box, there are two primary cardboard boxes to hold everything. One is for all of the mounting and installation accessories and the other for the Noctua NH-D12L. In the accessories box, we have many mounting parts for both AMD and Intel, including a backplate, arms, screws, nuts, and washers. Noctua has also included a long L-shaped Philips head screwdriver, a Y-fan splitter, two low noise adapters, and a tube of their NT-H1 thermal paste. I am still surprised Noctua is still not packing their newer NT-H2 thermal paste, as it should just be included by default while the older one can be phased out or sold separately. In main box, we have the heatsink with a NF-A12x25r PWM fan attached with wire clips.
With all of these accessories, you can mount the Noctua NH-D12L on Intel LGA1700, LGA1200, LGA115x, LGA2011, and LGA2066 sockets, as well as AMD AM5 and AM4 sockets. Noctua has updated their backplate to accommodate the newer 12th generation Intel CPUs, which means you will not need to purchase an additional mounting kit. The only notable exclusion from this list is AMD's TR4 or Threadripper 4 socket, which is understandable considering how much larger the integrated heatspreader and CPU itself is. As well, you will see the AMD upcoming AM5 socket mentioned, which is because it shares the same mounting mechanism as the current AM4 socket. Otherwise, more documentation is included in the accessory box, including installation and warranty information. Noctua includes their standard six-year warranty with this cooler, which is one of the lengthier ones in the market.
---
Page Index
1. Introduction, Packaging, Specifications
2.
Physical Look - Hardware; Installation
3.
Test Results
4.
Conclusion