Page 2 - A Closer Look, Installation, Test System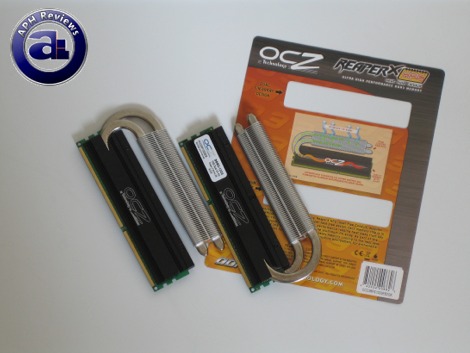 OCZ is one of the first manufacturers to offer heatspreaders across its line of memory a few years back -- and they continue to create many different variations of heatsinks in this regard until today. The OCZ ReaperX HPC series is no exception; again taking a relatively different approach to designing heat dissipation devices for computer memory modules.
The design of the cooling module on OCZ's ReaperX HPC DDR3 RAM is quite simple. Despite the fact that the OCZ ReaperX RAM modules are actually single sided PCBs, the PCB itself is clipped between two aluminum heatsinks for cooling purposes. Thermal conductive pads are used between the contact area and the heatsink for more effective heat dissipation. As far as the design of the heatsink goes, one side directly dissipates heat away from the memory ICs through direct contact, and for the other side with no memory ICs -- whether it's for aesthetic purposes or not, it should have an effect on cooling as it cools the other side of the PCB, where heat will travel in that direction despite less significance.
A standard OCZ specification label is placed on each module indicating the part number, model name, latencies, capacity, and default operating frequency. The label, which says "Warranty void if removed", on the OCZ ReaperX aren't placed over any significant assembly devices -- so it is possible to take the heatsink off on the ReaperX main printed circuit board itself without voiding the warranty at all.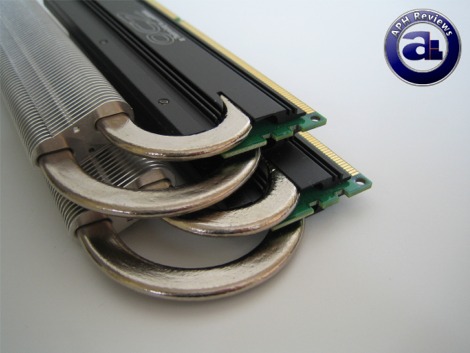 A closer look at the memory modules themselves. The aluminum heatsinks that covers the memory modules aren't actually that thick, along with the angled design of the heatsink fins on top, it is possible to install two modules side by side on standard motherboards that implement proper spacing. We've verified this and we had no clearance issues with any Asus or Gigabyte motherboards we currently have.
As you can see in our photo above, two copper heatpipes run through the full length of the center of both heatsinks -- one heatpipe for each side -- and comes around in a U-shaped loop to the large array of fins located at the top of the ReaperX memory modules for direct contact and heat dissipation. There are actually two separate sets of fins at the top to create an one-to-one ratio with the heatpipes. OCZ did not a full loop design for its heatpipes, so depending on how the heatpipes are designed orientation may be an issue -- not all motherboards accommodate memory in the same direction. In our tests, we found that the heatpipe on the OCZ ReaperX HPC PC3-10666 Enhanced Bandwidth RAM to be effective in virtually all scenarios we've tested, which is definitely an excellent design implementation on OCZ's part. On the plus side, the RAM were only warm to touch even in our overvolting and overclocking scenarios at up to 2.0V.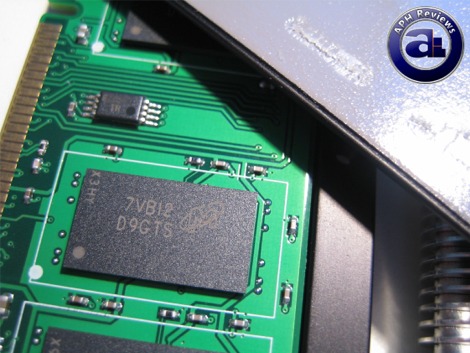 The heatsink is actually held on by a total of three screws only -- the rest are based on some adhesive properties of the thermal interface material between the aluminum heatsink and RAM module, with some credits going to the classic clipping-it-between-the-heatsink.
Under the hood are the new Micron D9GTS ICs, which has an excellent reputation for excellent overclocking potential. They are somewhat a follow up to the legendary Micron D9GTR chips we've seen in the Super Talent Project X DDR-1800 memory as well as OCZ's own Platinum PC3-12800 Enhanced Bandwidth RAM.
Our OCZ ReaperX HPC PC3-10666 Enhanced Bandwidth 2x1GB RAM loaded for benchmarking in our updated test platform.
CPU: Intel Core 2 Duo E6600 @ 3.20GHz (400MHz*8 - 1600MHz FSB QDR)
CPU Cooling: Asus Arctic Square
Motherboard: Gigabyte X48T-DQ6
Chassis: Danger Den Torture Rack (1x Thermaltake 120mm LED Fan)
Power: Tagan TurboJet 1100W
Video: Gigabyte GeForce 8800GT TurboForce 512MB
Optical Drive: Liteon 16X DVD-ROM
Hard Drive: Western Digital Caviar 7200RPM 80GB 8MB Cache
Operating System: Microsoft Windows XP Professional SP2
Compared hardware
- OCZ Platinum PC3-12800 Enhanced Bandwidth 2x1GB @ 7-6-6-20 DDR3-1600 (Stock)
- Super Talent Project X DDR-1800 2x1GB @ 7-6-6-18 DDR3-1600 (Downclocked to Project X DDR3-1600 specifications)
- OCZ ReaperX HPC PC3-10666 Enhanced Bandwidth 2x1GB @ 6-5-5-18 DDR3-1280
Please note that our OCZ ReaperX HPC PC3-10666 Enhanced Bandwidth 2x1GB RAM are slightly downclocked from DDR3-1333 to DDR3-1280 because our divider settings and FSB strap combinations on the Gigabyte X48T-DQ6 won't work at DDR3-1333 speed despite we tried setting it directly in the BIOS.
---
Page Index
1.
Introduction, Packaging, Specifications
2. A Closer Look, Installation, Test System
3.
Benchmark: 3DMark06
4.
Benchmark: PCMark05
5.
Benchmark: EVEREST CPU
6.
Benchmark: EVEREST FPU
7.
Benchmark: EVEREST Memory
8.
Benchmark: SuperPI, Cinebench R10
9.
Overclocking Results and Conclusion