Page 2 - Physical Look - Hardware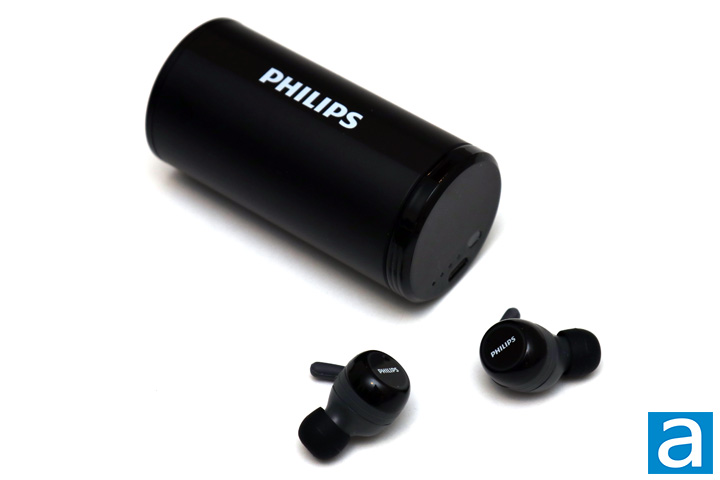 The Philips ActionFit Wireless Headphone ST702 comes in a glossy hard plastic construction. Its black exterior is combined with a dark grey side facing towards your ears. The Philips logo can be easily spotted on the outside of each ear. Handling marks can still be seen due to this glossy coating, but these ActionFit buds are quite a bit smaller than both the Sennheiser Momentum True Wireless and paplio Dash I reviewed previously. This means the ears do not protrude out as much as the two aforementioned true wireless earbuds and are sleeker to wear. As a whole, the two earphones weigh approximately 10g, or 5g on each side. Despite their lighter weight than either the Dash or the Momentum True Wireless, the Philips ActionFit ST702 feels quite solid due to its compact size and, therefore, denser feel.
As for controls, the Philips ActionFit Wireless Headphone ST702 employs a similar system to the Sennheiser set, as both of these ears have touch controls on the side. Play/Pause, Next, and Previous Track can be executed with a variety of tap or hold combinations. These are also used to accept and reject calls, activate the voice assistant, or jump between calls. You can also manually power on and off the ST702 for each side. Plopping the earphones into the carrying case and closing it also turns the headphones off. Unfortunately, you cannot change the volume directly, as you will still need to use your device to do so. The tap controls were quite easy to get used to and offered some audio beeps to let you know what controls you may be executing.
Otherwise, these wireless headphones connect to devices via Bluetooth 5.0, which is pretty standard for most true wireless earphones. It was a bit difficult to find what different codecs were supported by this pair of headphones, but from the lack of any information, we can assume it only supports SBC, or Subband Coding. This is the default Bluetooth audio codec with decent audio quality and low processing power requirements, and it maxes out at 328kbps. It is disappointing we do not have support for AAC, aptX, or aptX HD.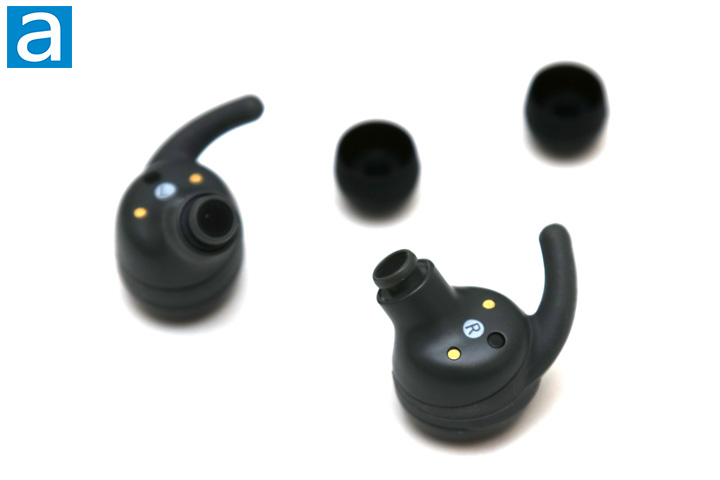 With a closer look at the Philips ActionFit Wireless headphone ST702, you can see these wireless in-ear monitors are pretty compact. Internally, each ear packs a 6mm neodymium driver with a frequency response of 20Hz to 20kHz, which matches the normal hearing range for a human being. It has a rated sensitivity of 94dB and a rated impedance of 16 ohms. The drivers are directed into your ear for a direct and transparent sound reproduction. The sleeves are there to aim at the user's ear canals while also creating a passive noise canceling effect. As mentioned previously, Philips provides three different sizes of silicone sleeves. Unfortunately, only a single pair of ear fins are included. These fit well for my ears as they provided a nice extra anchor point, but those with different sized ears may not experience the same feel. Moving on, these earphones have the name "ActionFit", which clearly alludes to the exercise and movement focus Philips have placed on this product. As such, we also have an ingress rating of IPX5, which translates to "protection from water projected from a nozzle". I was told I could even shower with these earphones, but I decided not to. Of course, this should also protect these earphones from sweat or rain, especially for those on-the-go indoors or outdoors.
On each side of the Philips ActionFit Wireless Headphone ST702 are two pogo pin pads to charge the set. In addition, we have some magnets inside to hold the pair of earphones in its charging case. This means they should stay connected even when you shake the charging case about. Located near the pin pads are engraved "L" and "R" letters on the respective side to show users which side to use for which ear. On the flip side, we have a large LED ring that circles around the outside of the Philips logo. The ring flashes blue and white depending on the status. One thing I did not capture in the photos are the microphones on each side, which are used for picking up voice during calls or voice assistant actions.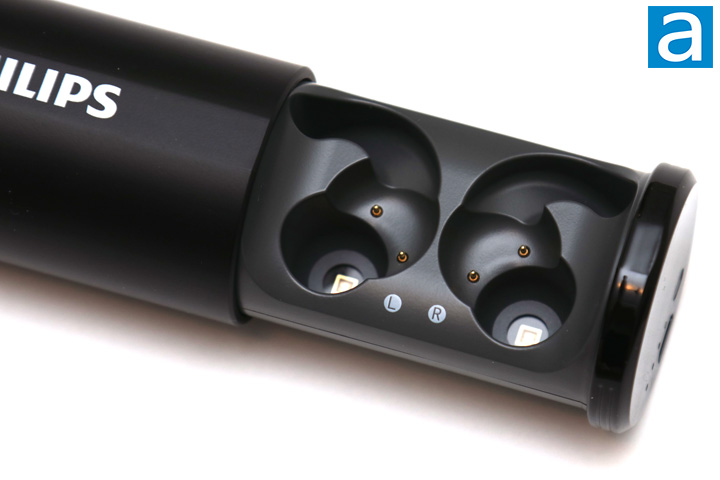 As for the carrying case, the Philips ActionFit Wireless Headphone ST702's plastic case doubles as a charger for the headphones. When it is closed, it measures 80mm in length, 40mm in width, and 39mm in height. This makes the tube-shaped case feel pretty chunky to hold and can create a bit of a pocket bulge. The whole case slides open from the right side to reveal the two sitting positions of the earphones for charging. On the right side, we have four blue pinhole LEDs with a micro USB input. As mentioned previously, the micro USB input should be replaced with a USB Type-C plug, and this is inexcusable in 2020. The LED shows the current battery status of the case itself, depending on the number of lights illuminated.
We also have a large oval white LED to the side of the smaller power indicators to show when the UV cleaning light is active. If you peer inside, you will see each ear has two larger squares at the bottom where the ear tips would sit. These are the UV lights for each side and they automatically turn on to disinfect the ear tip. Ultraviolet germicidal irradiation effectiveness does vary based on the length of exposure to the light, the intensity, and wavelength of the radiation. While I cannot comment on the last two aspects, every time you close your case, the UV light will shine for twenty seconds. In addition, with how close the emitting light is to the ear tips, it should mean we have direct line-of-sight for disinfection. Overall, this is a pretty neat feature, especially as sweaty users would appreciate the fact this can prevent bacterial growth on the earphones.
As the two sides of the ActionFit Wireless Headphone ST702 are completely disconnected, both sides have a lithium polymer battery. The carrying case doubles as a charger and has a battery inside it. Despite the larger footprint of the charging case, it does at least pack a larger battery internally. As a whole, the headphones should last six hours on one charge, while the carrying case adds an additional twelve hours of listening for a total of eighteen hours. The manufacturer also advertises the case can fully charge within two hours. If you need a quick charge, you can put these earphones in the case for fifteen minutes to get an additional hour and a half of runtime. In day-to-day use, I found while I was able to achieve this mark with ease. These headphones lasted about six and a half hours on 50% volume, which is an impressive duration. Once the ActionFit ST702 completes its charge, it stops charging and stays off until you take them back out.
---
Page Index
1.
Introduction, Packaging, Specifications
2. Physical Look - Hardware
3.
Subjective Audio Analysis
4.
Conclusion