By: Aaron Lai
September 29, 2017
As you may have remembered from my review of the Kingston HyperX Cloud II, my favorite color is blue. However, if there is one thing you do not see much in the computer parts and peripherals world, it is this color. Take a look at any keyboard, mouse, computer case, or accessory. You will probably see colors like black, white, or gray before you see a blue option. This is not too surprising, especially when you consider the neutrality of the aforementioned shades. As well, with the current trend of RGB-ing everything, you can make everything whatever color you want. When we look at consumer electronics like smartphones, laptops, or tablets, the blue shade again lacks in representation. You might see it from a specific company like Samsung or HTC, but otherwise it is once again the same black and white trend. On the other hand, if there is one color rising up in popularity, it is gold. I never really thought it would be a trend to stick, but I think it has come a long way, spearheaded by the popular fruit company, Apple. This specific color can be found on their phones, laptops, and tablets. Even though I am pretty sure the neutrally shaded devices will sell more, it is nice to see a bit of color injected into popular devices. Today, we have the SilverStone TS-11C, which is a single slot drive docking station. Interestingly enough, this product also follows in the trend of the gold color, although the TS-11C is only available in this finish. Appearances aside, how does this product fair in helping you connect an internal hard drive through an external slot? Hopefully, this review will answer this question and more, so read on to find out!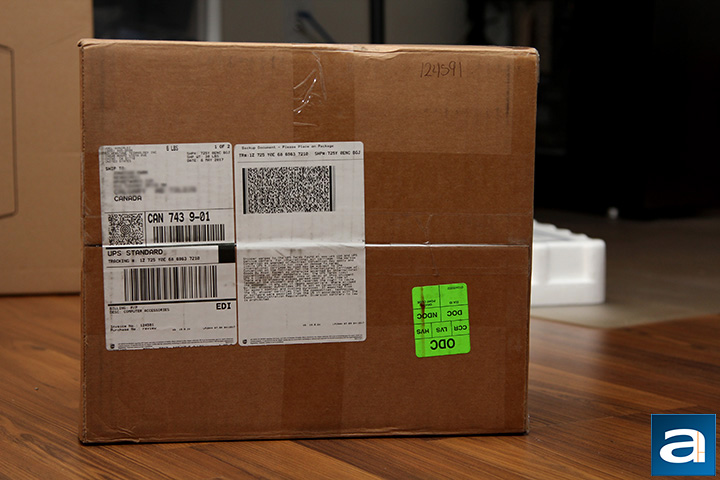 Today's review unit of the SilverStone TS-11C arrived a while back with a lot of other SilverStone items. Thankfully, the corrugated cardboard box it shipped in was not damaged during the process. This arrived via UPS Standard from SilverStone's offices in Chino, California to our APH Networks location here in Calgary, Alberta, Canada. Due to some shuffling with various reviewers, the product finally landed in my possession to test it. As such, this is the last SilverStone item we have from this parcel.
Taking a look at the retail container of the SilverStone TS-11C, we can see a pretty streamlined color theme in the darker gold and black accents. This matches with the docking station itself, as it too is a gold and black affair as seen on the front panel. The SilverStone logo can be seen at the top with some features in small print. A description of "USB 3.1 Type-C 2.5" & 3.5" SATA drive docking station" succinctly describes the product as a whole. It should be noted this does mean the product can take either or, but not both at the same time. Otherwise, there are some specifications and features listed around the box in various languages. There is not much else to speak about for the box, so let us move onto the product itself.
Before going there, here are the specifications from the manufacturer's website for your perusal:
Specifications
Model No.: SST-TS11G-C
Color: Gold
Connector: USB 3.1 Type-C
Data transfer rate: USB 3.1 Gen2 up to 10Gbps (Compatible with USB 3.0 / 2.0 / 1.1)
Material: Aluminum body with plastic-ABS cover
Support operating system: Microsoft Windows 7 (32bit/64bit), 8/8.1/10 (32bit/64bit) or future release version, Mac OS 10.5 or above
Chipset: ASM1351
Drive interface support: SATA I / II / III
Environment: Operating Temperature: 5°C ~ 35°C, Operating Humidity: 20%RH ~ 80%RH, Storage Temperature: -20°C ~ 50°C, Storage Humidity: 20%RH ~ 80%RH
Net weight: 990g ± 20g
Dimension: 72mm (W) x 55mm (H) x 130mm (D), 2.83" (W) x 2.17" (H) x 5.12" (D)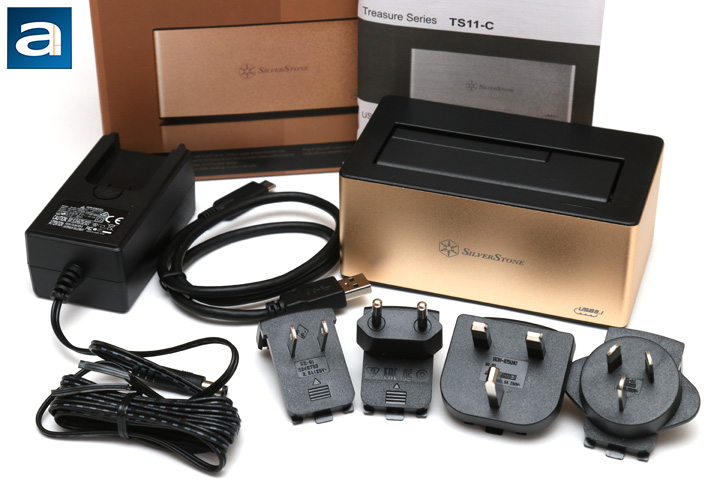 Out of the box, there are several items we receive with the SilverStone TS-11C. In addition to the docking station itself, we have the AC adapter with four different plugs for various countries and their respective sockets. While I do not expect to be traveling across the planet with this device, it is handy to have and means SilverStone can sell it practically anywhere. The AC adapter is capable of handling a wide range of input voltages and frequencies, meaning you will not need a power converter either. Otherwise, we also have a pretty thick white manual and a short USB 3.1 Type-A to Type-C cable for fast transfers. We will see how fast this actually is later on.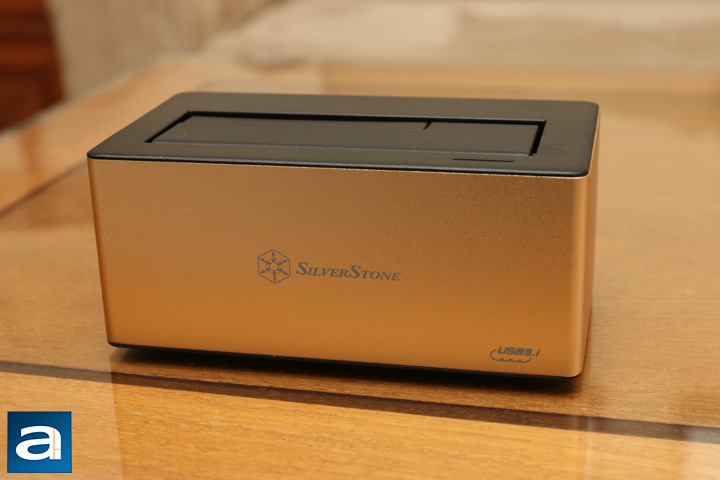 It seems the craze for gold products continues on with this SilverStone TS-11C. Whether you really like this or not is up to you, but I think it looks fine. The aluminum body is a single piece wrapping around the whole TS-11C with a black plastic top and bottom. The SilverStone logo is stamped right in the middle, with a smaller USB 3.1 logo is near the bottom. Otherwise, the whole thing is a pretty simple design. I really do like the material choice with the TS-11C, as the metal body translates into a cool touch exterior. The top of the TS-11C shows a flap covering up the drive slot. What I like is the fact this cover has two openings, one for each 2.5" and 3.5" drives. This means if you put in the smaller sized storage, it will keep the rest of the slot covered. A thin slit also exists at the top, housing a dual color LED light for power and drive activity.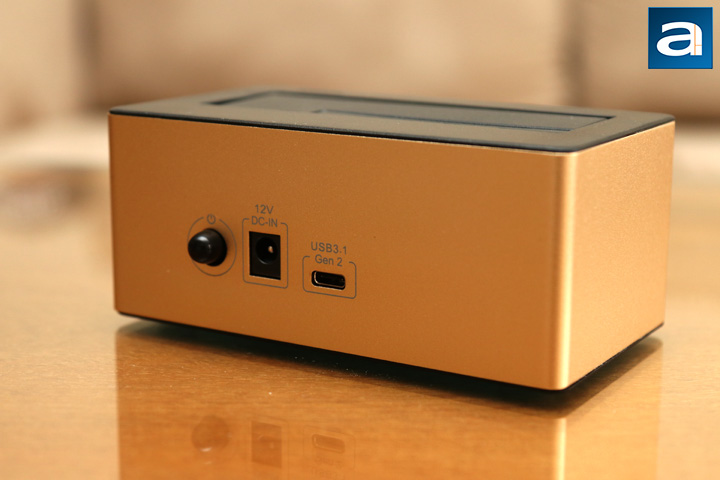 Turning to the back, we have several more input and outputs. From the farthest left, we have a small push button power button. Next, we have a 12V DC power input to keep the docking station and attached drives powered. The provided adapter allows this docking station to pull up to 2.0A, which translates into a maximum 24W power draw. This should be more than enough, as drives generally do not pull higher than 10W in terms of power consumption. Finally, we have a USB 3.1 Gen 2 Type-C port, which is used to transfer data between the connected computer and the docked storage disk. With this reversible port, this means you can plug the cable in either way without having troubles. As well, this is the second generation of USB 3.1, which supports up to 10Gbps data transfer. In theory then, the bottleneck is actually with the Serial ATA interface, as the fastest SATA III has a maximum 6Gbps data rate. Once again, we will see what this means when we actually run some tests with the SilverStone TS-11C.
Flipping to the bottom, we have a rubber pad in each circle to keep the SilverStone TS-11C in place and free from vibrating against the surface it sits upon. The base of the whole enclosure is a solid piece of hard plastic, which means there is no ventilation here. On the other hand, I do not think cooling would be an issue, as quite a bit of the installed hard drive is already exposed to air. When it comes to measurement, the TS-11C is 130mm in width, 55mm in height, and 72mm in depth. It is reasonably sized for a single drive docking station. The net weight of the product is about 350g. It is definitely not light for its dimensions, making the TS-11C feel sturdy.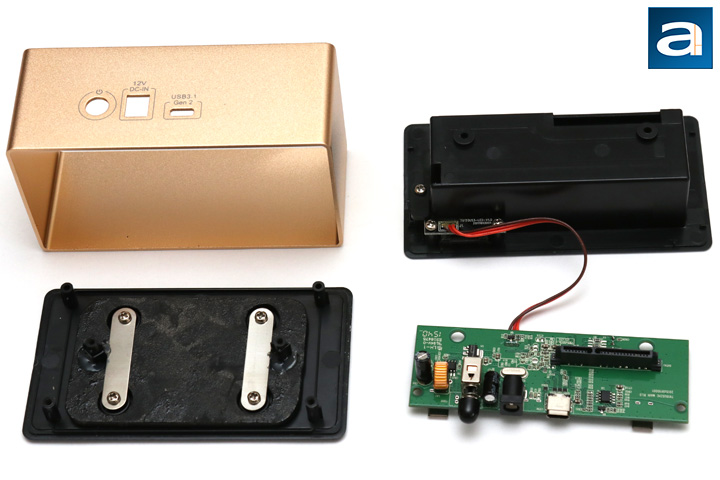 Unlike the SilverStone TS12 we reviewed recently, the TS-11C can be taken apart by loosening the screws found near the SATA drive connector. This is found underneath the flap of the docking station. After removing the screws, you can get to all of the parts inside the SilverStone TS-11C. On the left of the photo above, we have the single piece gold aluminum enclosure of the TS-11C. Underneath, we have the base of the device. A metal weight is attached here to ensure the whole docking station stays upright while a drive is installed. On the right side, we can see the plastic top with a wire connected to a small printed circuit board. This board holds all of the hardware components, including capacitors and multiple chips. The largest one is the ASMedia ASM1531, followed by an ASM1542. According to the manufacturer's website, the ASM1531 is a USB 3.1 Controller to bridge between USB 3.1 and the Serial ATA interface. The ASM1542 is a 10Gbps signal passive switch.
-----------------------------------------
The Tests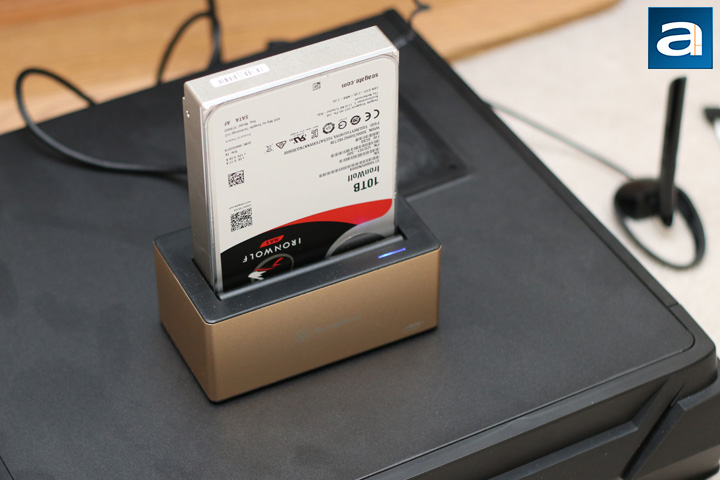 Our test configuration is as follows:
CPU: Intel Core i5-6600K @ 3.5GHz
CPU Cooling: Cryorig C7
Motherboard: Gigabyte GA-Z170N-Gaming 5
RAM: Patriot Viper Elite PC4-24000 2x8GB
Graphics: Integrated
Chassis: SilverStone Raven RVZ03
Storage: Patriot Ignite 480GB
Power: SilverStone ST45SF V3.0 450W
Sound: Integrated
Operating System: Microsoft Windows 10 Pro
In the tests today, only one benchmark is used for the performance evaluation. The focus of this test is to evaluate the performance of the interfaces on the docking station instead of the performance of the storage device itself. Theoretically speaking, data needs to be sent out from the hard drive and go through the SATA interface first, and then pass through the USB 3.1 interface to the computer. The reverse applies to data going from the PC to the HDD. The actual data rate will depend on the slowest link in the chain. On paper, SATA III supports 6Gbps data rate, and USB 3.1 Gen 2 can max out at 10Gbps, therefore the USB interface should not be the bottleneck. Does the theory really work in reality? Is there any difference between using the docking station and connecting the hard drive directly your computer via SATA? One comparison experiment can find out the answers. We used a Seagate IronWolf ST10000VN0004 10TB for the data rate tests using ATTO Disk Benchmark.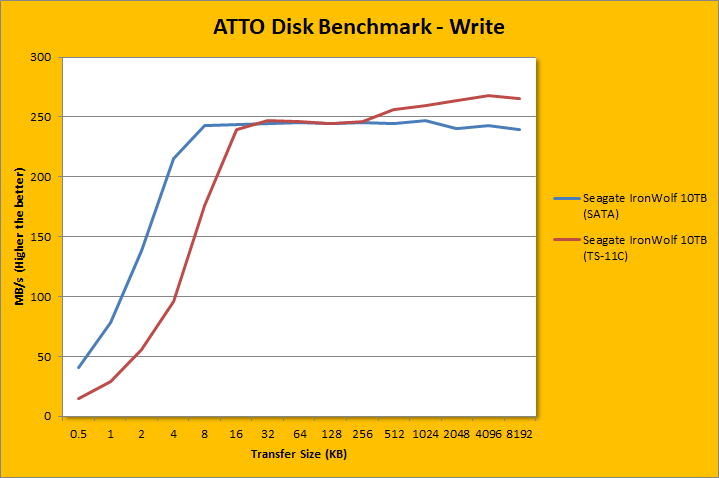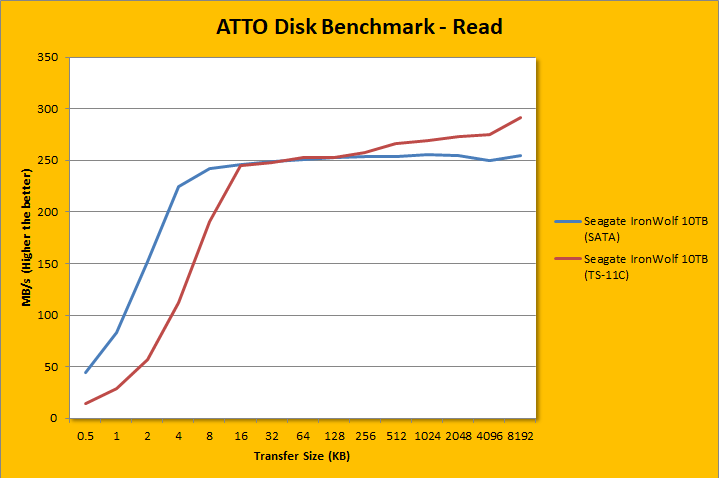 Taking a look at the results, you can see there are some interesting results. For one, you can see the IronWolf 10TB drive performed pretty similarly in terms of SATA performance compared to when we last tested it. As such, we have a relatively fast ramp-up when it comes to the data transfers at 4KB and higher. Both read and write results practically peak out once we pass this point. When we compare it to the performance of the drive when used with the SilverStone TS-11C, you can see the ramp up is a bit slower. This makes sense considering there is an overhead added with the additional USB interface compared to a direct SATA connection. As we continue to increase the transfer size, the impact of this latency diminishes. Once we get to around 16KB, we reached a similar peak performance in both read and write speeds. Interestingly, at even larger transfer sizes, the TS-11C outperformed the direct SATA III connection. This result is unexpected, and I do not really have a good reason for this. On the other hand, it is clear this product does not serve as any sort of bottleneck at Serial ATA standards. If there is one thing I found a bit annoying to deal with while testing, it was the length of the USB cable. While it is great to see the newer Type-C plug, I found this cable to be really short. Thankfully, my setup does not require a long USB cable, but I think others would appreciate the extra length to make the whole docking station easier to work with.
-----------------------------------------
Tagged as a "USB 3.1 Type-C 2.5" & 3.5" SATA drive docking station", the SilverStone TS-11C delivers on these statements. Not only are all of these statements true, but SilverStone has implemented all of these truths well. First of all, I think there are many good physical traits to the TS-11C. The gold exterior really will come down to preference, but I like how SilverStone has kept a simple and clean appearance. It also has a sturdy feel, with the extra weight to ensure stability while using the docking station. The aluminum exterior also contributes to this sentiment. I also really like having the single slot with multiple openings for a clean look no matter the size of installed drives. On the features specifications, it is nice to see Type-C make an appearance, as this is becoming more and more normal for accessories. Finally, when it comes to actual performance, our tests have proven the TS-11C does not necessarily bottleneck the performance of standard drives. With a 10Gbps transfer speed capabilities on the USB end, it is safe to say SATA III hard drives can operate at full speed. On the other hand, it should be noted the TS-11C is not exactly on par for performance at smaller sizes, as there is a slower ramp-up compared to the SATA interface. If there is something I would improve upon, it would be to fix the USB cable. I would first include a USB Type-C to Type-C cable to connect to devices with only the newer type of plug. I would then also increase the length of the included cable, as I think the lacking length can be restrictive in a daily workflow. At press time, the retail price of the SilverStone TS-11C is around $66 USD. While this is not necessarily cheap for a docking station, considering it is one of the few USB 3.1 Gen 2 capable external docks, I think the price is fair. Whether you like the color or not, I think the SilverStone TS-11C is a solid product with excellent build quality and performance to back it up.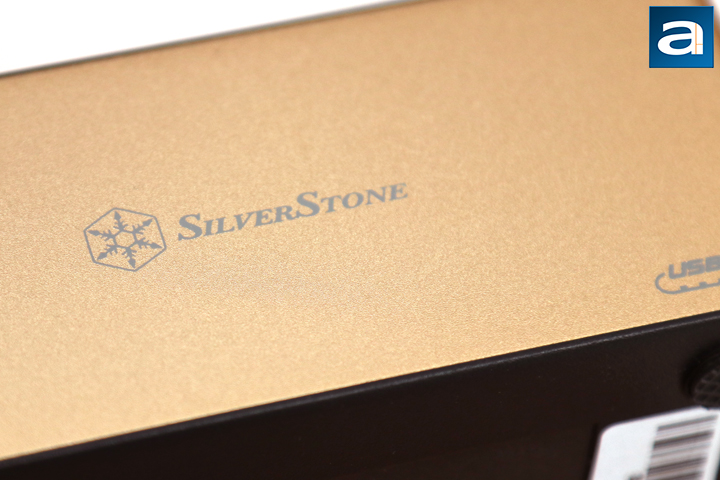 SilverStone provided this product to APH Networks for the purpose of evaluation.
APH Review Focus Summary:
8/10 means Definitely a very good product with drawbacks that are not likely going to matter to the end user.
7/10 means Great product with many advantages and certain insignificant drawbacks; but should be considered before purchasing.
-- Final APH Numeric Rating is 7.4/10
Please note that the APH Numeric Rating system is based off our proprietary guidelines in the Review Focus, and should not be compared to other sites.
The SilverStone TS-11C is a docking station with build quality and performance in a golden package.
Do you have any comments or questions about the SilverStone TS-11C? Drop by our Forums. Registration is free, and it only takes a minute!