By: Preston Yuen
September 2, 2011
As school is quickly approaching around the corner, parents help their kids prepare by dropping by the local store to pick up some school supplies. I'm sure most older students are much more independent and motivated to do this without the aid of their parents. But here's the deal: Back in the day, when dinosaurs roamed the Earth (Okay, maybe not that long ago), the human race was not so fortunate as to having convenient access to computers to bring to school. Heck, writing out messages with quills was probably quite a hassle. I don't know for sure how fast people write back then, but by today's standards, I myself can most likely type out a quick email with it sent out the door much faster than having to write a letter by hand and have it mailed. If you can get a grasp of what progress have brought us, then you are in the right mindset for our review today. When hard drive docking stations first hit the market, the idea of being able to swap internal hard drives became instantly popular with consumers. Quite a while back, my colleague Jonathan has reviewed the Thermaltake BlacX and the Thermaltake BlacX Duet. While both were commendable and convenient products for swapping internal hard drives and transferring data, what we have today is a new and improved version of the original BlacX hard drive docking station -- featuring an interface upgrade from good ol' USB 2.0 to SuperSpeed USB 3.0. So exactly how fast is it, and is the Thermaltake BlacX 5G really worth your money for speedy transfers? Read on to find out!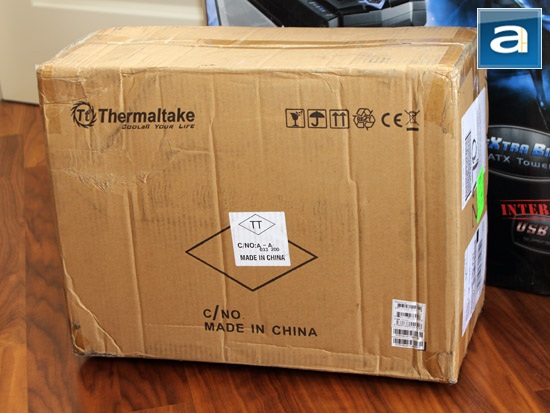 The Thermaltake BlacX 5G was shipped alongside Thermaltake Frio OCK from California, USA to our Calgary, Alberta location, and was reviewed by my colleague Devin, so I simply borrowed his packaging image to save some time taking another photo. As usual, the brown corrugated box sustained the typical bumps and bruises, but there is nothing to worry about, since Thermaltake provided more than sufficient packaging material.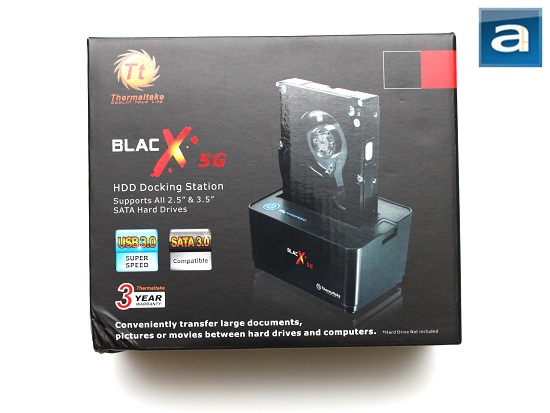 Retaining a similar theme in terms of product packing for the BlacX product line, an image of the Thermaltake BlacX 5G itself is prominently shown on simple black background, situated on the right side of the box. The left side features the Thermaltake logo near the top, with its product name, badges, and features printed below. Thermaltake also wants to you remember the BlacX 5G comes with a 3 year limited warranty, but the good news is the chances of your HDD docking station going wrong is pretty darn unlikely. Available features and specifications are also shown around the box. Before getting down to the real meat of things, let's take a look at the features and specifications, as obtained from Thermaltake's website:
Features
- Supports USB 3.0 SuperSpeed – Maximum Transfer Rate up to 5.0 Gbps
- Backward-Compatible with USB 2.0 (Max: 480 Mbps) & 1.1 (Max: 12 Mbps)
- Premium Shielded USB 3.0 Cable – Corrosion Resistant Plating & Heavy Gauge Wires for Years of Reliable Use
- Plug & Play Installation – Ready to Work in seconds, No Software needed
- Supports 2.5" & 3.5" SATA I/II/III & SSD Hard Drives in ALL Capacities
- Hot-Swap Capability for Rapid Multi HDDs Access & Exchange
- Trendy Docking Station Design maximizes Heat Dissipation & Exhaust
- Windows & Mac OS Compatible
- Windows 7 – 32-bit & 64-bit Ready
- Supports SATA III (6 Gb/s) Hard Drives with maximum speed up to 5.0 Gb/s (maximum theoretical speed offered by USB 3.0)
Specifications
- Enclosure Interface: SATA/SSD to USB 3.0
- Transfer Rate: up to 5Gbps on USB 3.0
- HDD Compatible: SATA I/II/III & SSD
- HDD Capacity: All Standard 2.5" or 3.5" SATA & SSD Hard Drives
- OS Compatible: Microsoft Windows 7/Vista/XP/2003/2000, Mac 10.3 and later
- Material: ABS Plastic
- Input Power: 100-240V/50-60Hz
- Output Power: 12V/2A
- Dimension (WxDxH): 136mm x 73mm x 88mm; 5.35" x 2.87" x 3.46"
- Accessory: USB 3.0 Cable, Power Adaptor (CE, FCC, GOST R Certified), 1x 3.5" & 1x 2.5" HDD Silicon Jacket
- Fan: N/A
- Weight: 312g/0.69lbs
- Special Features: *Supports SATA III (6 Gb/s) Hard Drives with maximum speed up to 5.0 Gb/s (maximum theoretical speed offered by USB 3.0)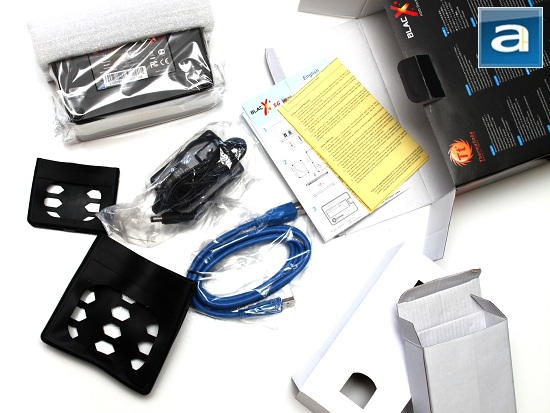 As far as the bundle is concerned, there isn't too much out of the box. You are provided with the Thermaltake BlacX 5G itself protected by a foam bracket, with a piece of cardboard separating the power adapter and USB 3.0 cable, as well as a small box containing two rubber sleeves for 3.5" and 2.5" drives, respectively. A simple manual is also included for those who are less experienced in technology than the rest of us. Before I forget to mention, I would like to say the sleeves provided were a great addition to the package. It served as a good grip on the hard drives without having it to slip from your fingers, as well as acting as a layer of protection and slight insulation. On the note of being slightly insulated, you are, however, touching a hard drive that may be running for a while, so it is a good idea to put a sleeve on before starting up the docking station with the hard drive mounted. Of course, this is entirely optional, so feel free to use it at your discretion.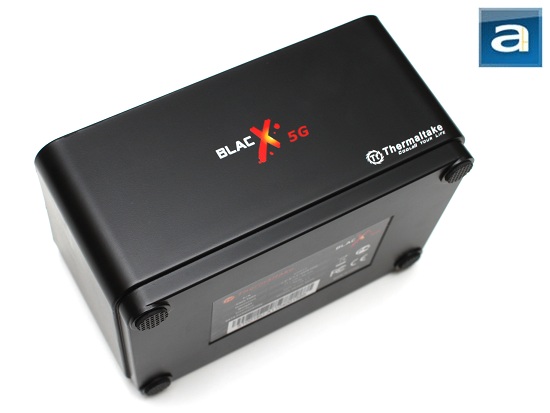 With the body mostly made out of ABS plastic, the Thermaltake BlacX 5G still feels solidly constructed with rounded off corners and edges to prevent unintended accidents, while giving it a nice feel and grip. A simple decal -- in our case, the one that says 'BlacX 5G' -- is nicely placed in the center of the front side, followed by Thermaltake's logo and company name visible in a contrasting white at the bottom right corner.
On the bottom, the BlacX 5G features four rubber feet, which prevents it from slipping and sliding when placed on a smooth surface, as well as dampening vibrations generated by your HDD. There is also a brief listing of specifications, in case you are wondering and haven't got the information on you to show off your docking station, haha.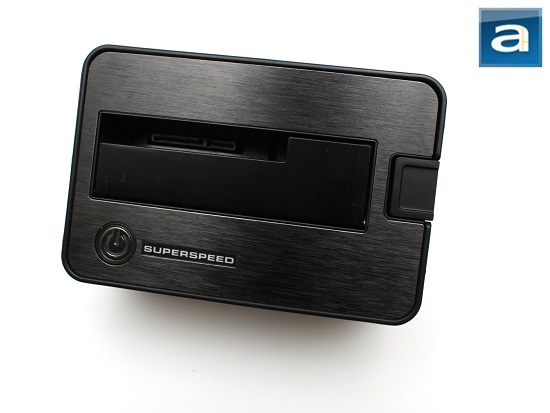 The top features one opening to fit your HDD or SSD in, with the SATA power and data headers housed just on the inside. A spring push-down cover is seated here, with an extra cut-out slot to hold 2.5" drives in place without having it flopping around. As well, we can see what seems to be a brushed surface metal piece painted in a slick black finish. This gives the BlacX 5G a very nice and appealing appearance, while keeping things clean and simple at the same time. A round power button with a shiny chrome-like texture is situated at the bottom left, with the word 'SUPERSPEED' adjacent to it. The nice thing here is that both the power button and the word will glow blue once the BlacX 5G is powered on. As well, the SuperSpeed light section acts as a drive activity light. Last, but not least, a HDD/SSD release button is present on the right side of the docking slot, so you can easily release the connected drive without having to yank on it with considerable force.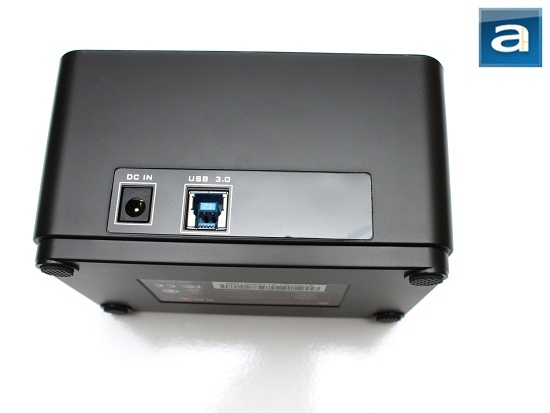 The back features nothing more than the power input and USB 3.0 connector port. Surrounding this area is a matte piece of plastic for the looks. On top of that, in my personal opinion, this gives me a good feel of where the ports are, as compared to the regular ABS plastic feel, when I'm reaching around the corner to plug cables in. On the other hand, it would have been nice of Thermaltake provided eSATA capabilities as well, since not everyone has USB 3.0 in every computer they own -- effectively restricting it to USB 2.0 speeds only. On that note, though, consumers could as easily have purchased the original Thermaltake BlacX or the Thermaltake BlacX Duet. As far as that is concerned, there is really nothing more to talk about here, so let's crack the BlacX 5G open to see what we have in store.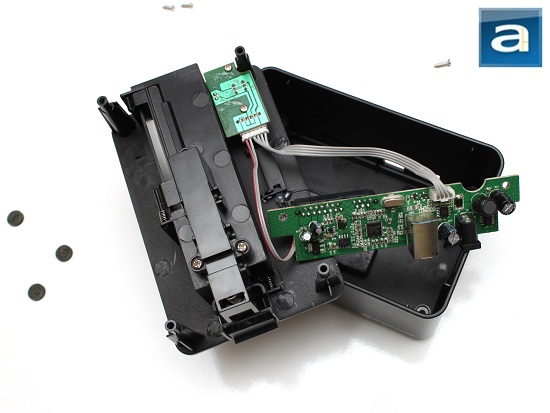 Removing the four rubber feet and the Philips-head screws that hold the Thermaltake BlacX 5G together, you can simply pull the top and bottom apart to access the internal components. There is nothing too special here to see, since most of it consists of empty space surrounding the printed circuit board. The Thermaltake BlacX 5G uses a ASMedia ASM1051E A4H59010A2 SATA to USB 3.0 chip; a very popular controller used in applications like this. Below are the features and specifications for your information, as obtained from the manufacturer's website:
Features
- Compliant with USB3.0 Specification Revision 1.0
- Compliant with USB Specification Revision 2.0
- Support USB Super-Speed, High-Speed and Full-Speed Operation
- Bus bandwidth of USB up to 5Gbps
- Support USB Mass Storage Class, Bulk-Only Transport Specification
Revision 1.3
- Compliance with Serial ATA Specification Revision 2.6
- Bus bandwidth of Serial ATA up to 6Gbps
- Support ATA/ATAPI Packet Command Set
- Support ATA/ATAPI LBA48 addressing mode
- Support 20MHz External Crystal
- Support I2C NVRAM for Vender Specific VID/PID of USB Device Controller
- Support SPI NVRAM for Vender Specific Application of USB Device Controller
- Support up to multi-GPIO pins
- Integrated 3.3V to 1.2V Voltage Regulator
- HBM ESD 2.5KV
-----------------------------------------
The Tests
Our test system as follows:
- CPU: Intel Core i7-930 @ 4.01GHz (191*21, Bloomfield/8MB L1)
- CPU Cooling: Noctua NH-C14 (Single Fan Top)
- Motherboard: Gigabyte G1.Sniper
- RAM: Patriot Extreme Performance Viper II Sector 7 Series PC3-12800 6x2GB @ 8-9-8-24
- Graphics: HIS Radeon HD 6870 1GB
- Chassis: BitFenix Shinobi Window
- Power: Cooler Master Silent Pro Gold 1000W
- Sound: Integrated Creative X-Fi
- Storage: Seagate Barracuda 7200.11 1.5TB
- Optical Drive: Asus DRW-24B1ST 24x DVD-RW
- Operating System: Microsoft Windows 7 Ultimate x64 SP1
- Hard drive used with benchmarking: Western Digital Caviar Black 500GB
In our tests today, we won't get into performance analysis of multiple file writes and multiple file reads as we've done previously in our storage reviews. The reason behind this is the influence of its interface is not quite relevant to drive I/O performance -- it is quite limited to the hard drive itself, and we would like to measure the performance of the USB 3.0 controller only. We are not reviewing the hard drive itself today. Unless, of course, it has been recorded that the performance of the drive controllers on Thermaltake BlacX 5G is poor, then we'll investigate further. Of course, it hasn't, so we aren't too worried about that. Therefore, we'll be comparing the ability of its USB 3.0 controller against the maximum throughput of the hard drive over SATA, and see how it stacks up.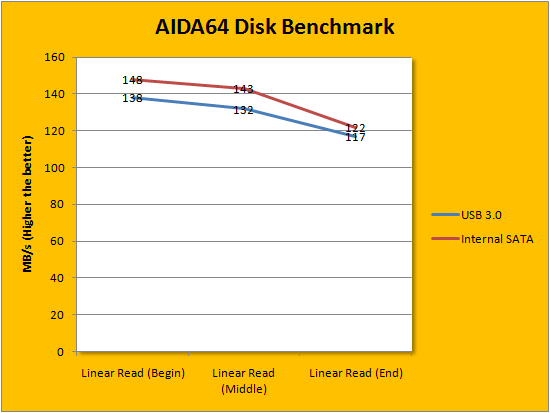 Running AIDA64's disk benchmark tests through USB 3.0, we can see that the performance of our Western Digital Caviar Black 3.5" Serial ATA hard drive is 138MB/s, 132MB/s, and 117MB/s, for the beginning, middle, and end of the drive, respectively, when docked in the BlacX 5G. This is actually really good, considering that such a drive is reading data at quite the speeds through the USB 3.0 interface -- it is more than likely the drive and operation overhead is the bottleneck, and not the interface by itself. For comparison and reference sake, I have also included benchmarking results of the same Western Digital Caviar Black hard drive mounted internally, and connected to my G1.Sniper via SATA. As you can see, the results were quite similar, with BlacX 5G only slightly behind.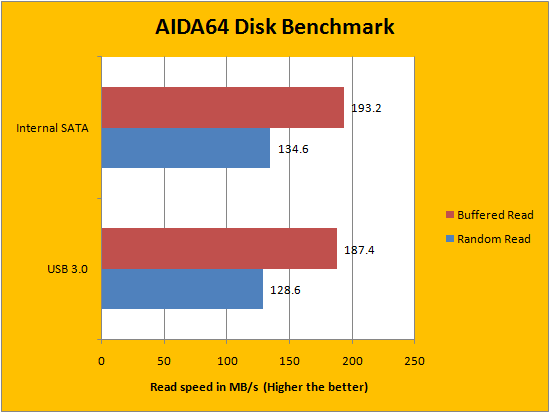 For our buffered read benchmark, the USB 3.0 performance is posted at 187.4MB/s. In the random read test, the USB 3.0 recorded its numbers at 128.6MB/s. Again, we have quite similar results here, and you will become familiar with it over the course of our results in our review today.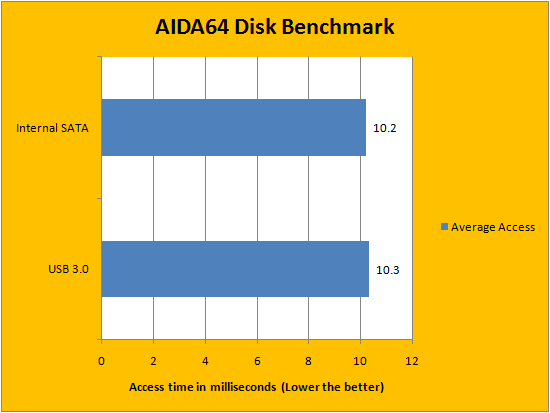 Access latency usually isn't quite interface dependent -- although still affects to a small extent -- and benchmarking the Thermaltake BlacX 5G with regards to the USB 3.0 interface is no exception. USB 3.0 had an access time of 10.3ms; similar results are seen again in our HD Tach run in just a short moment.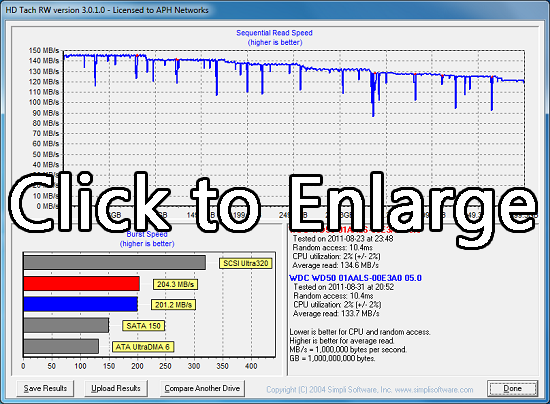 Running our standard HD Tach 3.0.1.0 full read test produced very similar results as our AIDA64 disk benchmark numbers listed earlier. As shown in the graph produced by the software above, we can see that the performance of the USB 3.0 is 145MB/s (This is actually dependent on the accessed block size of the benchmarking software as well) with an average read speed of 134.6MB/s at 10.4ms latency. It is no different than having our Western Digital Caviar Black hard drive connected directly to the system via SATA, and that is very impressive.
-----------------------------------------
First things first, I have to commend Thermaltake for so effectively marketing such an innovative product in convenient hard drive swapping. The BlackX proves to be quite useful for many users, and I am no exception. With the latest revision in our labs this morning, the latest USB 3.0 technology is now available for those for high speed transfer rates. For those less fortunate with no USB 3.0, it is always backwards compatible to USB 2.0. On that note however, a nice feature to see here is that an eSATA option should be provided for those who would still want the speed, but don't have USB 3.0. If you are not so picky with these specifics, then this is really a notch up in terms of overall design and implementation of an innovative idea from its predecessors. With its simple and slick looks, I'm sure the Thermaltake BlacX 5G will not look out of place on any computer geek's desk. Provided with two rubber sleeves, it is really the icing on the cake while swapping hard drives, giving the user extra grip on their disks (At the expense of slight insulation of heat, however). What really is important on the BlacX 5G is that it provides high data transfer rates without having to crack open your computer to stick in another drive. If I really have to find one complaint about the BlacX 5G, I would say that it may not sit tight on a surface, as it is quite light. This is especially true when a 2.5" drive is in the slot, or if there is no drive in it at all. It would have been nice if some sort of weights were added on the inside. But other than the handful of minor flaws that may or may not matter to you, I think $50 USD at press time is well justified for what it promises.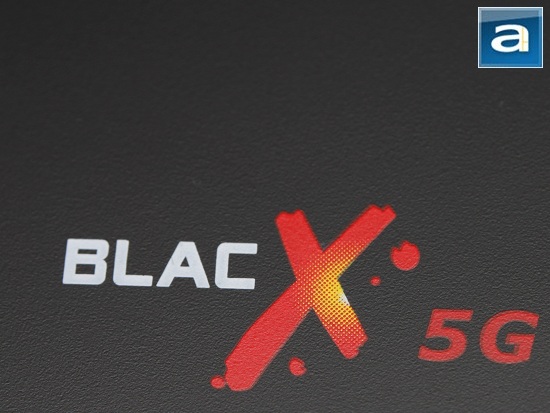 Thermaltake provided this product to APH Networks for the purpose of evaluation.
APH Review Focus Summary:
7/10 means Great product with many advantages and certain insignificant drawbacks; but should be considered before purchasing.
8/10 means Definitely a very good product with drawbacks that aren't likely going to matter to the end user.
-- Final APH Numeric Rating is 7.5/10
Please note that the APH Numeric Rating system is based off our proprietary guidelines in the Review Focus, and should not be compared to other sites.
The Thermaltake BlacX 5G is a innovative and convenient hot swappable hard drive docking station that keeps up with lightning fast file transfers, thanks to the latest USB 3.0 implementation.
Do you have any comments or questions about the Thermaltake BlacX 5G? Drop by our Forums. Registration is free, and it only takes a minute!