By: Jadon Lee
January 21, 2022
My friends and I have been planning a Secret Santa event for the past couple of months and due to the COVID-19 pandemic, the plan has still not gone through. At this point, we might be having a Secret Santa in February, which would be quite fun nonetheless, haha. This season has removed a lot of consistency in my life. There has been quite a bit of unpredictable things and it has been rather hard to plan around. At least the University of Calgary has made the decision to move online for the first half of the semester, making scheduling slightly easier. It has been nice lately as class has been a mere grind every Monday and Thursday, so I can have practically two weekends that I will likely spend working instead. I am currently sick though, so once again my plans were not going as intended. Once again, I am pivoting to staying at home and resting. Admittedly, it has been quite boring, but it has given me some room to enjoy some time off. Something I can always expect to be consistent in my life is the ability to game. To game with comfort, you need a mouse that tracks consistently, otherwise it will just be a poor experience. This week, we have the ASUS ROG Strix Scope Impact II Moonlight White to try out. Will this mouse be able to track with a good level of consistency? Keep on reading to find out!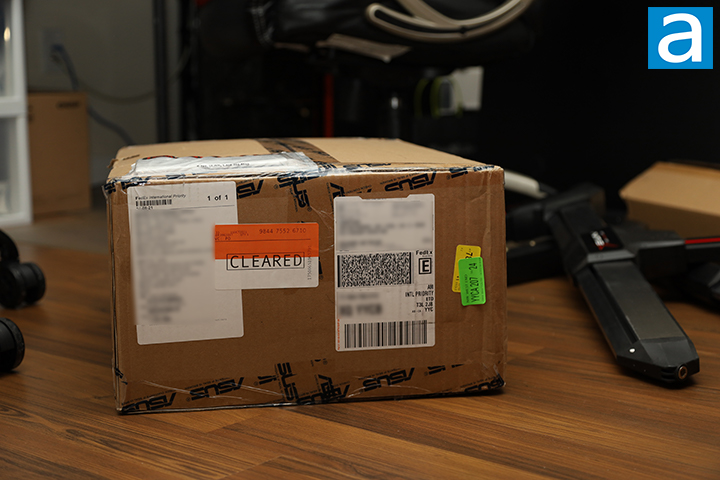 Our review unit of the ASUS ROG Strix Scope Impact II Moonlight White came in a brown corrugated box that was shipped to us here in Calgary, Alberta, Canada all the way from Newark, California, USA via FedEx International Priority. The shipping was quite good, having very little marks or dents and ASUS used their branded packing tape to ensure there was no tampering. The box also contained the ROG Strix Scope NX TKL Moonlight White, ROG Strix Go Core Moonlight White, ROG Cetra II Core Moonlight White, ROG Strix GS-AX5400, and ZenWiFi XD6, which my colleagues and I have previously reviewed.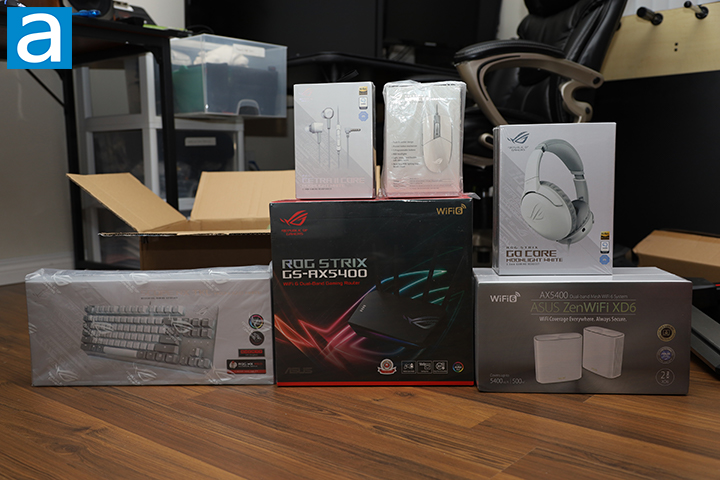 The ASUS ROG Strix Scope Impact II Moonlight White's box design is very appealing, likewise to the other Moonlight White peripherals. The box utilizes a nice bright gray for the base and some silver text. I simply love the gray and white color scheme, as when it is done right, it is nothing but perfection. I am always glad when companies choose to not opt to repeat the classic black and red for all their gaming peripherals, as it has become a little bit overused in my opinion. As usual, the mouse itself is placed in the center of the box. The top left of the box has the ASUS ROG logo, and the bottom displays the name. On the right side, it talks about how it is ASUS Aura Sync compatible. The back of the box specifies some included features.
Before we continue, here are the specifications of the ASUS ROG Strix Scope Impact II Moonlight White, as specified by the manufacturer's website:
Specifications
Weight: 79g
Dimensions: 120mm x 62.5mm x 39.5mm
Connectivity: USB 2.0
Sensor: Optical sensor
Resolution: 6200DPI
Max Speed: 220 IPS
Max Acceleration: 30G
USB Report Rate: 1000 Hz
L/R Switch Type: Omron 50M
Button: 1 DPI button + 5 programmable buttons
Aura Sync: Yes
Shape: Ambidextrous
Grip Style: Claw grip, Fingertip grip
OS: Windows 10
Software: Armoury Crate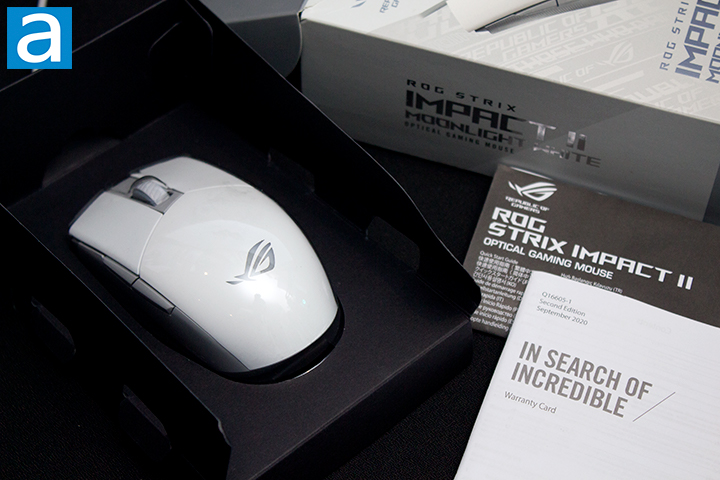 The ASUS ROG Strix Scope Impact II Moonlight White comes packaged in a plastic shell with a black cardboard box around it, just like the ROG Keris Wireless. The hard plastic holds the mouse with the documentation pertaining about warranty and quick start guide below. Everything was packaged well as I was not worried about any movement within the box. ASUS has done a great job once again.
---
Page Index
1. Introduction, Packaging, Specifications
2.
A Closer Look - Hardware and Software
3.
Subjective Performance Tests
4.
Conclusion