By: Jonathan Kwan
August 8, 2007
After many complications, we finally got our hands on the OCZ Trifecta... uhh, flash storage device ;) What makes this product so interesting, even after such a lengthy period of time, that still retains our interest in reviewing, primarily exists within the nature of the product itself. OCZ's Trifecta (As the name implies) is basically a three-in-one flash memory product -- it functions as a standard SD card, USB flash drive, as well as a Micro SD -- you can call it a Quadfecta if you count it to be used to be a Micro SD adapter as well. Now, that's an interesting implementation! Let's give this product a close examination today, and we will benchmark to see its transfer rates and latencies as well.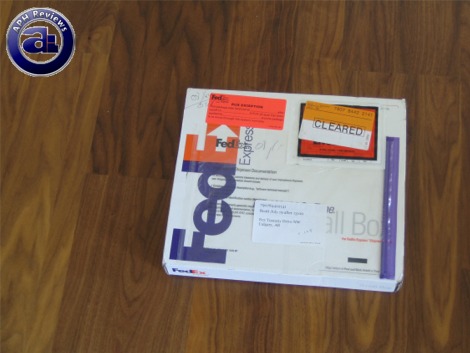 Our review unit came in a FedEx box using International Priority, as we've grown to expect from OCZ Technology's offices in Sunnyvale, California. The extra room inside is filled with packing peanuts to ensure our review unit arrives in perfect working condition.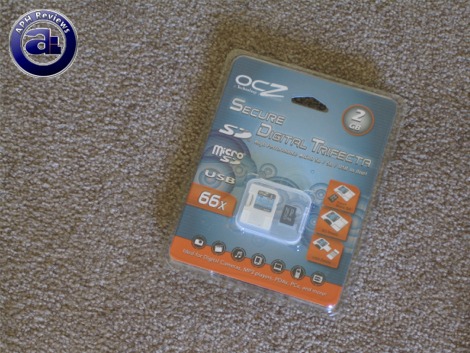 Our review unit of OCZ's Trifecta is the 2GB version. Residing in OCZ's standard flash memory retail package, the orange and grey color scheme blister pack has little icons in front demonstrating its use and purpose, as well as an introduction at the back. In the middle is a small plastic container holding the Trifecta; with its Micro SD portion separated from the main unit.
In my opinion, the best way to open these kind of packages is to make a couple of straight cuts with a boxcutter near the edge of the small plastic container on the packaging itself, and then just to slide the contents right out.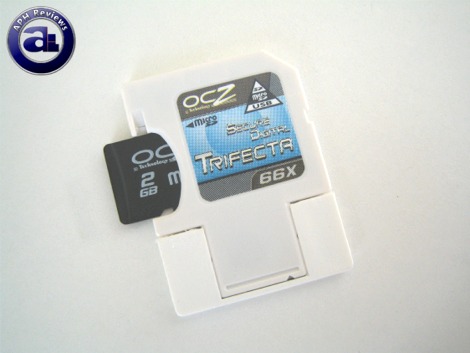 The standard Micro SD card attaches to the main OCZ Trifecta unit on the left side. A distinct color variation can be observed because the Trifecta itself is white -- while the included Micro SD card is black.
OCZ's Trifecta is the size of any standard Secure Digital (SD) card. Due to the design of this product, there are no read/write locks though. This is not a big issue; since I personally never bother with the slider lock. In fact, it can be a somewhat of an annoyance when it engages by accident and turning on the camera only to see the words "Card Locked" across the top of the screen!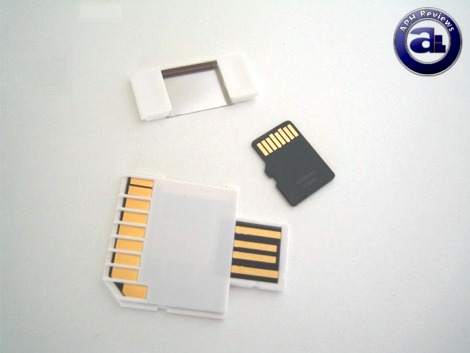 Turning it around and taking it apart, the OCZ Trifecta can be separated into three different parts -- the Trifecta card reader/adapter, Micro SD card, and the USB cap. The main unit can accommodate one Micro SD card (Included; capacity depends on which version you have) -- and creates a full size SD card, or can be connected directly to USB with the four exposed USB connector pins once the cap is detached. The Micro SD card is also a standard Micro SD, therefore can be used independently.
This proves to be extremely useful. You can use the Trifecta as a Micro SD to SD and USB adapter. If you use it as an SD card, and you don't have a card reader handy, the Trifecta can connect to any computer with a USB port! Or, you can use it as a USB flash drive by itself and conveniently use it as a SD card when necessary.
This is what I call flexibility -- the possibilities are endless, especially when your own computer is not handy all the time, and not every computer has a card reader; the OCZ Trifecta is awesome especially for those fun long summer trips!
---
The Tests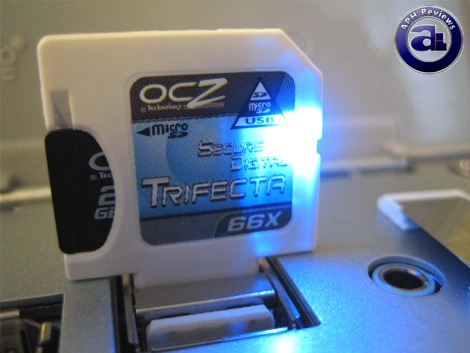 I remember complaining last year about how the OCZ Secure Digital Dual 2GB has no activity LED. Well, the Trifecta has an indicator LED -- not necessary an activity LED because it does not blink when there's drive activity. Regardless, it's nice to see an LED implemented so we know if the drive is active or not.
Moving onto test system specifications:
CPU: Intel Core 2 Duo E6300 @ 3.36GHz (480MHz*7)
CPU Cooling: Scythe Infinity
Motherboard: Asus P5K-Deluxe/WiFi-AP
RAM: OCZ Reaper HPC PC2-8500 2x1GB @ PC2-7680 1:1 with CPU
Case: Thermaltake Aguila (Noctua NF-S12-800 - Front / Noctua NF-S12-1200 Asus Q-Fan - Back)
Power: Seasonic M12 500W
Graphics: Asus EN8800GTS 320MB
Sound: Creative X-Fi XtremeMusic
Optical Drive: NEC AD-7170A 18X DVD+/-RW
Hard Drive: Seagate 7200.10 320GB 16MB SATA2
Operating System: Microsoft Windows XP Professional SP2
For reference purposes, we've used the following USB mass storage devices in our benchmarks:
- OCZ Mini-Kart 2GB
- OCZ Rally2 1GB
- SanDisk Cruzer Titanium U3 2GB
- OCZ Roadster 1GB
- OCZ Secure Digital Dual 2GB
- OCZ Trifecta 2GB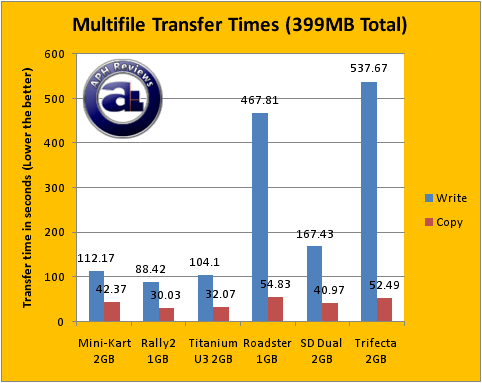 Time in seconds - Lower the better.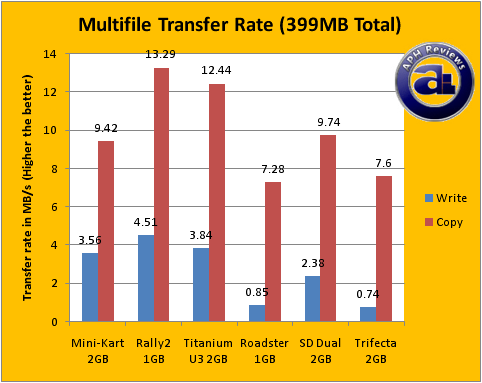 Transfer rates in MB/s - Higher the better.
In our APH proprietary multiple file write benchmark, the OCZ Trifecta was the slowest of all -- taking a total of 537.67 seconds to complete. The fastest drive in this area is OCZ's Rally2 at 88.42 seconds; while the slowest prior to this review was the OCZ Roadster at 467.81 seconds. This translates to the transfer rates of 4.51 MB/s for the fastest drive; and 0.74 MB/s for the OCZ Trifecta. Its closest product, the OCZ SD Dual, finished this test in 157.43 seconds, meaning a transfer rate of 2.38 MB/s.
Things spell differently for multiple file copy tests, however. This regards to its read speed trying to go through 515 files in 30 folders totaling 399 MB -- for this the OCZ Trifecta finished it in 52.39 seconds; slightly faster than the OCZ Roadster at 54.83 seconds. Again, the fastest drive in this benchmark is OCZ's Rally2 at 30.03 seconds. The OCZ Trifecta is best compared to the OCZ Secure Digital Dual, in which the Secure Digital Dual completed this benchmark in 30.97 seconds -- over 10 seconds faster.
This translates to the fastest transfer rate of 13.29 MB/s belonging to OCZ's Rally2. The OCZ Secure Digital Dual makes it 9.74 MB/s, while the Trifecta still scored a reasonable mark of 7.60 MB/s.
Remember though, we are basically testing the performance of a Micro SD card on an adapter -- we aren't expecting mind blowing performance across the chart. After all, it's unfair to compare a Toyota Yaris against a Lamborghini Gallardo, right?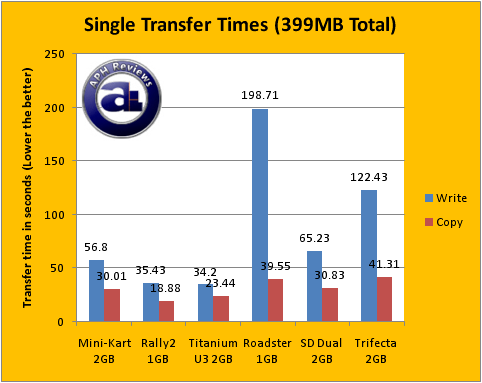 Time in seconds - Lower the better.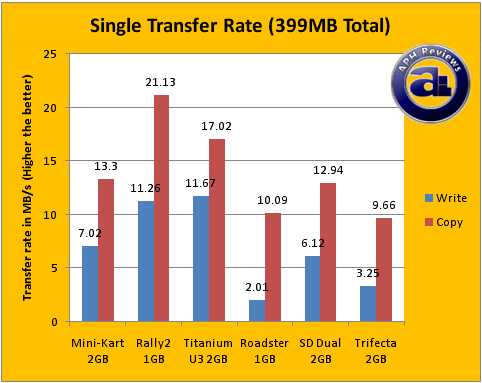 Transfer rates in MB/s - Higher the better.
As far as the write speed goes, the OCZ Trifecta's results in our APH proprietary single file write benchmark is actually quite acceptable at 122.43 seconds. However, take note that the Secure Digital Dual took around half the time at 65.23 seconds -- while the fastest drive in this area, SanDisk's Cruzer Titanium U3, had a completion time of 34.20 seconds.
These results translate to 3.25 MB/s read speed for the OCZ Trifecta 2GB, and 6.12 MB/s for OCZ's Secure Digital Dual 2GB. The Cruzer Titanium U3's completion time of 34.20 seconds means a score of 11.67 MB/s.
Read (Copy) speed is quite competitive at 41.41 seconds for OCZ's Trifecta. The Secure Digital Dual got 30.83 seconds; trailing behind the fastest drive -- OCZ Rally2 -- at 18.88 seconds. These results translate to transfer rates of 9.66 MB/s, 12.94 MB/s, and 21.13 MB/s, respectively.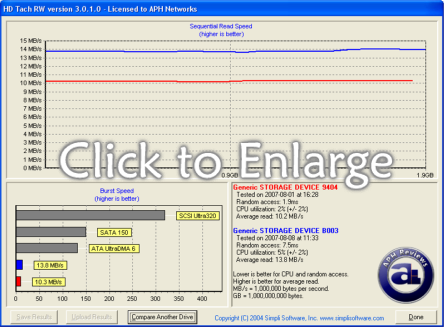 Let's compare some HD Tach results. The only one I compared the Trifecta against is the Secure Digital Dual -- because they are 'generally' in the same class of products, which makes for relatively fair comparison.
The red line in the screenshot above represents OCZ's Trifecta 2GB, while the blue line represents OCZ's Secure Digital Dual 2GB. Interestingly, the Secure Digital Dual 2GB actually had a little more storage capacity.
HD Tach reports the Trifecta to have an average read rate of 10.2 MB/s, while the Secure Digital Dual has a benchmark result of 13.8 MB/s. Read speed is consistent across all areas of the drive as it should be with USB controlled by Intel's latest ICH9R southbridge on the Asus P5K-Deluxe.
OCZ also continued on improving their flash drive's access latency. I remember complaining how OCZ's drives used to have insanely high random access times -- this has clearly improved for their previous lowest of 7.5 ms on their Secure Digital Dual to now 1.9 ms on their OCZ Trifecta. Big props to OCZ on their focus to improve their products!
---
The design of OCZ's Trifecta is awesome. It's all of the following: Micro SD card, USB flash drive, and a Secure Digital memory card. Oh yeah, if you want to count it, it's also a Micro SD adapter! With all these functions in one drive, the potential and convenience that it will offer while traveling (Remember this, owners of digital cameras utilize SD cards), you'll regret that you did not bring one along on your next trip. This Micro-SD-with-adapter package is quite a combination, considering its size -- what really impresses me is OCZ actually managed to get an LED implemented as well. If only that was an activity light; and that file read/write performance is improved (This is not an overly huge consideration, because the nature of its design and size), this will be an all round perfect product for pretty much anyone!
Special thanks to Andy over at OCZ for making this review possible.

APH:Renewal Award | APH Review Focus Summary:
8/10 means Definitely a very good product with drawbacks that aren't likely going to matter to the end user.
7/10 means Great product with many advantages and certain insignificant drawbacks; but should be considered before purchasing.
-- Final APH Numeric Rating is 7.4/10
Please note that the APH Numeric Rating system is based off our proprietary guidelines in the Review Focus, and should not be compared to other sites.
The OCZ Trifecta is well designed and well thought through with its combination of various products into one. What's even more amazing is that they are not of proprietary formats -- they are all in standard form! Latency is greatly improved from OCZ's previous flash products. Also, this is not a big one considering its format and size -- but if performance was a bit better, it would have been perfect.