By: Brian Cheung (Guest Writer)
December 24, 2014
For anyone who has ever lost his or her phone, or just the thought of losing something that is so crucial in your everyday life, is not exactly fun. Unfortunately, this happened to me recently. On a gloomy Wednesday afternoon, I lost my Samsung Galaxy S3. For me, losing the physical phone itself was not the most annoying part. Rather, it was losing the messages/pictures/videos/contacts that were a nuisance to try to get again, if it was even possible. There were countless amounts of pictures and memories I shared with friends and family on the device. At this point, you may be wondering, why did I not back up my device? As luck would have had it, the part that brightened the day ever so slightly was just prior to me losing my phone, I had received the Silicon Power Mobile X31 32GB to review. Up until this point, I had completely forgotten I have previously plugged the Micro USB flash drive into my phone, and stored all my important data onto it. What are the chances? I was only reminded of this only after I got a new smartphone, and needed to figure out what was the best way to get certain pictures back onto it. With a sigh of relief, one of the biggest questions that came up when I was figuring this out was, how useful could the OTG (On-The-Go) feature be? Seeing that I had both the Mobile X31 and my new smartphone in hand, what better opportunity is there to put it to the test with file transfers and standard APH Networks testing? Let us see how fast and easy data transfer can be with its SuperSpeed USB 3.0 capabilities and OTG support. Read on to find out more! (Also: Losing your phone is still not fun.)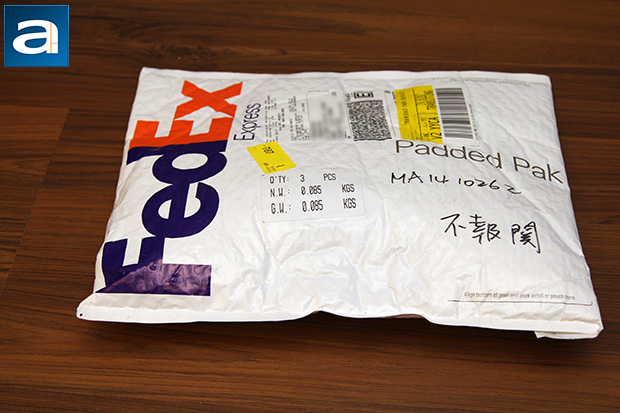 The Silicon Power Mobile X31 32GB arrived in a padded package along with the Silicon Power Blaze B05 64GB reviewed by Senior Technical Editor Preston Yuen and the Silicon Power Jewel J80 32GB reviewed by Technical Editor Aaron Lai. FedEx made a good job in making sure that the three Silicon Power products arrived safely without any damage. Taking it out of the packing, we got straight to seeing what Silicon Power had in store for us.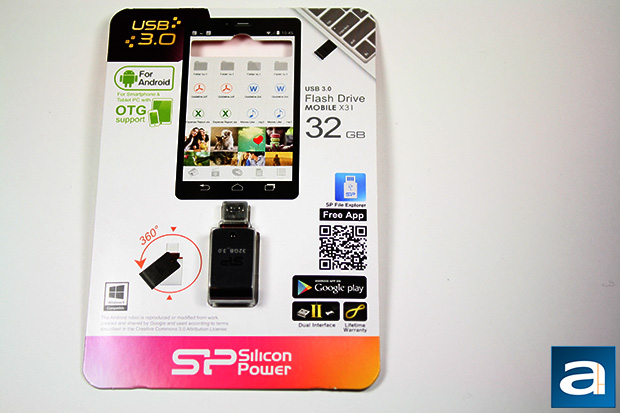 After pulling the Silicon Power Mobile X31 32GB out of the envelope, I was surprised at how slim and well packaged it was. I remember the last time I bought a USB flash drive was because it was mandatory on my back-to-school supplies list. It came in a super-hard-to-open plastic packaging that required scissors. It was apparent with the three products Silicon Power sent us, the packaging was kept to a minimum, with shelf space and convenience in mind. The packaging also provides a good volume of information on the dual interface, lifetime warranty, free Android app download from the Google Play store (Sorry iPhone users), and its OTG capabilities.
Before we get into the technical aspects of the Silicon Power Mobile X31 32GB, let take a look at its features and specifications, as obtained from the manufacturer's website:
Features:
● Support data transmission between Android™ Handheld Devices (micro USB) and PCs (USB)
● Intelligent 360° swivel-cap design, easier operation without worries about cap loss
● Plug and play;no cables required
● Sturdy metal exterior with stylish plastic cap
● COB (Chip-on-board) technology
● Vibration proof
● Mini and lightweight, easy to carry and store
● Exclusive free-download file management App-SP File Explorer
● Recuva File Recovery, allows recovery of erased files, digital photos, documents, music, videos
Specifications:
● Size: 33.0 x 12.3 x 8.1 mm
● Weight: 3.3 g
● Capacity: 8GB, 16GB, 32GB
● Color: Silver & Black
● Material: Metal / Plastic
● Interface: USB 3.0 / USB 2.0 / USB 1.1 Compatible / micro-USB
● Supported Operation Systems: PC- Windows 8 / 7 / Vista / XP / 2000, Mac OS 10.3.x, Linux 2.6.x
Mobile device- Android 4.1.X* / windows phone 8* (*For mobile devices that support OTG functions)
● Warranty: Lifetime warranty
---
Page Index
1. Introduction, Packaging, Specifications
2.
A Closer Look, Test System
3.
Benchmark: AIDA64 Disk Benchmark
4.
Benchmark: ATTO Disk Benchmark
5.
Benchmark: Crystal Disk Mark 3.0
6.
Benchmark: HD Tach 3.0.1.0
7.
Benchmark: HD Tune Pro 4.60
8.
Conclusion