By: Aaron Lai
January 7, 2022
As the calendar year has rolled over, I think I can easily say 2021 was overall an improvement from 2020. There have been several ups and downs all spread out for me personally, but it was an overall positive trend. Some things have stayed pretty consistent, including working from home and masking up anytime I am outside my house. I have still been playing video games with friends, at least as a way to stay connected with them. There are also still the same negatives, like dealing with restrictions and staying home for a lot of the days. However, I have had several notable and major positives, including entering a new relationship, as well as being able to see friends at church since the summer and over the Christmas break. While it is not necessarily back to an old normal, this new sense of normalcy is a step in the right direction. Looking forward for 2022, I cannot tell the future as to what in store for any of us, but I can only hope we continue to see improvements year-over-year, even if they are only small increases. When it comes to Western Digital, they recently sent us their Blue SN570 NVMe SSD 1TB, which again should be an improvement over their previous SN550 and original SN500. However, what sort of gains should we expect besides a model number increase? Is this just a yearly rebrand, or are there actual tangible improvements to be had? Hopefully, these questions and more will be answered during our review, so let us see what we will get when we proceed forward!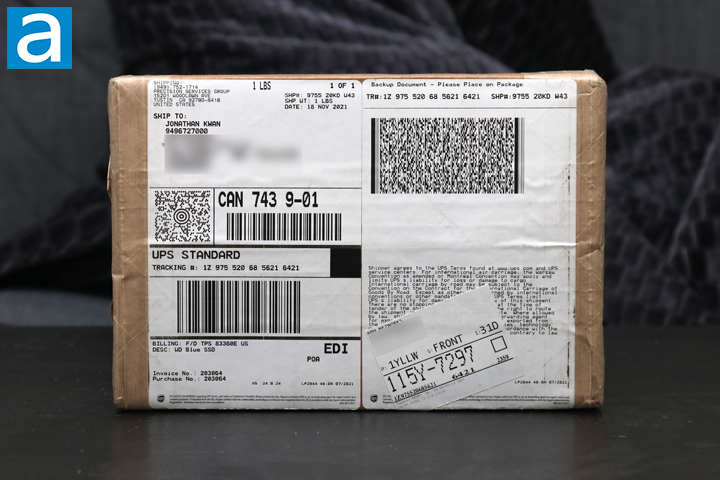 Today's review unit of the Western Digital Blue SN570 NVMe SSD 1TB arrived from a third-party print shop in Tustin, California. We have seen other Western Digital products arrive from this place, including the WD_BLACK SN850 NVMe SSD 1TB and WD_BLACK AN1500 2TB. Traveling with UPS and their Standard ground service, this box arrived in excellent condition with no real damage or marks around the box to be concerned about. It is a pretty big box for an NVMe SSD, but they also packaged quite a bit of packing material to ensure the box arrived safely.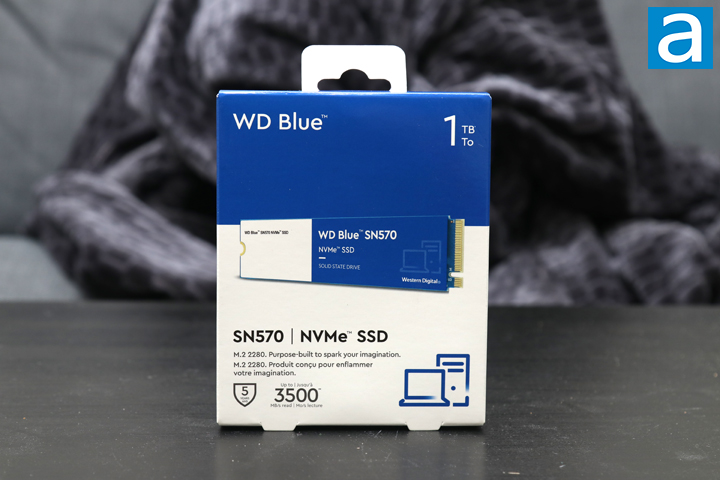 If you remember the other NVMe SSDs from the WD Blue lineup, you will notice there is not a whole lot of difference between the retail containers. You can see Western Digital has moved away from their full name to just the WD acronym. The drive is displayed in the middle of the front panel with a nice SN570 label on top, although this does not precisely represent what you will get in the box, as you will see shortly. Western Digital has also moved the product name to the bottom with the tagline of "Purpose-built to spark your imagination" underneath. While I am not sure how much imagination you may have with a storage drive, it is a pretty neat line. Underneath this, Western Digital has stated a maximum 3500 MB/s read speed and a five-year warranty. This quoted read maximum is notably higher than both the SN500 and SN550. Finally, the capacity of the drive can be found at the top right corner.
For your viewing pleasure, I have grabbed the specifications from the manufacturer's website:
Interface: M.2 22801 PCIe Gen3 8 Gb/s, up to 4 Lanes
Formatted Capacity: 1TB NAND Type TLC
Performance
Sequential Read (MB/s) up to (Queues=32, Threads=1): 3,500
Sequential Write (MB/s) up to (Queues=32, Threads=1): 3,000
Random Read 4KB IOPS up to (Queues=32, Threads=16): 460K
Random Write 4KB IOPS up to (Queues=32, Threads=16): 450K
Endurance (TBW): 600
Power
Average Active Power: 90mW
Low Power (PS3): 30mW
Sleep (PS4) (low power): 5mW
Maximum Operating Power: 3.5W
Reliability
MTTF (hours): 1.5M
Environmental
Operating Temperatures: 32°F to 158°F (0°C to 70°C)
Non-operating Temperatures: -40°F to 185°F (-40°C to 85°C)
Operating Vibration: 5.0 gRMS, 10–2000 Hz, 3 axes
Non-Operating Vibration: 4.9 gRMS, 7–800 Hz, 3 axes
Shock: 1,500 G @ 0.5 msec half sine
Certifications: BSMI, CAN ICES-3(B)/NMB-3(B), CE, FCC, KCC, Morocco, RCM, TUV, UL, VCCI
Limited Warranty: 5 years
Physical Dimensions
Form Factor: M.2 2280
Length: 80 ± 0.15mm
Width: 22 ± 0.15mm
Height: 2.38mm
Weight: 6.5g ± 1g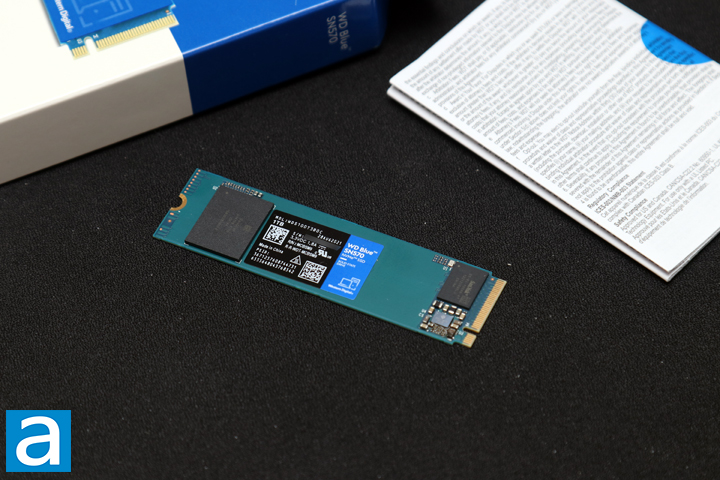 Much like the previous generations of Western Digital Blue drives, the Blue SN570 NVMe SSD 1TB comes with not a whole lot of other accessories. The M.2 SSD can be found in the middle of two clamshell plastic cases to protect it while in transit. In addition, we have one booklet of information regarding warranty and other details. As you already know, Western Digital includes a five-year warranty, the same that was provided with their preceding models.
---
Page Index
1. Introduction, Packaging, Specifications
2.
A Closer Look, Test System
3.
Benchmark: AIDA64 Disk Benchmark
4.
Benchmark: ATTO Disk Benchmark
5.
Benchmark: Crystal Disk Mark 8.0
6.
Benchmark: HD Tune Pro 5.70
7.
Benchmark: PassMark PerformanceTest 10
8.
Benchmark: PCMark 10
9.
Benchmark: 3DMark
10.
Conclusion