By: Jeremy To
April 20, 2012
Confucius once said, "Silence is the true friend that never betrays." For those enthusiasts that crave silence and noise reduction in their rigs, this quote pretty much hits home. Hardware is not just about performance nowadays. Of course, there are those that spend countless thousands of dollars to achieve pure performance, but inevitably end up with a turbo engine in their home. We humble reviewers at APH Networks, however, tend to balance our performance and sound. Why? You might ask. Well, why not? With technology developing at such a fast rate, performance in hardware is painless to achieve (So long you're willing to spend the money). Silence, however, is unfortunately something much, much more arduous to attain. Recently, a hefty number of products came through our office from a renowned brand by the name of SilenX. And, as the name suggests, it is a manufacturer that focuses on quiet components. Fortunately, silence is not the only article that the brand focuses on. In fact, looking back at the SilenX Effizio EFX-12-15 cooling fans and the SilenX Effizio EFZ-120HA5 CPU heatsink reviewed by my fellow colleagues, it is safe to assume that SilenX has focused on price and performance as well. Today, we will be taking a detailed look at a smaller 80mm CPU cooler, the Effizio EFZ-80HA3. And of course, the question to be answered today is directed towards whether this small cooler -- designed for mITX setups -- can give us solid stable temperatures while living up to its brand name of silence.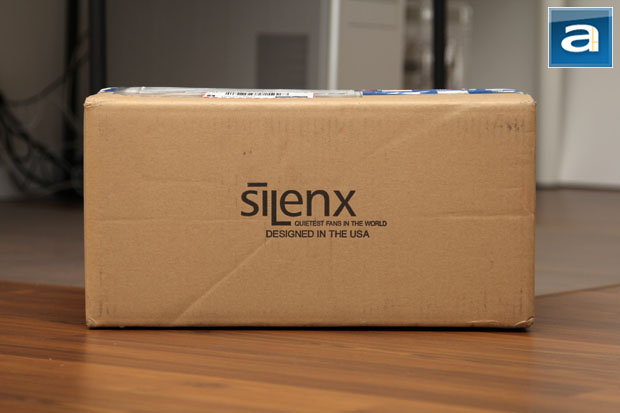 Our review unit -- the SilenX Effizio EFZ-80HA3 -- arrived here at our Calgary, Alberta office accompanied by some Effizio EFZ-12-15 case fans and the larger SilenX Effizio EFZ-120HA5 CPU cooler reviewed by my colleagues a few weeks ago. The packages were shipped to us from California via USPS with a Canada Post transfer along the way. As per usual, the shipping received little damage; in fact, it came in absolutely pristine condition for our review today.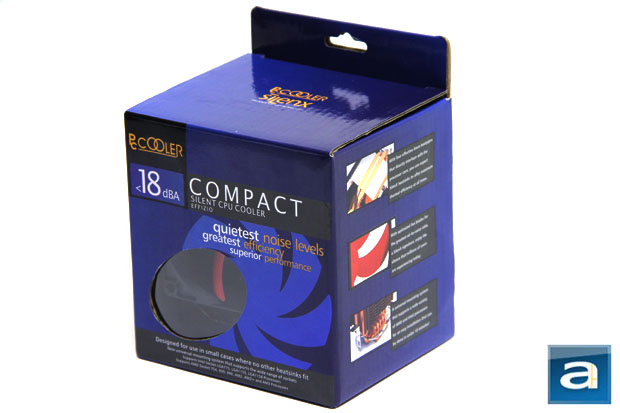 Much like the unit itself, the packaging for the SilenX Effizio EFZ-80HA3 is surprisingly small. The packaging follows a simple blue theme throughout. On the box is a small display window showing off a small segment of their popular red-themed fans. Many of the unit's features are printed boldly around the box to market the unit. Without further adieu, let's quickly take a look at the specifications of this cooler, as obtained from the retail packaging, and the manufacturer's website:
Specifications
- SKU: EFZ-80HA3
- Rated DBA: 8-24
- Dimensions: 67x86x113mm
- Matierials: copper heatpipes, anodized aluminum fins
- Weight: 305g
- RPM: 2200
- CFM: 12-36
- Operating Voltage: 5-12v
- Current Draw: 0.18A
- Power Consumption: 2.16w
- Bearings: 3rd generation fluid dynamic bearings
- Intel CPU Comparability: LGA775, LGA1155/1156
- AMD CPU Comparability: Socket 754, 939, 940, AM2, AM2+, AM3, FM1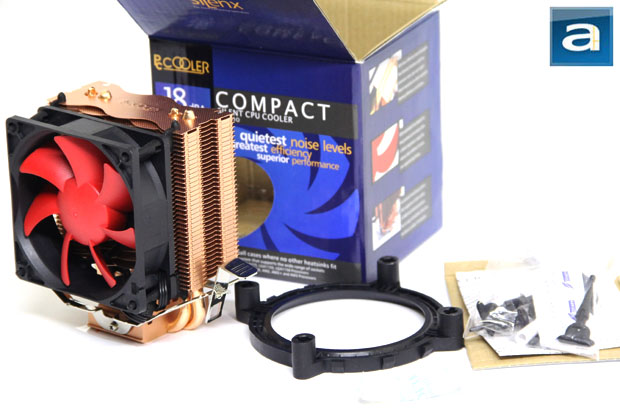 Once the box is opened, we can get a detailed look of the cooler itself. Before, however, let's quickly take a look at the accompanied accessories. First of all, you will receive the EFZ-80HA3 cooler itself, 80mm fluid dynamic bearing fan, mounting bracket that acts as a bracket for both AMD and Intel sockets, user's manual, small bag with included mounting screws and additional fan mounting accessories, and a small bag containing thermal paste.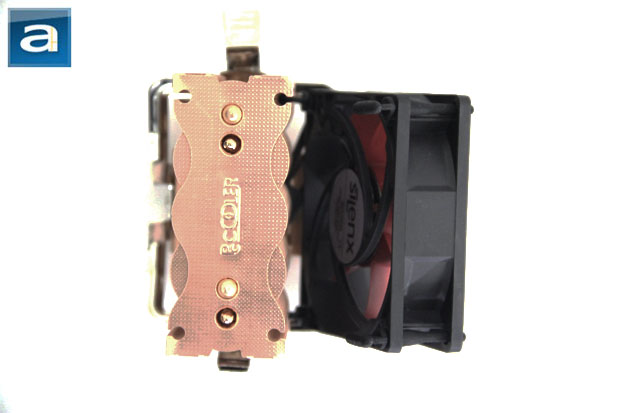 Since the 80mm fan comes pre-installed onto the SilenX Effizio EFZ-80HA3, it does not take much time to figure out which way the cooler should be installed. The single 80mm fan pushes air through the array of fins, just like most single fanned CPU cooler setups. Of course, one could very well use the provided rubber fan mounts to attach an additional 80mm fan for a push-pull configuration. The single fan provided uses a 3-pin motherboard connector. As shown in the picture above, the edges of each of the fins are cut in a wavy pattern, with the waved peaks alternating between each fin. Also, each fin incorporates little dots at the top. This design, added with the waved fin shape, increases the heat dissipation performance by optimizing the aerodynamics of the entire unit, thus decreasing turbulence noise.
As well, the SilenX Effizio EFZ-80HA3 has approximately 0.21 square meters of fin surface area. Please note that these calculations are very rough, and are based off of the given dimensions of the unit. For your reference, the cooler measures in at 67mm in width, 86mm in length, and 113mm in height, with a total of 36 aluminum fins without the fan. In terms of total fin surface area, the number is fairly small, which is to be expected since this CPU cooler it uses a 80mm fan. As far as the overall size of the heatsink, you can be sure that this tiny cooler can fit into most cases, since it is designed as a compact cooler to be fit inside a mITX form factor case. Of course, since the SilenX Effizio EFZ-80HA3 is such a small cooler, it weighs only 305g, which is very lightweight.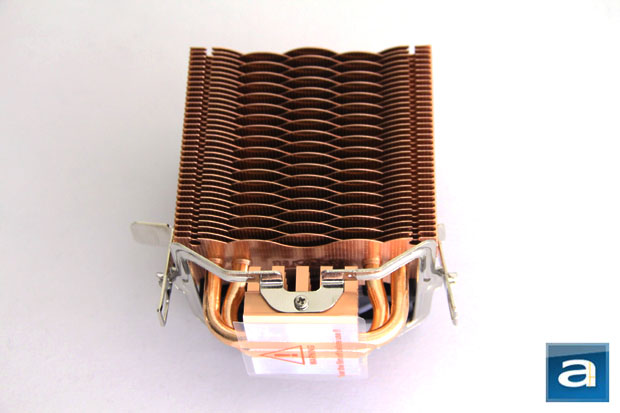 Using the above photo as a reference, we can see that the actual heatpipes on the unit runs across the contact plate base of the cooler. This direct heatpipe design is used to improve thermal transfer efficiency. The idea itself is pretty smart, as the contact base would not need to transfer heat onto the heatpipes by an additional step. Unfortunately, there is a problem with this design. Although the U-shaped copper heatpipes are flattened out at the base, there is still a minute gap between the copper heatpipe and the aluminum base. The small gaps that have no contact with the CPU will undoubtedly end up creating hotspots on the integrated heatspreader, and inevitably decrease the overall cooling performance of the unit. Theoretically, there should be better heat transfer due to the fact that the thermal conductivity of copper is higher than aluminum. For your reference, copper's thermal conductivity is 401 W/mK, as opposed to aluminum's 237 W/mK. Also, one last issue to note with this direct heatpipe contact base design is that the difference in material may degrade over time, due to different coefficients of thermal expansion in different metals.
Lastly, what we also do not see on the SilenX Effizio EFZ-80HA3 is a cleanly soldered base between the heatpipes and anodized aluminum fins. The unit only has its fins pressed onto the heatpipes. It will only offer high initial performance, but will inevitably go downhill over time, as contact between the fins and heatpipes will decrease after many cycles of thermal expansion and contraption.
-----------------------------------------
Installation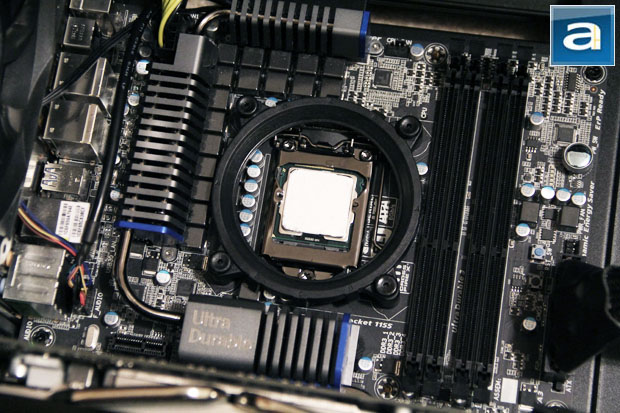 One of the benefits of having such a small compact cooler for your system is the cooler is simply not that heavy. As such, manufacturers can design a simple and easy method of installing the cooler in a matter of minutes. For the SilenX Effizio EFZ-80HA3, the installation process is as easy as it is ever going to get. How? Well, for starters, the cooler mounting system does not even utilize a backplate for mounting. The single provided mounting bracket is a universal bracket for both Intel and AMD boards, and only requires two sets of screws to lock onto the motherboard. All that is left is for the user to apply the provided thermal paste, position the cooler on top of the mounting bracket, and hook the entire unit into place. Just like that, the EFZ-80HA3 has been installed -- 100% tool-free, and requires very little of your attention and time.
-----------------------------------------
The Tests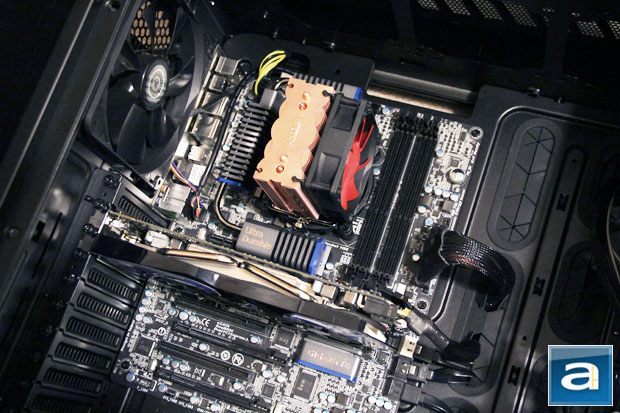 Our test setup as follows:
CPU: Intel Core i5-2500K @ 4.50GHz (Overclocked, Turbo Boost disabled)
Motherboard: Gigabyte GA-P67A-UD5
Graphics: Gigabyte Radeon HD 6850 1GB OC
Memory: OCZ Platinum XTE PC3-16000 4x2GB
Chassis: Cooler Master Cosmos II
Power: OCZ ZX Series 850W
Sound: Integrated (Motherboard)
Optical Drive: LiteOn iHAS224-06 24X DVD Writer
Storage: OCZ Vertex 2 60GB; 2 x Western Digital Caviar SE 320GB AAKS RAID1
Operating System: Microsoft Windows 7 Professional x64
Compared Hardware:
- SilenX Effizio EFZ-80HA3 (Approximately $17 at press time)
- Cooler Master Hyper 212 EVO (Approximately $35 at press time)
- Thermaltake Jing (Approximately $70 at press time)
- Intel stock
All tests were run on a custom built desktop computer. The system remained in the same location for all of the tests, with an approximate room temperature of around 21c. Stock thermal paste respective to the SilenX Effizio EFZ-80HA3, Cooler Master Hyper 212 EVO, Thermaltake Jing, and Intel's stock cooler were used to rate the performance, and were given proper time for them to fully settle. This means that SilenX's provided thermal paste was used for the Effizio EFZ-80HA3, Cooler Master's provided thermal paste was used for the Hyper 212 EVO, Thermaltake's provided thermal paste was used for the Thermaltake Jing, and Intel's pre-applied paste was used for the stock cooler. The fans on all heatsinks were directly connected to the motherboard's 4-pin connector. Our testbench was turned on and idling for a minimum of one hour before the idling tests. High CPU load results were obtained using the Prime95 in-place large FFTs test with four worker threads running for a minimum of ten minutes, or until the temperatures were deemed stable.
For careful representation, we have spent a lot of time to carefully simulate the exact same scenario in the cases provided to ensure accurate temperature measurements using the Cooler Master Hyper 212 EVO, Thermaltake Jing and the Intel stock cooler as a reference.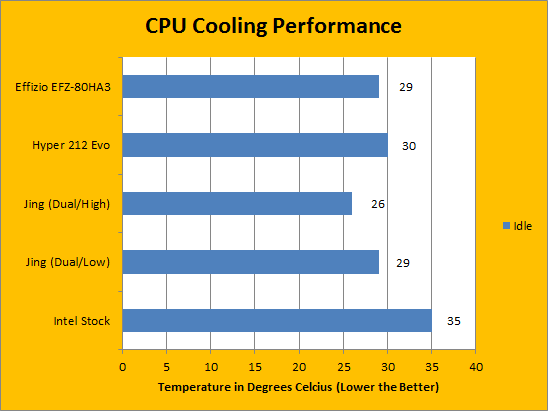 The readings seen on our graphs above and below were the CPU temperature readings taken from Core Temp -- data provided by the processor's Digital Thermal Sensor. In the tests, the core with the highest temperature was recorded with the results being cross-checked with Real Temp to ensure the most accurate temperature readings. Also, I have made sure that the entire heatsink is heated properly beforehand to verify the idle state temperature after a full load cycle.
From the above results, we can see what the SilenX Effizio EFZ-80HA3 is capable of doing when the processor is not doing any work. Of course, in almost all cases, I have predicted that the SilenX will out perform the Intel stock cooler, and according to the results above, it has by quite a bit. In fact, the Effizio EFZ-80HA3 has managed to outperform the Cooler Master Hyper 212 EVO by 1 degree, and is tied with the Thermaltake Jing on low fan speeds. Of course, the results here are not so important, since they are so very close together, but nevertheless, it is good to see that the small compact EFZ-80HA3 is able to keep the CPU temperatures on par with larger coolers on the market in idle conditions.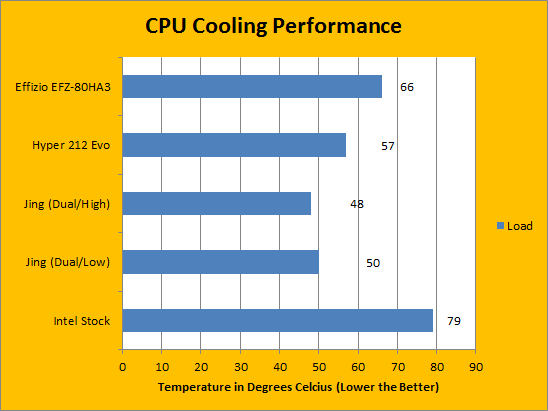 Under load conditions, we can see the true performance potential of the SilenX Effizio EFZ-80HA3. In this test, we have expected the SilenX to blow the Intel Stock cooler out of the water, and it did. In comparison to other coolers, however, the Effizio EFZ-80HA3 struggles. However, keep in mind that the Effizio EFZ-80HA3 only has one fan -- and a 80mm fan at that -- with only around 0.21 square meters of fin area. This is a low profile cooler, so you cannot possibly expect it to perform as well as the big boys. Since I am cooling the CPU while it is clocked to 4.5GHz, we can expect temperatures to be even lower if you decide not to overclock. Keep in mind that the manufacturer does not recommend this cooler for overclocked systems. That said, 66 degrees Celcius is far from a dangerous temperature, which simply means the SilenX can definitely handle its own.
Noise is quite an interesting topic when reviewing a heatsink. Since testing temperatures on a heatsink relative to other heatsinks depends so much on the scenario and rig, noise is something that can thankfully be compared as a constant. We here at APH Networks are known for being quite sensitive to sound. On a scale from 0-10, where 0 is silent and 10 is loud, I would rate the SilenX Effizio EFZ-80HA3 at idle to be at 1.0/10, and at load to be 2.0/10. It is rather surprising that such a small cooler can be both quiet and efficient and what it does. Especially considering the company strives to achieve low noise levels, I can assure you that this cooler does not disappoint.
-----------------------------------------
By taking a quick look at the SilenX Effizio EFZ-80HA3, we can see the cooler is compact, economical priced, and most likely quieter than most coolers on the market. Performance, however, is simply the largest question that must be answered. As a cooler designed for smaller systems, does it actually, well, for lack of a better term, cool? Well, let's try to answer that with our usual pros and cons wrap up. The cooler includes a total of 36 anodized aluminum fins with a specialized fin shape and design that increases performance by decreasing air turbulence. Combined with a quality 80mm fan and sound dampening rubber fan mounts, there are quite a number of things that sets the SilenX cooler for success. As far as things that needs work, I believe the majority of the problem with the unit is the contact plate design. As aforementioned in the review, the direct contact heatpipe design found on the contact base is an attempt at making the unit more efficient, but may end up doing the opposite, since the small gaps between the copper heatpipes and the aluminum base may create a hotspots on the CPU during operation. As well, the two different alloy types on the base will end up wearing away faster than other coolers because of the cycles of thermal expansion and contraption. My worry is that the gap distance between the two alloys will increase over time, causing higher and more unstable temperatures on the CPU. Lastly, the copper heatpipes are not soldered onto the aluminum fins, which will also decrease contact efficiency after usage time due to the same reason of thermal expansion and contraption. Glancing at APH Network's history, I believe this is the very first 80mm cooler we have ever reviewed. And so making a comparison with another 80mm cooler is just not possible. What I can assure you though, is that this CPU heatsink is way "cooler" than the slightly larger 92mm Intel Stock cooler -- pun intended, of course. In the end, this cooler is definitely a choice for those that are looking for a smaller alternative for only $17 at press time.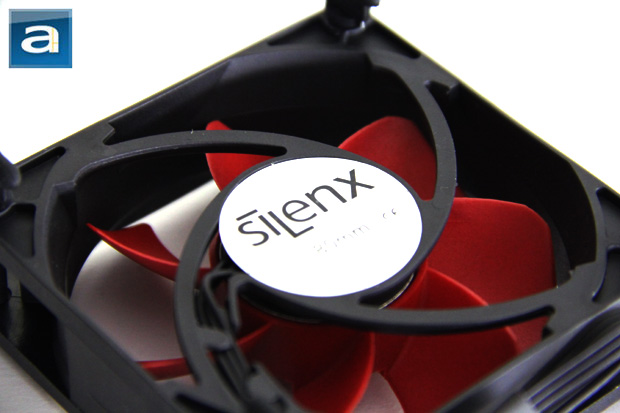 SilenX provided this product to APH Networks for the purpose of evaluation.
APH Review Focus Summary:
7/10 means Great product with many advantages and certain insignificant drawbacks; but should be considered before purchasing.
8/10 means Definitely a very good product with drawbacks that aren't likely going to matter to the end user.
-- Final APH Numeric Rating is 7.2/10
Please note that the APH Numeric Rating system is based off our proprietary guidelines in the Review Focus, and should not be compared to other sites.
Small. Quiet. Cools well. Priced competitively. Pick all four with the SilenX Effizio EFZ-80HA3.
Do you have any comments or questions about the SilenX Effizio EFZ-80HA3? Drop by our Forums. Registration is free, and it only takes a minute!