By: Jeremy To
October 7, 2011
Stereotypes can be quite hilarious. Whether we like it or not, we tend to know a few of these racial tendencies for every race out there. Heck, it doesn't even need to be a race. I can say the phrase, "old married couple", and a small list in your head would have already put out: McDonald's in the early morning, tea in the afternoon, and going to bed at 8pm. I can say the word "glasses", and already you think of nerds with no social life and terrible personal hygiene. Even certain hair colors conjure up rich stereotypes we all love to make fun of. Take blonde, for example. We all know that the main stereotype orbiting around blondes is they tend to be all looks, and no brains. As offensive as this may seem, stereotypes are what they are, because they usually offer some sort of truth behind them. From my personal experience, I have had my fair share of encountering blondes that are well, for lack of a better term, blonde. I even have knowledge of a few blonde friends that decided to dye their hair a different color to avoid this presumptuous and unfortunately funny first impression. So when I was asked to review NZXT's new mouse, the Avatar S, I simply could not stop drooling at the hot sleek design of the product. Taking one glance, one could very well say that the Avatar S has definitely has the looks. But does it have the books? Read on to find out!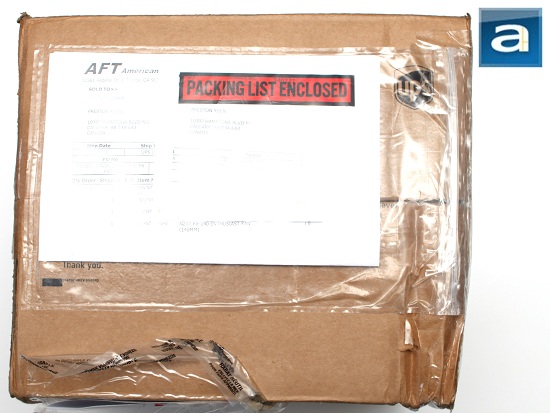 Today's review unit came to us among a large bundle of NZXT products. Among them is, of course, the NZXT Avatar S, the NZXT HAVIK 140 CPU heatsink reviewed by my colleague Devin a few weeks ago, as well as the NZXT FX 120LB and 140LB fans, also reviewed by Devin last week. Much like most of the NZXT products we have reviewed in the past, this one was sent to our Calgary office via UPS Standard from our usual friendly southern Californian neighbor.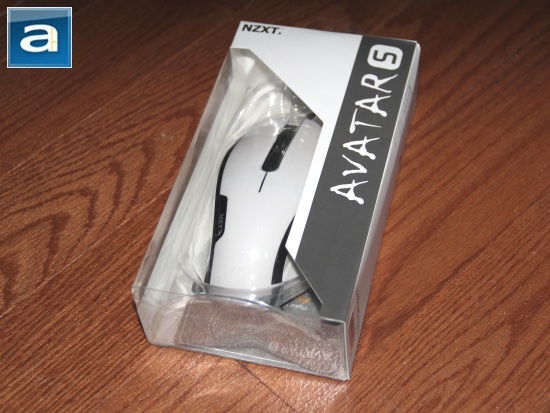 NZXT has taken a very cool approach towards the box design for the Avatar S. The retail packaging takes on a white and grey color theme, with a very large display window at the front of the box. The design approach is definitely clean, and matches well with the unit itself. On the right side of the box is the Avatar S branding placed in front of a grey background, and the NZXT logo at the top left corner. The box size is surprisingly small, which rules out the possibility of finding a CD-ROM within the components list. Around the back is a detailed list of features and specifications in English as well as a few other languages.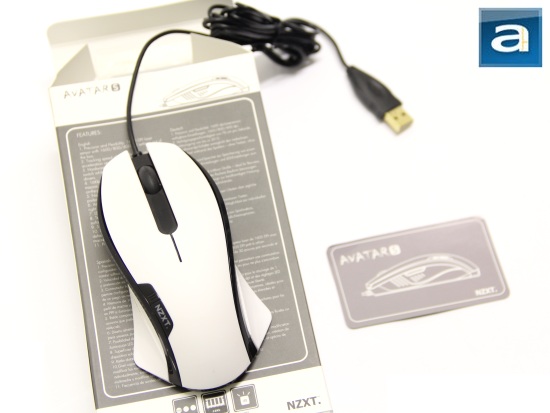 The retail packaging uses a fairly conventional design that opens via the top flap. Once opened, the entire unit and all of its accessories can be slid out easily. Behind the display window is the unit itself. Accompanying the Avatar S is a slip of paper, much like a business card, providing information as to where the user's manual can be downloaded.
Before we move on, let's briefly look at the features and specifications of the mouse, as obtained from the retail packaging and the manufacturer's website:
Features
- Precision and Flexibility: 1600 DPI laser sensor with 1600/800/400 DPI settings out of the box
- Tracking speed of 30 inches per second and acceleration up to 20G
- Hardware DPI switch allows for driver-less DPI switch while in game without the hassle of drivers
- 16Kb Onboard Memory stores 1 profile of macros, dpi settings, and LED settings for gaming on-the-go
- Narrow and medium size ideal for users that prefer a thinner and lower profile form
- Ambidextrous design ideal for both left and right handed users
- LED on/off settings
- Teflon feet for effortless gliding on any surface
- 5 Key programmable mouse
- Immense customizability: Ability to modify default DPI settings individually, setup in-game macros, media keys, and X-Y sensitivity options
- Polling rate of 1000Hz
Specifications
- Max Speed: 30 Inches/Second
- Max Acceleration: 20g
- Resolution: 400-1600 DPI
- Buttons: 5 Buttons
- Onboard Memory: 16Kb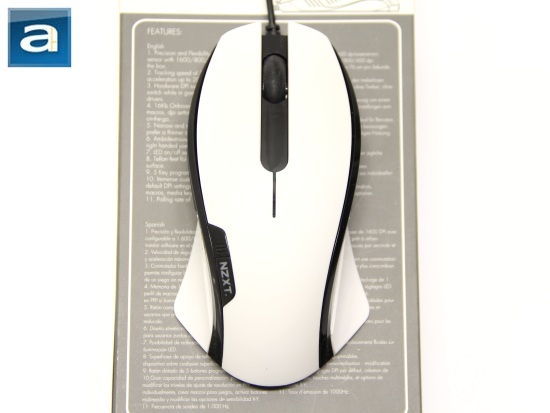 The NZXT Avatar S does not utilize the popular braided USB cable we have seen on many gaming mice. I usually would like to see a braided USB cable on my peripherals rather than the more conventional plastic cable. Plastic cables are generally not as durable and flexible, has increased friction over surfaces, and more prone to being tangled. Unfortunately, the Avatar S is not accompanied with this feature seen on many mid to high end gaming mice.
The NZXT Avatar S follows a very peculiar color theme, at least in my opinion. The unit I received is mostly white, with a few black highlights. In a sense, this reminds me of the extremely popular and successful NZXT Phantom chassis. In fact, one can say the exterior design of the mouse show the same futuristic qualities of the case. Of course, since this mouse is based off the original NZXT Avatar mouse, it looks almost identical in design. In this case, the 'S' in "Avatar S" stands for "small", making size the main difference from its bigger brother. A black version of the mouse is also available for purchase. The top surface of the mouse features a rubber coated scratch-resistant surface that adds overall grip and comfort during gaming and regular usage. The sides do not use this rubber finish, and instead incorporate a rough plastic finish with indented groves to add more grip. We will talk more about this later. Ergonomically, the sides of the mouse cave in, and are shaped to support the thumb and ring finger. Around the mouse wheel is an indented area that does a nice job separating the areas of the mouse. The NZXT Avatar is not completely symmetrical, but is still considered ambidextrous for left-handed users.
The NZXT Avatar S utilizes a very unique lighting system. The system lights up around the edges of the left and right mouse buttons, giving a distinct under-glow. The NZXT logo on the left side of the mouse also lights up. The default color for the lighting system is blue, but the NZXT text can illuminate to purple or red depending on the selected profile -- more on this later. The lighting system definitely puts on a great gaming atmosphere in the dark, although I would have liked to see more color choices for the right and left mouse buttons.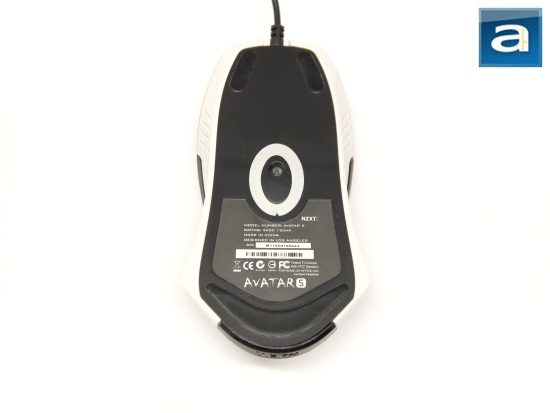 Flipping the NZXT Avatar S over, we are able to analyze the underside design of the mouse. The top corners contain two Teflon feet, and the bottom contains one large Teflon feet; a very common material used on gaming mice. Teflon has an inherently low friction characteristic that increases the overall smoothness in movement over most surfaces. Of course, the durability of the feet is dependent on what surface it is used on. However, if you are using a smooth, high performing mousing surface, there is no reason why the feet would not last a long time.
Unlike the Tt eSPORTS Azurues reviewed by yours truly a while back that uses an optical precision engine, the Avatar S uses a laser sensor. There really is little performance difference between the two in practice, but laser based tracking tend to be capable of tracking to a higher degree of precision and accuracy, because the beam illuminates a much more specific surface area. As far as sensitivity is concerned, the Avatar S only tracks up to a maximum of 1600 dpi, unlike other high performance units we have reviewed in the past, such the 6500 dpi Tt eSPORTS Black Element. Don't get confused between sensitivity and performance though. While the Avatar tracks to a maximum of 'only' 1600 dpi, this does not mean it is not capable of performing as well as other mice with a higher dpi rating. NZXT just decided a 1600 dpi laser engine was sufficient for its target market. The polling rate of the Avatar S is 1000Hz, with a response time of 1ms. Generally, the higher the polling rate, the faster the response time. In this area, the Avatar S meets the industry standard for most high end performing mice.
The NZXT Avatar S laser engine allows one to change the sensitivity from 400 dpi to 1600 dpi using the graphical user interface program downloadable from the manufacturer's website. NZXT's Avatar S features 16KB of onboard memory that allows the user to save in three different profiles. Each profile is color coded to correspond with the logo on the mouse (Blue, purple, or red). Since this mouse is a "plug and play" mouse, saved profiles will stay with the mouse if one decides to transfer it to another computer. Unfortunately, there is one huge flaw with this profile system -- there is no on-board profile switcher on the Avatar S. This simply means that you can only switch game profiles using the program. In other words, transferring this mouse onto another system with saved profiles is pretty useless, since you'll still need to re-install the program off the website in order access the profile switcher. The largest flaw of all would be that most, if not all, first-person-shooter games will become extremely difficult to play on without a hardware dpi switcher. The profile and on-the-fly sensitivity adjustment, or lack thereof, is unfortunately a large failure on the part of NZXT.
Also, something not seen on the NZXT Avatar S is a customizable weighting system. Generally, more mid to high end gaming mice will feature a weighting system geared to adding more user flexibility.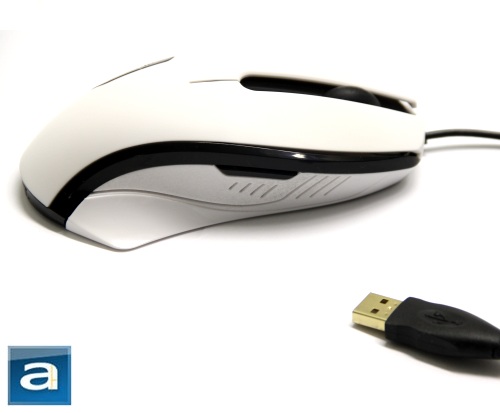 Hidden at the sides of the mouse are two extra side buttons. The left side button is particularly easy to use, and is one of my favorite macro buttons to customize. The right side, however, is extremely difficult to utilize. To press the button, I find myself awkwardly feeling and pressuring the area in order to reach it with my ring finger. This is because the button is positioned near the joint of my finger, which is hard to feel out, placing the hand into an awkward position. Since this mouse is supposedly ambidextrous, I can understand why they placed the right side button in that position; to fit the left hand thumb. As aforementioned, the ergonomic features on this mouse are designed mostly around its sides. The sides feature two plastic areas; the larger being rough and "grippy" in nature. This rough area also includes several groves for added grip. Towards the back of the unit, the plastic smoothens out towards the "wings". This allows the fleshy part of the back thumb joint and palm to rest firmly and comfortably onto the mouse no matter the grip style. In essence, I find the ergonomic design to be quite brilliant as it fits left handed users as well.
-----------------------------------------
The Tests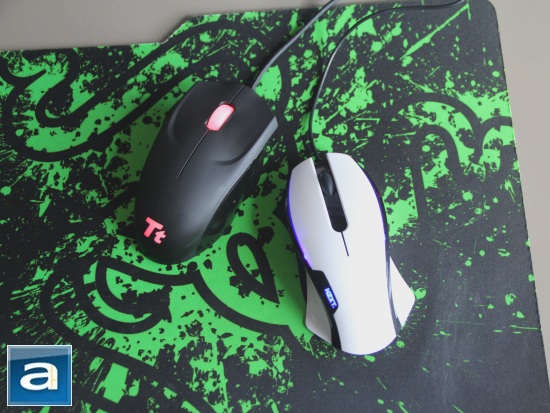 Our tests were carried out on a computer with the following specifications:
CPU: Intel Core i5-2500K @ 4.50GHz (Overclocked, Turbo Boost disabled)
CPU Cooling: Thermaltake Jing
Motherboard: Gigabyte GA-P67A-UD5-B3
Graphics: Gigabyte Radeon HD 6850 1GB OC
Memory: OCZ Platinum XTE PC3-16000 4x2GB
Chassis: Xigmatek Elysium
Power: OCZ ZX Series 850W
Sound: Integrated (Motherboard)
Optical Drive: LiteOn iHAS224-06 24X DVD Writer
Storage: OCZ Vertex 2 60GB; 2x Western Digital Caviar SE 320GB AAKS RAID 1
Operating System: Microsoft Windows 7 Professional x64
Like all mice reviewed here at APH Networks, the NZXT Avatar S was taken through an extensive performance test over the last few weeks. This test went through the usual day-to-day office programs geared to test the productivity performance of the mouse. For the Avatar S, I ran it through most conventional office programs such as Microsoft Office, Adobe's Photoshop Elements 9 and Premiere Elements 9, and Simply Accounting (A common book-keeping program used by accountants). Also, since the Avatar S is made as a professional gaming peripheral, I played various computer games with it, including Counter Strike 1.6, Counter Strike: Source, StarCraft II: Wings of Liberty, and Heroes of Newerth. Surface tests are also important, so I tested the mouse through multiple surfaces, including the Razer Destructor and Razer Goliathus Extended Speed Edition.
Overall, the NZXT Avatar S is a very robust mouse, and was able to perform well in most tests. Since the mouse is almost as basic as an off-the-shelf economical mouse bought at any local electronics store, there really is no need for anyone to spend massive amounts of time to learn how to use it. As well, since the NZXT Avatar S is ambidextrous, left hand users should also not have much of an issue in getting used to this mouse.
One issue I have had with the NZXT Avatar S is not necessarily the size of the mouse, but rather the shape. The mouse is extremely thin, which I find to be a large problem. Around the sides of the mouse, where it indents inwards, I find that it will tend to cramp up the ring and pinky finger. I understand the mouse was designed for smaller hands, but in my opinion, the mouse is too thin compared to its length. The elongated body forces the hand to reach for the left and right buttons, and therefore fails to support the side fingers with its slim profile.
The weighting system, or lack thereof, is also a huge issue in my opinion. Actually, let me clarify on that. If for example, my style of mouse usage includes dragging my pinky finger along the mouse mat, then by nature I would like a lighter mouse to support my already dragged usage style. If my grip style includes clawing the entire mouse for faster reaction time and quicker mobility, then a heavier mouse may be what I would prefer. Because the Avatar S does not feature any sort of weighting system, or not tuned properly out of the box, many users may have a hard time adjusting to this mouse. I understand there are budget constraints, so it is not an issue if proper tuning out of the box is done. It is perfectly acceptable for a mouse to not have a user customizable weighting system. After spending time with it, it is clear that the mouse is very small and light, making it difficult to use for most medium to large hands. For smaller hands that use a claw grip, the NZXT Avatar S may also be difficult to use, since the mouse has a hard time gliding on the mat without the support of more weight. Weight distribution is good, but that's the only good thing I can say about it in this regard.
The 1600 maximum dpi sensor, is in my opinion a good choice for NZXT. If you are running on a system with large monitors that use higher resolutions, 1600 dpi can be beneficial. If you are running at lower resolutions, then 800 dpi would be a great choice. So such a mouse is fairly user friendly for office use. However, the lack of an on-board dpi changer is a disappointment for day-to-day office and gaming use. A mark of a good gaming mouse is based off a few features. The number of buttons, maximum dpi, as well as availability of hardware sensitivity and hardware profile switches. If a mouse has plenty of buttons, one would expect it to have a fairly high maximum dpi to fit the style of MMORPG or RTS games. If a mouse has few buttons, one would expect a manageable maximum dpi, but with a very efficient sensitivity switcher for game styles like first person shooters. Unfortunately, the NZXT Avatar S has neither. The mouse seems to lean towards a first-person-shooter mouse with few buttons and a low maximum dpi, but it misses one of the most crucial components: On the fly dpi adjustment. In the end, I can only vouch for its efficiency in daily office use.
I recommend the NZXT Avatar S only be used on a mouse mat. Of course, the laser sensor will easily track on surfaces like wood or stone (Again, Jeremy, cavemen don't use mice. We have talked about this already. - Editor), but these surfaces may wear out the Teflon feet prematurely. Also, the mouse will not successfully track on glass or other reflective surfaces, but this is not really a big concern. As aforementioned, the lack of features on the NZXT Avatar S makes gaming in general quite difficult. The 1600 dpi sensor with 1000Hz polling rate will definitely create smooth motions. However, the lack of macro buttons and higher dpi settings will make RTS and MMORPG games quite difficult to play. Therefore, I can not recommend the Avatar S to RTS and RPG users. The Avatar S may be used for simpler gaming styles like first person shooters. The lack of a dpi changer, however, may limit the mouse for those who use lower sensitivity settings when making precision shots.
-----------------------------------------
It almost seems as if the NZXT Avatar S is all the talk but not the walk. Of course the mouse includes many one-of-a-kind features and designs that may stand it apart from others. The sleek design and daring futuristic looks definitely turned a few heads. The blue LED light system embellishes the unit. The ergonomic and ambidextrous design, great 1600 dpi laser sensor with 1000Hz polling rate, and low friction Teflon feet may also allow this mouse to stand apart from the average run-of-the-mill unit. Unfortunately, as a gaming mouse, it just doesn't do enough. First off, the unit does not feature a low friction, tangle free and durable braided USB cable. The mouse is not weighted appropriately out of the box, despite good weight distribution, and it is not tunable by feature either. An on the fly dpi changer is non-existent on this mouse, which is crucial for most, if not all, gaming mice. Other small issues include a side clicker that is impossible to press without forcing an awkward position, and an unbalanced elongated body with a thin profile that forces the hand to cramp up at the sides and makes most grips difficult to perform, no matter the hand size. By just looking at what was listed above, it is no doubt that NZXT has more than a few things to work on. NZXT doesn't give information as to what section of the gaming market the Avatar S is focused on; it is marketed as just a gaming mouse. Maybe if it was marketed as a laptop gaming mouse due to its small size and portability, then we can be a little bit more clear of NZXT's intentions. With all its flaws and missing features seen on many other mice for a similar price, I simply would not consider this much of a gaming mice at all -- besides the looks. Priced at MSRP $39.99 at press time, it is not really expensive, but stuff not present like a hardware profile switcher and on the fly sensitivity adjustments aren't costly to implement -- so I would say there is absolutely no reason why they are missing in the first place. All in all, to be blunt, the NZXT Avatar S is a beautiful blonde with no brai... well, let's just say it is a just a beautiful blonde (And leave it at that).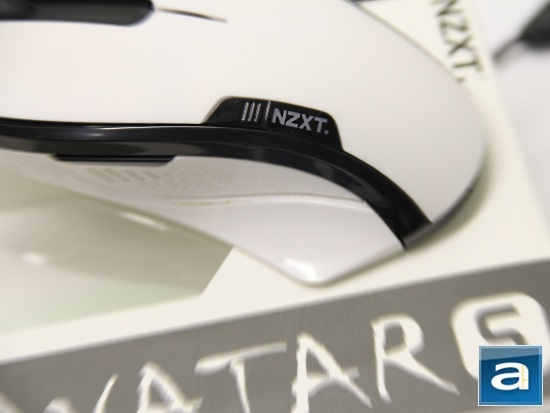 NZXT provided this product to APH Networks for the purpose of evaluation.
APH Review Focus Summary:
6/10 means A product with its advantages, but drawbacks should not be ignored before purchasing.
5/10 means An average product with no real advantages; drawbacks and advantages just seems to cancel each other out.
-- Final APH Numeric Rating is 5.7/10
Please note that the APH Numeric Rating system is based off our proprietary guidelines in the Review Focus, and should not be compared to other sites.
The NZXT Avatar S is a beautiful looking mouse with great tracking performance, but lacks many necessities seen on comparable gaming mice for the price.
Do you have any comments or questions about the NZXT Avatar S? Drop by our Forums. Registration is free, and it only takes a minute!