By: Jonathan Kwan
October 23, 2008
Owning uber powerful computers is one thing, but experiencing the power is another. Having more than half a dozen computers at home, it's kind of interesting how my main machine is not paired up with an incredible display setup. That said, I don't think it ever sucked. Seven years ago, I became a proud owner of a 17" NEC LCD1712 LCD monitor -- that was the days when CRT monitors were the most common, and everyone who actually had an LCD was 15". Three years later, I purchased a 20" Dell 2005FPW when it was on sale. That was the time when most people only had a 17" or 19" -- a 20" widescreen was uncommon -- not to mention the beautiful 8-bit S-IPS panel. Two and a half years later, the monitor died. I called up Dell and I was immediately sent a replacement. Interestingly, they got me a Dell 2007FP; which was a standard aspect 20" monitor. Because it has larger surface area, I decided to keep it. At the meantime, thanks to the cross-ship replacement, I hooked up both screens to my computer temporarily for the weekend and was immediately addicted to the benefits of dual monitors. Wanting the best of both worlds, I purchased a widescreen 20" monitor as a secondary unit after I returned my Dell 2005FPW, and I bought a pretty cheap one with a 6-bit TN panel because I thought I could not tell the difference much. I wasn't too satisfied at the end, to be honest. Getting used to wide viewing angles and nice colors by 8-bit units, and the TN panel used simultaneously with my S-PVA Dell 2007FP, along with the lack of height adjustable stands, I knew I would not keep it for all too long. I was right.
So, I went monitor-shopping online. I wanted something that would match my Dell 2007FP, would be larger than anything I've owned before, but would still fit on my desk. After some research, I found the one I wanted. That's the Dell 2408WFP. With tons of inputs, S-PVA panel with greater than 100% NTSC color gamut, height adjustable stand, etc... Generally speaking; you name it, it has it. With similar display height as my Dell 2007FP and identical vertical resolution, I found my computer setup in my room to be more perfect than ever. Some research online indicates that the 2408WFP has 'input lag' issues, but most reports indicate that it is 'not significant' in reality. Yes, some benchmarks measure it to be up to and around 50ms, but how does that ACTUALLY affect the end user?
Believe it or not, I am not a gamer anyways, and when the Dell 2408WFP became on sale one afternoon for one of the lowest listed prices from their site, I took the plunge and took out my credit card. The monitor came a week later. But how about input lag? Some people went as far as saying that their mouse pointer moved significantly slower than it appears on screen (!). Yeah? I'm curious as you are, so let's investigate about the claimed issues of Dell 2408WFP's input lag problems.
By the way, if you don't know what a monitor's input lag is, it is the delay between signal output of your graphics card to the time the image is actually displayed on screen. All electronic peripherals connected to your computer has a certain amount of lag; but usually undetectable by the end user unless split-second motions are measured -- such as, in this case, gaming. This has nothing to do with pixel response times, which is a completely different story.
Test Configuration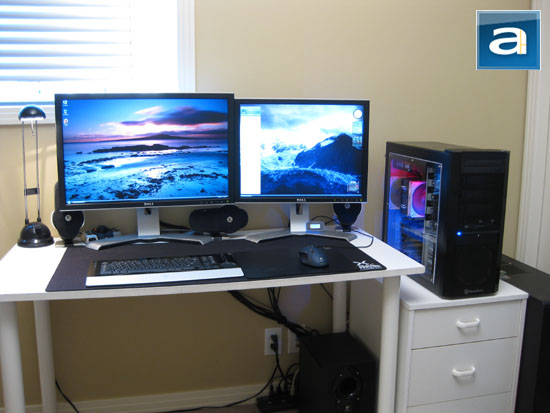 Yes, it's awesome. Left: Dell 2408WFP; Right: Dell 2007FP.
- Intel Core 2 Extreme QX9650 @ 3.50 (333*10.5, Yorkfield/12MB L2)
- Noctua NH-U12P w/Noctua NF-P12 + Arctic Cooling MX-2
- Asus Striker II NSE
- Super Talent Project X PC3-14400 2x1GB @ 6-6-6-18
- Western Digital 500GB AAKS 7200RPM 16MB PMR SATA2
- NEC AD-7170A 18X DVD+/-RW
- Asus NVIDIA GeForce 8800GTS TOP 512MB @ 740/1035
- Auzentech X-Fi Prelude
- Silverstone KL-02; Noctua NF-P12 - Front (Asus Q-Fan), Noctua NF-S12-1200 - Back (Asus Q-Fan)
- Seasonic M12II 500W
- Microsoft Windows Vista Ultimate SP1
My particular unit used in this article is a Dell 2408WFP Revision A01; reference monitor on the right is a Dell 2007FP with an S-PVA panel (There are S-IPS based Dell 2007FPs out there). A01 is the latest revision from Dell at press time.
Testing Methodology
Running is a game of Counter-Strike: Source in screen clone mode at 1600x1200 maxed out (Because that's the maximum resolution of the 2007FP; 2408WFP is ran at 1:1 mode, both DVI), while a camera is recording a video and screenshots and specific intervals were taken later in the editing stage to compare the images on both displays. I biased it a bit to extract the shots I was moving the fastest of all (So it has the highest potential difference). To ensure accuracy, we made sure that something is moving in the game at all times. Basically what I'm trying to say is that I'm not standing still looking at a wall in the game for this test.
Test Results
(All screenshots copyright (c) 2008 Jonathan Kwan, APH Networks.)
Before we get on the relatively more objective aspects, let me tell you one thing: The Dell 2408WFP is certainly not a problem in office applications; I noticed zero input lag. I moved the mouse slowly along while staring closely at the screen and noticed no lag at all. Even in my gaming tests, I subjectively noticed no particular difference -- I don't game, but if I did, I would pwn ;) and I still pwned as usual with this monitor :P

So I ran upstairs (In the game, obviously) and saw an enemy. I fired a couple shots and quickly slid behind a wall for cover. Take a look at the screenshot above, details are more evident by the left wall as well as the wall on the right's position to the relative background: the player is ever so slightly ahead with the Dell 2007FP on the right, but not likely that you will notice unless you're doing something as shown above.

The AK-47's fire looks a bit more faded out, and maybe a frame ahead on the Dell 2007FP compared to the 2408WFP, but I didn't really notice any difference with the enemy position. Again, during my real time usage, I did not notice any difference at all.

I ran across the second floor to the opposite side and turned around, shot the enemy a few times as I quickly reloaded during the interval. Take a look at the tip of the rifle and the nearest vertical wall. The Dell 2007FP shows that the player's gun at this angle appears to be almost overlapping the adjacent wall, while the Dell 2408WFP is a little behind as it's not quite to that spot yet. Remember though -- I was playing the game looking at the Dell 2408WFP, and did not feel any input lag.

I owned another guy, as he fell down the stairs the physics engine shows that the body has fallen and legs are rebounding or about to rebound up. Note that the appeared ghosting is really the camera's issue, I noticed no ghosting at all during actual usage. Anyways, you decide on the one above. What are the position differences?

Do you see the differences in the one above? Take a look closely at the green crosshair in relation the box behind it. The one on the right (Dell 2007FP) has less input lag than the Dell 2408WFP for sure, as the position is slightly different. Is that significant? At 100-200FPS that it's running and considering I was moving pretty quickly, even at that stage, input lag is quite negligible.

See the guy in the background? He was running pretty quickly on the X axis in relation to my point of view in the shot above. There's pretty much no difference in this regard that I've noticed.

Moving forward, the guy went out of my view and then returned with a backwards run. The head and the legs of the guy in relation to the wall blocking my view has no difference at first glance, but if you look really closely you can see more of the person with the Dell 2007FP; indicating that the Dell 2408WFP has a bit more input lag. The second reference can also be made to the radar map on the top left corner contrasted to the edge of the entrance. This is probably one of the most significant differences in my entire collection of comparison screenshots in this report.

You can judge this one, haha.

Try this one as well. Some slight difference in regards to the mini-map and the background blocks again, if you look really closely.

Anything big?

Now let's make my in-game movement really fast, to see how input lag goes in this scenario -- there's nothing in the game of Counter-Strike: Source that you can normally do that exerts the power of gravity (That's why surf maps are so fast!) -- but in this case I just jumped off the third floor of the map and let gravity accelerate me. To be honest with you, looking at the crosshair and mini-map/radar map reference, and the stuff on the side, it's pretty close on both monitors.

... and so I died. Literally -- but in the game, obviously.
-----------------------------------------
Generally speaking, despite what some likes to claim with the Dell 2408WFP (Noticeable delay between physical mouse and cursor movement!?), I did not notice anything at all during my two weeks of everyday usage -- at least with my Revision A01 -- there are times that a maximum few frames difference in really, really quick gaming scenes compared to my Dell 2007FP monitor when I actually compare it with my camera. I don't think I've heard much at all about people complaining about Dell 2007FP, so it should be a good reference monitor compared to "normal" LCD units. In real life usage, it's unlikely that you will notice the difference compared to any other regular-performing LCD monitors, and as sure I didn't either. Office work? Perfect. Gaming? Input lag is not really a problem at all, and I believe it's safe to say 99% of all users won't notice it either.
I took the plunge and put my hard earned money into the Dell 2408WFP, knowing that it 'may' have issues with input lag, but thankfully it doesn't. If you're contemplating to buy this monitor because of input lag issues, it shouldn't be a problem at all. 8-bit S-PVA 24" monitors are expensive, just make sure you aren't running into credit problems when you buy it!
APH Networks purchased all equipment used in this article to facilitate this report.
Do you have any comments or questions related to this article? Drop by our Forums. Registration is free, and it only takes a minute!