Page 2 - A Closer Look, Test System
Like many USB drives on the market today, the Kingston DataTraveler Ultimate G2 32GB is quite similar in terms of looks and size. After all, there are just so many ways you can design a flash drive, haha. Whipping out my ruler, the Ultimate G2 measures out to be 73mm long, 22mm wide, and 16mm thick. For comparisons' sake, I pulled out my Acura car keys for a quick reference, in which I noticed that the Ultimate G2 is not as small as I thought it would be. I mean, length and width is not really an issue, but it's kind of thick. With the obsession of everything ultra thin nowadays, this is definitely not a good sign. When it comes down to the weight, this USB flash drive seems to be quite light, despite its size. However, I cannot give you a specific weight, as I don't have an accurate enough scale lying around. At the end of the day, the Kingston Ultimate G2 will fit nicely nearly any keychain or pocket nicely with little complaint, even though this is one of the larger USB drives that I have owned.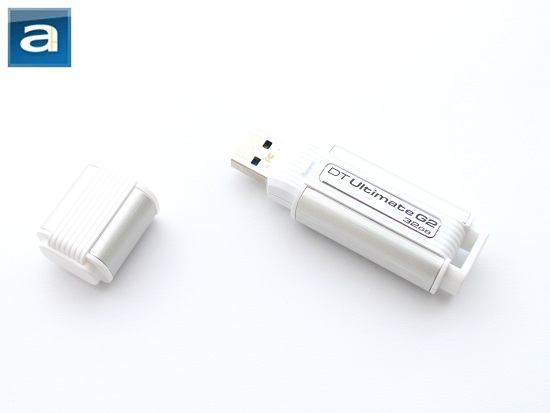 The Kingston DataTraveler Ultimate G2's design is asymmetrical on both sides. The front and back consists of a strip of white plastic. The front features its model and capacity on a aluminum/silver colored background at the center of the white strip, while the back has the company name engraved in the plastic. On each of the opposing sides is slick brushed aluminum. In my personal opinion, this USB drive is very elegant in appearance. The cap clips on and off fairly snugly, without the need of having the user yank on it with all their might. all the time. It also clips onto the back without any worries about it falling off. You may have noticed that there is no LED activity light just by its exterior looks at first glance. However, once it is plugged in, the back end will start flashing blue, signifying its activity. On that note, in case you have missed it, "USB 3.0" is printed in metallic silver on the back end where the keychain loop is.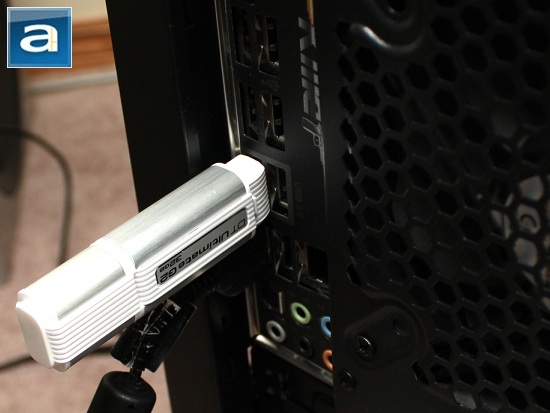 Kingston advertises the DataTraveler Ultimate G2 at read and write speeds of 'only' 100MB/s and 70MB/s, respectively. This is quite a significant difference when compared to USB 2.0 rates. Having such a capacity of 32GB at such speeds, you can finally fit many files on it in no time, without having to worry about capacity limits. To see how well the DataTraveler Ultimate G2 32GB performs, I have taken the results from the Patriot Supersonic Magnum 64GB reviewed by my colleague Jonathan from a couple of months back. Although we have different configurations in our setup, the results are essentially the same thing. On a side note, please do keep in mind the SuperSonic Magnum 64GB has a much higher rated performance, as Patriot lists it to be 200MB/s and 120MB/s in read and write performance, respectively. However, the 64GB version of both drives costs about the same at press time, making them comparable products.
Our test configuration are as follows:
CPU: Intel Core i7-930 @ 4.01 GHz (Overclocked, Turbo Boost disabled)
CPU Cooling: Noctua NH-C14 (Single Fan Top)
Motherboard: Gigabyte G1.Sniper
RAM: Patriot Extreme Performance Viper II Sector 7 Series PC3-12800 6x2GB
Graphics: HIS Radeon HD 6870 1GB
Chassis: BitFenix Shinobi Window
Storage Seagate Barracuda 7200.11 1.5TB
Power: Cooler Master Silent Pro Gold 1000W
Sound: Integrated Creative X-Fi
Optical Drive: Asus DRW-24B1ST 24x DVD-RW
Operating System: Microsoft Windows 7 Ultimate x64 SP1
Compared Hardware:
- Kingston DataTraveler Ultimate G2 32GB (USB 3.0)
- Patriot Supersonic Magnum 64GB (USB 3.0)
- OCZ Rally2 Turbo 4GB (USB 2.0)
- OCZ Vertex 2 60GB 34nm (SATA 3Gb/s)
---
Page Index
1.
Introduction and Specifications
2. A Closer Look, Test System
3.
Benchmark: AIDA64 Disk Benchmark
4.
Benchmark: ATTO Disk Benchmark
5.
Benchmark: Crystal Disk Mark 3.0
6.
Benchmark: HD Tach 3.0.1.0
7.
Benchmark: HD Tune Pro 4.60
8.
Conclusion