Page 2 - Physical Look - Hardware, Test System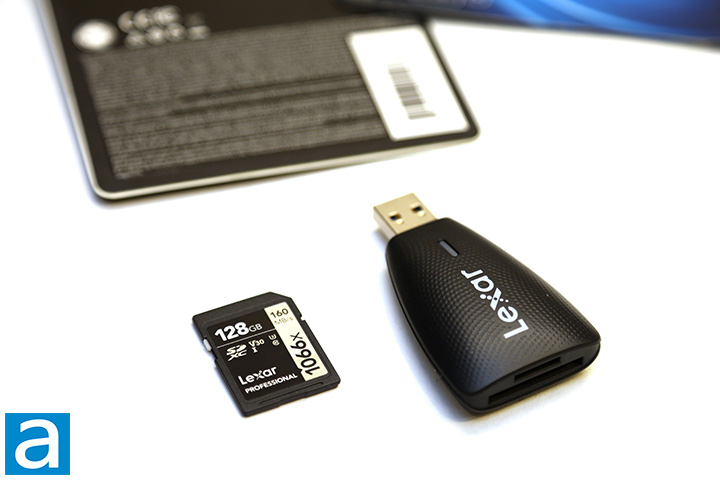 I can spend all day talking about the Lexar Professional 1066x SDXC UHS-I Silver 128GB's sticker design, but what good does that do if you can just look at our photo above? The Lexar Professional series a normal looking, black-colored flash memory card in the size and shape of any other member in the Secure Digital family. As per the format, a write protection switch on the left and inscriptions on the back indicate it is made in Taiwan.
For our testing, Lexar also threw in the Multi-Card 2-in-1 USB 3.1 Reader. Reviewing flash memory cards are tricky because the performance of the card depends on the reader, This means you want the fastest reader available to ensure the card's performance is not limited by the reader. This portable, rather than desktop-style readers like the Kingston FCR-HS4, measures in at 38.2mm wide, 63.9mm deep, and 15.3mm tall. This plastic adapter can be a decent travel companion, especially if you have a laptop that does not have a built-in SD card reader, but it is not the type you will leave plugged in perpetually. The reader's predominantly plastic construction feels light and plasticky -- for a lack of better term -- but it is what it is. The black textured plastic gives it a little more visual flare with Lexar's logo in white as well as an indicator LED. The LED glows red when there is no card inserted and turns to blue when you plug in a card. The indicator LED will blink when there is activity. The back features a plain matte finish with regulatory logos printed on it.
Two slots can be seen at the end of the reader, which you can see in our photo above. The reader curves out to physically accommodate the SD form factor, but a smaller slot at adjacent to it provides native support for the microSD form factor as well. Electrically, it supports SD, SDHC, SDXC, microSD, microSDHC, microSDXC, and SD/microSD UHS-I and UHS-II cards according to the manufacturer's website. I am actually quite happy it can read microSD cards natively, even though a lot of cards sold in that form comes with an adapter.
From my experience, cards can slide in and out of the reader smoothly with reasonable force, yet it does not feel loose that things will start falling out. My only complaint is when you plug in an SD card, the front face of the card will be oriented opposite of the front face of the card reader, which makes it look like you are inserting in the card upside-down.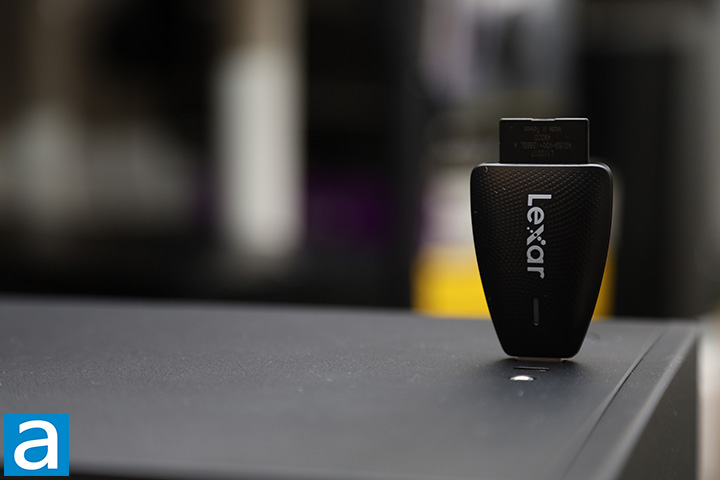 To ensure the card performance is fair and not limited by the interface, we used Lexar's Multi-Card 2-in-1 USB 3.1 Reader card reader for benchmarking. This one of the fastest and newest card readers available in the market today. I did some informal testing and the results were considerably better than the Kingston FCR-HS4.
Our test configuration is as follows:
CPU: Intel Core i7-6700K @ 4.60GHz
CPU Cooling: Noctua NH-D15S chromax.black
Motherboard: Gigabyte GA-Z170X-UD5
Graphics: ASUS Dual GeForce GTX 1060 3GB
Chassis: NZXT H700i
Storage: Seagate FireCuda 510 1TB
Power: Seasonic PRIME Ultra Titanium 850W
Operating System: Microsoft Windows 10 Pro
Compared Hardware:
- Lexar Professional 1066x SDXC UHS-I Silver 128GB
- Kingston SDXC UHS-I U3 64GB
- Silicon Power Superior SDXC UHS-I U3 64GB
---
Page Index
1.
Introduction, Packaging, Specifications
2. Physical Look - Hardware, Test System
3.
Benchmark: AIDA64 Disk Benchmark
4.
Benchmark: ATTO Disk Benchmark
5.
Benchmark: Crystal Disk Mark 8.0
6.
Conclusion