Page 2 - A Closer Look, Installation, Test System
In terms of the physical attributes, there are two things I want to outline: The build of the RAM, as well as its unique heatsink implementation. In terms of build, to my knowledge OCZ uses the legendary Micron D9 ICs in this set. OCZ claims that they use Micron D9 ICs only in their RAM rated faster than PC2-6400, and the OCZ Reaper HPC PC2-8500 is a kit that does utilize Micron D9 chips. We will be examining its overclocking potential right after the benchmarks.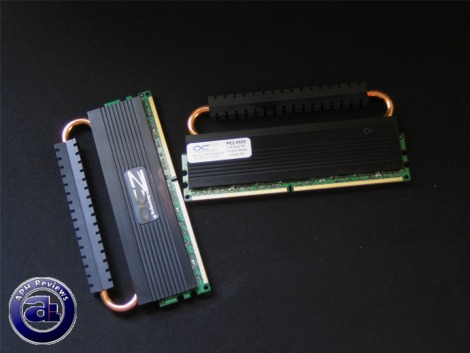 The black heatsinks are attached to the RAM module itself by a layer of thermal conduction interface. As usual, OCZ's logo is located at the center on one side of the heatsink.
The heatpipe over OCZ's Reaper HPC are full circuit heatpipes; meaning that you can use the RAM either way. Since RAM orientation is not the same on all motherboards (For example, it's different between the Asus P5W64-WS Professional and the Asus P5NT-WS), this will guarantee proper compatibility and cooling.
The copper heatpipes also feature a heatsink at the top to enhance heat dissipation performance.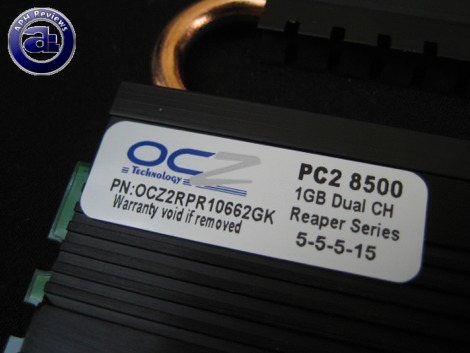 At PC2-8500 (1066MHz DDR2, or 533MHz actual clock speed), the OCZ Reaper HPC PC2-8500 is guaranteed to run at 5-5-5-15. Basic RAM specifications are indicated on all OCZ memory modules with a label. The second function of it is to cover over a screw, in order to prevent users from removing the heatsink. Otherwise it will void the warranty.
As far as installation goes, you can install four modules without worrying about interference. The heatsink on OCZ's Reaper HPC memory modules are surprisingly thin and light; the method of how it brings heat over the top of the RAM using heatpipes will allow CPU heatsinks with perpendicular fans to draw heat away from the RAM by natural airflow in the case.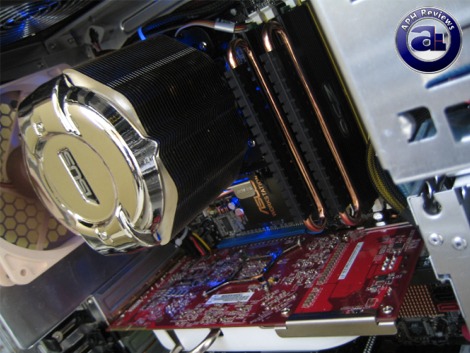 Test System
CPU: Intel Core 2 Duo E6300 (Conroe, 2MB L2 Cache)
CPU Cooling: Asus Arctic Square
Motherboard: Asus P5W64-WS Professional
Case: Thermaltake Aguila (2x120mm - Noctua NF-S12-800 and NF-S12-1200 @ 600rpm)
Power: Seasonic M12 500W
Graphics: Asus EAX1950PRO 256MB
Sound: Creative X-Fi XtremeMusic
Optical Drive: NEC AD-7170A 18X DVD+/-RW
Hard Drive: Seagate 7200.10 320GB 16MB SATA2
Operating System: Microsoft Windows XP Professional SP2
Comparison Memory
- OCZ Reaper HPC PC2-8500 2x1GB - 5-5-5-15
- OCZ Flex XLC PC2-6400 CL4 2x1GB - 4-4-4-15
- Buffalo Firestix PC2-6400 2x512MB - 5-5-5-15
- OCZ Special Ops Edition Urban Elite PC2-6400 2x1GB - 4-4-3-15
Please note that the compared memory are all PC2-6400 RAM. Also, the Buffalo Firestix PC2-6400 2x512MB RAM aren't used in our 3DMark06 and PCMark05 benchmarks.
---
Page Index
Page 1 - Introduction, Packaging, Specifications
Page 2 - A Closer Look, Installation, Test System
Page 3 - 3DMark06 Results
Page 4 - PCMark05 Results
Page 5 - EVEREST CPU Results
Page 6 - EVEREST FPU Results
Page 7 - EVEREST Memory Results
Page 8 - SuperPI, Cinebench 9.5, EVEREST Memory Latency Results
Page 9 - Overclocking Results
Page 10 - Conclusion