Page 2 - A Closer Look, Test System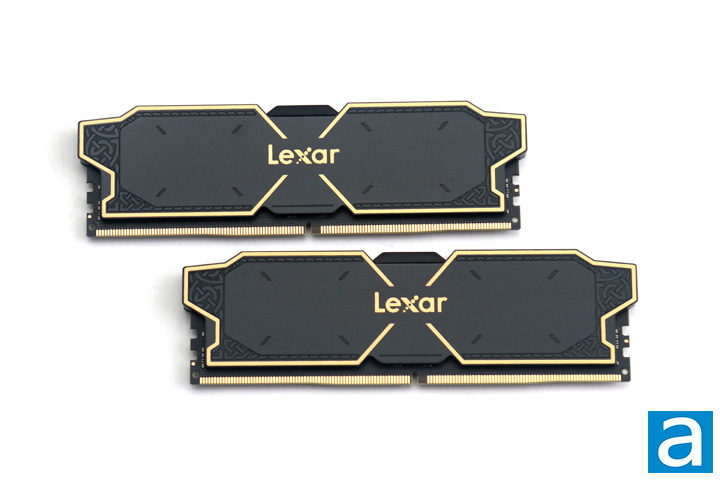 The Lexar THOR OC DDR5-6000 2x16GB kit is a bit different from what we have seen in the past for memory. It features a mostly black set of heatspreaders with some gold trimming around the edges and into the middle. A Lexar logo can be found in the middle of both sides, with the gold rim crossing together in the center. The shape of the heatspreader makes for a medium profile height, with slight extensions on the side and more prominent ones at the top. The metal has some neat engraved patterns that also allude to the Norse name. All in all, I like how Lexar has added a bit of flair to the kit of memory in its design that is not solely reliant on RGB LED lighting.
The metal heatsink itself is relatively light and serves as a heat conductor. It does make the height of the Lexar THOR OC memory approximately 41mm, which is approximately 10mm taller than typical profile modules with no heatspreader at all. As such, it is possible that it would interfere with some coolers, especially if they hang over the memory area. While extra aluminum on the side may or may not affect the performance, most memory, especially those marketed as "overclocked", will include some sort of heatspreader. They do definitely serve a purpose in dissipating heat while also having an added benefit of making the memory more pleasing to the eyes, even if it means conforming to a darker look.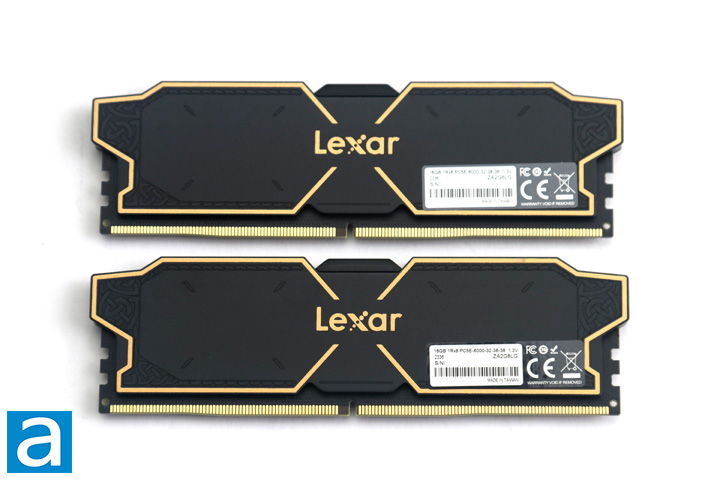 The Lexar THOR OC DDR5-6000 modules are symmetrical in design. The two aluminum sides are attached to a plastic middle bracket that stays aligned with locking notches between the metal pieces. Otherwise, both sides show off the aforementioned logos while one side has a specifications sticker. It shows the model number, voltage, and some certification labels. Unlike other Lexar products, this memory kit is made in Taiwan.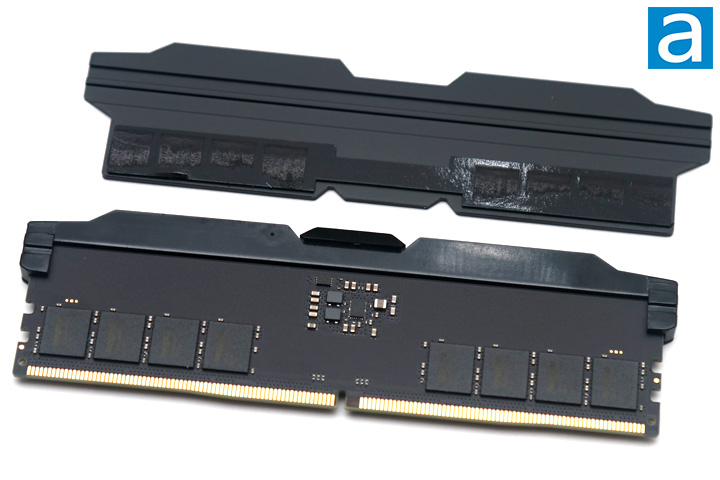 The two aluminum sides are held together with strips of thermal conductive adhesive over the chips. This adhesion force between the heatspreaders and memory ICs is quite strong, but with some heat, I was able to pry open one side. Even so, you will probably never remove the heatspreaders unless you are working with very low clearances. As such, you should be aware if your aftermarket cooler does end up interfering with the memory modules. Underneath on the black PCB itself, there is a power management integrated circuit, or PMIC, in the middle of the module. Unfortunately, the PMIC does not make contact with the heatsink, whether direct or through a dissipating pad to help remove heat.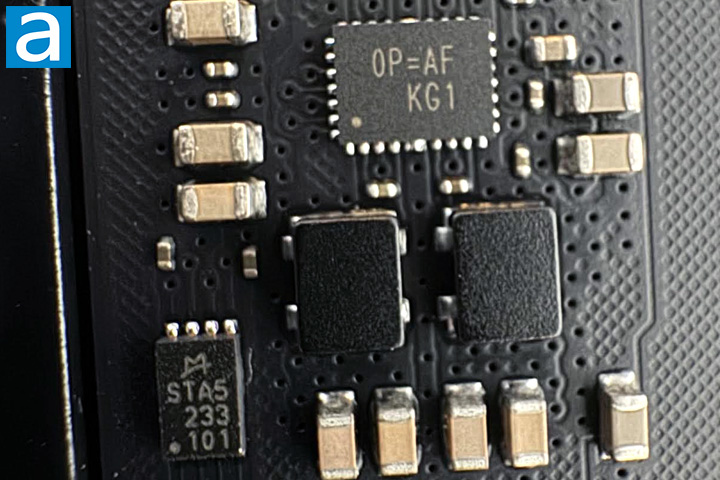 With a closer look at the surface components, we have two primary things to look at. First is an SPD HUB, which is labelled STA5233101. Next to it is the PMIC with labels "OP=AF KG1". Unfortunately, I could not identify the manufacturer. Next, we have a closer look at one of the eight memory chips. These are branded by Longsys and are marked LD52G08HSF033C. They also have a marking of "2336" underneath, indicating they were manufactured during week 36 of 2023. According to CPU-Z, these are rebranded SK hynix chips, although I could not find much more information on them. As mentioned on the previous page, the RAM modules run at DDR5-6000 with 32-38-38-96 latencies. They operate at DDR5 voltages of 1.3V, which is still under the recommended safe limit of 1.35V defined by both Intel and AMD.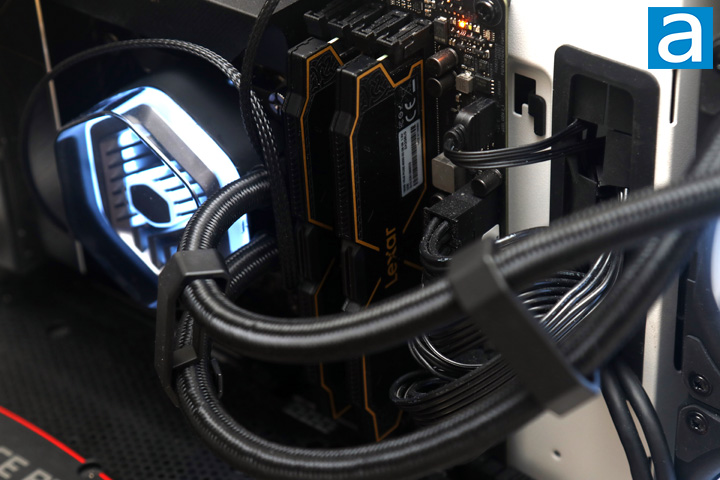 Our test configuration is as follows:
CPU: Intel Core i5-12600K
CPU Cooling: Cooler Master MasterLiquid 240 Atmos
Motherboard: ASUS ProArt Z690-Creator WiFi
Graphics: EVGA GeForce RTX 3070 Ti XC3 ULTRA GAMING
Chassis: Thermaltake Core P3 TG Pro Snow
Storage: XPG Atom 30 1TB
Power: FSP Hydro PTM Pro 1200W
Operating System: Microsoft Windows 11 Pro
Compared Hardware:
- Lexar THOR OC DDR5-6000 2x16GB @ DDR5-6000 32-38-38-96
- Crucial CT2K16G48C40U5 DDR5-4800 2x16GB @ DDR5-4800 40-39-39-77
- Crucial CT2K16G52C42U5 DDR5-5200 2x16GB @ DDR5-5200 42-42-42-84
- Crucial CT2K16G56C46U5 DDR5-5600 2x16GB @ DDR5-5600 46-45-45-90
- Crucial Pro DDR5-5600 2x16GB @ DDR5-5600 46-45-45-90
- Kingston FURY Beast DDR5-5200 2x16GB @ DDR5-5200 40-40-40-80
- Kingston FURY Renegade RGB DDR5-6000 2x16GB @ DDR5-6000 32-38-38-80
- Lexar ARES RGB DDR5-6000 2x16GB @ DDR5-6000 34-38-38-76
- Patriot Viper Venom RGB DDR5-6200 2x16GB @ DDR5-6200 40-40-40-76
- XPG Lancer RGB DDR5-6000 2x16GB @ DDR5-6000 40-40-40-76
---
Page Index
1.
Introduction, Packaging, Specifications
2. A Closer Look, Test System
3.
Benchmark: AIDA64 CPU
4.
Benchmark: AIDA64 FPU
5.
Benchmark: AIDA64 Memory
6.
Benchmark: PCMark 10
7.
Benchmark: 3DMark
8.
Benchmark: PassMark PerformanceTest 10
9.
Benchmark: SuperPI 1M, Cinebench 2024
10.
Overclocking and Conclusion