By: Jonathan Kwan
February 12, 2016
Can you make so many incremental updates, you no longer have the original thing? About four years ago, I built a server for use in my house with an Intel Core-i5 2405S, Noctua NH-D14, Gigabyte GA-Z77X-UD3H, G.Skill Sniper F3-12800CL9D-8GBSR2 2x4GB, two Kingston SSDNow V+200 120GB in RAID 1, Western Digital Scorpio Blue 500GB, FSP AURUM CM Gold 650W, and Fractal Design Define R4. Over the years, I have done many incremental updates on the system using spare parts kicking around. Parts like the RAM, heatsink, power supply, and hard drive have been changed multiple times, and at the time of writing this review, it features an Intel Core i7-3770K, Noctua NH-U14S, Kingston HyperX Beast KHX21C11T3K2/16X 4x8GB, Seagate Enterprise Capacity 3.5 HDD V.5 ST8000NM0055 8TB, Fractal Design Define S, and the SilverStone Strider Platinum ST75F-PT 750W we are reviewing today. In other words, besides the motherboard and the pair of SSDs, literally every component has been swapped out. Can one say this is an entirely different system? On one hand, the majority of the components have been changed, so 'yes' is a good answer. On the other hand, the operating system has never been reinstalled or reactivated, so one could argue 'no' as well. Whatever your take is, there is only one thing I know: The server we have today has been significantly improved from the one back in 2012. Last year, I took apart a SilverStone Strider Gold S ST75F-GS V2.0 750W power supply, which, according to its name, is an updated version of the ST75F-GS, albeit with an entirely different OEM. Today, we will take a look at the Strider Platinum ST75F-PT 750W, which, based on its name, is a different model. With new features like an 80 Plus Platinum certification and hybrid semi-fanless operation, how much has been changed over the ST75F-GS V2.0, and will it be the same compact PSU we have come to know with a whole new take? Read on to find out!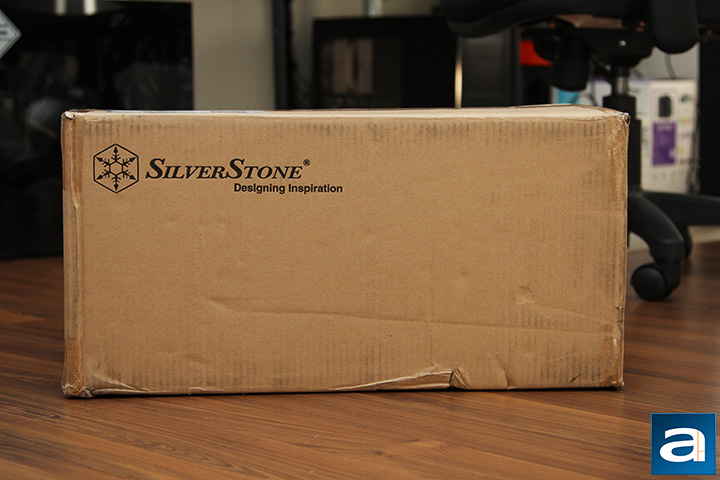 Our review unit of the SilverStone Strider Platinum ST75F-PT 750W came in a relatively large, brown corrugated cardboard box from the company's American headquarters in Chino, California, USA to us here in Calgary, Alberta, Canada. As always, UPS Standard handled everything well, and the package along with all the contents inside arrived in excellent condition. In case you are wondering why they used such a large box, the Strider Platinum ST75F-PT's traveling companions include a Tundra TD02-LITE and TD03-LITE, both of which were reviewed by Brian Cheung. Of course, I did not have this power supply for that long, as it was not the same units Brian had. Instead, we were supposed to get the TD02-SLIM and TD03-SLIM, which Ben Joubert reviewed recently (We received the correct samples shortly after). Anyway, now that you have all the background information, let us take a look at the actual product.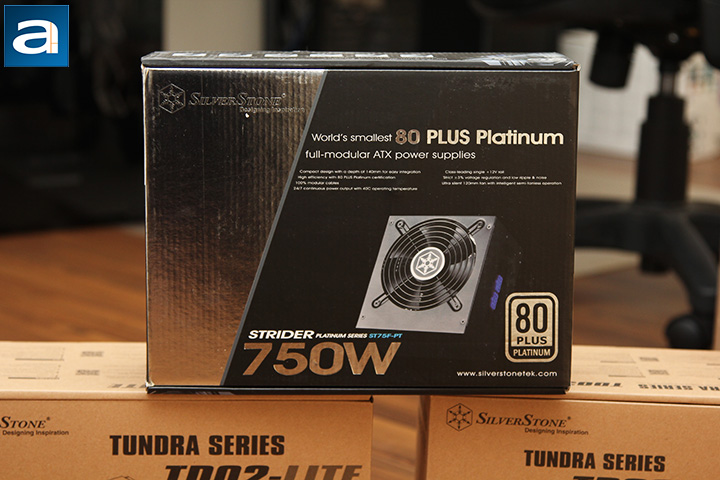 The SilverStone Strider Platinum ST75F-PT 750W's retail box is designed with some stylistic consistency with the rest of the company's power supply lineup, but the layout has once again been revised with the latest model. The box comes in a predominantly black background, but a large shiny area is sectioned off on the left, along with some silver text, to show off its 80 Plus Platinum certification. At the top, we can see SilverStone's logo and slogan, while the line "World's smallest, full modular ATX power supplies" occupies a prominent region in the center. A photo of the power supply can be seen under the list of feature highlights. On the right, a large 80 Plus Platinum badge ensures you know this is an 80 Plus Platinum certified power supply, just in case you could not tell by the name or the box already. At the bottom, its wattage capacity is written in super large font, along with the Strider Platinum series and model number above it. The Strider Platinum is also available in 550W and 650W variants as well, which are all 140mm long like the ST75F-PT we are reviewing today. Specifications, performance graphs, and features can be found on remaining sides of the box.
Before we move on, let us take a look at the specifications of the SilverStone Strider Platinum ST75F-PT 750W, as obtained from the manufacturer's website:
Model No.: SST-ST75F-PT
Max. DC Output: 750W
Power density: 415W per liter
Color: Black (Lead-Free Paint)
Combined +3.3, +5V: 120W
Combined +12V: 750W
Input Voltage: 90V~264V
Input Frequency Range: 47Hz~63Hz
PFC: Active PFC(PF>0.9 at full load)
Efficiency: 89%~92% at 20%~100% loading
MTBF: 100,000 hours
Operating temperature: 0°C ~ 40°C
Protection:
- Over current protection
- Over power protection
- Over voltage protection
- Under voltage protection
- Over temperature protection
- Short circuit protection
Connectors:
- 1 x 24 / 20-Pin motherboard connector(550mm)
- 1 x 8 / 4-Pin EPS / ATX 12V connector(750mm)
- 4 x 8 / 6-Pin PCIE connector("550mm / 150mm"x2)
- 8 x SATA connector("600mm / 150mm / 150mm /150mm"x2)
- 6 x 4-Pin Peripheral connector("600mm / 150mm / 150mm"x2)
- 2 x 4-Pin Floppy connector("600mm / 150mm / 150mm / 150mm"x2)
Cooling System: Single 120mm silent fan
Noise Level: 0 ~ 28 dBA
Dimension: 150 mm (W) x 86 mm (H) x 140 mm (D)
Weight: 2.25 kg
Form factor: ATX
Certification: 80 PLUS Platinum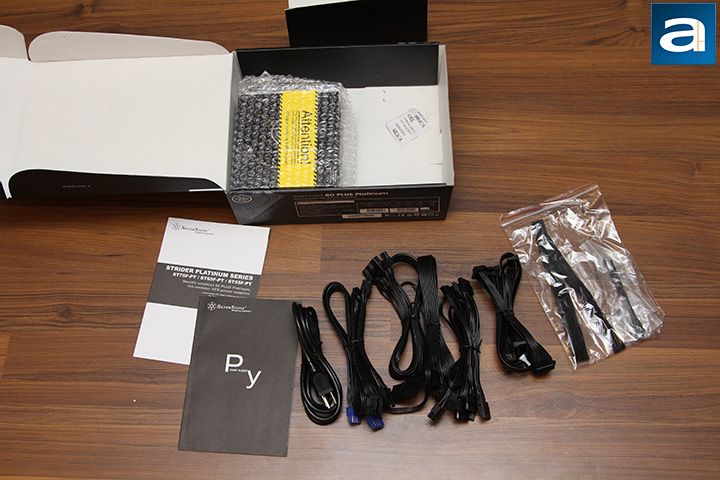 The SilverStone Strider Platinum ST75F-PT 750W's retail packaging can be opened by a flap attached on the right. Upon opening the box, you will find everything neatly organized. The power supply is located on the left, cables on the right, and everything else in a resealable plastic bag. There is also an instruction manual as well as a specifications booklet out in the open. The instruction manual is highlighted with the letters "PY" in front, just like the SilverStone Strider Gold S ST85F-GS 850W and SilverStone Strider Gold S ST75F-GS V2.0 750W; as if my colleague Preston Yuen has initialed yet another one from the factory. (It is really a stylized presentation of the words "power supply", maximizing its first and last letters.) Out of the box, you will receive the ST75F-PT 750W power supply itself, two pieces of literature as aforementioned, modular cables, AC power cable, and a bag that contains some zip ties, Velcro straps, four thumbscrews, and four regular screws.
---
Page Index
1. Introduction, Packaging, Specifications
2.
Physical Look - Outside
3.
Physical Look - Inside
4.
Minor Tests and Conclusion