Page 2 - A Closer Look, Test System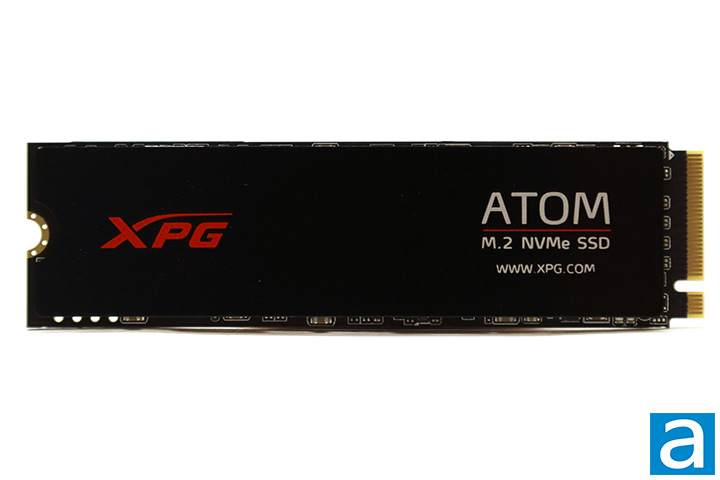 The XPG Atom 50 1TB is the company's latest PCIe 4.0-based budget NVMe SSD. It comes with a low profile heatsink for universal compatibility, including the PlayStation 5, just like the flagship Gammix S70 Blade 1TB. The XPG Atom 50 1TB is an M.2 2280 format SSD. If you are not familiar with the M.2 physical standard, M.2 2280 means it the size of the drive is 22mm by 80mm, hence its numerical designation. Its components are located on the black printed circuit board, which we will take a closer look at in just a moment. A black XPG-branded aluminum heatsink can be placed on by yourself. It comes with double-sided tape from the factory. I think it is nice it is not attached by default, so you can choose whether to put it on or not. The XPG Atom 50 1TB works on the NVMe 1.4 logical device interface and plugs into compatible motherboards directly. Electrically, M.2 NVMe interfaces with PCIe 4.0. The Atom 50 uses four lanes for up to 8000MB/s bandwidth in each direction. The specified weight is a paltry 9g for this SSD with the heatsink on, so it is approximately 6g with it off.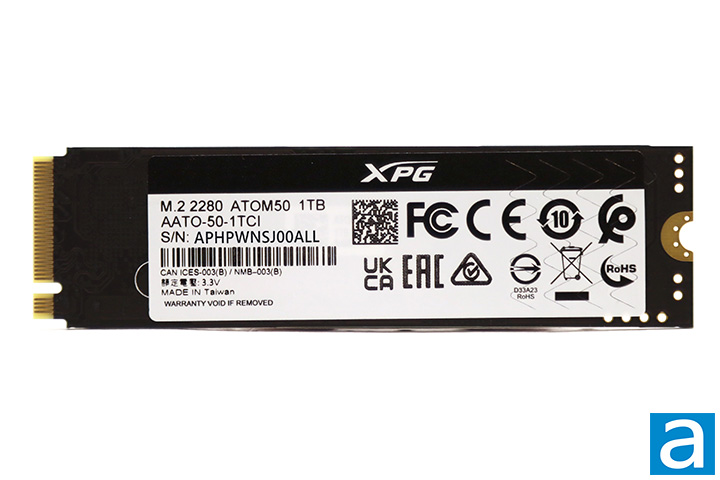 Flipping the XPG Atom 50 1TB around and you will find no components of interest. A label is the only thing you will find on this side, and it carries miscellaneous information such as its model name, serial number, and regulatory certifications. Other than that, it is completely blank as all the components are located on the other side. Like many ADATA XPG products we have reviewed in the past, this SSD is made in Taiwan.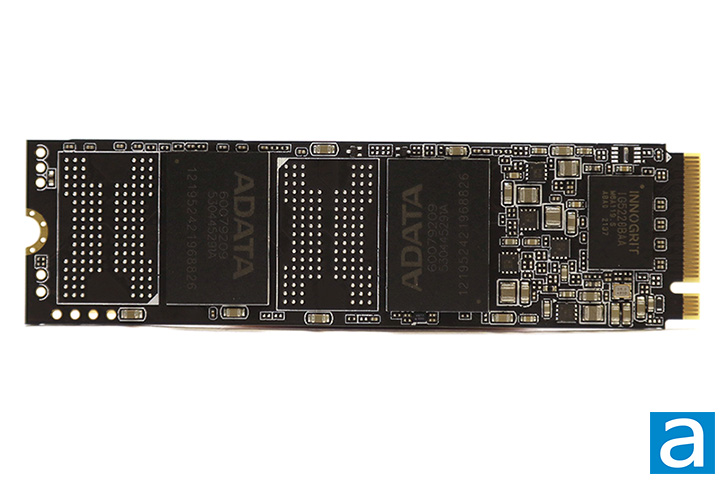 Behind where you would normally put the heatsink, you can see what the XPG Atom 50 1TB is made from. There are two different components that can be seen. At the heart of XPG's Atom 50 1TB is an InnoGrit RainierQ IG5220. It is an NVMe solution on the M.2 socket to utilize the bandwidth afforded by the PCIe 4.0 standard. The controller features LDPC ECC technology and AES 256-bit encryption support. To save cost, no DRAM is available to the controller for system memory.
The Atom 50's flash memory are two Micron B47R 512GB 176-layer triple-level cell chips branded as ADATA 60079209. Its rated write endurance is an excellent 650TBW, which equates to about 356GB per day for five years. This is better than the Western Digital WD_BLACK SN850 NVMe SSD 1TB and Crucial P5 Plus 1TB at 600TBW, which is very good, but still not anywhere close to the Seagate FireCuda 510 1TB at 1300TBW, a title the FireCuda has held for years. Its rated power consumption is not published. Nothing out of the 1024GB total capacity is provisioned for the drive controller for overhead, so the actual usable space is 1024GB. You will see 953GB in Windows, which is a little more than the 931GB you typically see with 1TB drives.
Specified at 5000MB/s read, 4500MB/s write, up to 650,000 IOPS read, and up to 600,000 IOPS write over NVMe 1.4 on PCIe 4.0 x4, these figures are impressive for a budget model. It is one-and-a-half to twice as fast as most PCIe 3.0-based drives. For comparison, the company's PCIe 3.0 x4 NVMe flagship, the XPG SX8200 Pro 512GB we reviewed a couple of years ago, was rated at only 3500MB/s read and 2300MB/s write. Meanwhile, the PCIe 3.0 x8-based AN1500 2TB add-in card featuring multiple WD_BLACK SSDs in RAID 0 can only hit 6500MB/s read and 4100MB/s write.
To see how all this hardware translates to numbers in our benchmarks, we will pit the XPG Atom 50 1TB against the big boys of this game to see how this new performance drive from XPG steps up against some popular NVMe-based SSDs from manufacturers like Crucial, Gigabyte, Kingston, Patriot, Seagate, Western Digital, and even XPG themselves in the next seven pages or so.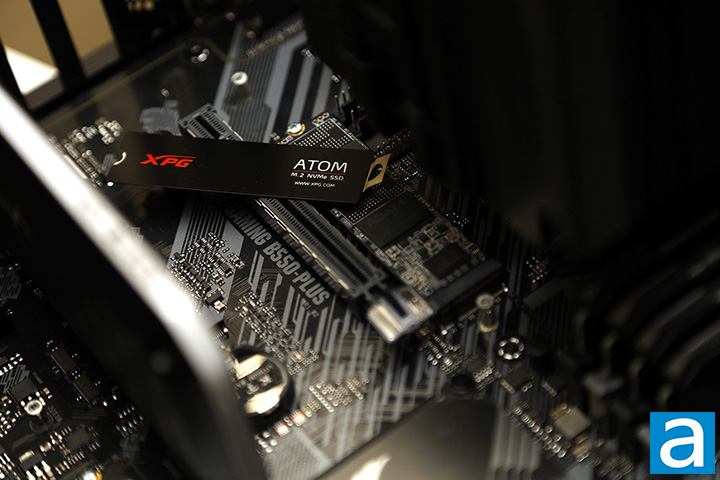 Do not worry about the unattached heatsink -- I put on the one that came with my motherboard.
Our test configuration is as follows:
CPU: AMD Ryzen 5 5600X
CPU Cooling: Noctua NH-D15 chromax.black
Motherboard: ASUS TUF Gaming B550-Plus
RAM: Crucial Ballistix DDR4-3600 4x32GB
Graphics: ASUS Dual GeForce GTX 1060 3GB
Chassis: NZXT H710i
Storage: Western Digital WD_BLACK AN1500 2TB
Power: Seasonic PRIME Ultra Titanium 850W
Operating System: Microsoft Windows 10 Pro
Compared Hardware:
- XPG Atom 50 1TB
- ADATA XPG SX8200 Pro 512GB
- Crucial P1 1TB
- Crucial P2 500GB
- Crucial P5 500GB
- Crucial P5 Plus 1TB
- Gigabyte AORUS RGB AIC NVMe SSD 512GB
- Kingston KC2500 1TB
- Kingston KC3000 1TB
- Patriot P300 512GB
- Patriot Viper VPN100 512GB
- Seagate FireCuda 510 1TB
- Western Digital Black SN750 NVMe SSD 1TB
- Western Digital Blue SN550 NVMe SSD 1TB
- Western Digital Blue SN570 NVMe SSD 1TB
- Western Digital WD_BLACK AN1500 2TB
- Western Digital WD_BLACK SN850 NVMe SSD 1TB
- XPG Gammix S70 Blade 1TB
---
Page Index
1.
Introduction, Packaging, Specifications
2. A Closer Look, Test System
3.
Benchmark: AIDA64 Disk Benchmark
4.
Benchmark: ATTO Disk Benchmark
5.
Benchmark: Crystal Disk Mark 8.0
6.
Benchmark: HD Tune Pro 5.70
7.
Benchmark: PassMark PerformanceTest 10
8.
Benchmark: PCMark 10
9.
Benchmark: 3DMark
10.
Conclusion