By: Jonathan Kwan
December 7, 2012
When HighPoint Technologies contacted me in late September earlier this year to review one of their latest USB 3.0 hard drive docking stations, I knew I had to do it. It was not because we have not tested any in the past. It was not because they are the only manufacturer in the market of such products. It was simply because of the name. Surprising, isn't it? If you have never heard of HighPoint Technologies before, don't worry -- you are not alone. The company just recently started their foray into the retail market; prior to this, they specialized in RAID controllers for the OEM and enterprise market. Being a person who is neither in IT nor OEM PC manufacturing, how did I hear of them? Back in the days, when Pentium III processors were the ballin' thing to have, I had an Abit BE6-II motherboard in my computer. Every time it starts up, a screen for its HighPoint UDMA 66 controller would show up for a few seconds. After seeing it non-stop every day for four years, the brand was stuck in my head ever since. Fast forward to today, what we have here at APH Networks is a HighPoint's RocketStor 5122B hard drive docking station. With two dedicated SATA 6Gb/s to USB 3.0 bridges for compromise-free performance, how does this device stack up? Read on to find out!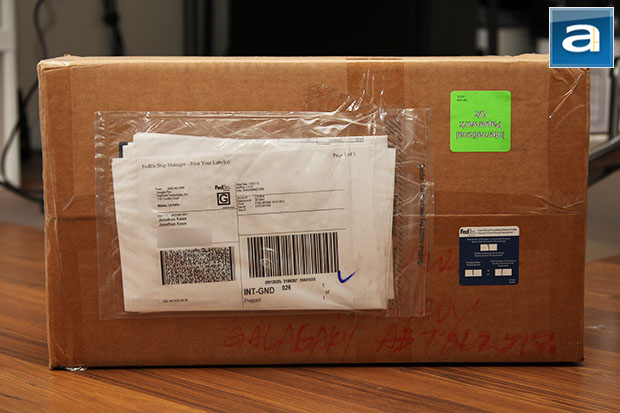 Our review unit of the HighPoint RocketStor 5122B USB 3.0 hard drive docking station arrived in a rather large brown corrugated cardboard box -- in relative of what is inside, anyway. Shipped via FedEx Ground from the company's American headquarters in California, USA, everything arrived in excellent condition to our doorstep here in Calgary, Alberta, Canada for our review today. Ripping open the box reveals a large abundance of packing material inside for extra protection. WIthout further adieu, let's get straight to the details.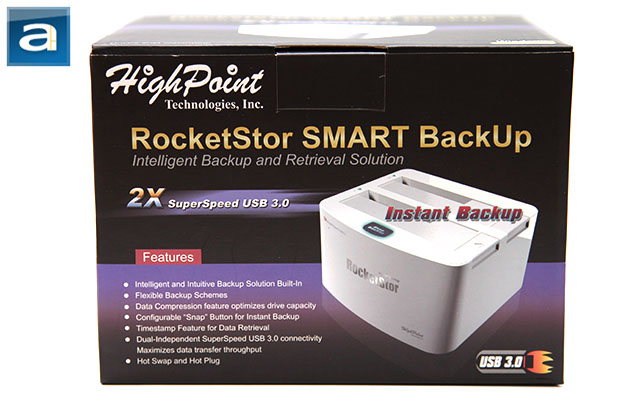 The retail box of HighPoint's RocketStor 5122B utilizes a simple black and purple color scheme with distinctive white text for easy reading. I think they have done a fine job in keeping the design quite appropriate for your local computer store, although it will be a bit of a stretch to consider it to be 'clean' -- most tech products are not, anyway. As you can see in our photo above, HighPoint's logo can be found at the top left corner, while the "RocketStor SMART BackUp" branding is placed boldly across the front. A photo of the product itself at 3/4 view is placed adjacent to a "2X SuperSpeed USB 3.0" tag in the middle. Meanwhile, a bullet list of features take up the rest of the room. Specifications and feature highlights are printed on various sides of the box. Before we open the flap top box to dig into the contents, let's take a look at the specifications and features of the HighPoint RocketStor 5122B, as obtained from the manufacturer's website:
Interface: SATA to USB 3.0
Supported Drives: 2.5"/3.5" SATA 3.0 & 2.0 HDD, 2.5" SSD
LED: 2x HDD LED
Weight: 2.27LB
Dimensions: 135mm (W) x 121mm (L) x 70mm (H)
Supported OS: Microsoft Windows 7, 2008, Vista, Mac OS X
Power Adapter: Input: AC100-240V / Output: DC +12V 4.17A
Operating Conditions: 32°F/122°F (use) -4°F/158°F (store)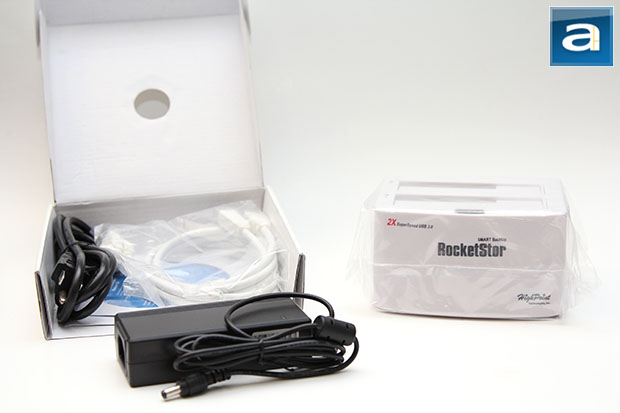 There is not a whole lot of stuff included out of the box -- surprise, surprise. HighPoint also ensured nearly every inch inside the box is used. To keep things organized, cardboard partitions and boxes can be found inside, along with plastic bags to keep vulnerable components from being scratched. Other than that, this is really a no-frills approach -- no excessive accessories, and no excessive packaging. Simply put, only what you are going to use is included. Out of the box, you will receive the following items:
1x HighPoint RocketStor 5122B
1x Dual header USB 3.0 cable
1x Power adapter
1x Driver/Software CD
1x Quick installation guide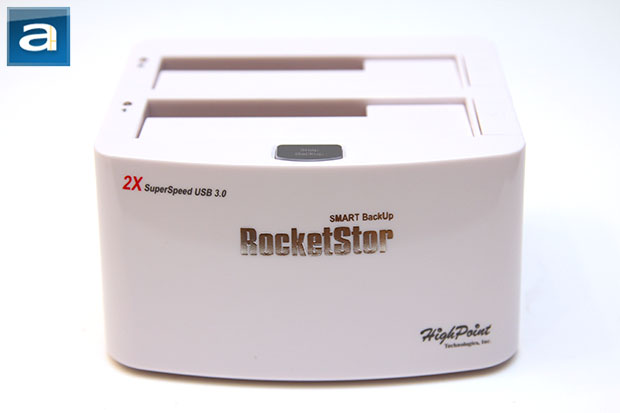 When I first looked at photos of the HighPoint RocketStor 5122B online, I got kind of worried. When we take photos on white background (Especially with an external flash mounted on my dSLR camera), there are two things that will mess up our shots: One of them being silver surfaces; the other being white items. Thankfully, the RocketStor 5122B isn't exactly white -- more of a creamy finish with a slight purple fade -- so it actually kind of worked out. So while I have no problems taking photos of it (Okay, that is not a real complaint), the material feels cheap to hold, and its glossy finish is quite swirl-happy. In the front, we can see HighPoint's logo at the bottom right corner, and the '2X SuperSpeed USB 3.0' tag at the top left corner. In the center is the RocketStor branding in silver; the 'SMART BackUp' line in the middle is replicated on the one-touch backup button at the top. When plugged in, this button will be illuminated by a purple-blue LED.
A spring held push-down cover is at the top of each identical drive bay, with a gap opening at the top left corner to accommodate 2.5" SATA HDD in a vertical position. Standard 3.5" desktop hard drives can be plugged in as well; the door will automatically recess into the bay upon disk insertion. Adjacent to each hard drive bay on the right is one finger-sized, mechanical eject button for each respective docked HDD, while an independent LED and drive number label can be found on the left. The blue LEDs blink when there is hard drive activity, and stays on when it is idling. If the USB port is disconnected, its color will change to red.
One complaint I have about the HighPoint RocketStor 5122B is its weak eject mechanism. The spring-loaded eject mechanism activates a lever near the SATA port to push the connected drive up. Unfortunately, the release bar is too short, and its maximum angle is too low, making the button quite useless in practice -- it is probably faster if you just yank out the drive with your bare hands. Other possible drawbacks include the lack of a power button, which can be a bit of a hassle if you want to turn off your connected disks without physically taking them out, or unplugging the unit completely. Also, it does not have any included cooling capabilities for docked hard drives, which can run fairly warm under load or over extended periods of time. On the positive side, HighPoint Technologies have designed the RocketStor 5122B with adequate clearance between two docked hard drives to reduce as much heat congestion as possible while maintaining a reasonable footprint.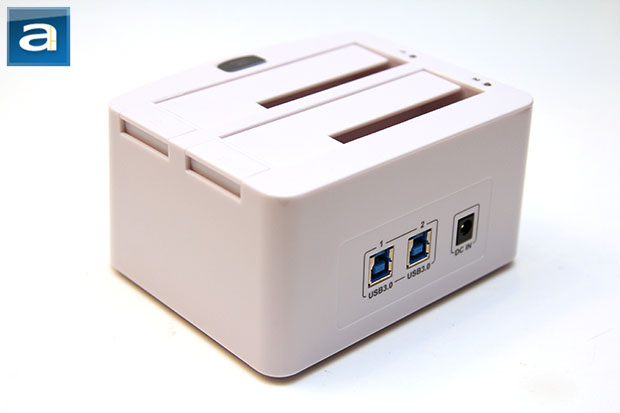 A shot at the back of the HighPoint RocketStor 5122B. The layout is quite simple; all you get are two USB 3.0 Type-B connectors, and one 12V power input. As aforementioned, this HDD docking station comes with no power switch -- once you have plugged it in, it is on. Power is supplied by a Channel Well Technology 4.17A 12V external adapter. This works out to be about 50W for those who are not familiar with the math, which is way more than sufficient for two disks. CWT is a well known OEM for making high quality PC power supplies.
The duo of USB 3.0 connectors is what the company advertises as "2X SuperSpeed USB 3.0". They are both labeled to correspond with their respective bays. HighPoint designed the RocketStor 5122B to have uncompromising performance by using an individual line for each drive. In my opinion, this is a great idea, but I think they took the concept of dedicated bandwidth one step too far. Because both bays are completely independent of each other, the 5122B is essentially two docking stations "duct taped" together into one package. Heck, the included cable is just two separate ones tied together! As a computer enthusiast, I am all for maximum speed, but for the sake of convenience, I believe a switch that toggles between shared and full bandwidth mode would be excellent. This is not a hard feature to implement.
Four rubber grips reside at the bottom of the HighPoint RocketStor 5122B, with a ventilation opening to keep the electronics inside from overheating. Measuring in at 135mm (W), 121mm (L), and 70mm (H), overall, its size is quite reasonable; a quick check on a precision digital scale indicates it is 0.836 lbs without the power brick.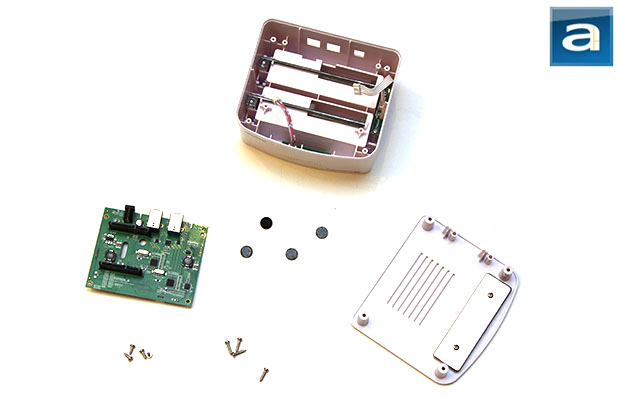 Behind the rubber grips at the bottom of the HighPoint RocketStor 5122B are four screws that hold the bottom piece to its main housing. A weight is installed on the bottom panel to keep the unit down more securely, although at a measured weight of 0.836 lbs, it is still very light. Two springs sit between the bottom and the main housing to enable the spring loaded eject mechanism described earlier. Four additional screws hold the main printed circuit board in, which doubles as a backplate for the Serial ATA connectors. A closer inspection reveals a pair of ASMedia ASM1051E SATA 6Gb/s to USB 3.0 bridge controllers; one for each drive. The specifications of the chip are as follows:
- Compliant with USB3.0 Specification Revision 1.0
- Compliant with USB Specification Revision 2.0
- Support USB Super-Speed, High-Speed and Full-Speed Operation
- Bus bandwidth of USB up to 5Gbps
- Support USB Mass Storage Class, Bulk-Only Transport Specification Revision 1.3
- Compliance with USB Attached SCSI Protocol
- Bus bandwidth of Serial ATA up to 6Gbps
- Support ATA/ATAPI Packet Command Set
- Support ATA/ATAPI LBA48 addressing mode
- Support 20MHz External Crystal
- Support I2C NVRAM for Vender Specific VID/PID of USB Device Controller
- Support SPI NVRAM for Vender Specific Application of USB Device Controller
- Support up to multi-GPIO pins
- Integrated 3.3V to 1.2V Voltage Regulator
- HBM ESD 2.5KV
-----------------------------------------
The Tests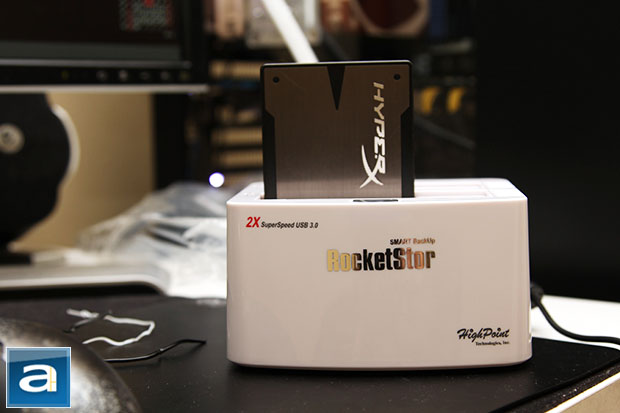 Our test configuration as follows:
CPU: Intel Core i7-3770K @ 4.6GHz
CPU Cooling: Cooler Master TPC 812 (Noctua NF-F12 PWM and Noctua NF-P12 PWM)
Motherboard: Intel Desktop Board DZ77GA-70K
RAM: Kingston HyperX Predator KHX18C9T2K2/16X 4x8GB
Graphics: Gigabyte GeForce GTX 570 1280MB SOC
Chassis: SilverStone Temjin TJ04-E (Noctua NF-P12 PWM)
Storage OCZ Vertex 4 256GB; OCZ Octane 512GB; OCZ Agility 3 240GB
Power: Seasonic Platinum 1000W
Sound: Auzentech X-Fi HomeTheater HD
Optical Drive: LiteOn iHAS224-06 24X DVD Writer
Operating System: Microsoft Windows 8 Professional
In our tests today, we will not get into detailed performance analysis using several different benchmarks, as we usually do in our storage reviews. The reason behind this is the influence of its interface, whether it is USB or SATA, is not quite relevant to drive I/O performance -- it is quite limited to the connected disk itself. We are not reviewing the drive itself today; we just want to know the maximum transfer rate the HighPoint docking station can provide. Since USB 3.0 offers significant higher bandwidth than its predecessor, we decided not to plug in a traditional hard drive for testing, as that will be the bottleneck rather than the interface. Instead, a Kingston HyperX 3K 240GB is used to measure its maximum throughput using ATTO Disk Benchmark. The results will then be compared against the drive's true transfer rate over SATA 6Gb/s connected directly to the motherboard.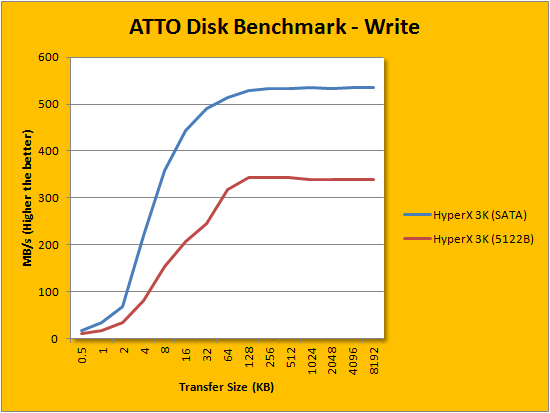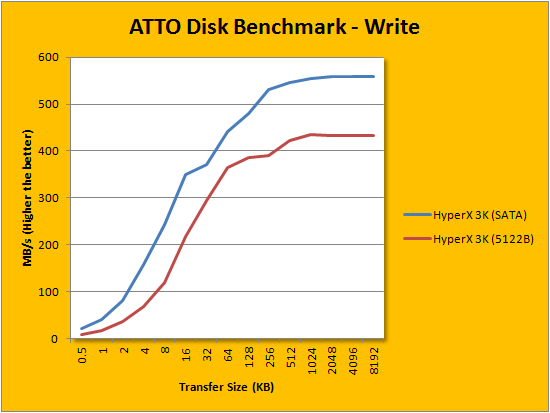 Equipped with the uber fast Kingston HyperX 3K 240GB SSD, our HighPoint RocketStor 5122B is ready to roll. ATTO disk benchmark provides valuable insight into evaluating storage performance; it is especially held in high regard since it is not local disk limited like Windows file copy, but rather the interface itself. This has been one of our favorite benchmarking programs since 2010, and as such, has been an integral part of our storage benchmarks. We have used in everything ranging from network attached storage systems to solid state disks. As you can see in our graphs above, we are venturing into the area of just over 430MB/s in read for pretty much everything 1024KB and up. This is a seriously quick docking station. For its write performance, we are seeing a plateau after 128KB, but who can reasonably complain when the limit is 340MB/s? If we just sit back for a moment and think about it, I don't think many people will be sitting around with a pile of SSDs to go with the HighPoint RocketStor 5122B. The fact is, it is going to be significantly faster than any hard drive you are going to plug in, with room of about a truck in between to spare. There is simply no question about the RocketStor 5122B's speed.
-----------------------------------------
I am not going to lie. The HighPoint RocketStor 5122B delivers exactly as advertised -- compromise-free performance for up to two concurrently docked Serial ATA storage drives. Now equipped with not one, but two, dedicated USB 3.0 controllers, performance is taken to a completely new level. Needless to say, I am impressed. Our results above simply speak for itself. Carrying on the standard of hard drive docking stations, the RocketStor 5122B is device that provides incredible convenience for those who need to quickly swap internal hard drives on the fly. With the docking station's ability to accommodate both 2.5" and 3.5" SATA devices, what's not to love? I can answer that question. Simply put, it is not the things that are advertised that are causing problems, it is the things that are not advertised that needs improvement. Firstly, its plastic construction. The HighPoint RocketStor 5122B feels cheap to hold, and its surface is quite swirl-happy. Secondly, its refinement. The internal weight can be heavier for better physical stability, and the release mechanism should be redesigned for improved effectiveness. Thirdly, its features. While the lack of a power button and "duct tape" approach to having two drive bays is not functionally detrimental, it will definitely serve as an inconvenience to some people. At the end of the day, I would like to point out that performance is extremely crucial, but it is not the only crucial thing. The HighPoint RocketStor 5122B, unfortunately, is an incarnation of this statement.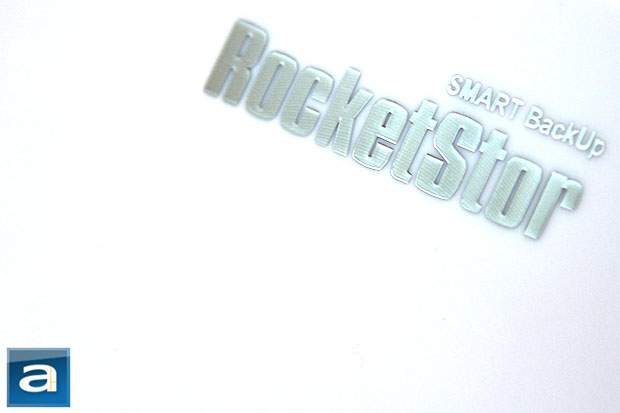 HighPoint Technology provided this product to APH Networks for the purpose of evaluation.
APH Review Focus Summary:
6/10 means A product with its advantages, but drawbacks should not be ignored before purchasing.
-- Final APH Numeric Rating is 6.0/10
Please note that the APH Numeric Rating system is based off our proprietary guidelines in the Review Focus, and should not be compared to other sites.
Speed, speed, and speed -- the HighPoint RocketStor 5122B delivers uncompromising performance for up to two docked drives concurrently.
Do you have any comments or questions about the HighPoint RocketStor 5122B? Drop by our Forums. Registration is free, and it only takes a minute!