Page 2 - A Closer Look, Test System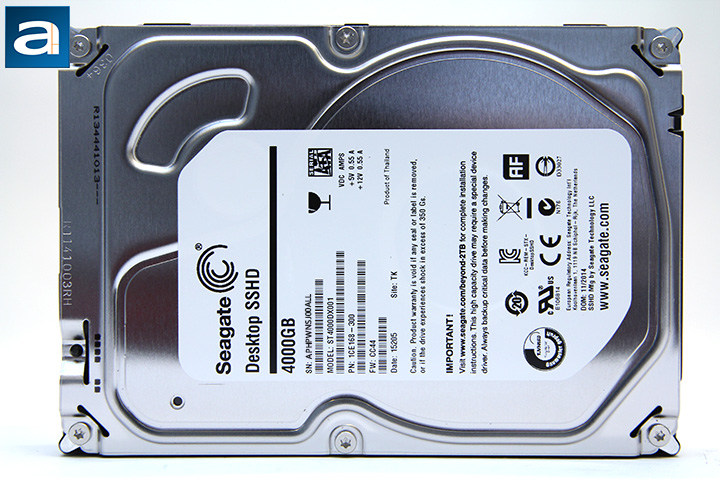 As always, with our storage reviews, before we move on to the benchmark results, let us briefly discuss the physical attributes of this hard disk drive first. The Desktop SSHD ST4000DX001 is your quintessential 3.5" hard drive from Seagate; all you have at the top is bare metal with a dull silver finish, and a large label placed across the middle. If you have owned a Seagate drive in the past before, this one is no different. It weighs in at 610g each, or about 1.35lbs. On the label, you will also spot information like its 4000GB drive capacity, model name, serial number, model number, part number, firmware revision, manufacturing date, SATA interface logo, and that it is a product of Thailand. The Seagate Desktop SSHD comes with a three year limited warranty.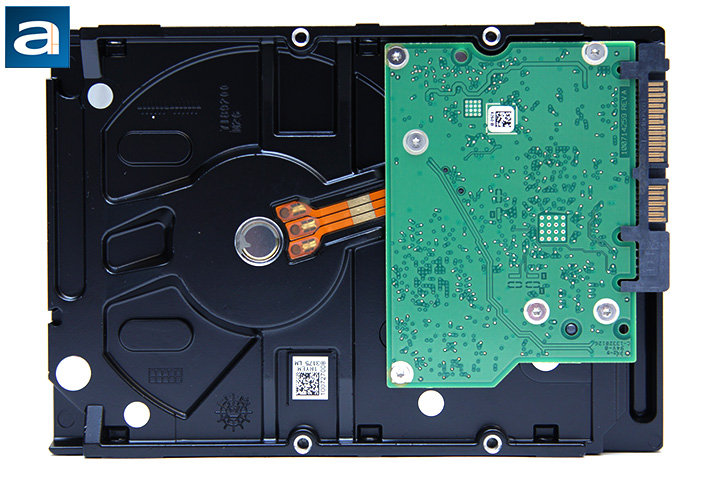 Turning the Seagate Desktop SSHD ST4000DX001 4TB around, and you will see a green printed circuit board that interfaces between its SATA 6Gb/s interface and the physical mechanical components. It also contains the flash components, in which we will look at in just a moment. Mechanically, the Seagate Desktop SSHD ST4000DX001 4TB is a funky 5,900RPM drive with four 1TB platters inside. This is the same spindle speed as the Seagate NAS HDD ST4000VN000 4TB. You will see 3.63TB in Windows. Interestingly, its 1TB and 2TB brothers both spin at 7,200RPM. The rated power consumption is 7.5W under load and 6.2W idling, which sound about right for a mechanical drive of this capacity.
As far as electronic components are concerned, the Seagate Desktop SSHD ST4000DX001 features a LSI B69002V0 drive controller. The motor is controlled by a SMOOTH motor driver. A Winbond W9751G6KB-25 64MB DDR2 IC acts as the cache for the drive. To manage flash memory, an eASIC/Seagate 50415 gets the job done. 8GB of Toshiba TH58TEG6D2HBA4C 24nm NAND flash is present for the "solid state" portion of the SSHD. The Seagate Adaptive Memory acts as a large cache for frequently accessed data to increase performance, such as booting Windows or loading programs. From the user's perspective, the caching happens in the background, and is designed to work seamlessly and invisibly on the front end of things. It is pretty much an integrated OCZ Synapse 64GB we have reviewed back in 2011, except no additional software is needed. In my opinion, 8GB is really small, especially for a 4TB hard drive. A larger cache will definitely improve performance in a more meaningful way.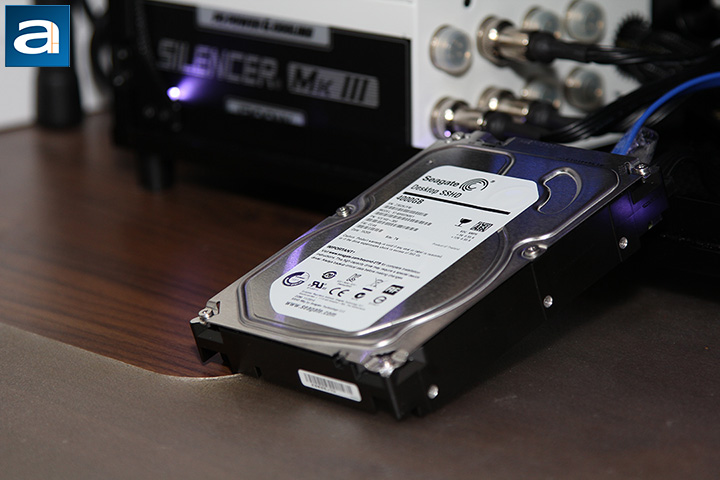 Our test configuration is as follows:
CPU: Intel Core i7-3770K @ 4.6GHz
CPU Cooling: Noctua NH-U14S (2x Noctua NF-A15)
Motherboard: ASUS P8P67 WS Revolution
RAM: Kingston HyperX Savage HX324C11SRK2/16 2x8GB
Graphics: Gigabyte G1 Gaming GeForce GTX 960 4GB
Chassis: SilverStone Temjin TJ04-E (Noctua NF-S12A PWM, Noctua NF-P12 PWM)
Storage: OCZ Vector 150 240GB; Crucial MX200 500GB
Power: PC Power & Cooling Silencer Mk III 1200W
Sound: Auzentech X-Fi Bravura
Optical Drive: LiteOn iHAS224-06 24X DVD Writer
Operating System: Microsoft Windows 8.1 Professional
Compared Hardware:
- Seagate Desktop SSHD ST4000DX001 4TB (Hybrid Hard Drive)
- Crucial MX200 500GB (Solid State Drive)
- HGST Deskstar NAS 4TB (Hard Drive)
- Seagate Laptop SSHD ST500LM000 500GB (Hybrid Hard Drive)
- Seagate NAS HDD ST4000VN000 4TB (Hard Drive)
- Western Digital Red WD40EFRX 4TB (Hard Drive)
- Western Digital Red Pro WD4001FFSX 4TB (Hard Drive)
---
Page Index
1.
Introduction, Packaging, Specifications
2. A Closer Look, Test System
3.
Benchmark: AIDA64 Disk Benchmark
4.
Benchmark: ATTO Disk Benchmark
5.
Benchmark: Crystal Disk Mark 3.0
6.
Benchmark: HD Tach 3.0.1.0
7.
Benchmark: HD Tune Pro 4.60
8.
Benchmark: PassMark PerformanceTest 8.0
9.
Benchmark: PCMark 7
10.
Conclusion