Page 2 - A Closer Look, Test System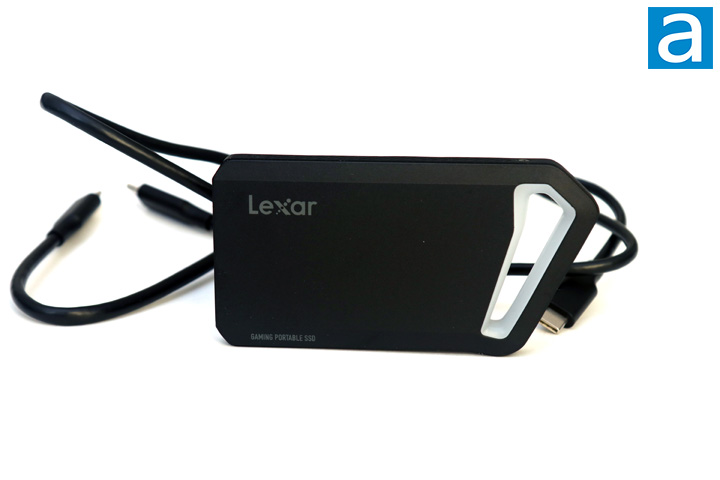 The description may call the Lexar SL660 BLAZE 1TB a gaming portable SSD, but there are only one or two gamer-like aspects in its physical appearance. The SL660 BLAZE comes in a clean body with an aluminum enclosure that has been sandblasted to help prevent seeing some scratches and surface marks. The Lexar logo can be found on the top edge, with the "Gaming Portable SSD" inscription below. The shape of the external drive is a bit unique, as it is not just rectangular, but has a slight bend at one end. Here, you can see a large white translucent area. This is where the RGB lighting exists, as you will see later on in this review. The edges have a pattern of diagonal slots to add some more accents with two screws on each side to keep the enclosure together. Overall, I think this is a slim and easy to hold drive.
In terms of measurements, the SL660 BLAZE is relatively light at 80g without the cable attached. It measures 112.6mm in length, 57.4mm in width, and 10.6mm in thickness. This makes it both smaller and lighter than the Western Digital Black P50 Game Drive. We have seen smaller external SSDs, including the ADATA Elite SE880, but the SL660 BLAZE is still quite compact. Everything also feels well put together. Lexar does note this drive is resistant to shock and vibration, which should speak for its durability.
The two cables included are USB Type-C to Type-C and USB Type-A to Type-C. One side plugs into the USB Type-C port on the external drive, while the other end will plug into your computer. Lexar mentions this drive supports both Mac OS X and Windows operating systems. The cables measure around 43cm in length. They are also quite thick and stiff, which makes me a bit concerned with its flexibility. Even as I was taking the cables out of the packaging, they were quite resistant to unraveling.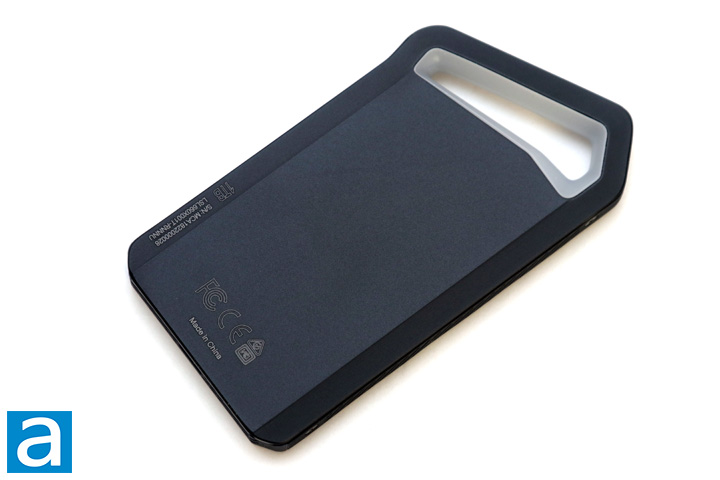 The flip side of the Lexar SL600 BLAZE 1TB is pretty unspectacular with several markings of compliance labels, as well as the fact Lexar is an affiliate of Longsys, which is a Chinese company. As such, it is no surprise the SL660 BLAZE is made in China. Finally, we have the capacity and the serial number on one edge of the drive. The USB port on the Lexar SL660 BLAZE 1TB is located on the flat edge. This is a USB Type-C port and it supports USB 3.2 Gen 2x2 for transfer rates of up to 20Gbps. The port provides all of the power required. As expected, the LEDs near the clear diffuser glow when the drive is plugged in. Unfortunately, it does act as any activity indicator, as it just cycles through colors and is not user-configurable.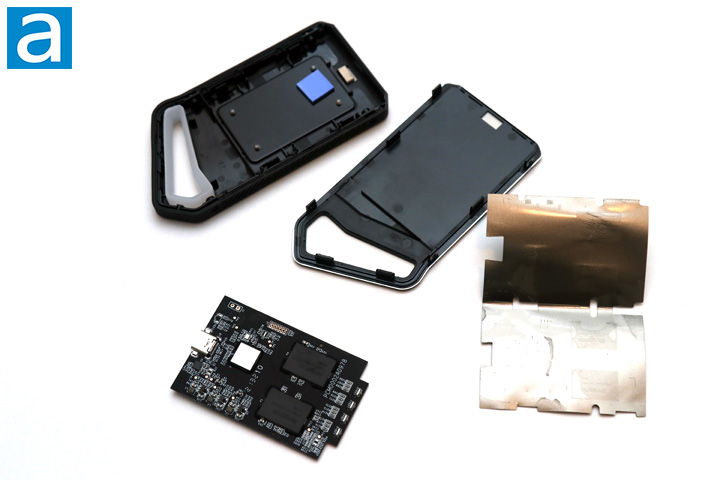 Taking apart the Lexar SL660 BLAZE 1TB is not exactly easy, although most users should not need to pop this external storage open. I started by removing the four screws around the edges, then used some pry tools and guitar picks to slide it open. After a few clicks, I was able to pull one side metal piece away from the other one. Inside, the main PCB can be found saddled between two pairs of plastic clips. It is also wrapped in a thin metallic sleeve that acts as a heatsink across all of the components. From here, you can also see a square block of a blue thermal pad that makes contact right over the controller of the drive. This diffuses the heat into the rest of the aluminum enclosure. After removing the outer shield, you can see on this side we have two NAND flash chips and the drive controller. At one end is the USB Type-C connection, while the other edge holds four LED lights. This shines directly at the translucent plastic loop to make for some nice lighting effects.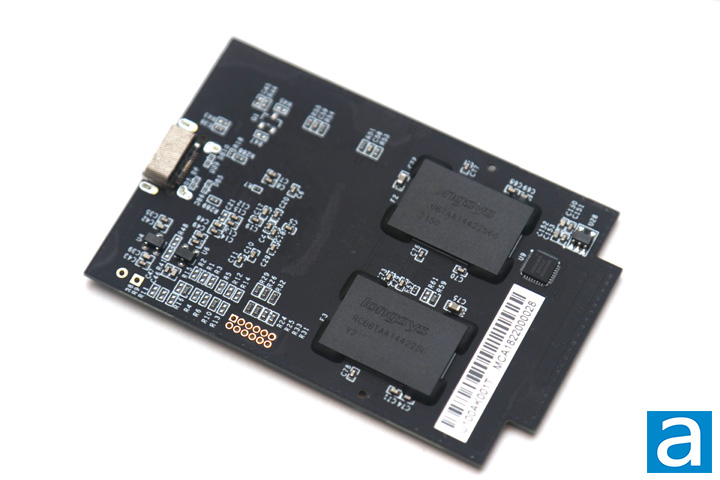 As you saw from the first teardown photo, we have a quad-channel Silicon Motion SM2320 controller that operates over USB 3.2 Gen 2x2. We do not have any memory chips here, so the SL660 BLAZE relies on SLC write caching. Each side of the printed circuit board has two NAND flash drives denoted with the Longsys RC66TAA1442256G. Each of these are 256GB in capacity for a total of 1TB internal storage.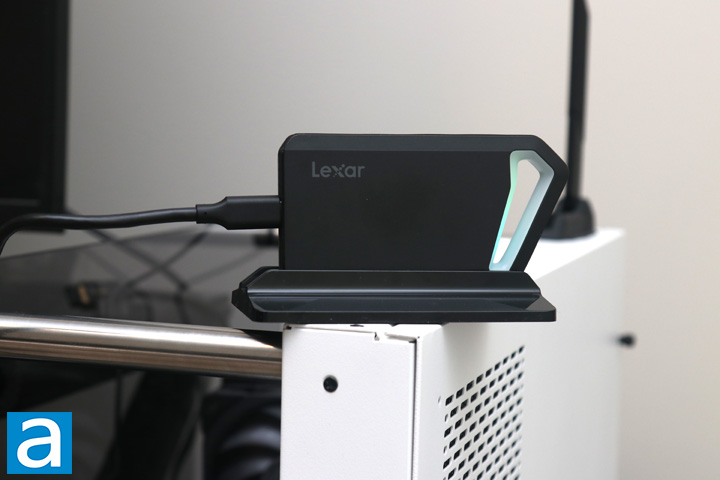 From here you can see the Lexar SL660 BLAZE 1TB is plugged in with the RGB LED lighting glowing. Unfortunately, there is no way to choose the lighting patterns or colors, as it cycles through a set of colors continuously. Other than implementing patterns, it might have been nice to see different colors based on drive activity. Otherwise, you can also see I have mounted this drive to its stand. The stand attaches with friction, holding to the edge of the SL660 BLAZE. It adds an additional 64g of weight and is sturdy enough to keep it upright. There are four rubber feet on the bottom to prevent it from sliding about.
Our test configuration is as follows:
CPU: Intel Core i5-12600K
CPU Cooling: Noctua NH-U12A chromax.black
Motherboard: ASUS ProArt Z690-Creator WiFi
RAM: Kingston FURY Beast DDR5-5200 2x16GB
Graphics: EVGA GeForce RTX 3070 Ti XC3 ULTRA GAMING
Chassis: Thermaltake Core P6 TG Snow
Storage: XPG Atom 30 1TB
Power: FSP Hydro PTM Pro 1200W
Operating System: Microsoft Windows 11 Pro
Compared Hardware:
- Lexar SL660 BLAZE 1TB
- ADATA Elite SE880 1TB
- Crucial X6 2TB
- Crucial X8 1TB
- Crucial X8 2TB
- LaCie Mobile SSD 500GB
- LaCie Rugged SSD 1TB
- Lexar Professional SL100 Pro 500GB
- Western Digital Black P50 Game Drive SSD 1TB
---
Page Index
1.
Introduction, Packaging, Specifications
2. A Closer Look, Test System
3.
Benchmark: AIDA64 Disk Benchmark
4.
Benchmark: ATTO Disk Benchmark
5.
Benchmark: Crystal Disk Mark 8.0
6.
Benchmark: HD Tune Pro 5.70
7.
Conclusion