Page 2 - A Closer Look, Test System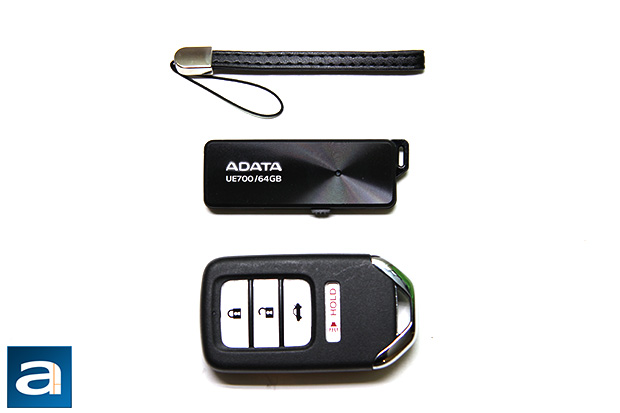 ADATA is a company that has always been known for their unique USB flash drive designs. When I say "unique", I definitely do not mean "weird" -- I actually mean it in a good way. The DashDrive Elite UE700 64GB is a recipient of the prestigious iF Design award, and I can definitely see why. The sleek, black aluminum casing with brushed concentric aluminum circles make the drive look much more expensive than it actually is. In the middle of the concentric circles is a blue LED to indicate drive activity. On the left, ADATA's branding, model name, and drive capacity is embossed onto the surface. Meanwhile, its capless design is made possible by a slider along the bottom to reveal its USB 3.0 connector on the left. Its open and closed positions are notched, which can unlatched by pushing down on the switch, and pushing it in the direction you want. If you have big hands or sweaty hands (Goodness gracious if you have both), you will not like the plastic slider switch, since you will probably have a hard time finding grip in the first place. The mechanism is also pretty tight. Of course, it is probably better to have it tighter than to have a port that won't stay fully open or fully closed like the Kingston DataTraveler Ultimate 3.0 G3 32GB; every design has its tradeoffs.
A quick glance at the specifications table pits this portable storage device at 65mm long, 21mm wide, and 7mm thick. Compared against its the competition, such as the Patriot Supersonic Magnum 64GB at 78mm long, 27mm wide, and 7mm thick, the ADATA DashDrive Elite UE700 64GB is definitely quite a bit sleeker. Our photo above compares it against an automobile smart key. It also tips the scales at only 11g, which is significantly lighter than the chunky DataTraveler Ultimate 3.0 at 32g. I don't know how much the Patriot Supersonic Magnum weighs, but the ADATA DashDrive is definitely lighter by my ever-so-reliable hand scale.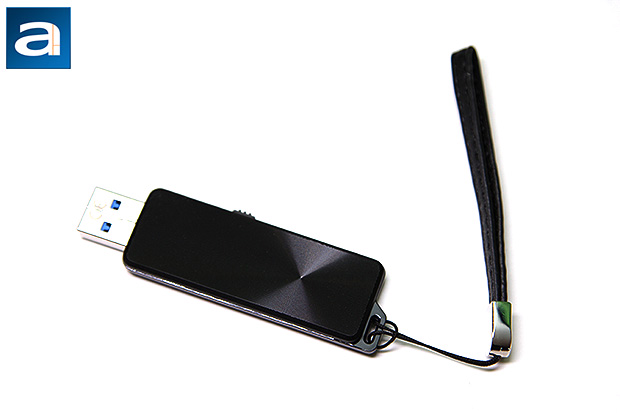 Flipping the ADATA DashDrive Elite UE700 64GB around, we are now greeted with a practically blank side. The unit itself physically symmetrical on nearly all axes. As aforementioned, the opposite side has a blue LED activity indicator with ADATA's logo, drive model number, and capacity; whereas on this side, other than the brushed concentric circle pattern, there is nothing. A glossy black plastic strip extends around the perimeter of the UE700's outer edge to give it a little more style, and interfaces well visually with the USB 3.0 slider switch. The glossy black plastic protrudes as a ring at the back, which can be used to attach an included short leather (Or is it leatherette?) strap, as you can see in our photo above. Unfortunately, the UE700 is not designed to go with your keyring, so if you are planning to do that, you are out of luck. The USB connector itself is blue with gold contact pins to signify its SuperSpeed compatibility.
By default, the DashDrive Elite's blue LED stays off unless there is drive activity. Personally, I prefer the reciprocal design, where the indicator LED stays on when plugged in, and blinks in the event of drive activity. This way, it is much easier to tell if the USB port is supplying power, and the drive is turned on accordingly. Overall, I am a big fan of the ADATA DashDrive Elite UE700 64GB. It has an appealing appearance, capless design, sleek dimensions, and is very lightweight to hold. With that in mind, let's see if it benchmarks as well as it looks.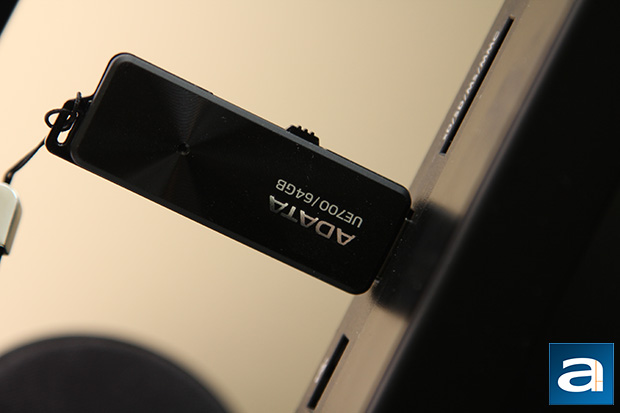 Our test configuration as follows:
CPU: Intel Core i5-2500K @ 4.50GHz
CPU Cooling: Thermaltake WATER2.0 Pro (Noctua NF-F12)
Motherboard: ASUS P8P67 WS Revolution
RAM: G.Skill Ripjaws-X F3-14900CL9D-8GBXL 4x4GB
Graphics: Gigabyte Radeon HD 7870 2GB OC
Chassis: Lian Li PC-B12
Storage: OCZ Vertex 3 Max IOPS 240GB; Western Digital Caviar Blue AAKS 500GB
Power: PC Power & Cooling Silencer Mk III 1200W
Sound: Auzentech X-Fi Bravura
Operating System: Microsoft Windows 7 Professional x64 SP1
Compared Hardware:
- ADATA DashDrive Elite UE700 64GB (USB 3.0)
- Kingston DataTraveler Locker+ G2 32GB (USB 2.0)
- Kingston DataTraveler HyperX 3.0 64GB (USB 3.0)
- Kingston DataTraveler Ultimate 3.0 G2 32GB (USB 3.0)
- Kingston DataTraveler Ultimate 3.0 G3 32GB (USB 3.0)
- OCZ Rally2 Turbo 4GB (USB 2.0)
- OCZ Vertex 2 60GB 34nm (SATA 3Gb/s)
- Patriot Supersonic Magnum 64GB (USB 3.0)
- Patriot Supersonic Rage XT 32GB (USB 3.0)
---
Page Index
1.
Introduction and Specifications
2. A Closer Look, Test System
3.
Benchmark: AIDA64 Disk Benchmark
4.
Benchmark: ATTO Disk Benchmark
5.
Benchmark: Crystal Disk Mark 3.0
6.
Benchmark: HD Tach 3.0.1.0
7.
Benchmark: HD Tune Pro 4.60
8.
Conclusion