Page 2 - A Closer Look, Test System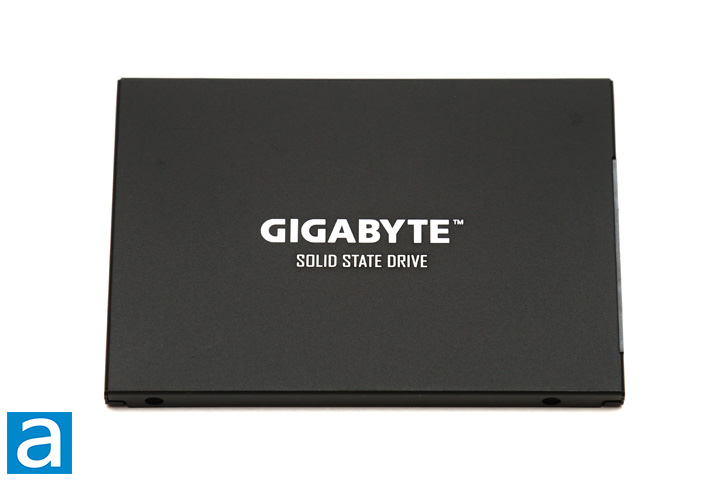 Gigabyte's first solid state drive is one of the plainest drives we have seen. I could have foreseen RGB lighting for their first SSD, especially with how Gigabyte has fully embraced this trend. Even so, considering most mounting locations for drives are behind the motherboard tray or in a drive cage, this is not too surprising. In the middle we have the Gigabyte logo, with a subtitle of "Solid State Drive". I actually really prefer this classy and clean look. Otherwise, the enclosure is made of a black painted metal shell. With dimensions of 100mm in length, 69.85mm in height, and 7mm in thickness, this drive is pretty standard in terms of dimensions. Considering this hardware is supposed to fit anywhere from a desktop to a laptop computer, it is unsurprising to see these measurements. With a mass of 46g, this drive is also pretty light.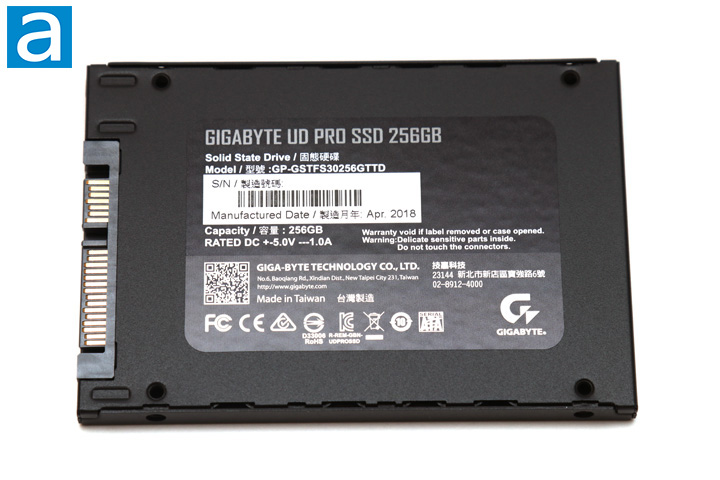 On the flip side of the UD PRO 256GB is the other side of the shell. As with most solid state drives, there are no exposed circuit boards you might be accustomed to with traditional hard disks. The UD PRO 256GB is situated between two metal shells. The flip side also reveals the Gigabyte UD PRO's SATA 6Gb/s as well as the power connector. On the black sticker, you will see a lot of certification logos in addition to the brand, capacity, and serial number. As you should know by now, this is the 256GB version, but the UD PRO also comes in a 512GB configuration at press time. This drive is made in Taiwan.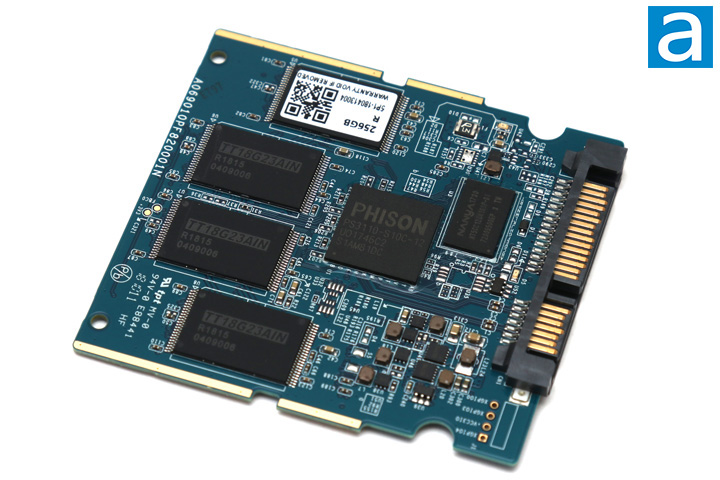 Rather than using screws to hold the two pieces together, Gigabyte has used friction clips, which is similar to some solid state drives we have come across in the past. As I have mentioned before, please do not try to open the drive's enclosure, as this will void the warranty. If you are curious, you can continue reading as we venture into the SSD itself. However, if you do feel inclined to open it up, you have been warned. Unlike a traditional HDD where you would find an actual spinning platter, all you will see is a small printed circuit board, littered with chips and embedded onto a blue piece of glass fiber laminate. Here you will also notice the board is half or one-thirds the size you would normally see in other solid state drives. Instead, you have a tightly knit configuration, with a Phison PS3110-S10 controller at the center of it all.
Phison is a Taiwanese manufacturer of NAND flash controllers, and has been doing so since the turn of the millennium. In the past, their main focus was non-SSD applications, such as USB flash memory. However, the Phison PS3110-S10 has gained popularity for providing performance at a relatively low cost. Other solid state drives with the PS3110-S10 inside include the Patriot Ignite 480GB and the Kingston HyperX Savage. The Phison PS3110-S10 in the Gigabyte UD PRO 256GB is a four-core, eight channel controller, with up to 32 chip-enables. This controller supports up to 1GB of DDR3 memory, with a built-in 120-bit ECC, or error correction codes. The controller is fabricated on a 55nm process. Interestingly enough, the S10 was originally designed to be used for 2D MLC and 2D TLC-based SSDs. Otherwise, the controller also features End-to-End Data Path Protection, SmartECC, SmartFlush, GuaranteedFlush, and DEVSLP support. In addition, the drive comes with the standard TRIM and SMART compatibility. According to Gigabyte, the rated power consumption is 0.17W idle, 1.93W read, and 2.43W write. These are quite a bit lower than other S10-based SSDs, which would make the drive good for mobile or laptop usage.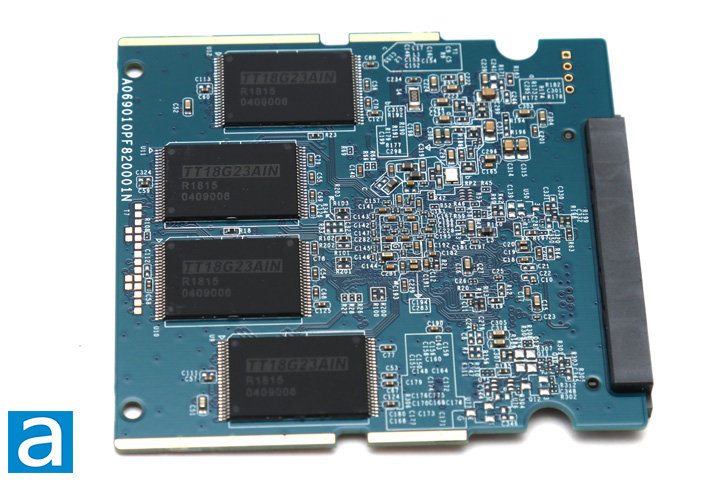 Paired with the mentioned controller are eight NAND flash chips. According to Gigabyte, these could either be from Toshiba or Spectek/Micron, but this seems more like the latter. These NAND chips are TT18G23AIN 3D tri-level cells. Each chip carries a 32GB capacity, to make for a total of 256GB. In Windows OS, you will find 238GB of accessible space. Write endurance information is listed at 100TB. A Nanya Technology memory chip, the NT5CC128M16IP-DI, is also found in the Gigabyte UD PRO and it holds 256MB DDR3L RAM. This runs in DDR3-1600 at CAS latency timings of 11-11-11. Overall, the whole package has a rated mean time between failure of 1.8 million hours. The Gigabyte UD PRO 256GB is backed by a three year warranty. This is lower than the recently reviewed Kingston UV500 240GB, which offered a five year warranty, and I think should be matched by Gigabyte.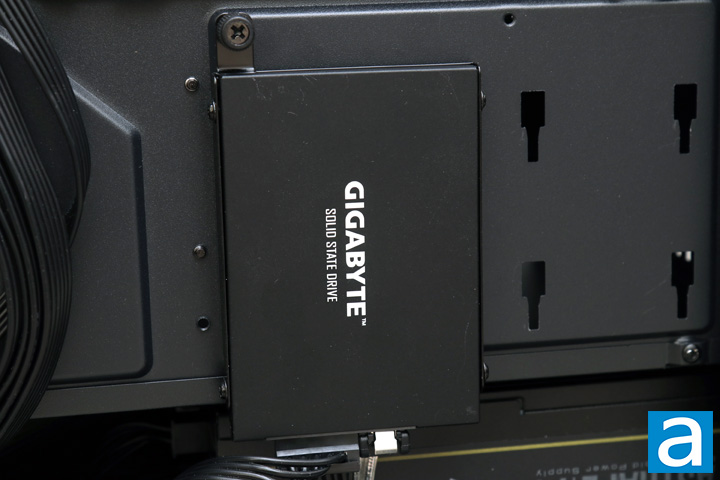 Our test configuration is as follows:
CPU: Intel Core i5-6600K
CPU Cooling: CRYORIG C7
Motherboard: Gigabyte GA-Z170N-Gaming 5
RAM: Patriot Viper Elite PC4-24000 2x8GB
Graphics: EVGA GeForce GTX 760 2GB
Chassis: Antec P6
Storage: Patriot Ignite 480GB
Power: GAMDIAS ASTRAPE P1-750G 750W
Sound: Integrated
Optical Drive: None
Operating System: Microsoft Windows 10 Pro
Compared Hardware:
- Gigabyte UD PRO 256GB
- Crucial BX100 500GB
- Crucial BX300 240GB
- Crucial MX100 256GB
- Crucial MX200 500GB
- Crucial MX300 750GB
- Crucial MX500 500GB
- Kingston SSDNow UV400 480GB
- Kingston UV500 240GB (M2)
- Kingston UV500 240GB (SATA)
- OCZ Trion 100 480GB
- OCZ Trion 150 480GB
- Toshiba OCZ TL100 240GB
- Toshiba OCZ TR200 480GB
---
Page Index
1.
Introduction, Packaging, Specifications
2. A Closer Look, Test System
3.
Benchmark: AIDA64 Disk Benchmark
4.
Benchmark: ATTO Disk Benchmark
5.
Benchmark: Crystal Disk Mark 3.0
6.
Benchmark: HD Tach 3.0.1.0
7.
Benchmark: HD Tune Pro 4.60
8.
Benchmark: PassMark PerformanceTest 9.0
9.
Benchmark: PCMark Vantage
10.
Benchmark: PCMark 8
11.
Conclusion